Welcome to my Swipe2Earn review!
Will swipe2earn.co scam you and leave you frustrated? Or should you join this platform and promote it?
If that's what you need to know, you are in the right place because here I reveal the complete truth about Swipe 2 Earn.
Knowing that the Internet is full of fraudulent websites, you're smart for doing your own research.
That's the way to avoid scams and find the honest way to earn passive income on a daily basis!
For your information, this review is not like the other Swipe2Earn reviews you may have come across because this post doesn't contain any referral link.
My purpose with this post is to help you decide whether Swipe2Earn.co is good for you or not.
Swipe2Earn.co review summary
---
Name: Swipe 2 Earn
Website URL: swipe2earn.co
Owner: Unknown
Created in: November 2019
Cost: Free to sign up (but it can end up costing you money)
Who is it for? The owner
Do I recommend it? No, Swipe2Earn.co is not legit!
---
If you're sick of scams, check out my 1st resource to make a 4-digit monthly passive income HERE!
---
What is Swipe 2 Earn about?
---
Swipe 2 Earn (found at swipe2earn.co) is a website that claims you can make $500 now.
It's said to be the #1 influencer network in the world and it's allegedly connecting influencers to advertisers.
They say that you can get paid from $10 to $15 for every friend you invite, which sounds too much if we take into account that everyone is joining for free!
Honestly, just the fact that they claim you can make $500 now is enough for me not to trust this platform because making money online is not easy.
Yes, it's possible to make $500 online and so much more, but it doesn't happen easily or the first day you get started.
So don't be fooled by scammers who promise easy and quick cash! They're trying to take advantage of people who really need the money fast.
Apart from that, it makes no sense to make $10-$15 per referral because no one is paying to join. And Swipe2Earn.co has no ads and it's not selling any products/services.
Yes, they claim to connect influencers with advertisers, but that's simply not true. I haven't seen any real influencers promote or talk about Swipe 2 Earn.
In addition, the fact that they claim to be the #1 influencer network is another reason I'm 100% sure Swipe2Earn is totally fake. 
There are too many scam sites that make the same claims and they look very similar to Swipe 2 Earn. 
So I have to add Swipe2Earn to the same collection of these scam sites:
The truth about Swipe2Earn.co
---
Truth be told, Swipe2Earn.co was not created to help you make money. It was created to help the owners of this platform profit at your expense.
They don't really care about wasting your time & effort because they only care about themselves.
There are many people who join this kind of sites because they're free to join, so they don't think there's a risk.
But the truth is that Swipe2Earn.co is more dangerous than it seems. Just because they don't ask you for money, it doesn't mean it's legit.
The owners of swipe2earn.co want you to believe that you can make money because they want you to spead their scam. They want you to get other people to sign up.
You see, when someone signs up, the scammers behind Swipe 2 Earn get personal information. Their goal is to collect as many email addresses, passwords & names as possible.
The more info they get, the more they can profit. They won't hesitate to sell your info to other fraudsters and hackers, who will undoubtedly do the same.
These unethical individuals will also try to get access to your personal accounts, such as your Gmail, PayPal and bank account. 
They just want to get as much money as possible and they don't really care about how it affects other people. They don't care if they take your last dollar or if you cannot pay the bills, they have no empathy.
Apart from that, you also need to be careful with the tasks they tell you to complete because those tasks can put you in a dark place you don't want to be in.
For example, those tasks require you to download or install apps that are filled with malware, which can damage your device. And they also require you to visit fraudulent sites or give away your personal info. 
So you could end up having to buy a new laptop or smartphone, or having to pay for something you don't want. 
Sick of scams? Want to make passive income every day?
Check Out My FREE Earn Money Online Guide Here!
Swipe2Earn is a fake company
---
There's no doubt that everything about Swipe 2 Earn is fake, from the payment proofs to the company's background.
They claim Swipe 2 Earn started in March 2015, but this is completely fake.
According to a reputable website called Whois, the swipe2earn.co domain name was registered in November 12th 2019, which means that it's not even been 2 months since it was created. 
So all the testimonials and payment proofs are totally fake because some testimonials claim to have joined a year ago (it's not possible) and some payment proofs are prior to November 2019. 
For example, this tweet is fake. I searched for it on Twitter and it does not exist. Swipe2Earn.co hasn't sent anything to anyone, this Twitter user is not even a Swipe 2 Earn member so there's no way I can take those testimonials seriously. And the @swipe2earn twitter username does not exist.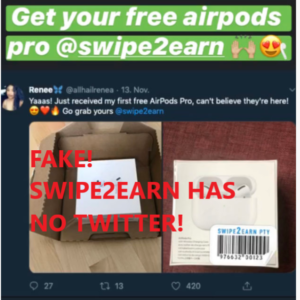 Another red flag I want to point out is the nonsense of their FAQ section. The answers provided make no sense, don't you agree?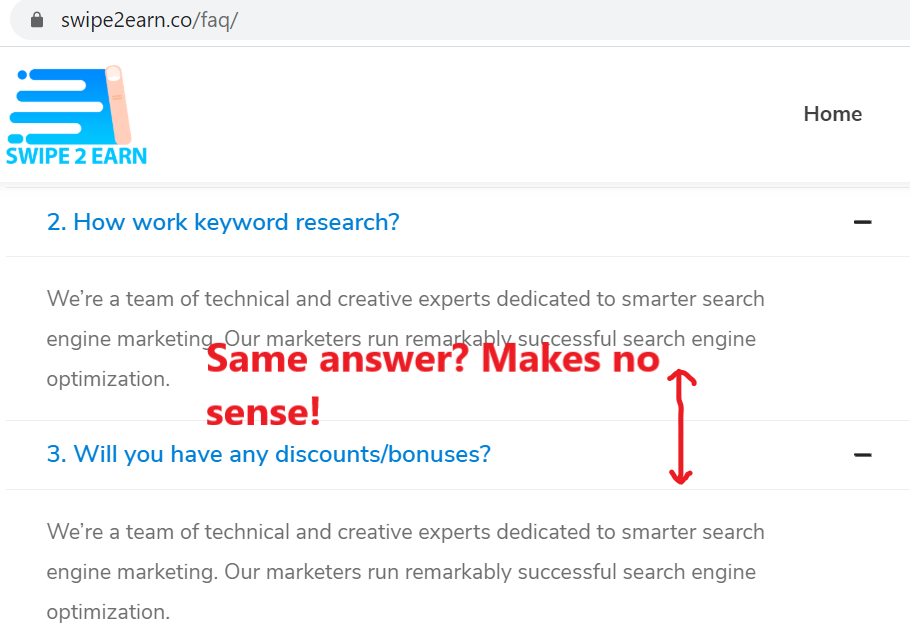 And what does Seofy have to do with Swipe 2 Earn? Seofy.com doesn't even exist as a website, so I can confirm that all the information on the swipe2earn.co site is fake.
No info about the owners
---
Another red flag I found is that there's no info about the owner or team behind Swipe 2 Earn. 
Their "about us" section has fake info because it's clear that swipe2earn was not created in 2015. 
And the fact that they don't reveal the names of the owners and they don't even provide photos of themselves is another scam sign because it means that they have something to hide.
These con artists hide who they really are because they don't want to get sued or reported, they don't want to deal with the negative consequences of ripping people off. 
So there's no way I can trust them. They want our information but they're not willing to be honest with us, don't you think it's unfair?
It looks like other scams like Tap2Earn and Tap2Cash
---
Swipe2Earn.co is the same as Tap2Cash.net and Tap2Earn.co. It has the same claims, the same layout, the same structure, the same system…
As you can observe, in their main page, they claim to be the #1 influencer network, they have the same graphics and they also claim you can earn $500 today/now. 
All these sites are bogus, they only make money to the people who have created them. 
Here you can read some real reviews of Tap2Earn: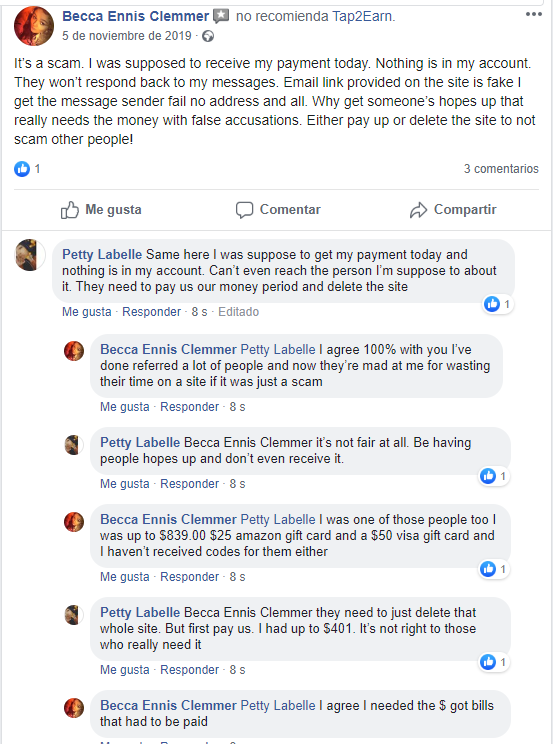 So you cannot expect to receive any support from Swipe2Earn. This kind of scams usually have fake email addresses because those scammers don't want their victims to contact them.
Will Swipe2Earn.co scam you?
---
Whether Swipe2Earn is a scam or not depends on how you define a scam. 
There are people who may not consider it a scam because it's not asking for money. 
But the fact that it wastes your time and tries to take your money indirectly is enough for many people to consider it a scam.
You see, it's very easy to feel ripped off if you've been working hard on something that won't benefit you in any way. People who've been promoting swipe2earn will end up feeling frustrated, mad or sad because they won't get paid.
And that's not all! There are also the ones who will feel guilty for having told their friends and family members to sign up, so I cannot see anything positive about Swipe 2 Earn.
No one likes to work for something that won't compensate them, don't you agree?
What you decide to do is up to you, you're free to do whatever you want with your time and energy.
If you feel scammed by Swipe2Earn, I recommend that you stop using it and add extra protection to your personal accounts in order to prevent those con artists from stealing your money.
Final conclusion: Avoid Swipe 2 Earn at all costs.
Legit platforms are willing to pay you
---
There are too many frauds but the good news is that there are lots of legit programs.
These companies/programs are willing to pay you if you drive targeted visitors that end up making purchases.
And how can you do that? You need to do something similar as what you have already been doing!
If you have been willing to get Swipe2Earn referrals, you can definitely drive visitors to legit sites.
It takes time and effort to learn and do this in a way that makes you passive income every day.
But I believe that anyone who's willing to put in the work, can do this! There's people from all over the world who are making money with this method.
I personally started with no prior experience and English is not my native language, and I'm living proof this business works: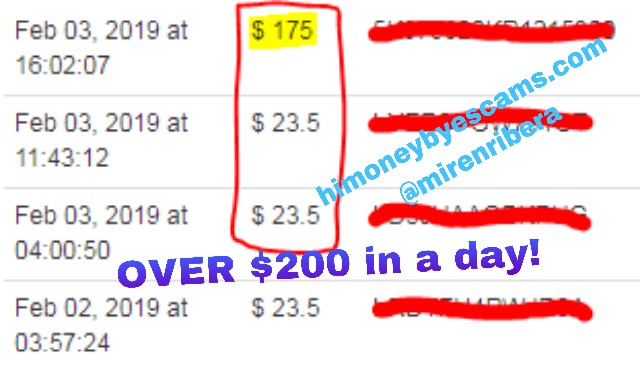 The reason I show this payment proof is that I want you to see what's possible. I don't want those scammers to make you lose hope.
If you're committed to learning and taking action, I invite you to check out my FREE guide here: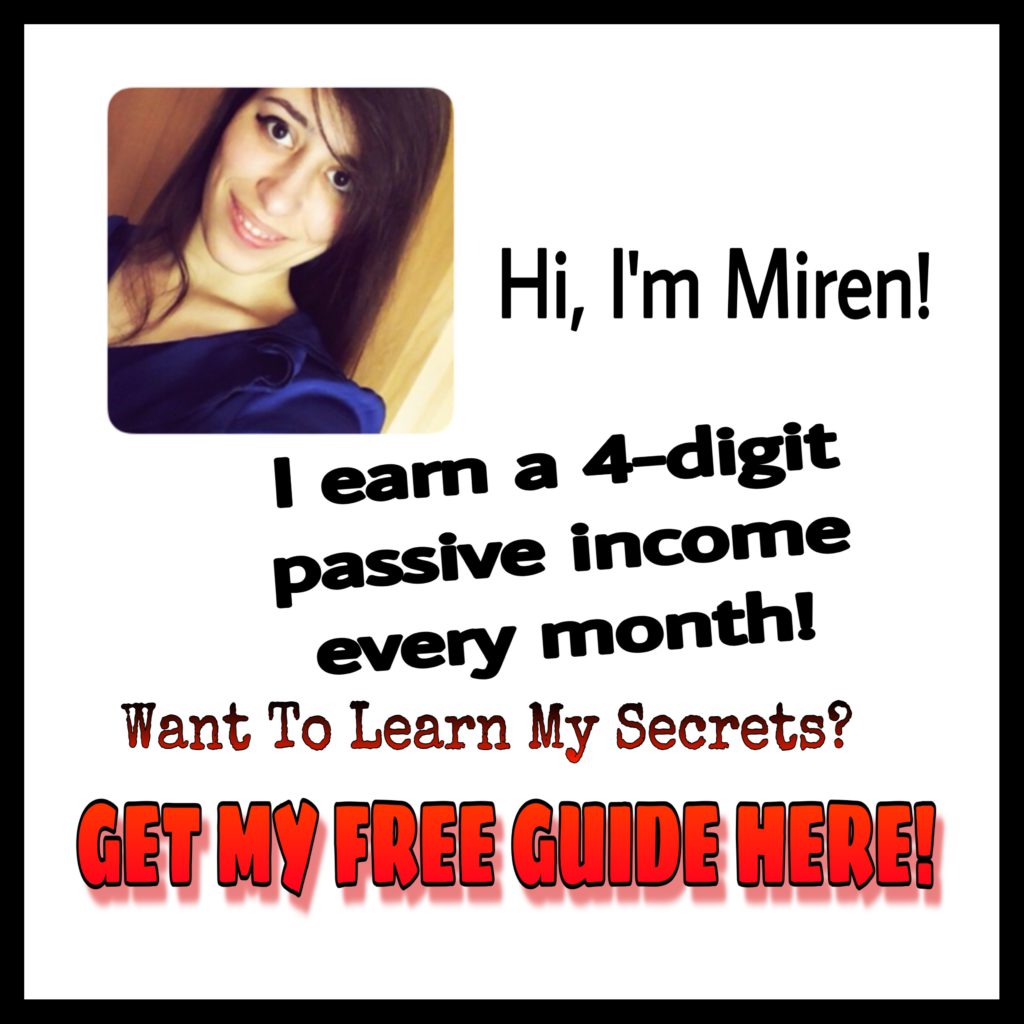 My guide is FREE (no login information required, just click here to start reading it), which means that you have nothing to lose and a lot to gain 🙂
Oh, and what if you ever have questions or need support? No problem! I'm not like those con artists because I'm transparent about who I am and I also show you how you can contact me.
If you read my free guide until the end, you will see how you can get answers to all your questions and help from me and other like-minded people.
Stop wasting your time on terrible scams and start your passive income journey today!
I will leave this quote here:
If you want something you have never had, you must be willing to do something you have never done.
I hope this Swipe2Earn review has been helpful to you and you will make the best possible decision.
Feel free to share it with whoever you believe that will benefit from it!
If there's something else you want to know or you have any questions about Tap2Cash or would like to share your experience, please leave a comment below. I love hearing from you all!
Whatever you do next, I wish you nothing but the best =)