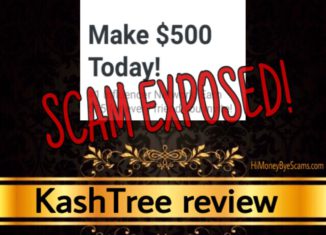 Welcome to my KashTree review!
Is KashTree.com a scam? Or is it a legit site that will help you make $500 per day online?
If that's what you need to know, I'm happy that you have found this post because here I reveal the complete truth about this platform.
There are so many fraudulent websites out there, so I'm glad that you're doing your due diligence. That's the way to avoid scams and find the legitimate way to make money online every single day.
To be straightforward with you, I am not affiliated with KashTree, which means that here you will not find any affiliate link.
Instead of that, here you will find all the pros and cons of this platform so that you can make sure if it's worth your time.
KashTree review summary
---
Name: KashTree
Website URL: kashtree.com
Owner: Hidden
Launch date: August 2019
Price: Free (but it can cost you a lot)
Best for: The owner
Do I recommend it? No
---
If you're sick of scams, check out my 1st resource to make a 4-digit monthly passive income HERE!
---
What is KashTree about?
---
KashTree is a website that claims to be the #1 influencer network that is helping ordinary people monetize their social media.
All you have to do is to sign up, promote KashTree and complete the tasks you can find on the dashboard area.
After signing up, you get access to a referral link that you just have to copy and paste to share it on social networks like Twitter, Instagram, YouTube, Facebook…
In fact, I've come across KashTree because I've seen so many people advertise it on Twitter. So I was curious to know what it's about.
When I saw the KashTree homepage, I didn't get good vibes because it looks too similar to other scam sites I have come across in the past.
Just the fact that they claim you can make $500 the first day you get started is a big red flag because it makes this platform sound like a get-rich-quick scheme.
I mean, it's possible to earn $500 per day, but it's not possible to make it the same day you start.
No matter the method you use to make money, you need to put in the effort and time. If it weren't like this, many people would have already quitted their jobs and make a fortune online.
Apart from that, $500/day is very high when you consider that KashTree is a GPT site because this kind of sites cannot bring you that kind of income. GPT sites are only good to make extra money.
So the fact that KashTree claims you can make $500 just by inviting others to join is a big red flag.
You see, KashTree is free to join, so how can they afford to pay $10 per referral? It makes no sense! No one is paying to sign up and they don't sell any products or services, so there's no way they can pay $10 per referral.
KashTree is no different than these other scams I have exposed:
How does the KashTree.com scam really work?
---
KashTree.com works in a way that doesn't help any member make money. The only ones who profit are the people behind the platform.
They make KashTree sound like the ideal solution to whoever needs to make money fast because they claim you can join for free, get $25 and start making money just after getting started.
But don't be fooled by their claims! They don't allow you to make any withdrawals, which means that you will never get the money you see inside your KashTree account.
They want you to think that you're making money because they know that this is what will get you excited and this is what will make you promote them even more.
Unfortunately, most people realize they have been ripped off when it's too late. They realize they have been promoting a scam when they see they don't get paid.
I have come across lots of websites like KashTree and I can assure you that it's all fake. The stats, the contact information, the testimonials, the income proofs… there's nothing real about them. 
Sick of scams? Want to make passive income every day?
Check Out My FREE Earn Money Online Guide Here!
Why is KashTree.com free to join?
---
You're probably wondering why KashTree is a scam if it's free to sign up.
Just because a website is free to join, it doesn't mean it's legit.
In this case, they don't ask you for any money upfront, but they ask you for your personal information, which is what they need to make money at your expense.
So the reason they want you to promote KashTree is that they want as many people as possible to sign up, that's why they encourage everyone to share their referral links.
The more people who register, the more information they collect and the more they can profit.
Once they have a big list of email addresses and passwords, they will sell it to other unethical individuals and hackers, who will do the same.
Because of this, you can expect to receive spam emails and you can also expect them to do the most to get access to your personal accounts.
For example, they will use your password to see if they can access your email account or PayPal. This is what they have done to other people who have fallen for other copies of this scam. 
You also need to be careful with the tasks they want you to complete because those tasks are dangerous and can harm your device. 
They require you to visit other fraudulent websites or install apps that are infected with malware. 
Even if you complete them, they will not pay you so they're a complete waste, in my opinion. It doesn't even make sense that you can make $30 per task. GPT sites that work pay way less than that. 
Their "about" information and payment proofs are fake
---
KashTree is said to have been created in 2015, but that's a complete lie.
According to whois, the kashtree.com domain name was registered in 11th August 2019, so it's basically been 2 weeks (as of this review) since it was created.
Do you think they have paid millions of dollars to their members if kashtree is very new? They haven't paid anything to anyone!
The payment proofs are also fake. Those payment were allegedly made in May 2019, November 2018… It's clear that they're fake because KashTree didn't exist back then.
Fake testimonials
---
I have lost the count of the number of times I've seen these testimonials in other copies of this scam lol.
These testimonials are not real. All of them have appeared in other scams like Paid4Clout, Clout Pay and CashOG. 
You see, they don't even mention their usernames, which is already a red flag because if we knew the usernames, we would be able to confirm they're not fake.
As you can observe, these testimonials do appear in the other scam sites I have mentioned: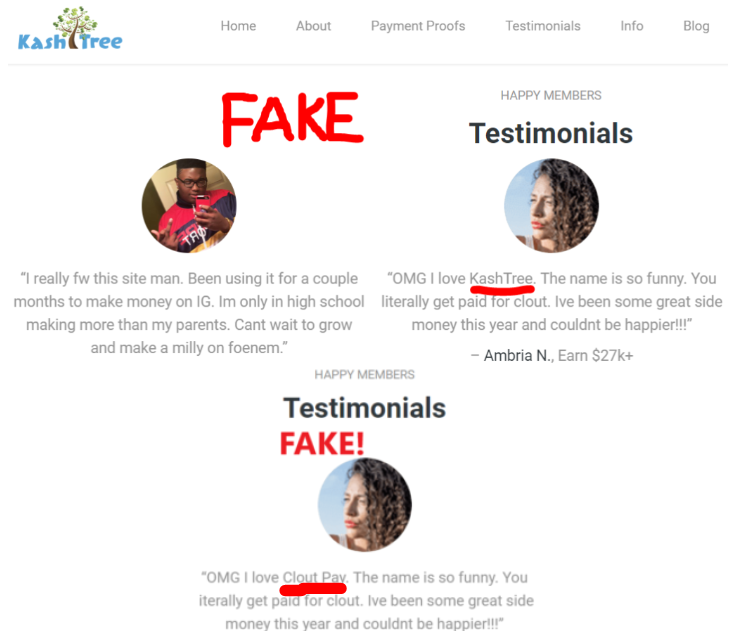 It makes no sense to join all these sites and write the same comment in each one of them, don't you agree?
Why is the owner anonymous?
---
How can we trust a website run by someone anonymous?
Don't you think they have something to hide? I definitely believe they don't show their real identity for a reason.
And that reason is that they know that showing who they really are would put them in danger. The people they've scammed would probably sue or persecute them. 
So they don't show us who they are because they don't want to face the negative consequences of deceiving people. 
The other copies of this scam didn't show their owners either. That's why I believe that all these frauds have been created by the same group of con artists.
Legitimate companies are usually transparent about their owners. They know they do a great job so they don't hide, but that's not the case with KashTree.
Sick of scams? Want to make passive income every day?
Check Out My FREE Earn Money Online Guide Here!
KashTree review – Is KashTree.com a scam?
---
After everything I have explained and shown, it's up to you to decide if KashTree.com is a scam or not.
There are people who will not call it a scam because it's free to join. 
But the fact that it doesn't work as advertised and can put you in danger. It can make you lose time, money and it can harm your device.
And that's not all! It's also bad for your emotional health because the feeling of getting ripped off is always negative.
If you have been promoting it, I recommend that you stop. You can also add extra protection to your personal accounts to prevent them from getting hacked.
In addition, you can share this KashTree.com review to make other people aware of this scam. You don't want other people to get scammed, right? 
What you decide to do is up to you, but my final advice is to stay away from KashTree.com.
What about promoting legitimate sites instead of scams?
---
Many people fall for scams like KashTree because they promise easy and fast money. Scammers take advantage of the fact that there are people who don't know what it takes to make an income online.
When you realize that anything worth achieving in life takes effort and time, you stop wasting your time on too-good-to-be-true money-making opportunities.
I'm glad that I found a legitimate business model that has given me a way to make passive income online every day.
This business is about promoting other people's products or services, which would be similar as promoting other people's sites.
Instead of promoting scams like kashtree.com, if you promote legit stuff, you can get paid!
The good news is that you're not required to spend any money just to send visitors to those sites, thanks to the method I use!
I'm living proof this business works, as you can see here: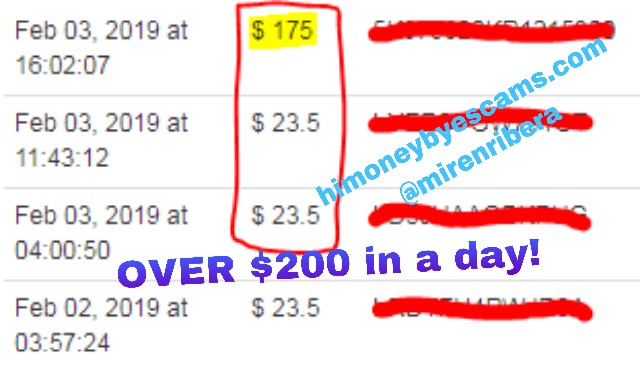 I really believe that anybody who learns a simple method and takes massive action can succeed at this business. I personally started out with no experience and English is not even my first language.
If you believe you can do it, you will find a way to make it happen. Don't put limitations on yourself!
There's a lot to say about how this business works, so if I keep writting about it, this post would be too long lol. That's why I created a FREE guide that you can check out to learn how you can make passive income like me: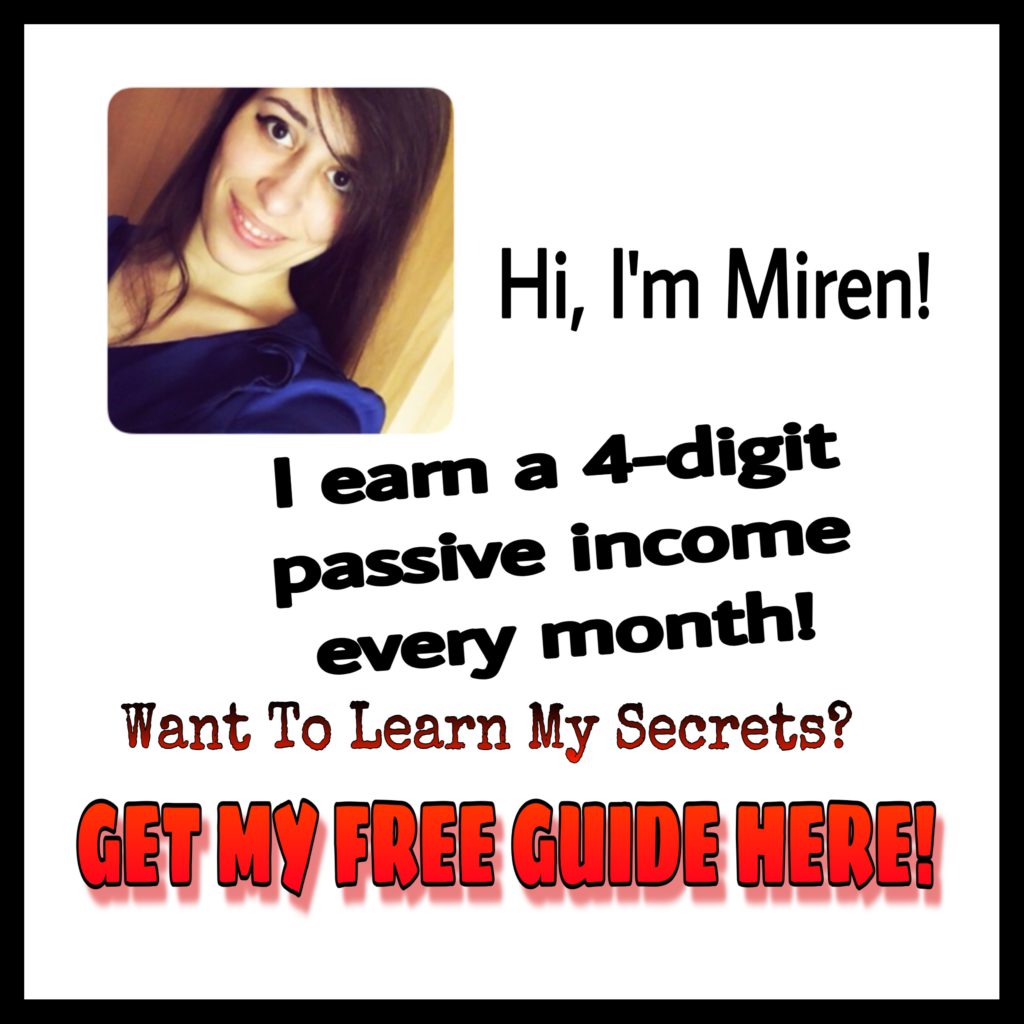 My guide is FREE (no login information required, just click here to start reading it), which means that you have nothing to lose and a lot to gain =)
Oh, and don't you worry if you ever have questions or need help! I'm not like those scammers because I reveal my identity and tell you how you can contact me.
In my free guide you will see how you can get your questions answered and how you can receive lots of support from me and other Internet marketers.
Stop wasting your time on phishing scams and start your online business today!
I'll leave this quote here:
If you want something you have never had, you must be willing to do something you have never done.
I hope this KashTree review has been useful to you and you will make the best possible decision.
Feel free to share it with whoever you believe that will benefit from it!
If there's something else you want to know or you have any questions or would like to share your experience, please leave a comment below. I love hearing from you all!
Whatever you do next, I wish you nothing but the best =)