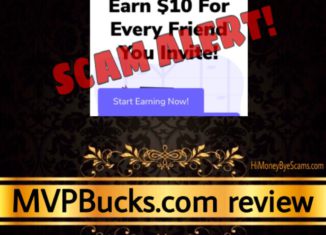 Will MVPBucks scam you and waste your time? Or is mvpbucks.com a legit website that can help you make big money?
I'm glad that you have found this honest MVPBucks.com review because here I reveal the complete truth about MVPBucks.
I love it when people like you do their due diligence because that's how they can avoid scams and discover the legit way to earn money online passively. 
When it comes to MVPBucks, I've seen lots of people promote it like crazy so I knew I had to write a review to warn all of you. 
For your information, I'm not promoting MVPBucks, which means that here you will not find any referral link. This is a real review that will show you what others are hiding from you.
MVPBucks review summary
---
Name: MVPBucks
Website URL: mvpbucks.com 
Launched in: June/July 2019
Best for: The owner
Owner: Hidden
Price: Free to register
Recommended? No, it's a scam!
---
If you're sick of scams, check out my 1st resource to make a 4-digit monthly passive income HERE!
---
What is MVPBucks about?
---
MVPBucks is a website that many people have been promoting on social networks like Twitter, Facebook and YouTube.
People have been sharing their referral links because they think that when other people join through them, they will get paid. They also think that they will get paid for completing some tasks.
You see, the MVPBucks.com website claims you can make $10 per referral, $30 per task and $30 per paid survey! Sounds amazing, doesn't it?
The truth is that it sounds way too good to be true, especially for people who know what it takes to make money online. $30 surveys or $30 tasks don't exist!
The owners of MVPBucks are just taking advantage of unsuspecting folks who need money and don't know how the Internet marketing world works.
And when it comes to referrals, it makes no sense that they pay $10 per referral because joining is free. So where does the money come from if no one is paying to sign up?
How can a website that is free to join scam you? I'm sure many people are falling for it because they don't ask for payment. But remember, scams come in all forms and shapes!
I personally feel sorry for people who fall for scams like MVPBucks because they don't deserve it. Getting scammed is such a horrible experience!
Nothing on the mvpbucks.com website is real and I have proofs that I'm about to show you. All their stats are fake so I would take their claims with a pinch of salt.
Sick of scams? Want to make passive income every day?
Check Out My FREE Earn Money Online Guide Here!
How the MVPBucks scam really works
---
The MVPBucks scam only works for the scammers who have created it. It doesn't work for people like you who want to make money online.
This is no different than other data collecting scams that use your info for profit. There are too many scams like this one and it sucks that many people don't realize it until it's too late.
When it comes to MVPBucks, I know it's a scam because of the lack of important information and the lies they tell you.
First of all, the stats on their site are fake because mvpbucks.com has only been around for 7 days! Not even a month! So how come they have 120,000 members? 
As you can see, the mvpbucks.com domain name was registered back in June 28th 2019, according to whois.com:
And what about the $25 bonus? If you do some math, you can conclude that it's completely fake. If there are 120,000 members and each one of them has supposedly got a $25 bonus, then the minimum they should have paid to members it's $3,000,000.
But on their site they claim they have earned $500,000 lol, see how it makes no sense?
Also, the fact that they don't provide any information on the company is another red flag. Where's the company located? How long has it been around? How can they afford to pay $10 per referral or $30 per task? What companies do they work with?
They don't provide this kind of information, which is enough for me not to take mvpbucks.com seriously. A website that hides information and contains fake claims is never good.
All the owners want is your personal data. They want you to share your mvpbucks.com referral link because they want as many people as possible to sign up.
They want to collect email addresses and passwords to sell them for profit.
This is actually very dangerous because they are not the only scammers who sell personal information, other unethical people who get your information will sell it too, which means that your info can fall into the wrong hands!
They will even use them to send you spam emails that include scam links or malware files. Scammers always do the most to profit as much as possible.
They don't provide any legal information
---
Something that is a huge red flag is the fact that there are no legal pages on the mvpbucks.com website. 
When I say legal pages, I mean a privacy policy, a disclaimer or a terms & conditions page. These pages are something you can expect to find in legitimate sites.
But MVPBucks doesn't provide this information, which means that they don't want us to know how they use personal information you give away. It's illegal to ask people for email addresses without telling them how they will use them!
Before joining a website, it's important to know how your information is going to get used. Are they going to keep it safe? Or will they sell it? Most of the time, websites without legal information tend to be data collecting scams.
Because of this, I always make sure I do not join this kind of websites. 
Beware of this fake testimonial!
---
Has anyone made money with MVPBucks.com? The only ones who profit from this are the owners. 
There are no real members who have got paid. All the people who are sharing mvpbucks.com think they will get paid, but they won't. 
You see, if mvpbucks.com works so well, why did they create a fake testimonial?
Robert Smith is not a real member, which indicates that he hasn't made any money with MVPBucks. 
This man's picture is a stock picture that can be purchased on sites like Adobe Stock:
As you can see, this man's photo can be found on different websites. His real name is not Robert Smith and he probably doesn't even know that his picture is being used to market the MVPBucks scam.
Another thing I want to point out is that there are fake positive reviews, especially YouTube videos that have been uploaded by members who think they will get paid. 
All those reviews are fake because the people who have created them haven't got paid by MVPBucks. They don't even provide any real proofs so it's clear that they haven't made any money.
You see, when someone makes money from a website, he/she shows some kind of proof.
Oh, and I also want to warn you about their fake payment proofs! I have noticed that they have a Twitter account where they are posting fake income proofs. I know they are fake because those payment proofs are dated before the mvpbucks.com domain name was registered.
RECOMMENDED: Check Out How I Make A 4-Digit Monthly Income Here!
Who's behind MVPBucks.com?
---
There are no pictures of the creators of mvpbucks.com, and they don't even mention their names. Don't you find it suspicious?
Most of the time, when a website or company is legit, the owners are transparent enough to reveal who they are. They don't hide behind a screen because they know that people will benefit from their services/products, so they are enough proud of themselves to show up.
However, when something is not legit, people behind it don't reveal their real identities because they don't want to get caught. People who are running MVPBucks don't tell you who they are because they don't want to face the negative consequences of ripping people off.
Just the fact that they don't mention any contact details or other ways to get help is a big red flag because it indicates that helping you is not their main goal. I would never trust people who ask me for my email address without them giving me their email address.
I mean, there's a reason they are not showing anything about themselves. People who hide essential information cannot be trusted, in my opinion.
MVPBucks.com review – Final verdict
---
I'm 100% sure than MVPBucks.com is a scam that will not pay you. It's a copy of other scams I have exposed, such as CloutPay, CloutBucks, ViralMarket, ReferralPay, KidsEarnCash…
There are too many scams like this and all of them work the same way. Trust me, after having reviewed hundreds of websites, I know how this stuff works. 
Some people may think that it's unfair to call something a scam without having tried it, but the truth is that there's no need to try something just to confirm it's not legit. The fake claims and the lack of information is enough for me not to trust them.
In case you have joined MVPBucks.com with your main email address or a password you use for other sites, I recommend that you change your password because these scam artists will try to steal your personal accounts.
Many people who have fallen for other copies of this scam claim to have had their money taken out of their PayPal, Cashapp or bank accounts. So MVPBucks will not only waste your time, it will also steal your money!
Scams like this are also bad for people's emotional health because it's something that gets people frustrated, irritated, disappointed… Scamming people is a way of hurting them, so it's very cruel and unacceptable.
After everything I have explained, what you decide to do is up to you. But my final verdict is that it's best to stay away from MVPBucks.com.
This is how real profits online are made
---
There are too many frauds out there, but the good news is that there are also legitimate opportunities and people who really want to help others.
When I was starting out, I remember wasting my time on scam sites that didn't work until I realized that making money online was not easy or fast.
I'm happy that I learned about affiliate marketing, which is a business model that allows you to profit from other people's products and services. 
It's a business model that has been working for decades and people from all over the world are using it to make a full-time income online.
For example, I didn't have any prior experience and English was not even my first language when I started out. But there are days that I managed to earn $200: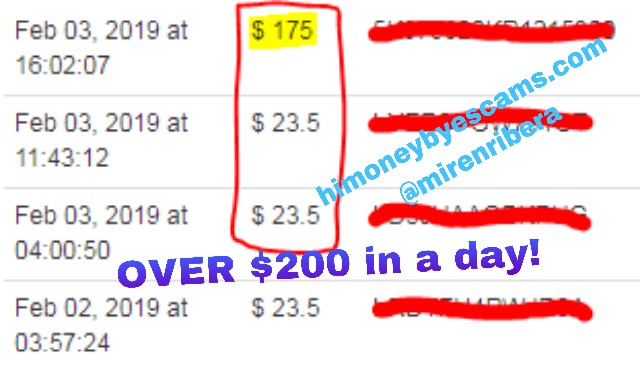 If you're interested in learning how this business works, I invite you to read my free guide here: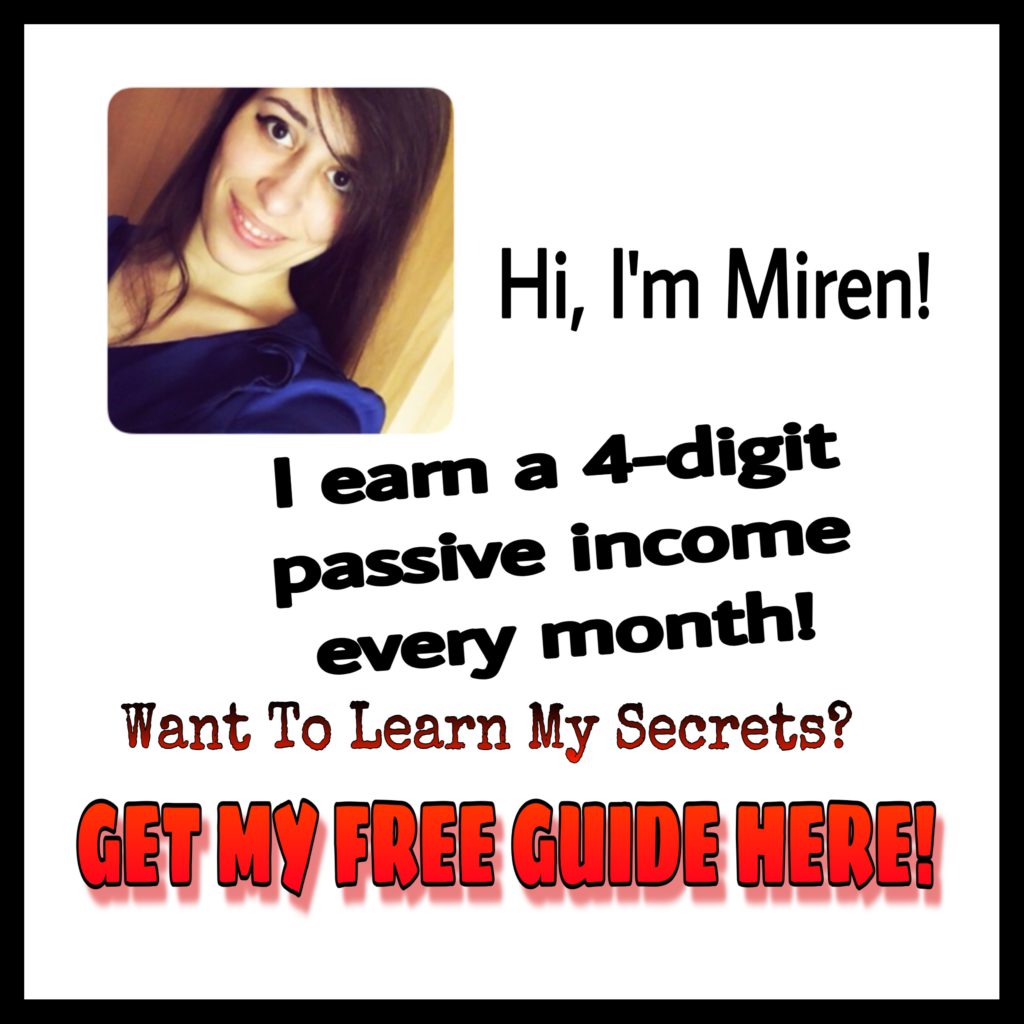 You see, my guide is FREE (just click here to start reading it), that's how you can make sure this business is right for you for 0 risk! You have nothing to lose and a lot to gain =)
Stop wasting your time on dangerous scams and start your online business today!
I'll leave this quote here:
If you want something you have never had, you must be willing to do something you have never done.
I hope this MVPBucks scam review has been useful to you and you will make the best possible decision.
Feel free share it with whoever you believe that will benefit from it!
If there's something else you want to know or you have any questions or would like to share your experience, please leave a comment below and I'll get back to you ASAP!
Whatever you do next, I wish you nothing but the best =)