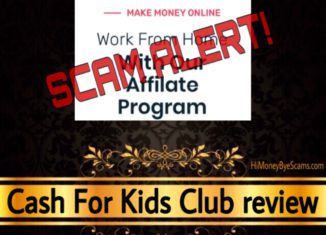 Welcome to my Cash For Kids Club review! 
Have you come across cashforkids.club or cashmine.net and are wondering if you will get paid? Or is Cash For Kids Club a scam that doesn't work?
If that's what you need to know, I'm glad that you have found this post because here you will find all the answers to the questions you have about cashforkids.club.
You know, there are too many ugly scams out there, so it's great to see that you are doing your own research. That's the way to avoid scams and discover the real way to make money online passively!
For your information, I am not affiliated with Cash For Kids Club, which means that here you will not find any referral link.
My honest review will show what others haven't told you about CashForKids.club and everything you need to take into consideration to make an informed decision.
Cash For Kids Club review summary
---
Name: Cash For Kids Club
Websites: 
cashmine.net

cashforkids.club
Launched in: 2019
Owner: Hidden
Best for: The owner
Price: Free to join
Recommended? No, it's a scam!
---
If you're sick of scams, check out my 1st resource to make a 4-digit monthly passive income HERE!
---
What is Cash For Kids Club about?
---
Cash For Kids Club (cashforkids.club or cashmine.net) is a website that claims you can make money by getting other people to sign up and completing some tasks.
There are legit websites that actually pay you to refer others and complete tasks, but not this one. 
Cash For Kids Club is no different than other scam websites I have been reviewing lately, such as CloutPay, CloutBucks, NotionCash, KidsEarnCash, ViralMarket, ReferralPay…
There are too many scams like this one and they first seem to be legit because they allow you to join for free. And sadly, I have seen lots of people fall for this!
Scammers create multiple copies of the same scam under different domain names because that's the way they can mislead potential victims. They don't want people to find the honest negative reviews and complaints, so they keep creating different copies of the same scam.
They make lots of fake and unrealistic claims like "earn $146+ daily in under 8 minutes", which makes it sound like a get-rich-quick scam. There's no method to start making money online within a short period of time, so don't take their words seriously!
Also, the fact that they claim you will get $25 for free is another red flag because no one gives away free money for nothing. This is not even a private club because anyone with an Internet connection can access it.
What they really want is to get you to join their site as soon as possible. It's not true that their "free bonus" expires today (July 6th 2019) because you can take a look at their website tomorrow and nothing will have changed.
They are taking advantage of the fact that there are people who need easy or fast money, and they're also taking advantage of the fact that many of these people don't know the truth about making money online.
Don't let these scammers fool you because their real goal is to make money themselves. The "free $25" and "$146 in 8 minutes" are fake claims that are designed to make you fall for their scam.
Sick of scams? Want to make passive income every day?
Check Out My FREE Earn Money Online Guide Here!
How the Cash For Kids Club scam really works
---
Cash For Kids Club works the same way as other scams I have recently exposed, like CloutPay, MVPBucks, CloutBucks, ReferralPay, ViralMarket and Kids Earn Cash.
There are so many scams like this and it saddens me to see that many people fall for them just because they're free to join.
They promise you easy and quick cash, when in reality the only ones who are going to get money it's those scam artists. 
You see, they make their opportunity look too good to be true: free to join, hundreds of dollars just by sharing links and completing tasks, $25 just to sign up…
It definitely sounds like cashforkids.club is the website that will help you quit your job and work anywhere you want, don't you agree?
So how does this scam work? Their main goal is to get as much information as possible because the more information they get, the more money they can make.
When someone registers, they immediately collect the email address and password, and then test them to hack accounts and steal money.
In fact, some of the people who have fallen for other copies of this scam claim to have had their money taken out of their bank or PayPal accounts. And these scammers have also tried to hack email accounts.
Even if they manage to steal money and personal accounts, they also sell all the information to other scammers and hackers who will do the same. This is very dangerous because your information can fall into the wrong hands.
Apart from that, they also try to steal other information through the tasks they tell you to complete. Those tasks require you to give away your phone nfilesumber or credit card information, which is another red flag.
Oh, and they also require you to download files or apps infected with malware, which can definitely harm your device. I see some people who have fallen for this scam have had a hard time trying to complete those tasks, and even after completing them, they didn't get credit.
Even if you get credit or $30 per task, they will not pay you so completing those tasks is not worth it because it cannot benefit you in any way.
No information about the owners
---
If I asked you "who's behind cashforkids.club?", what would you say? Would you be able to mention the names of the owners of Cash For Kids Club? Maybe not, right?
I personally don't know who has created cashforkids.club because they don't provide any information about them. Don't you find it suspicious, especially when you consider that they claim to be the #1 influencer network?
They claim to be good and transparent, when in reality they are the complete opposite. Honest people would show you who they really are instead of hiding behind a screen.
The reason they hide is that they don't want to get caught. They don't want to face the negative consequences of defrauding people, so they do the most to remain anonymous. 
Another big red flag is the fact that they don't provide any legal information, such as a privacy policy or terms & conditions page. This is not a good sign because it means that they are hiding how they will use your data.
The fact that they are not transparent about important stuff is something that makes me conclude they cannot be trusted. I've never seen a legitimate site without legal information.
All the websites that lack information like this tend to be scams, so I always make sure I stay away from this kind of sites.
RECOMMENDED: Check Out How I Make A 4-Digit Monthly Income Here!
It's the same as other scams
---
CashForKids.club is just another name for an ugly data harvesting scam. 
I'm sure that this scam has been created by the same con artists who created the other scams I've mentioned because all these scams have the same layout and fake claims.
In their "about" section they even mention "Viral Dollars", which is one of the names they have used to promote this scam. After Viral Dollars got exposed, these scammers changed it to Referral Pay, but it's the same scam.

They even lie about the year Cash For Kids was founded because the cashforkids.club domain name was registered in May 2019, according to whois.com.
The reason they lie about their launch date is that old sites are more likely to be legitmate than new sites. So this is a way for them to gain credibility. 
And that's not all! They also have fake testimonials on their site, which is another red flag because it indicates that there aren't any real members who are making money.
They haven't paid anyone so they have created fake testimonies to lead you to believe that there are people who are making money.
As you can observe below, the pictures of these testimonials appear in other websites, which means that they are not real testimonials. Scammers behind Cash For Kids Club have taken those pictures from those other websites to create these false members.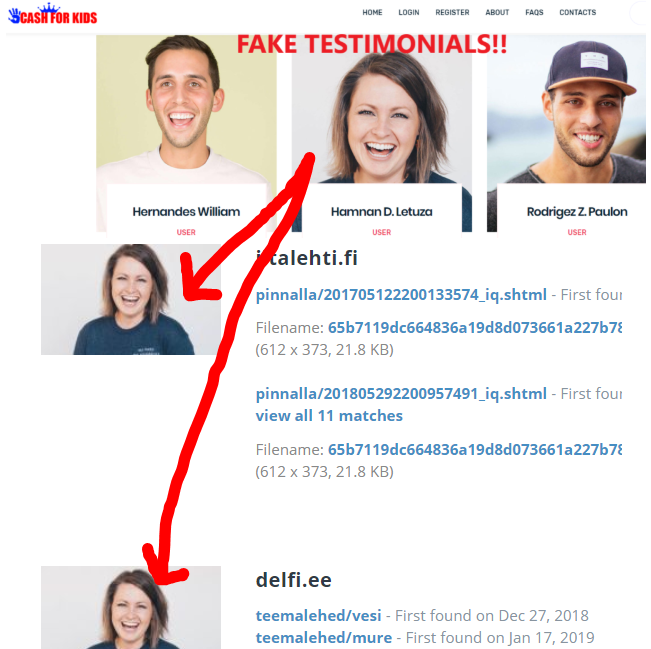 Apart from that, they do not provide anything real to prove that they are members. They do not mention how we can contact them or their usernames. 
I mean, if they are active on social media and they are said to be famous, why don't they mention their usernames? Why don't they give us more details about these people? Obviously, they have nothing to do with Cash For Kids Club. It's clear that they are not real members, so they haven't made any money with this platform.
Cash For Kids Club review – Final conclusion
---
I have no doubts Cash For Kids Club is a total scam that needs to be avoided.
Their websites are full of fakeness: fake income claims, fake testimonials, lack of important information about the owners, lack of legal pages…
When a website presents these red flags, I stay away from it because it means that something is wrong with it. A legitimate website wouldn't lie about their owners or their members, don't you agree?
Also, the fact that it was created by the same individuals who created Viral Dollars is what makes me confirm that it's not legit. Cash For Kids Club works the same way as the other scams that many people have fallen for, so it's best to avoid it.
In fact, there are people who don't believe it's a scam until they have been ripped off, which is sad because they could have saved some time and even money.
If you have fallen for this scam, I recommend that you stop promoting it because it will not benefit you in any way.
But the final decision is up to you. This is just my honest Cash For Kids Club review, I hope you found it insightful.
Final verdict: Avoid CashForKids.club!
Want to know what really works?
---
If you are tired of scams, you need to keep in mind that making an income online requires time and effort.
There are too many scams out there and they come in different shapes, so I know it's easy to fall for one of them before finding the legitimate opportunities.
I'm glad that I realized how making money online works and learned about a legit business model, which has given me a way to earn passive income every day.
This business is about researching, talking and writing about a topic you are passionate about, so you will get to enjoy the process because you'll be doing something you love =)
And then you also recommend products or services related to that topic.
When people purchase what you have told them, you earn commissions. The process doesn't sound complicated, but there's learning and work involved.
It's a newbie-friendly business model because it doesn't require you to create your own products. And it doesn't even require you to spend money on ads. 
As you can see, I'm living proof that this business works: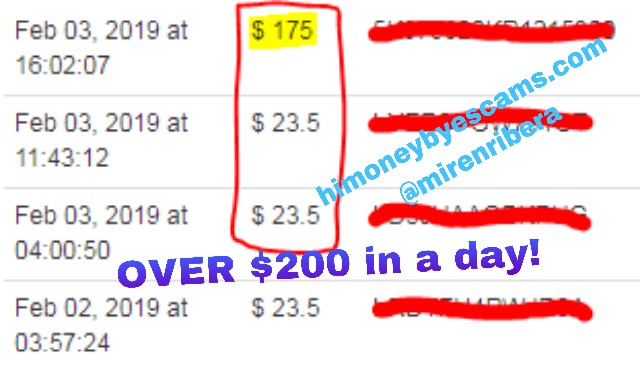 I personally got started with no previous experience or skills and English is not even my native language, so there's no reason you can't do this! You can definitely make it happen! 
If you're interested in learning how this business works, I invite you to read my free guide here: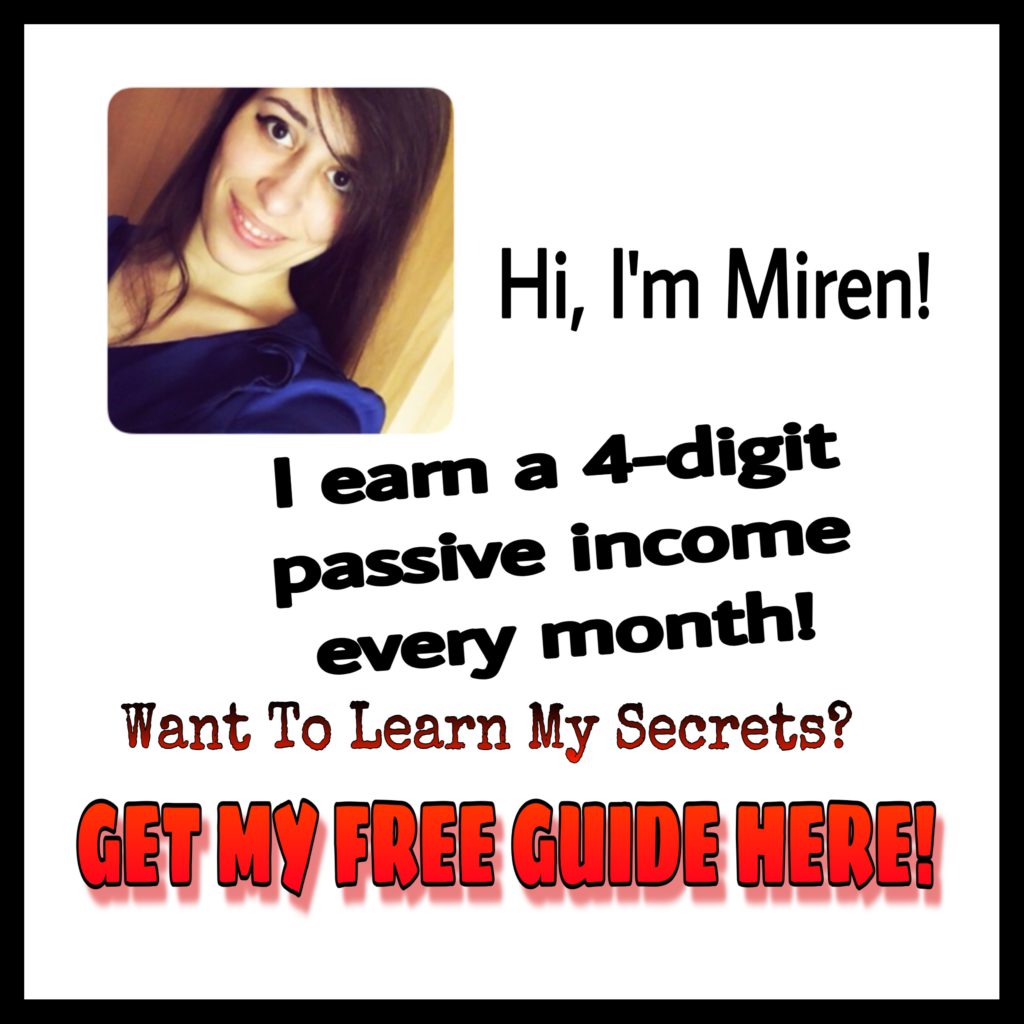 You see, my guide is FREE (just click here to start reading it), that's how you can make sure this business is right for you for 0 risk! You have nothing to lose and a lot to gain =)
Stop wasting your time on dangerous scams and start your online business today!
I'll leave this quote here:
If you want something you have never had, you must be willing to do something you have never done.
I hope this Cash For Kids Club review has been useful to you and you will make the best possible decision.
Feel free share it with whoever you believe that will benefit from it!
If there's something else you want to know or you have any questions or would like to share your experience, please leave a comment below and I'll get back to you ASAP!
Whatever you do next, I wish you nothing but the best =)