The ViralMarket.co scam has been around for a long time, but with different names.
If you have joined Viral Market or are thinking about joining, I'm glad that you have found this ViralMarket.co review because here I reveal how this platform really works.
Before getting started, I want to congratulate you for doing your due diligence because that's the way to avoid scams and find the legit way to make real money online.
I have been writing reviews for a long time and have come across many websites like viralmarket.co, so I know why it doesn't work and have some undeniable proofs.
So are you ready to see what they are hiding from you?
ViralMarket.co review summary
---
Name: Viral Market
Website URL: viralmarket.co
Founder: Hidden
Best for: The owner
Price: Free to register
Recommended? No, it's a scam!
---
If you're sick of scams, check out my 1st resource to make a 4-digit monthly passive income HERE!
---
What is ViralMarket.co about?
---
ViralMarket.co is said to be the #1 influencer network that is helping individuals monetize their social media.
Members just have to join for free, share their links and complete some tasks to earn hundreds of dollars per day. Sounds cool, doesn't it?
I know that the idea of making money for free sounds awesome for some people, especially for people who are on a low budget and have never made money online.
However, I don't know any influencers who are using Viral Market to make money. I haven't seen any celebrity or influencer promote this platform.
Everyone who is promoting this platform is doing it to earn the money they haven't earned yet. No one is promoting this platform because it works. 
If people who are promoting viralmarket.co knew that they will not get paid, they wouldn't be wasting their time on it.
Viral Market is no better than other sites called Cloutbucks.com, ViralBucks.co, NotionCash.com and ReferralPay.co. All these platforms are scams that don't work.
They have the same structure, lies, red flags… The only difference between them is their names.
All of them claim you can  make at least $150 per day and $2,000 per month, but the truth is that they haven't paid and will not pay anyone.
Their stats are also fake because they haven't paid anything to anyone and they don't even provide any real proof to back up their claims.
The scammers behind Viral Market are taking advantage of unexperienced folks who need money. They will do anything they can to make money at your expense, as I'm about to explain.
Sick of scams? Want to make passive income every day?
Check Out My FREE Earn Money Online Guide Here!
How the ViralMarket.co scam really operates
---
ViralMarket.co works in a way that wastes your time & money and leaves you frustrated.
The reason they claim you can make money by getting other people to click and join Viral Market through your referral link is that the scammers want as many people as possible to join viralmarket.co.
Their main goal is to collect as much personal information as possible. They want to collect your email address, your name, your password… And then they will use it for profit.
For example, they will sell your email address to other scammers who will do the same. So you can expect to receive lots of spam emails from people you don't know.
I don't recommend that you pay attention to their emails because there's nothing good about them. Their emails are full of links to scam sites and files infected with viruses, which can harm your device!
Apart from that, they will also use your email address and password to steal your personal accounts, such as your email account and your PayPal account.
How do I know? Well, the scammers behind Viral Market are the same scammers behind Kids Earn Cash (now called cloutbucks.com), and I found out that they took all the money from someone who fell for the scam.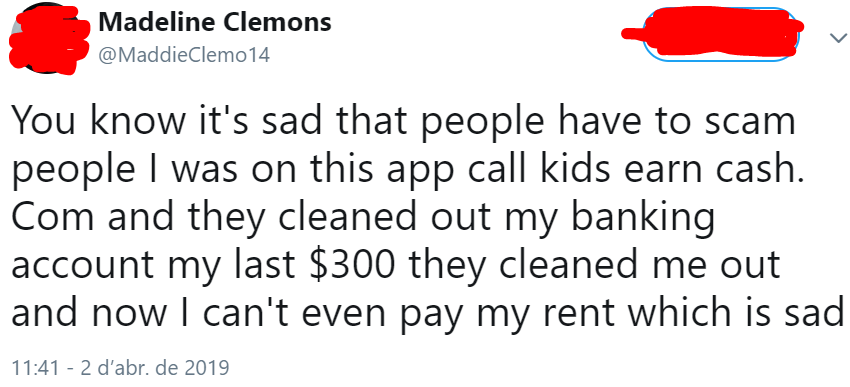 Because of this, I recommend that you add extra protection to your accounts. It's not fair that innocent people lose their hard-earned money.
Don't fall for the task wall!
---
Apart from making $2 per click and $10 per referral, they also offer the opportunity of making $50 by uploading a YouTube video with a positive Viral Market review.
And they also have a task wall where you can find simple tasks that allegedly pay $30 each one.
But these tasks are not that simple because they require you to give away personal info like your email address, your name, your phone number, and even your credit card information.
Another red flag is that they require you to download files or apps that are infected with malware, which is very dangerous for your device!
These tasks are very dangerous because they don't come from legitimate websites, so I don't recommend that you complete them.
The only ones who benefit from these tasks are the scammers because they are the ones who make money when you complete these tasks.
Your ViralMarket.co account balance will increase and increase, so it will seem that you are making money. But the problem is that it's fake money because they will never send it to you.
In other words, the amount of money that appears inside your viralmarket.co account is an illusion, it's not real money!
Some red flags exposed
---
Everything about Viral Market is fake, from the money to the testimonials to the year they claim it was founded.
According to them, it was founded in 2015, but this is something they say to gain credibility. 
As you can observe, they mention Referral Pay, which is another name for this scam.
How do I know it's fake? I checked out the viralmarket.co domain information and I found out it was registered on May 1st 2019, so it's not even been 2 months since Viral Market was created.
This is an undeniable proof that indicates Viral Market is a new name for this data harvesting scam.
The reason they have changed the name of this scam is that the other names already have lots of complaints, so these scammers have changed the name to mislead potential victims.
Below you can read some Viral Dollars (now it's referralpay.co) complaints:
If you reach the minimum payout threshold and claim your payment, the day before you're supposed to get paid, they will cancel it. That's when many people realize that they have been ripped off.
In case you try to get in touch with them, they will not reply because they don't care about their members. The contact information they provide is not real, which means that there's no way to contact them.
You see, they don't even show their faces or mention their names. There's no information about the people behind Viral Market, which indicates a lack of transparency.
Scammers never show up because they don't want to face the consequences of scamming other people. They don't want to get persecuted or sued.
And that's not all! The written testimonials are also fake because if they were real, they wouldn't have any problem with showing it. There are no photos of these testimonials and there are no pictures of their earnings. 
Those testimonials are completely invented because they haven't paid any real members. So don't be fooled by those fake testimonials!
RECOMMENDED: Check Out How I Make A 4-Digit Monthly Income Here!
ViralMarket.co scam review – Final verdict
---
ViralMarket.co is an ugly scam that only benefits the scammers who have created it.
No one will get paid $2 per click or $10 per referral. They will not even pay you $30 per task or $50 for the YouTube video. They will never pay you.
You see, the people who upload these YouTube videos to promote scams like this don't provide any payment proof because they haven't got paid. The only reason they claim it works is that they hope they will get paid.
They have been lied to and now they are spreading this scam because they don't realize how dangerous it is, not only for them. It's dangerous for everyone who gets involved!
Because of this, I will not waste my time on Viral Market because there's nothing good about it.
There are programs that also promise you the world and ask you for money but at least they provide some training and allow you to get a refund.
But viralmarket.co is not like that. It's a fraud that will waste your precious time and put you in the position to lose your hard-earned money. 
I have provided enough proofs that indicate ViralMarket.co is not to be trusted.
What you decide to do is up to you, but I have to conclude that I highly do not recommend Viral Market.
Discover my secrets to make passive income every day
---
There are lots of scams like Viral Market out there, but the good news is that it's completely possible to make an income online.
When I realized that making an income online takes time and effort, I stopped wasting my time on websites or products that didn't work.
I'm grateful that I found a business model that has given me the way to earn passive income online. This business model is about promoting other people's products or services to make commissions, so you don't have to create your own product.
There are millions of products to choose from, and the good news is that it can be related to a topic you're passionate about. So this is about doing more of what you love!
Doesn't it sound cool to make money while researching, writing & talking about your passion/s?
This business has been working for decades and there are lots of people who are using it to generate a full-time income online. 
I'm living proof that it works, as you can observe here: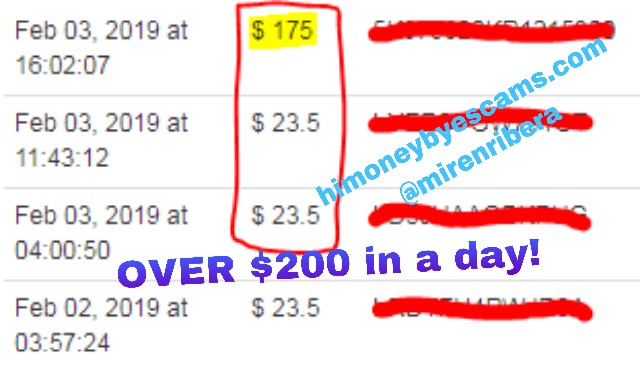 I believe anyone who learns how this works and takes action, can do this.
If you're interested in learning more, I invite you to check out my FREE guide here: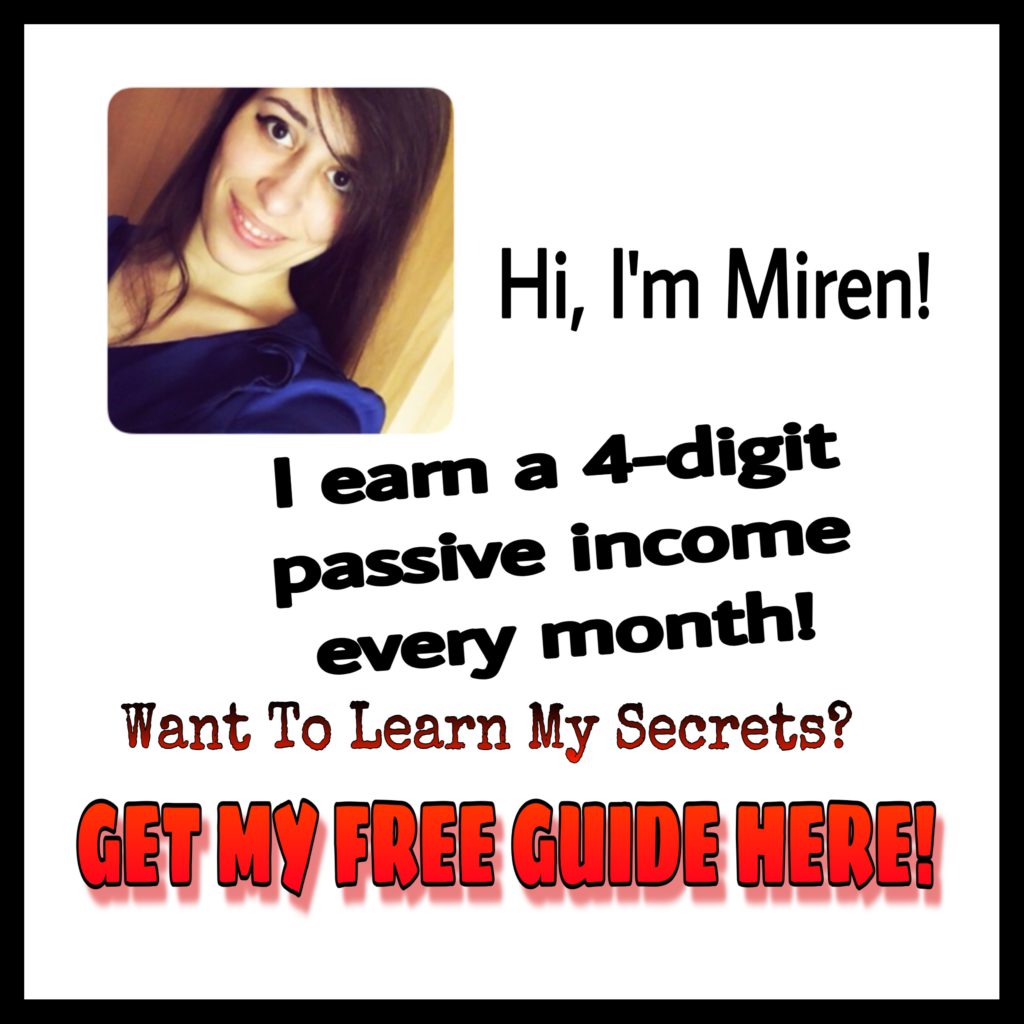 You see, my guide is FREE (just click here to start reading it), so you can make sure this is the right business for you risk-free! You have nothing to lose and a lot to gain =)
My free guide shows you why this business works, proof that it works, how and where you can get started…
Oh, and if you ever need help, you will be able to get support from a community full of like-minded people! You'll see how you always get your questions answered 🙂
Stop wasting your time on dangerous scams and start your online business today!
I'll leave this quote here:
If you want something you have never had, you must be willing to do something you have never done.
I hope this ViralMarket.co review has been useful to you and you will make the best possible decision.
Feel free share it with whoever you believe that will benefit from it!
If there's something else you want to know or you have any questions or would like to share your experience, please leave a comment below and I'll get back to you ASAP!
Whatever you do next, I wish you nothing but the best =)