Will ViralBucks.co scam you out of your hard-earned money and leave you frustrated? 
If that's what you are wondering, I'm glad that you have found this Viral Bucks review because here I reveal the complete truth.
The fact that you are doing your due diligence tells me you are such a smart person and I must congratulate you for it! That's the way to avoid scams and find the ethical way to earn passive income every single day.
When it comes to viralbucks.co, it's no better than other scam websites I have come across so keep reading to discover why it's not what they have told you!
ViralBucks.co review summary
---
Name: Viral Bucks
Website URL: viralbucks.co
Owner: Not revealed
Created in: April 2019
Price: Free 
Recommended? No
---
If you're sick of scams, check out my 1st resource to make a 4-digit monthly passive income HERE!
---
What is ViralBucks.co about?
---
Viral Bucks (viralbucks.co) is a website that claims you can make money for referring other people and completing some simple tasks.
They claim to be the #1 influencer network that is helping people monetize their social media, but I have my doubts… More on this later.
According to them, you can get paid $10-$15 for each person who joins viralbucks.co through your referral link, and you can also make money by trying out new free products.
Not only that, you can allegedly make $2 for each person who clicks on your link… So will you get paid if you just share your referral link on social networks? 
I mean, if all you have to do is to share your referral link, then why isn't everyone making money online already? Sharing a link is something most people can do, don't you agree?
I personally came across ViralBucks.co after seeing some people promote it on Twitter and Facebook. I was like "what if this one is different than the other scams?" so I decided to take a look.
Everything they say sounds awesome because it gives you hope about finally making an income online and quitting your job, but after having done my homework, I can say that it does not work as advertised.
If you are one of the people who are sharing their referral links or you were thinking whether to join or not, make sure you keep reading because I'm going to show you some undeniable proofs that viralbucks.co is a fraud.
How the ViralBucks.co scam really works
---
ViralBucks.co only works for its owners to profit themselves! It's not a platform that you can rely on to make money online.
They try to "get you" by telling you that you can make easy money if you just share your referral link.
The fact that it's free to join and you can get a $25 bonus for signing up make this money-making opportunity very attractive because who doesn't want to earn money without spending a dime?
However, it also looks too good to be true, especially when you know that making money online doesn't come with ease.
You see, they say that you can earn $500 today, which sounds too unrealistic because making that kind of money takes time and effort.
So, let's see what it will happen if you join…
Why is ViralBucks.co free to join?
---
You might be wondering "how can ViralBucks.co be a scam if it's free to join?"…
The thing is, they are not asking you to make a payment to lead you to believe that it cannot be a scam.
But the truth is that they make it free to join because that's the way they can easily get your personal information, such as your name and your email address.
Once you have joined, they collect the personal details you have given to them and tell you to promote ViralBucks.co to start making money.
They give you a referral link that you just have to share wherever you want. You can share it on Facebook, Twitter, Instagram, private messages, forums, blogs, Whatsapp… 
And then, when someone clicks on your link and joins ViralBucks.co, you apparently earn some bucks. Well, that's what they want you to believe…
They also tell you to upload a YouTube video where you promote viralbucks.co. If you do it, you can apparently earn $50.
Apart from that, they also give you some promotional posts that you can share to gain more referrals.
I personally will not be sharing my referral link or using those promotional posts because doing that would be misleading people.
Anyone who knows ViralBucks.co is a scam will not be sharing their links because they don't want to make their friends or family fall for this scam. I know I would feel so bad if someone I appreciate wasted their time on a fraudulent website…
Anyway, they want you to promote ViralBucks.co because they want as many people as possible to sign up. When people sign up, they are giving away their personal information which is what the scammers want.
Scam artists want to collect as many email addresses as possible because the more email addresses they collect, the more they can profit.
If you have joined viralbucks.co using your main email address, you can expect them to sell your email address to other con artists, which means that you can also expect to receive lots of spam emails.
In case you are receiving spam emails from people you don't know, I recommend that you unsubscribe from their spammy lists.
RECOMMENDED: Check Out My FREE Earn Money Online Guide Here!
Beware of the simple tasks!
---
Another thing I want to mention is the $30 task wall section that you can find within the ViralBucks.co dashboard.
This task wall is full of tasks that can apparently make you $30 once you have completed them.
The ugly truth is that these tasks require you to sign up to other websites that are not safe or secure. If you have tried to complete them, you have probably been asked to give away some personal information or download some apps.
So the problems with these tasks is that:
They will not make you $30.

You have to give away your information to sites that are not legit.

They are full of viruses and malware that can harm your electronic device.
Because of this, I don't recommend that you try to complete those tasks. The owner/s of viralbucks.co would be the only one/s who would benefit from it.
ViralBucks.co scam signs exposed!
---
Still have doubts about ViralBucks.co being a scam? Let me show you some undeniable proofs!
Who has created ViralBucks.co?
---
If I asked you "who's the founder of ViralBucks.co?", what would you say?
You would probably say that you don't know it, am I right? I personally don't know who has created ViralBucks.co because there's no information about it.
The Viral Bucks website has no info about the people who have created it, but this is not the only red flag… 
The big red flag is the fact that the owner is using a service to hide his/her identity, which means that they are doing the most to prevent other people from knowing who they are.
This is what you can read on scamadviser.com:
As you can read, this is something that is very common in fraudulent and fake websites, so it's not a good sign.
I personally cannot trust a website that claims to give you so much for so little and lacks transparency about its owner/s. 
You see, if ViralBucks.co is the #1 influencer network, why doesn't the owner show up? Don't you think he/she should be proud enough to reveal his/her real identity?
Sick of scams? Want to make passive income every day?
Check Out My FREE Earn Money Online Guide Here!
ViralBucks.co is too new!
---
Another scam sign is the fact that ViralBucks.co is lying about the year is was created! 
According to their site, it's been around since 2017. But legit sites like whois.com tell me that viralbucks.co was registered on April 27th 2019, which means that is only 1 week old (as of this review)!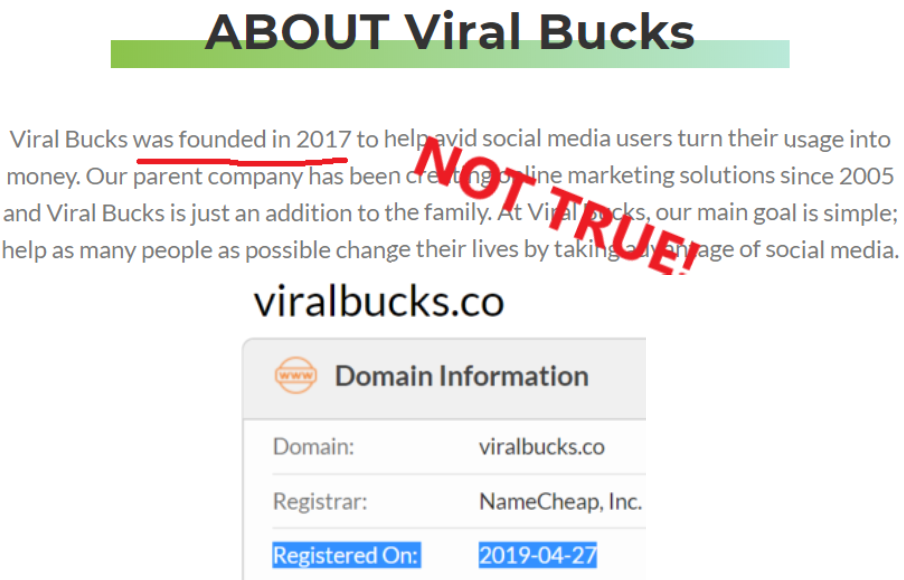 This is an indication that the payment proofs they show you are also fake because it's not possible that members have got paid months before viralbucks.co was created!
Oh, and another lie they tell you is that they have paid over $52,000,000 to 200,000 members. There's no way they have generated that amount of money within a week!
You see, if it was true that they have paid their members, there would be lots of real positive ViralBucks.co reviews, but all the reviews I found are negative or fake.
The video testimonials are not genuine!
---
In the Viral Bucks YouTube channel I found some video testimonials, but the problem is that the testimonies are not real.
They are Fiverr actors who have got paid to recite the script that the scammers provided them with.
For example, this woman from the video below has appeared in other scammy videos like Spring Profits: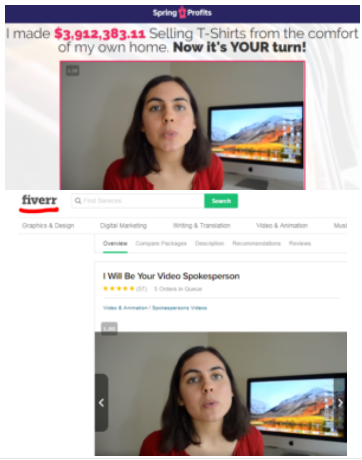 You see, if ViralBucks.co was as amazing as advertised, don't you think they wouldn't have had to hire these Fiverr actors? Real legitimate money-making platforms don't have fake testimonials! 
It's a shame what some people are willing to do to for money, especially it's possible to make money ethically.
ViralBucks.co is like other scams
---
ViralBucks.co is no different than these other scam platforms that I recently reviewed: ViralPay.co and ViralDollars.co.
In fact, I believe the three scams have been created by the same people because they are almost identical. They have the same structure, the same fake promises, the same layout…
They've even used the same payment proofs. As you can see below, this fake tweet and payment proof that I found on the viraldollars.co site is being used for the viralbucks.co site. 
The scammers have changed the name (from Viral Dollars to Viral Bucks) and logos, but the payment date (Sep 13, 2018) and tweet are the same.
So what does this mean? The tweet is fake! You can even search for it on Twitter to confirm what I'm saying. The tweet doesn't exist.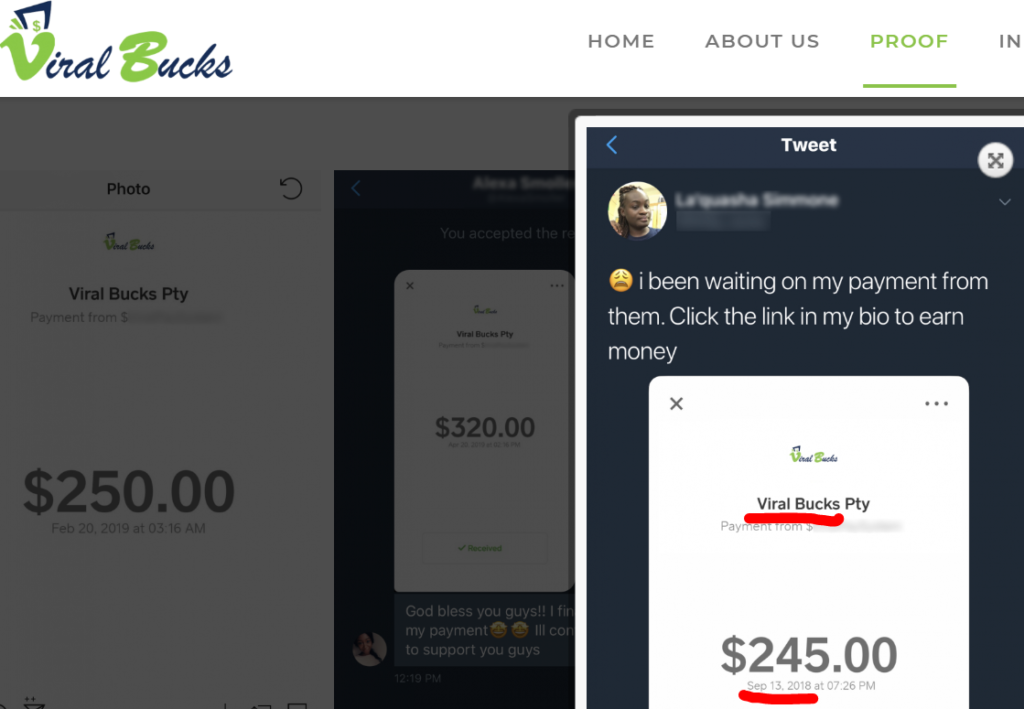 A company that is really paying its members wouldn't be faking payment proofs, don't you think? It's clear that Viral Bucks is not paying anyone!
All the testimonials and income proofs are fake so I will not be wasting my time on this platform.
ViralBucks.co scam review – Final conclusion
---
As I said, ViralBucks.co is the same as ViralDollars.co and ViralPay.co, which are scams. So Viral Bucks is a total scam.
They haven't paid and will not pay anyone. The owners of this platform are deceiving people like you to make money themselves.
Just read some of the complaints here:
So this is what it will happen if you claim your payment: they will cancel it and will also lock up your account! They will not allow you to access your ViralBucks.co account because they already have what they want, which is your personal info.
In case you send them an email, they will not reply. They don't want to hear from you, they just want to profit at your expense.
What they are doing is unacceptable and unethical because they are playing with other people's emotions and wasting their time.
Therefore, I will not waste my time on promoting ViralBucks.co because I don't want other people to waste their precious time and I don't want them to get frustrated or disappointed.
I mean, it's not only the money that's important. Time is even more valuable than money because you cannot get your time back…
What you end up doing is up to you, these are just my thoughts. I hope this ViralBucks.co review was helpful to you.
Sick of scams? See how I make passive income every day
---
If you are starting out and are tired of the ugly scams, then it's best that you forget about making easy or quick cash.
The sites that promise you can earn money without doing much work tend to be scams, so be prepared to make efforts if you are committed to making money online.
I have to confess that when I was getting started some years ago, I wasted my time on scams like viralbucks.co, but when I discovered the truth about making money online, I started doing what worked.
I'm grateful that I found a legit business model that has been working for years and has given me a way to make a 4-digit monthly income online.
Thanks to this business I can work from home and work from anywhere I want as long as I have an Internet connection & laptop. As you can see below, there are days that I have earned over $200: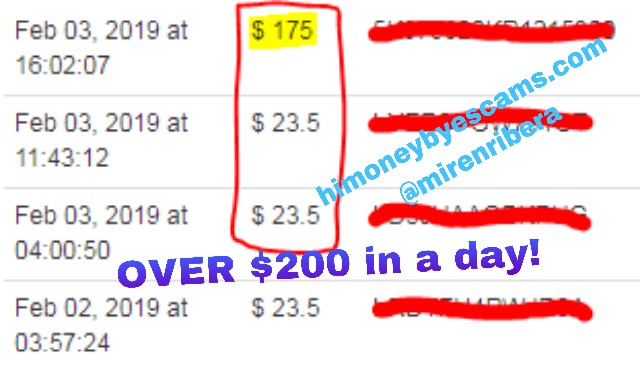 To be completely honest with you, I had to put in a lot of effort and time to reach this level and I have to keep working to reach next level. Making money online takes work and time, no matter the method you use.
This business is not about recruiting, paid surveys or trading. This is about researching, writing & talking about a topic you have a passion for, so you will not get bored.
If you are interested in learning more and are willing to take action, I invite you to check out my FREE guide here:
If you read my full free guide, you will learn what method I used, the step-by-step training and tools I used, the reason this business works…
Not only that, my guide also reveals how you can start today for free! Pretty awesome, don't you think?
Another thing you need to know is, you are not alone in this new venture because you get the chance to get help and support from me and other online money-makers.
Are you ready to leave the scams behind and start your online business today?
I'll leave this quote here:
If you want something you have never had, you must be willing to do something you have never done.
CHECK OUT MY FREE EARN MONEY ONLINE GUIDE HERE!
I hope this ViralBucks.co scam review has been helpful to you and you will make the best possible decision.
Feel free share it with whoever you believe that will benefit from it!
If there's something else you want to know or you have any questions, please share your thoughts below and I'll get back to you ASAP!
Whatever you do next, I wish you nothing but the best =)