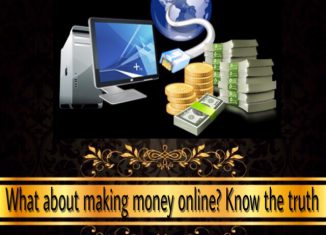 Have you ever wondered if it's possible to make money online? I wouldn't be surprised if the answer was "yes".
Nowadays, there's a lot of people looking for ways to earn money online. See it for yourself below: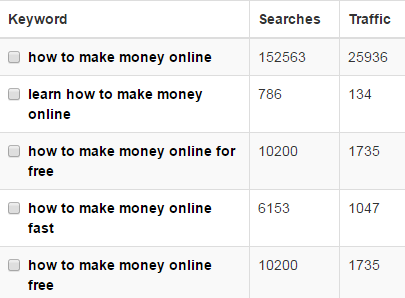 .
As we can observe, there are over 150,000 monthly searches on the keyword "how to make money online", and we can also see that a lot of people look for ways to earn money with 0 investment and others want to make money fast. 
The fact that people want to earn money online fast is one of the reasons why they fall for get-rich-quick scams. Fraudsters know that there's a lot of people who are in a desperate need of money, so it makes sense that they take advantage of that.
Anyway, today I'm going to unveil some myths and truths about making money online, as well as how you can get started. 
Let's go!
.
Some myths about making money online
---
In this section I'm going to explain why some stuff about earning money online it's not true.
.
You can get rich overnight
---
Anyone who's claiming that you can make tons of money fast, is lying to you.
Making a living online won't happen overnight, it's going to be a slow and gradual process.
I'll give you two examples: 
Let's say you're a blogger. No matter the quality of the content you produce, it will take you months or years to build an audience and become an authority in your niche.
Now imagine you're an e-commerce vendor. No matter what you're selling, it will take you time before people start trusting you as a seller.
No matter what you do in your life, it will take you time and effort to achieve success.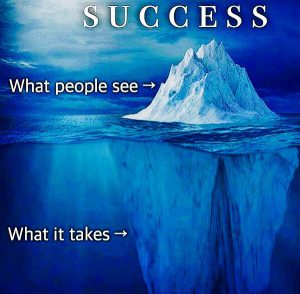 .
When it looks like someone became successful overnight, you're not seeing all the preparation and hard work they had to put in before their success.
One thing that I've noticed is that the phrase "you can get rich overnight" usually comes from the mouth of scammers, who prey on their victims hopes and dreams, with the purpose of making them fall for their scheme. 
Someone with experience in the online business world knows for sure that it's not possible to make money online fast, but that's not what happens with complete beginners, who are more prone to get scammed.
The truth is that it's possible to make a fortune online, but you'll need to have a good plan, put in the time and effort and work hard. It's definitely not going to happen overnight!
.
This is the only way to make money
---
Anyone who's telling you that their way is the only way to make money online, is telling you a lie. 
Wondering why they do that? Because they're trying to sell you a high ticket product, so they want you to believe that their product or system is the only one that works and that other methods or products are scams.
There are a lot of ways to make money online: blogging, e-commerce, affiliate marketing, network marketing, get paid to do some tasks, advertising, wrting… Just to name a few. 
Depending on your needs and your interests, you'll choose one way or another. Only you can decide which one is better for you.
Anyway, don't believe anyone who's telling you that you can only make money by purchashing their product/program or doing this or that.
.
You need to have programming skills
---
I remember I used to believe this one before getting started. I was like "how am I going to make money online if I don't know about coding or programming?".
The truth is that people who're making an income online come from different backgrounds. Some are stay-at-home moms or dads, students, retired people, consultants, teachers, lawyers, entrepreneurs…
Yes, there are also computer science nerds, programmers and web designers, but having technical skills is not a requisit to earn money online.
For example, you can build a website right away, without knowing a thing about computer programming.
You can click here to learn how to build a website in a short amount of time like 30 seconds.
.
You have to create a product to make money
---
The good news is that you don't need to have your own product either. 
The truth is that having your own product can give you some benefits like having full control over the product, but it's possible to make money by selling other people's products or doing other tasks that I mentioned before like advertising, freelancing… 
Click here if you want to learn how to make money by selling other people's products.
.
Nobody's making money online
---
This myth is usually repeated by people who are skeptical about the online business world, who could be family, friends, cousins… 
It's sad, but sometimes our closest ones don't believe in us, yet they should be encouraging us in everything we do.
It's not easy to keep your projects quiet from them, since when we get excited about every new move we make, friends and family are the first to know about it and sometimes the first to say things like "don't you see that you're wasting your time on the Internet?".
Anyway, don't let their limiting beliefs become yours and prove them wrong!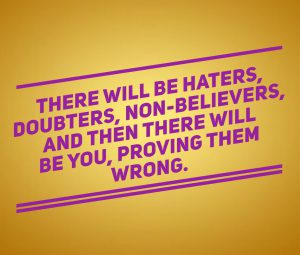 .
People who earn money online are all scammers
---
This one is similar to the previous one. There are those people who believe that everybody who claims to be making money online, is a liar, and that everything related to the online world is a scam or a joke.
Some of the people who believe this myth are people who have been scammed before, so I understand it's easy to have those kind of thoughts because they feel frustrated and lied to.
The truth is that there are still people who are honest and transparent and want to help others succeed, while there's also legitimate products and courses that can provide a lot of value.
Let me ask you, have you ever purchased something on Amazon or Ebay? It's quite likely that yes, so that's a proof that not everything online is a fraud.
Another thing is, whenever people purchase something online, someone else is getting paid. If there's already people making money online, who says you can't?
Of course there are scams and liars, but that's something that exists everywhere in the world, not only on the Internet. 
.
You need to be talented or an expert
---
There are a lot of people earning money online who are not experts in their fields. It has great advantages to be good at something, but you can always learn and practise more. 
Everybody has started somewhere, there has been a time when we all were beginners.
Two essential ingredients to succeed: passion + dedication.
If you choose a topic based on your passions that can have a positive impact in the lives of others and you pour your heart and soul into it, you'll be successful.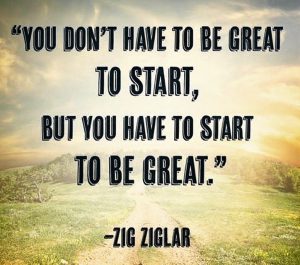 .
Who doesn't want to make money online?
---
I'm sure everybody wants to earn money online, don't you agree? 🙂 
Well, as you may already know, making money online is 100% possible, but it's not easy.
However, if you're serious about it and are willing to put in the hard work and dedication, it will happen.
I've been on Wealthy Affiliate for a while now and I still haven't found another online business platform like that, where you can find helpful information and tools to start and grow and online business, and a community full of people willing to give you a hand whenever you need it.
If you want to know more about it and how it can benefit you, click here to read my Wealthy Affiliate review. You can also get a free membership by clicking the image below!
.
If you decide to join Wealthy Affiliate, I'll be there to welcome and help you along the way! I'll be very happy to see you inside 😀 
I hope you found this article useful in one way or another. If you have any questions or opinions related to making money online or scams, please leave them below. It will be great to hear from you! Thanks for reading 🙂