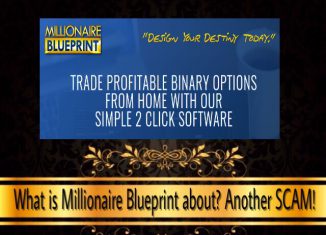 Hey there!
I recently found out another dangerous scam called "Millionaire Blueprint", so I've thought of writing a review and let you all know about this to avoid it at all costs.
I'll be explaining what it is about and the reasons why you should stay away from it.
.
Millionaire Blueprint review
---
Name: Millionaire Blueprint
Websites: 
www.millionaires-blueprint.co

www.millionairesblueprint.co

www.millionairesblueprintadvanced.com

www.freemoneysystem.net
Owner: Walter Green – "The Green Machine"
Created in: 2014
Who it is for: Nobody (unless you don't care about losing money)
Price: $250 (even though they claim it's free)
Overall Ranking: 0/10
.
---
If you're sick of scams, check out my 1st resource to make money online here!
---
.
What is Millionaire Blueprint?
---
The old man from the sales video, Walter Green (I'm not even sure if that's his real name), claims that he has created 152 millionaires, who have earned like $189 million in pure profit in 90 days, so he says that you can also become a millionaire by joining a binary options software called Free Money System.
Yes, at the beginning of the video you'll see that there's already something that doesn't seem realistic.
And why does he mention Free Money System instead of Millionaire Blueprint? Well, Millionaire Blueprint is just another name for another scam "Free Money System".
See below the proof that Millionaire Blueprint and Free Money System are the same.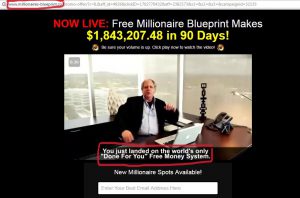 .
You can see the different domain names for the same scam. There are other domains (I mentioned in the summarized overview) that take you to the same video.
Remember that when a lot of people find out a fraud, the scammers will do anything to confuse them like changing the scam's name. But this time it looks like they didn't even waste time on creating a more professional sales video, which makes it even easier to unveil the scam.
I wonder how many times they're going to change this scam's name or create a new version of the scam.
You can also observe that in the first picture it says there's only 1 spot available, while in the second it appears that there are "new" spots available. 
I knew it was a scam as soon as I came across that site, since the sales video and the page are very similar to other scams.
.
Let's analyze the sales video
---
Let's analyze what "Walter" says:
Guess why he says that that page is different from others. He wants you to feel like you've discovered something special that will change your life.
.

This statement is to make you believe that thanks to that software you won't have to worry about making money anymore.
.
He also wants you to believe that it's possible to get rich without working hard.
.
This one is to make you believe that that video is secret and exclusive and it will be unavailable soon. It's completely fake because if the video was secret, nobody could access to it and it wouldn't be public and available to everybody who has an Internet connection.
.
This one is very typical of scams. He wants you to feel like you won't have more chances to join the program if you leave that page. 
The truth is that it's been more than 2 years since this video was created and everytime you check that page nothing has changed from the previous time you checked it out.
After that he starts telling you a story about him and how he found out the system, in order to get you excited and hype, with the final end of getting you into the fraud.
If you watch the video, you can also see some people explaining how that system has turned them into millionaires, as well as photoshopped pictures of bank accounts' balances. Of course they're fake testimonials and the pictures are fake as well.
.
What happens if you join?
---
Now let's see what happens if you enter your email address:
.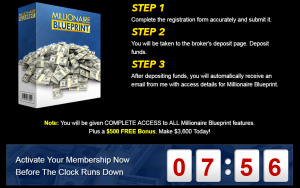 They want you to hurry up and join before the clock runs down. The truth is that nothing happens once the clock is at 0.
Another thing is, "Walter" encourages you to invest more than $200 because the more you invest, the more money you'll make, according to him. He also claims that his "Dream Team" will do everything for you to make you rich.
After you join, you'll be directed to these so called recommended brokers and will also be asked to make a deposit of $250 as a minimum. Didn't he claim that this software was 100% free?
You know what? They want you to make that investment because "Walter" and his "Dream Team" will receive a commission for every person referred to those brokers.
.
Reasons why Millionaire Blueprint is a fraud
---
Now that we know what this scam is about, let's sum up all the scam factors that are present (very similar to other scams like Steal My System):
We don't know the real owner's name. He introduces himself as Walter Green, but he doesn't offer you other ways to find information about him like a personal website or a social media profile.
Get-rich-quick scheme

. This one is obvious because the main message on the sales video page is "Free Millionaire Blueprint makes $1,843,207.48 in 90 days!" and I've lost the count of the times "Walter" claims that he'll make you rich in 3 months and with no effort, which is a big lie.
Lies about the price. He says that the software is free, yet you're asked to invest at least $250 as soon as you join.
Fraudulent testimonials

. Do you believe all those people that claim to be millionaires thanks to the system? They're actors that can be found in outsourcing sites like Fiverr. They're the kind of people that will do anything just to get paid like $5.
Fake evidence of profits. As well as the fake testimonials, the pictures of their bank account balances are photoshopped and totally false.
No way to contact the creators or the testimonials. They don't reveal any ways to get in touch with them or ways to find more information about them. 
Feeling of scarcity. The fake clock running down and the fake number of spots available are showed to make you feel that you won't have the opportunity to make money online if you don't take action when they tell you.
.
Avoid these scammy websites!
---
Guess what I've found: two sites called "Millionaire Cash Code" dedicated to promote the "Millionaire Blueprint" scam.
You can find these sites by typing "www.millionairecashcode.net" and "www.millionairecashcode.org" on Google.
See a picture of each one below: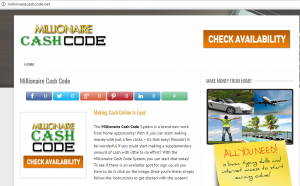 .
They both have a similar design and only a homepage used to take you to the "Millionaire Blueprint" sales video, since if you click "check for availability" or any of those buttons, you'll be taken to the sales video I've been talking about.
There's no information about who wrote those pages or the website owner, so I wouldn't be surprised if both had been created by the same people who created "Millionaire Blueprint".
Wondering why they are both called "Millionaire Cash Code"? Well, there's another scam called Millionaire Cash Code that has a lot of searches on the search engines, so the "Millionaire Blueprint" scammers have taken advantage of it to get more people to watch the sales video and steal their money as a final end.
Anyway, I really recommend that you stay away from these kind of fraudulent sites.
.
My closing thoughts
---
It's obvious that "Millionaire Blueprint" is a big fraud and that there's no one making money with this binary options trading system.
Well, the only people who are earning money from it are the scammers. The truth is that this is a get-broke-quick system for anyone who joins and invests the $250 amount. There's no way to make a fortune without putting in the time and effort.
I know how frustrating it is not to find something legitimate that really works when you've been scammed again and again, since I've been there before.
I'm very happy that I found about Wealthy Affiliate and decided to join, it's made me realize that there are still people out there who want to see you succeed 🙂
Wealthy Affiliate is a training platform where you'll learn how to build a digital business based on your passions. 
This business will require hard work and consistency from you, since no one else will do all the work for you. You will get the proper tools, training and lots of support from the community members and owners, the missing part will be you!
If you want to know more about Wealthy Affiliate, click below:
.
Thanks for reading this review, I hope you've found it useful. Have you heard about "Millionaire Blueprint" before? Have you ever got scammed online? If you have any questions about it or regarding the "make money online" topic, feel free to leave a comment below! I'd love to hear from you 🙂 
Cheers =)