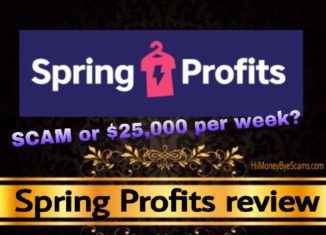 Welcome to this honest Spring Profits review!
Are you looking at springprofits.com and wondering if this is another scam that will waste your valuable energy? Or could this be a legit program that can help you make a fortune online?
If that's what you are wondering, I need to congratulate you for taking the time to do your own research before taking out your credit card.
You see, there are so many scams out there, so doing your due diligence is the way you can avoid the fraudulent websites and discover how to make passive income every single day.
When it comes to Spring Profits, I'm glad that you have found this review because here you will find how this product really works, the red flags that you need to be aware of and something that no one has told you before.
Spring Profits review summary
---
Name: Spring Profits
Website URL: springprofits.com
Owner: "Daniel Green"
Launched in: March 2019
Price: $37 + upsells
Recommended? No
---
If you're sick of scams, check out my 1st resource to make a 4-digit monthly passive income HERE!
---
What is Spring Profits about?
---
The second I saw the Spring Profits sales page, I thought I was in front of another ClickBank product that would promise the world but deliver very little because the sales page looked very similar to other sales pages I have come across in the past.
However, I didn't want to conclude it was a scam without looking deep into it, so I took my time to do my homework.
According to the spokesman, you are one of the few lucky people who will watch the sales video. I don't believe this is true because the sales video is public, so anyone with an Internet connection can access the Spring Profits sales page.
He claims that ordinary people are earning over $25,000 every single week thanks to this revolutionary system, and they don't have to work more than 10 minutes a day to make this kind of money. Sounds great, doesn't it?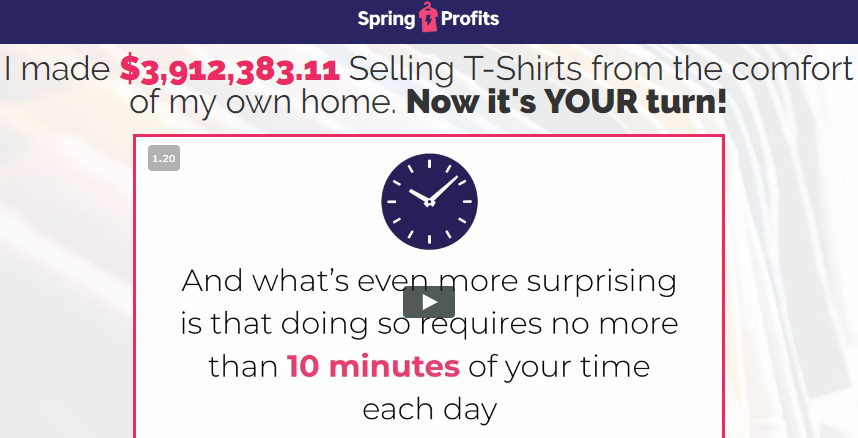 Also, you don't need any special skills or prior experience to get started. So is Spring Profits the system that will allow everyone to become financially free?
This man says that this is not a get-rich-quick scheme, but I have my doubts because he's making the kind of claims that I have heard in other sales videos for get-rich-quick schemes.
Just because he's not promising millions overnight, it doesn't mean this is not a get-rich-quich scheme. Saying that you can make thousands of dollars with little to no work is something that most scammers claim. 
He basically tells you what you would like to hear to get you excited and make you purchase this system. He wants you to believe that this is the solution to quitting your job, paying off your debt, buying anything you desire and living your dream lifestyle. So he's preying on your hopes and dreams.
It's completely possible to make the kind of money he talks about, but it's not as easy or fast as he claims. There are various ways of making money online,  but they all require you to put in the effort and time.
Spring Profits is about selling t-shirts using a platform called Teespring, which is a legitimate website and many people are using it to sell products like t-shirts, phone cases, backpacks…
RECOMMENDED: Check Out My FREE Earn Money Online Guide Here!
How does Spring Profits really work?
---
It's possible to make money by selling t-shirts through Teespring, but it takes a lot of time and effort.
First of all, you have to sign up to Teespring, which is free to do. Teespring will provide you with the printing service and the t-shirts.
Your job is to design custom prints for the t-shirts and then send visitors to your Teespring store. Here you can see an example of someone who's selling some merchandise via Teespring, just to give you an idea.
This is something that can definitely be fun if you are a creative person who enjoys designing or drawing. But note that this is not the only part of this business.
Before starting to create your designs, you will have to do some market research. You'll need to define the type of people you want to sell your t-shirts to, which is the same as saying that you need to know who your customers are.
Also, it's important that you learn what other people in your niche (your competitors) are selling and their prices, so that you can determine how to stand out from them. There are so many online stores and shops online, so you definitely have to spend a lot of time to learn what's working and what's not working.
This is one of the reasons you'll have to work waaay more than 10 minutes a day. Well, if you get into a niche you love, you will enjoy doing it so it will not feel as "work".
The price is also important because you need to take into consideration that Teespring charges a fee that is required to print, pack and even ship the t-shirts to your customers.
Therefore, after making a sale, not all the money received is for you. Your profit is the difference between the amount paid by the customer and the fee you pay Teespring.
Just like any business, you will need people to buy your products, so you also need to work on driving targeted traffic to your store.
There are multiple ways you can bring traffic to your store, so the way you decide to do it depends on your current situation.
If you are starting out and haven't built an audience yet, the fastest way you can get people in front of your store is by spending money on paid traffic (Google Adwords, Facebook Ads, Twitter ads, Instagram ads).
However, that's not the best traffic method if you are on a low budget, since you would have to spend a lot of money on ads to figure out what works and what does not work. Paid traffic is highly risky, so I don't recommend it to people who don't have much money to invest.
You can also drive free traffic to your store, but this is not fast and definitely takes a lot of time because it's based on content creation. But I believe this is best for newbies because it's less risky than paid traffic.
So, you can see that building this kind of business is going to require you to stay committed to learning and working hard. All of this takes waaay more than 10 minutes a day.
Has anyone succeeded with Spring Profits?
---
Do you remember the people who appear in the Spring Profits sales video? Those people claim to be making thousands of dollars thanks to this system.
However, what they say is not true because they are not making money that way. They haven't even bought Spring Profits. 
Those people are Fiverr actors who have got paid to say what the owner of Spring Profits wanted them to say.
In other terms, they are fake testimonials that the people behind this system are using to lead you to believe that there are people who are making money with this system.
How do I know they are not real testimonies? Take a look at these undeniable proofs: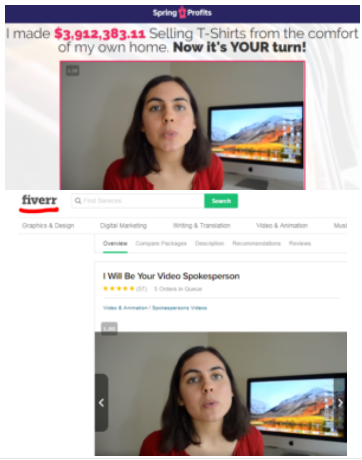 So there you have it. Those people are making money selling fake testimonials to unethical marketers like the owner of Spring Profits.
I personally don't understand how they can sleep at night knowing that they are making money in a dishonest way.
Who is Daniel Green?
---
What would you say if I asked you who's Daniel Green? You would say that he's the creator of Spring Profits, right?
After all, we are told that he's the person behind Spring Profits. He's supposedly made millions with this system and he also shows some income proofs. 
However, there's no proof that the income proofs he shows are from him and he doesn't even provide anything to prove that he's a real person.
Why doesn't he show a picture of himself? Why doesn't he mention how we can get in touch with him? Why doesn't he say if we can connect with him on social media?
You see, there are thousands and thousands of scam websites out there and most of them don't provide any information about its creators. So why doesn't "Daniel" provide some kind of proof that can lead us to believe he's not a scammer?
After discovering the fake testimonials and the fake claims he makes, I believe that Daniel Green is not the real name of the owner of Spring Profits. 
I have reviewed hundreds of products like this one, and most of them usually have fake owners or pen names. They don't reveal any information about the real owners because this is the way that scammers can get away ripping people off.
I mean, if people who fall for scams knew the identity of the scammers, they would sue or report them, which is something that scammers don't want.
RECOMMENDED: Learn How I Make a 4-Digit Monthly Income Here!
Does it only cost $37?
---
$37 is only the cost of getting access to the Spring Profits members area. There are more costs involved with building this business.
Just after you make the payment, you will get bombarded with some additional products (upsells) that cost hundreds of dollars.
This is no different from the rest of ClickBank products that have upsells, so you can be sure that they will try to make you spend way more than $37.
In fact, most ClickBank products that are similar to Spring Profits also cost $37, so I'm 100% convinced that this one has upsells.
Apart from that, you also need to take into consideration the costs that come with building this business.
For example, if you want to build your own website, you will have to buy a domain name and hosting. If you want to build an email list to market your products, you will have to spend money on an autoresponder. If you want to drive fast traffic to your store, you will have to spend thousands of dollars on paid advertising.
As you can see, building this business requires way more than $37.
I personally don't like products like Spring Profits because they give customers false expectations. This product is marketed in a way that it can make you believe you only need to spend $37 to start making thousands of dollars. 
What if you provide them with your email address?
---
Have you been asking yourself what it would happen if you gave them your email address but didn't buy Spring Profits?
The truth is that they will spam you with emails related to this product or other "make money online" programs. They will do the most to get you your money.
Also, they will share your email address with third parties a.k.a. other marketers who sell similar money-making products, so you can expect to receive emails from people you don't know.
How do I know this? It's stated in their privacy policy:
Is Spring Profits a scam?
---
Whether Spring Profits is a scam or not really depends on your point of view.
On one hand, if you buy this product because you need to get money fast or without doing much work, you will call it a scam because it doesn't work that way, as I have explained.
On another hand, if you acquire it because you want to learn how to make money by selling merchandise through Teespring, you will not call it a scam.
Even though the sales presentation is very misleading, I don't consider Spring Profits to be a scam because it's sold through ClickBank, which means that you can get a refund in case you buy it but end up not liking it.
If you are into designing, have money to invest and are committed to putting in the effort and time, I believe you can benefit from the training provided so I don't mind recommending Spring Profits to you (get it here).
However, if you are starting out and you are on a low budget, I definitely don't recommend Spring Profits.
At the end, you can do whatever you want with your time and money. This is just my honest opinion, I hope my Spring Profits review has been useful to you.
Want to know how I earn passive income every day?
---
If you are starting out and are serious about making money online for the long-term, you need to keep in mind that you will have to work your butt off to achieve it.
There are no push-button systems or secret websites that can make you money overnight, so I recommend that you stay away from people who promise quick or easy cash.
You see, lots of people would have already quitted their jobs if making thousands of dollars with little to no work was real, don't you think?
When I realized that, I stopped wasting my energy on products that promised me the world but underdelivered. I started looking for real ways to make passive income online and I'm grateful that I found a legitimate business model that has been working for decades.
This is the business model that has given me a way to make passive income every day, which is so cool! There are days that I have earned over $200, as you can observe below: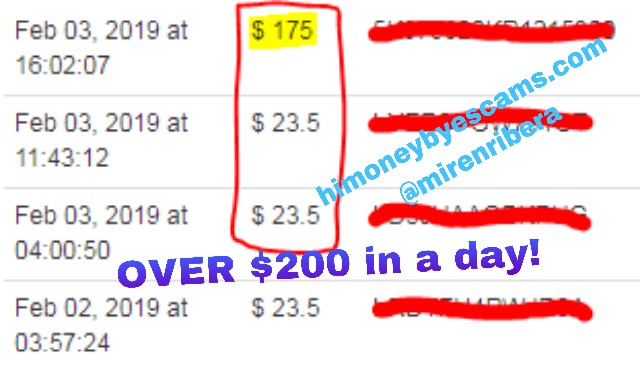 I want to be completely honest with you, so I'm going to show you that I am a real person: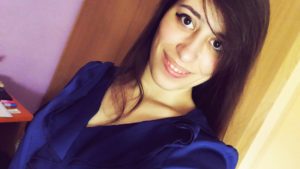 As you can see, I'm not hiding behind a screen like the owner of Spring Profits does. 
With the business model I personally use, you will not have to worry about creating your own products, packing, shipping products or dealing with refunds.
This is not even an MLM or pyramid scheme, so you will not have to do any recruiting or promote the same system as everyone else.
Instead, you will be able to choose between thousands of products & services to make money from! 
I believe building this business will be enjoyable for you because you will be talking & writing about a topic you have a passion for, so you will definitely not get bored =)
There's a lot to say about this business, so I invite you to check out my FREE guide if you are committed to your success:
In my free guide, you will learn how this business works step-by-step, the reason this business works, the training and tools I have been using…
Want to know what's cool? You will also learn what I do to send free traffic to my website! That's right, you will not have to spend any money on getting traffic if you follow this method =)
Oh, and did I say that you can start today for free? I'm not joking, you don't need to spend a dime to join my favorite online place. You get the chance to make sure this business is right for you risk-free!
I love the messages I have been receiving lately. This message you can read below is from one of the +3,500 people who have joined me:
And now let me ask you: Will you keep wasting your time on low-quality products? Or will you start building your passive income biz today?
I'm so excited for you to get on the right track to build your online asset! In my guide you will also see how you can receive my personal guidance and support =)
CHECK OUT MY FREE EARN MONEY ONLINE GUIDE HERE!
I hope this Spring Profits review has been helpful to you and you will make the best possible decision.
Don't hesitate share it with whoever you believe that will benefit from it!
If there's something else you want to know or you have any questions, please feel free to leave your thoughts below and I'll get back to you ASAP! 
Whatever you do next, I wish you nothing but the best =)