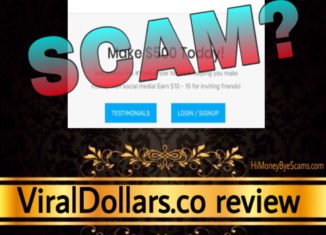 Will ViralDollars.co scam you and leave you frustrated? Or is Viral Dollars legit and will help you earn $500 today?
I'm glad that you have found this ViralDollars.co review, since here I'm going to reveal the complete truth about this site.
Know that the fact you are doing your research is great because that's the way to avoid scams and find the real way to make passive income every single day!
To be completely honest with you, I am not associated with Viral Dollars, so here you will not find any referral link.
Here you will find an honest Viral Dollars review that will show you how this platform really works and why I believe it's best to stay away from it.
ViralDollars.co review summary
---
Name: Viral Dollars
Website URL: viraldollars.co
Owner: Hidden
Created in: April 2019
Price: Free 
Recommended? No
---
If you're sick of scams, check out my 1st resource to make a 4-digit monthly passive income HERE!
---
What is ViralDollars.co about?
---
I've seen people promote Viral Dollars on social networks like Twitter and Facebook, so I thought I would take a look at it to determine if it was a scam or legit money-making opportunity.
The moment I landed on the homepage for viraldollars.co, I didn't get good vibes because the main page looked very similar to other scam pages I have come across.
However, I didn't want to think it was another scam so I decided I would give it a chance before coming to a final conclusion.
After all, joining Viral Dollars is free, so what do you have to lose? I know that many people think that a website that's free to join cannot be a scam, but I'll explain why this is not the case.
In the Viral Dollars main page, they claim you can make $500 today and get $25 just for joining. Sounds pretty cool, doesn't it?
Apparently, you only need to share your referral link on social media to get other people to click on your link and sign up for Viral Dollars.
For every person who clicks on your link, you earn $2-5. And when someone joins through your link, you make $10-15.
Not only that, you can also make money for completing some simple tasks that you can find inside the dashboard area.
Doesn't it sound too good to be true? They make earning money online sound too easy and fast, which is a big red flag!
I mean, why are many people working jobs they hate if making money online is so easy? The truth is that it's not that easy, and Viral Dollars wasn't created to benefit people like you.
You see, Viral Dollars hasn't helped their members quit their jobs, not to mention that no one is getting paid but the owners.
RECOMMENDED: Learn How I Make a 4-Digit Monthly Income Here!
The truth about ViralDollars.co
---
As I said, ViralDollars.co was not created for people like you to make money online. This platform is only helping its owners make money!
They claim to be the #1 influencer network that people are using to turn their social media into money, but the truth is that real influencers do not use ViralDollars.co, not to mention that they may not even know this platform exists.
You see, Viral Dollars claims to have been founded in 2018 but this is not true. It's not even been a month since it was registered!
According to whois.com, the viraldollars.co domain name was registered in April 13th 2019: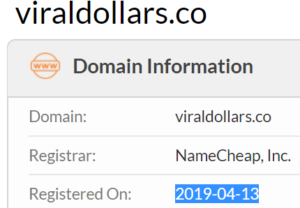 Because of this, it makes no sense that they have paid out 60 million dollars in commissions. They haven't generated that much money in just two/three weeks so they cannot have paid that amount of money.
I'm 100% sure they haven't paid anything to its members. They claim to have paid millions of dollars to gain credibility, but there are no real proofs that they have generated that revenue.
How does the ViralDollars.co scam really work?
---
So, how does the ViralDollars.co scam operate?
They first try to get you excited about making easy and quick cash, that's why they allow you to join for free.
Once you have signed up, they collect your personal information (your name, your email address…) and tell you to start sharing your referral link to start making money.
When you share your Viral Dollars referral link, you are giving them free advertising because they will not pay you.
I know it's easy to get excited when you see that your earnings balance increases. It's definitely something that gives you the motivation to keep sharing your referral link on social networks.
Apart from that, they claim you can also make money by doing this:
Upload a YouTube video where you promote Viral Dollars

Complete some tasks like downloading apps
Oh, and they also say that you can earn some prizes like an iPhone or Macbook. This definitely sounds awesome!
Once you have done everything they tell you, it's your time to claim your payment or prizes. This is when you start waiting and waiting until you realize that you have got ripped off.
How do people realize they have been scammed? They will not be able to access their Viral Dollars accounts!
That's right, when you request to withdraw your earnings, they will lock up your account! This is what they have done to other members who have claimed their payment.
It really sucks to spend lots of time and days working because you think you are making money, and then realize that it was all fake and you have wasted your precious time… Don't you agree?
RECOMMENDED: Check Out My FREE Earn Money Online Guide Here!
ViralDollars.co scam signs revealed!
---
Still not sure that ViralDollars.co is a scam to stay away from? Let me show you the scam signs that expose Viral Dollars as the fraudulent platform it is.
Where does the money come from?
---
Have you asked yourself where does the money (they are supposed to pay you) come from?
They claim to pay you when people click on your referral link and when people sign up. But do they get paid when people do these things? They obviously don't!
If they don't ask anyone to pay, then how are they making money? They are not making any money when people click on your Viral Dollars referral link or when people visit their website.
So why do they want you to join and share your referral link? Why have they created the ViralDollars.co website in the first place?
Truth be told, they want you to share your referral link because they want as many people as possible to sign up, since they receive personal information when people join.
Once they have collected lots of email addresses, they will use them for profit. You can expect them to send you lots of spam emails related to this fraud or other fake money-making opportunities.
Not only that, you can also expect them to sell your personal information with other con artists. They will do anything they can to profit from the information you give them.
Lack of information about the owners
---
Don't you think it's suspicious the fact that the owner or owners or ViralDollars.co hide their identity?
Would you give your personal & financial information to someone you know anything about? I personally wouldn't do it.
Just imagine that people who have covered their faces came to your home and asked you for your email address or your bank account details. Would you trust them without knowing who you are dealing with? I clearly wouldn't! 
So this is the same… I cannot trust the owners of Viral Dollars because they are hiding their identity to avoid facing the consequences of ripping people off.
You see, scam artists usually hide their real identities to prevent their victims from persecuting or suing them. 
This is the conclusion I have reached after having exposed so many scams!
The testimonials and income proofs are fake
---
Another big red flag is the fact that all the testimonials and payment proofs are fake!
I know the payment proofs look so real but the truth is that they are a complete fabrication. There's a simple fact that made me conclude they are not genuine.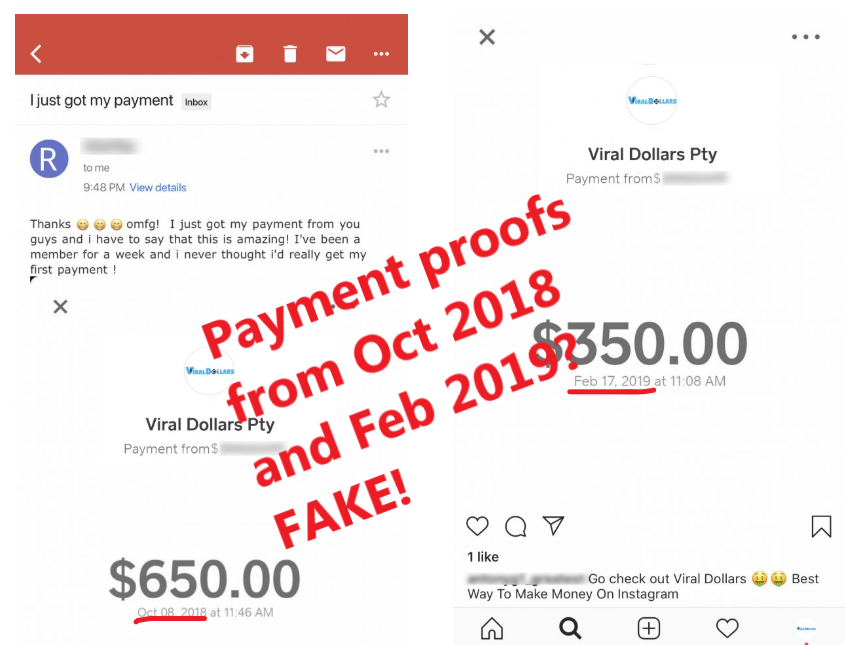 As I said earlier, Viral Dollars is not even a month old so it makes no sense that there are members who have got paid in October 2018 or February 2019.
You see, it doesn't say the payment method they used to receive the money, which is another red flag because it proves that it was not hard for them to fake the income proof.
Apart from that, the video testimonials are fake too. They haven't been trying to make money with this platform!

Instead, they have recorded these videos because the con artists behind ViralDollars.co have paid them to do it.
These people sell their acting services on a freelancing platform named Fiverr. Below you can see their Fiverr gigs: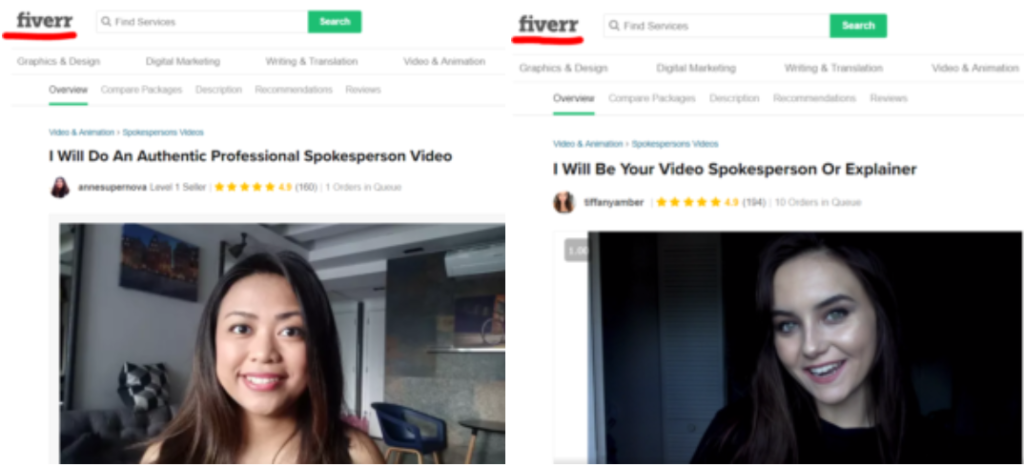 If ViralDollars.co was as awesome as they want you to believe, don't you think that the owners wouldn't have had to hire these Fiverr actresses?
When you have created something valuable, you don't need to pay other people to make potential customers believe that it's good.
I have reviewed hundreds of websites, and can say that the ones with fake testimonials end up being low-quality programs or scams.
Beware of the task wall
---
I also want to point out that you need to beware of the simple tasks they tell you to complete. These tasks consist in downloading apps, taking surveys or signing up for sites that ask you for your personal information.
The problem with these sites and apps is that they are fraudulent and may contain viruses & malware that can harm your computer or whatever device you are using to access those sites.
Because of this, I don't recommend that you try to complete those tasks!
It's the same as the ViralPay.co scam
---
ViralDollars.co is like a copy of the ViralPay.co scam because they have been created by the same scammers and they have the same scam signs.
If you take a look at my ViralPay.co review, you can read some complaints from people who had a negative experience because they didn't get paid.
In fact, there are no positive comments or reviews of ViralPay or ViralDollars… All comments that are positive are fake, included the YouTube comments.
You see, scammers can create fake YouTube accounts just to post positive comments on their videos. You also need to be careful with the comments or reviews you read because there are times that scam artists create fake positive reviews to gain credibility.
Sick of scams? Want to make passive income every day?
Check Out My FREE Earn Money Online Guide Here!
Viral Dollars review – Final verdict
---
After everything I have seen and explained, I have decided not to waste my energy on ViralDollars.co.
I will definitely not be sharing my referral link because:
It would only benefit the scammers

I would not make any money

I don't want other people to waste their time and get disappointed
In case you have fallen for the Viral Dollars scam, I recommend that you stop sharing your referral link and unsubscribe from their email list. 
Also, if you have used the same password you are using for your email address or your PayPal, I suggest that you change it. I don't recommend that you use the same password for different services because if you use the same, scammers will have it easier to access your accounts.
In case you were thinking if you should join Viral Dollars because you've seen other people promote it, I hope this ViralDollars.co review has provided you with the answer.
What the owners of Viral Dollars are doing is unacceptable and very cruel to people who are looking to make money online. It's definitely not ok to deceive people just to make money, especially when it's possible to make money by helping them.
Final verdict: I highly do not recommend ViralDollars.co.
Tired of scams? Your path to passive income starts here!
---
I know it's easy to fall for scams like ViralDollars.co when you are getting started and don't know how making money online works.
We have all been there in our getting started phase. The good news is that it's still possible for you to earn an income online.
Making money online is not as easy or fast as these scammers want you to believe, but when you realize it and start putting in the work, you make it happen.
There are many people like me who have started out with no experience or tech skills and have managed to earn passive income online, so I believe you can do this too!
To be completely honest with you, I didn't start making money until I found a proven business model and started putting in the effort and time.
This business model has been working for decades, and it can work for you regardless of your age or country. There are no limitations!
I'm living proof that this business works and I'm about to show it. As you can observe, there are days that I have earned over $200: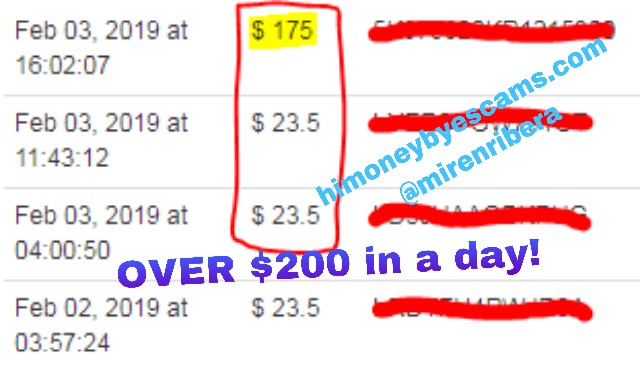 If you are wondering what this business is about, let me tell you that this has nothing to do with recruiting, trading or paid surveys.
Instead, thanks to this you will be able to make money while talking & writing about a topic you are passionate about! So this is about doing more of what you love =)
If you are interested in learning more, I invite you to check out my FREE guide here:
If you read my free guide until the end, you will learn what business model I use, the reason this business works, what you need to get started…
Also, if you read my guide you will discover how you can start today for free! Pretty cool, don't you think?
Another thing you need to know is, you are not alone in this new venture because you get the opportunity to receive support and guidance from me and thousands of online marketers =)
I'm so excited for you to leave the ugly scams behind and start your money-making journey today!
CHECK OUT MY FREE EARN MONEY ONLINE GUIDE HERE!
I hope this ViralDollars.co scam review has been helpful to you and you will make the best possible decision.
Don't hesitate share it with whoever you believe that will benefit from it!
If there's something else you want to know or you have any questions, please feel free to leave your comments below and I'll get back to you ASAP!
Whatever you do next, I wish you nothing but the best =)