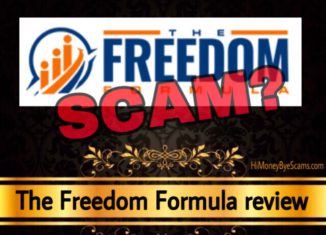 Welcome to The Freedom Formula review!
Are you wondering if completefreedomformula.com is a scam? Or is this a legit system that will allow you to earn money without doing much work?
If you have questions like these, you are in the right place because here I reveal the truth about this system. 
As you already know, there are too many frauds out there, so I'm glad that you are doing your due diligence because that's the way to avoid scams and discover how to earn passive income online.
When it comes to The Freedom Formula, it's not as amazing as they have told you, so make sure you read this post until the end to discover what they are hiding from you.
The Freedom Formula review summary
---
Name: The Freedom Formula
Website URL: completefreedomformula.com
Owner: "Keysha"
Price: $37/month + thousands of dollars in upsells
Recommended? No
---
If you're sick of scams, check out my 1st resource to make a 4-digit monthly passive income HERE!
---
What is The Freedom Formula about?
---
The sales video for The Freedom Formula is very similar to other sales videos I have watched that I don't like because it has some unrealistic and exaggerated claims.
But I didn't want to think this one was like the other scams I have exposed, so I took the time to watch the sales presentation and do my homework.
According to the spokesperson, this system has allowed regular everyday people to earn tens of thousands of dollars in commissions.
This system doesn't require you to sell or create your own products, and it doesn't matter if you don't have tech skills or previous experience. Well, that's what the spokesperson claims.
I personally don't like how the spokesperson sounds because it doesn't sound natural to me.
So, this has nothing to do with MLM or pyramid schemes, but the sales video has some details that confirm this is not true. This is no better than other MLM programs or pyramid schemes, which is something I will explain later on this review.
They also show some testimonials who have supposedly earned thousands of dollars in commissions within a short period of time, which sounds amazing because the fact that there are people making money with this system is something that can give you hope.
However, it's not as easy as they make it seem. The whole sales video is focused on how much money you can earn and how easy it's going to be.
They even say that this is the fastest way to make money online, but they don't provide any real proofs that show this method is better than the others.
The fact that they make this kind of claims is a big red flag because most sales videos that claim you can make a lot of money easily within a short period of time tend to be scams or low-quality sites.
Making money online doesn't come with ease because if it was easy, most people would have already quitted their jobs they hate. So don't be fooled by sales videos full of hype! 
Their main goal is to get you to spend your money on their stuff, so they tell you what you would like to hear. But once you are inside, you realize that it's different than what they told you outside.
RECOMMENDED: Learn How I Make a 4-Digit Monthly Income Here!
The truth about The Freedom Formula
---
Want to know the truth about The Freedom Formula? Want to know what they are hiding from you?
The truth is that The Freedom Formula is not a system that works to make you thousands of dollars without doing much work.
You'll have to work way more than they have told you, but this is like anything worth achieving in life. It takes time and effort to succeed.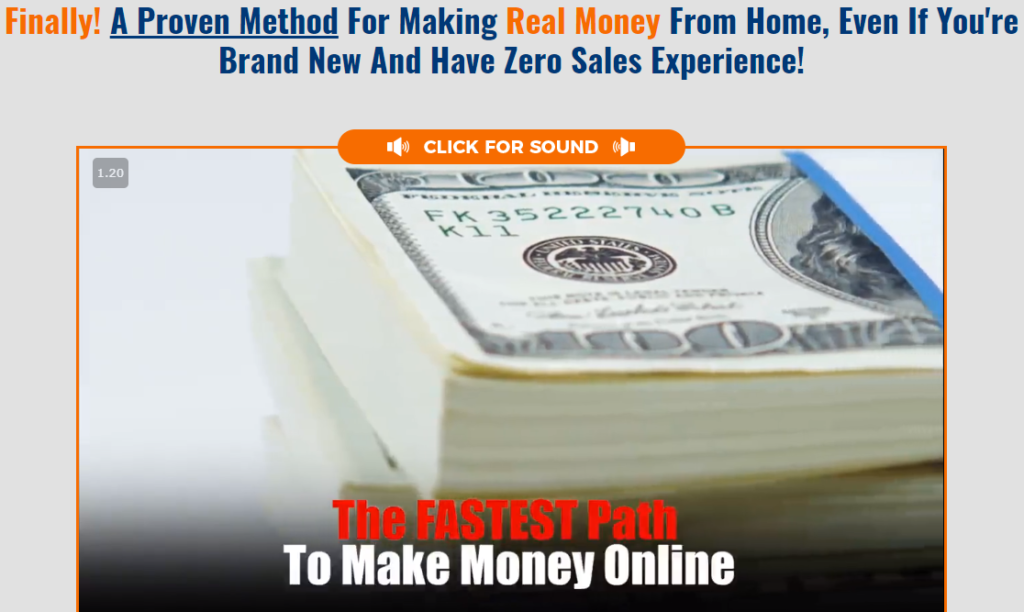 Therefore, if you buy it you will realize that there's so much more to do than what they have told you. "Keysha", the spokeswoman, says that you just need to follow some step-by-step instructions and then press go and let the system run on complete autopilot.
Well, it's not possible to make it work on complete autopilot because there's always some work to get done and I'm going to explain why.
Another important thing to take into account is that The Freedom Formula is not a real program itself, which is something that they don't tell you if you don't pay for it. 
You see, the way you make money with this program is by promoting this program itself. The real name for this is The Super Affiliate Network, which I reviewed some months ago.
I personally don't like the fact that they are not straightforward about the name of the real program because this is important to know before deciding whether to purchase it or not.
I mean, wouldn't you feel ripped off if you bought something and then realized it's not what they initially told you? 
Anyway, this program requires you to do massive recruiting to make those huge commissions they talk about. And then, you have to convince your referrals to spend thousands of dollars on the SAN products and memberships.
This is actually what they will do to you. Once you are inside, they will tell you to follow the step-by-step training to start promoting SAN, but they will also try to persuade you to spend more money on their high-ticket offers, which are the ones that can bring you those thousands of dollars in commissions.
So this is what is called a "pay to play" program that requires members to make huge investments and recruit other members. 
In case you don't purchase the high-ticket products but one of your referrals buys it, you will not get paid the high commission, it will pass up to the next member who has bought that product.
In other words, you can only generate commissions from the products/memberships you buy. This is what your "success advisor" or coach will tell you over the phone and within the members area.
It's not risk-free
---
The truth is that this program is not risk-free because there are lots of costs, not only the initial fee.
They say that you can get your money back, but it's only for the initial offer. If you purchase the high-ticket products, they don't offer any refunds.
Therefore, if you spend thousands of dollars on those expensive products, you need to sell them a few times to make your money back.
Apart from that, there are other costs involved like the cost of advertising. They will tell you to spend money on paid ads to drive traffic to the landing pages they provide you with.
The problem with this is that using paid traffic is kind of risky, since it takes a lot of trial and error. So you need to be prepared to invest hundreds (if not thousands) of dollars before you get to see a return.
This is something they don't tell you about, but I believe you need to know it before making a final decision.
Just to give you some realistic expectations, most people who are involved in this program haven't made their money back.
This is what you can conclude after taking a look at their income disclosure page (sanearnings.com):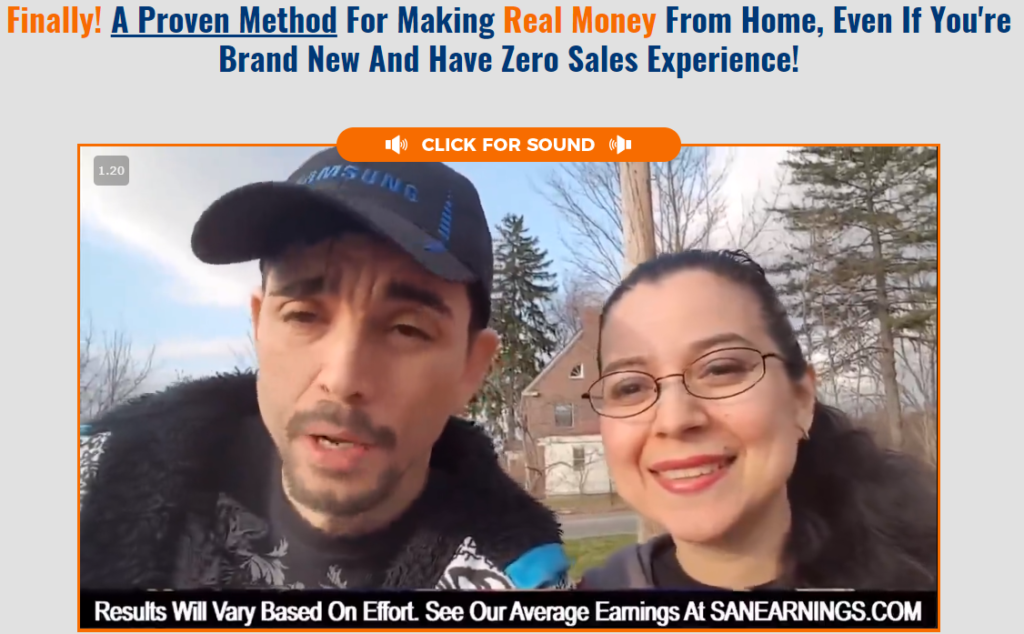 As you can observe, most members (over 30K members) earn between $1 and $21 per month, and it's only 12 people the ones who earn a full-time income…
In other terms, most members spend more money than they earn so that a few ones can make a substantial income. They even say that the average partner spends between $3000 and $12,000 every year to build their business, so they clearly spend way more than they make.
So what's wrong? Didn't it look like there were people who had succeeded with this program? 
Well, there are people who are making money but most people end up losing money. The ones who appear in the sales video are the ones who have succeeded, but they don't tell you anything about how it's going for most members. That's why the sales video is quite misleading.
RECOMMENDED: Check Out My FREE Earn Money Online Guide Here!
Is The Freedom Formula a scam?
---
The answer to "Is The Freedom Formula a scam?" really depends on your perspective.
If you take into account that The Freedom Formula is not the name of a real system and that the sales video gives you unrealistic expectations, then it's fine that you call this system a scam.
There are people who will not call it a scam because it provides you with some training and it gives you the chance to earn some money.
In my opinion, this is not a scam because you can get your initial investment back and you can also learn some marketing skills with their training.
When it comes to SAN, it's not an outright scam because it makes it possible for you to profit, but when most people are losing money, there must be something that's not right.
SAN works in a very similar way as other programs that got shut down by the FTC, such as MOBE and Digital Altitude.
These programs got shut down because they didn't live up to their promises and most people ended up losing money, so this business model is not legal to the FTC.
Not only that, you also need to take into consideration that promoting this kind of programs is not the proper way of building a business because you don't own this system, which means that if it gets shut down, you will be left with nothing and will have to start another business.
At the end, you are free to do whatever you want, but my final verdict is that I do not recommend The Freedom Formula.
It's best to build your own business
---
If your goal is to make a substantial long-term income online, it's best for you to focus on building your own business.
When I got started, I also wasted time on systems that didn't work but I'm glad that I found a legitimate business model that has been working for decades.
This business model has nothing to do with paid surveys, trading or recruiting. You will not have to promote the same programs as everyone else.
Instead of that, you will be able to make money from products & services that are related to a topic you are passionate about! This means that you will not get bored because you will be talking, researching and writing about something you love =)
And that's not all! This business doesn't require you to spend any money on advertising because you will discover how to get targeted traffic to your offers for free! Pretty cool, don't you think?
I'm living proof that this business works and I'm about to prove it to you. As you can see, there are days that I have earned over $200: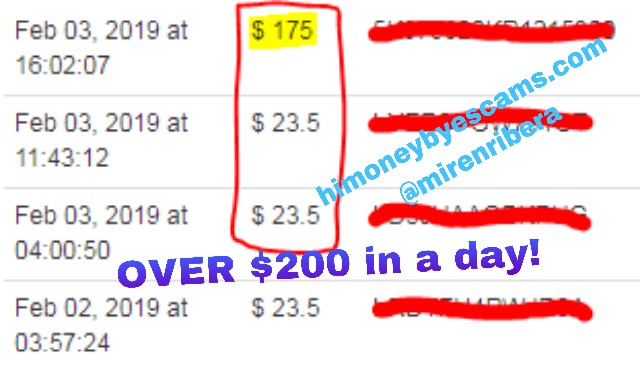 I have to confess that it wasn't always like that. I had to put in a lot of work to reach that level, and I still need to keep putting in the time and effort to go to the next level.
The good news is, you will not feel this is work because you will be doing something you love so it will be fun!
If you are interested in learning more, I invite you to check out my FREE guide here:
My free guide  reveals the step-by-step training and tools I used to build this business, the main reason it works, real success stories from people who started from scratch…
Oh, and did I mention that you can get started today for free? That's right, in my guide I reveal how you can get inside my favorite online place without spending a dime, so you can ensure this business is right for you risk-free!
I'm so excited to see you inside! I can guarantee you will find lots of help and support from me and other like-minded people! You will get answers to all your questions =)
CHECK OUT MY FREE EARN MONEY ONLINE GUIDE HERE!
I hope this The Freedom Formula review has been helpful to you and you will make the best possible decision.
Don't hesitate share it with whoever you believe that will benefit from it!
If there's something else you want to know or you have any questions about The Freedom Formula, please feel free to leave your comments below and I'll get back to you ASAP!
Whatever you do next, I wish you nothing but the best =)