Will The China Secret scam you out of your hard-earned money? Or will thechinasecret.co help you earn the kind of money that you desire?
First of all, congratulations on doing your own research before taking out your credit card.
As you may already be aware of, there are sooo many frauds out there, so doing your due diligence is the way to avoid scams and discover the genuine way to generate an income online!
When it comes to The China Secret, it's not as wonderful as they claim in the sales page and here I am to prove it to you.
This honest review will uncover the secrets they're hiding from you…
.
The China Secret review
---
Name: The China Secret
Website URL: thechinasecret.co
Launched in: December 2018
Owner: "Robert Walter"
Price: $9 + upsells
Overall Rating: 2/10
Recommended? No
.
---
If you're sick of scams, check out my 1st resource to make money online HERE!
---
.
What is The China Secret about?
---
I got emailed a link to The China Secret sales page, so I was like "what if this program is legit instead of a scam?" and decided to check it out.
The second I landed on their sales page I felt something was not right because it looked very similar to other scam pages I have come across.
But I didn't want to come to any conclusions without knowing what this is really about so I did my homework.
According to the spokesman, The China Secret is a new secret that pillages a 1.4 billion dollar market.
This guy claims he discovered this secret 3 months ago and his life has changed thanks to it.
He allegedly earned $28,432.22 a day without having any technical or marketing experience.
So can anyone learn this secret and make that kind of money? Yes, according to "Robert".
I personally don't like the fact that he makes this money-making opportunity sound too easy and fast.
The fact that it's only taken him 3 months to make a lot of money with this secret system makes this sound like another get-rich-quick scheme because earning that kind of money takes way more than 3 months.
Another thing that I don't like is the fact that he complains about the gurus because that's what scammers do.
I have watched lots of sales videos and I have noticed that the ones that claim they're not like other scam artists end up being scams.
Scam artists usually claim they're not scammers to lead you to believe that they're on your side.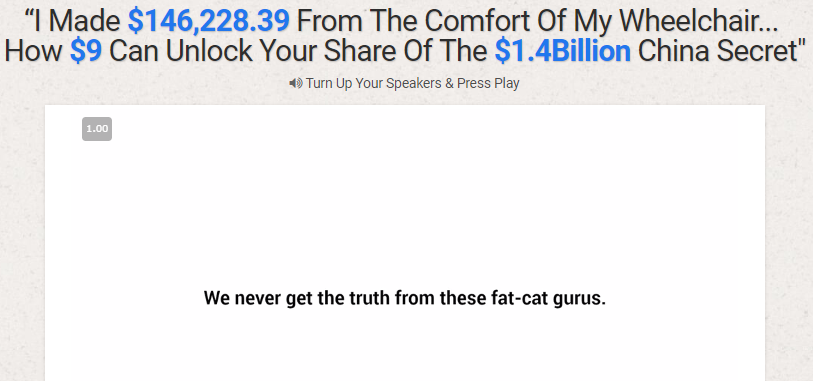 In this case, "Robert" doesn't sound any different than the other gurus because he's doing the same as them.
He's trying to get you excited about this opportunity without telling you much about this.
The China Secret is really no better than these other systems I have reviewed:
.
.
RECOMMENDED: Check Out My FREE Earn Money Online Guide Here!
.
How does The China Secret really work?
---
"Robert" says that this system will help you make money thanks to a new "Messenger marketing" opportunity with Facebook Messenger.
He claims the Chinese messaging platform called WeChat generated $40 billion dollars last year, and now this opportunity is available to the rest of the world thanks to some advanced advertising & commerce features inside Facebook Messenger.
He says that you could be one of the first people in taking advantage of this opportunity because "Messenger marketing" is new.
However, how can we know he's saying the truth is he doesn't reveal what you're getting inside the system?
Well, I can say that this is not really a system because this is not something that you can activate and make money in a short amount of time.
I have bought lots of products like this one and they usually provide some basic and generic training that doesn't go over everything you need to know to make the kind of money they say.
So, The China Secret doesn't really work the way it's advertised. Just the fact that he doesn't even tell you what you're going to do to make money is a big red flag.
Without knowing what you're getting into, how can you determine this is the right money-making opportunity for you?
.
Does it only cost $9?
---
I imagine it sounds amazing that this product only costs $9, since it's not that much and it's cheap compared to other products.
But the fact that it costs $9 makes it sound too good to be true.
I mean, it would make no sense that they sold a valuable product for only 9$.
"Robert" says that he wants to give back and give everyone a chance to make money with this, but I've heard the same thing in other scam videos.
Like I said, I have purchased many ClickBank products and they all have some upsells.
So, if you end up buying The China Secret for $9, you can expect to be bombarded with some upsells.
The owner of this product will try to get way much than $9 from everyone who buys this.
.
RECOMMENDED: Learn How I Make a 4-Digit Monthly Income Here!
.
The China Secret scam signs exposed!
---
There are some scam signs that indicate The China Secret is not as awesome as portrayed and I believe you need to be aware of this because there are other scam websites that also have these red flags.
.
Fake scarcity
---
"Robert" says that there are only 100 copies of The China Secret for $9.
But this is only a fake scarcity tactic that he's using to make you rush into buying this product.
This is an old trick that scammers use to make people buy on impulse without thinking.
The truth is that there are no limits when it comes to the amount of copies available because these con artists want to make as many sales as possible.
So don't be fooled when they claim there's limited availability!

.
Lack of legal information
---
In the The China Secret sales page there's no bottom menu where you can find links to access legal pages like privacy policy or earnings disclaimer, which is a red flag.
These legal pages are essential for you to make an informed decision, since it's important to take into consideration how these people are going to use the personal details you provide.
After having reviewed lots of programs, I have realized that many marketers sell their customers' email addresses…
And the fact that the people behind The China Secret don't provide say what they're going to do with your personal details is a big red flag because sites that don't reveal this kind of information tend to be sites that collect people's personal data for the owners to sell it.
So, this is another reason for me not to trust The China Secret.
.
Can you trust Robert Walter?
---
Robert Walter is said to be the creator of The China Secret, but how can we trust him if he doesn't even show up?
He doesn't show any picture of himself and doesn't even tell us how to find more information about him or how to get in touch with him.
From my experience, I can say that this kind of ClickBank products are usually promoted under fake names so I believe Robert Walter is a fake name as well.
The fact that the real owners of The China Secret don't show up is an indication that this product is probably run by scammers, since they tend to be the ones who don't show up to avoid facing the consequences of scamming.
.
No way to verify the reviews
---
Below the The China Secret sales video, you can read some reviews by people who have supposedly bought this program.
There are allegedly 84 reviews but we can only read 3.
I personally don't believe these reviews are genuine because there's nothing that can confirm they're real.
So, taking into account the fact that Robert Walter is not the real owner and other lies they say, I believe that the reviews are also invented.
.
Conclusion on The China Secret
---
Is The China Secret a scam? If you're still wondering this, the answer depends on your perspective.
Some people will not call it a scam because you get something for your money.
But other people will call The China Secret a scam because it doesn't live up to its promises, since they don't provide a system that can make you money without doing much work.
In my opinion, The China Secret is just another low-quality product. It's not a 100% scam because it's sold on ClickBank, which means that you can get a refund.
So, after everything I have explained, what you decide to do is up to you.
My final verdict is that I do not recommend The China Secret.
.
Here's my secret to make a 4-digit monthly passive income online
---
In order to earn a substantial income online, you need to keep in mind that there's no easy or fast way to do it.
If making money online was quick, don't you think everyone would be doing this?
When I realized that, I stopped wasting my time on "too good to be true" programs or get-rich-quick schemes.
I'm thankful that I found a legitimate business model that has given me a way to earn a 4-digit monthly income online.
It's a newbie-friendly business model that takes advantage of the products/services that are available online.
Thanks to this business I can make passive income and work anywhere as long as I have a computer and an Internet connection.
If you're one of those people who are committed to putting in the work and time, I invite you to check out my FREE step-by-step earn money online guide here:
In my free guide, you will find how to build a sustainable & long-term online business.
Something cool about this business is that you will be able to pick a topic you have a passion for to build this business, so you will get to enjoy the process =)
My guide also reveals how you can start today for free and how you can get my personal support and guidance!
You also get the chance to receive help from other like-minded people as well, so you can rest assured knowing that you're not alone in this new venture!
Are you ready to stop wasting your time on low-quality products and start your online business today?
CHECK OUT MY FREE EARN MONEY ONLINE GUIDE HERE!
I hope this honest The China Secret review has been helpful to you and you will make the best possible decision.
Feel free to share it with whoever you believe that will benefit from it!
If there's something else you want to know or you have any questions, don't hesitate to leave a comment below and I'll get back to you ASAP!
Whatever you do next, I wish you nothing but the best =)