Welcome to my Daily Cash App review!
If you're wondering "will Daily Cash App scam me?" or "is dailycashapp.cc a system to make $2685 today?", then you've come to the right place at the right time.
Firstly, I need to congratulate you for taking the time to do your own research before investing in another money-making system.
You might already know that there are too many fraudulent websites out there, so doing your due diligence is the way to avoid scams and find the legit way to make passive income online!
When it comes to Daily Cash App, the truth is that it's not as good as they want you to believe.
This honest review will show you the ugly truth about this system and everything you need to know to make an educated decision.
.
Daily Cash App review
---
Name: Daily Cash App
Website URL: dailycashapp.cc
Launched in: December 2018
Owner: "Steven Jenkins"
Price: at least $200
Overall Rating: 0/10
Recommended? No
.
---
If you're sick of scams, check out my 1st resource to make money online HERE!
---
.
What is Daily Cash App about?
---
Someone sent me a link to the Daily Cash App sales page, so I thought I would take a look at it to see if this system would be legit or just another scam.
The moment I came across the sales page, I thought I was in front of another "too good to be true" system because of the red flags I had noticed.
The spokesman claims you are extremely lucky to have come across this video because you're going to discover something that most people don't know.
He claims that this system enables you to earn $2685 every single day without having to leave your bed.
According to him, this is not about cryptocurrencies, trading, affiliate marketing or something you need experience to do.
Oh, and he also says that this is not a scam, but I have some doubts to be honest.
I mean, the sales page for this program is very similar to other scam pages I have watched.
Daily Cash App is said to be a software that you can use to earn a lot of money easily, which makes it sound like a get-rich-quick scheme.
Another cool thing about this software is that it's free to access, so is it possible to make money for free?
After watching the entire sales video and doing intensive research, I can say that this software is not as good as it might seem.
Daily Cash App is no different than these other programs and systems I have exposed:
.
How Daily Cash App really operates
---
Daily Cash App is said to work in a way that can help you generate profits fast.
According to their sales page, you only need to follow these 3 steps to make it work:
Fill out a registration form on this page

Access a secret exchange platform

Open your account and start making $2685 a day
Sounds simple, easy and quickly, doesn't it?
Well, the truth is that it's not as easy as they make it sound because there's so much more you need to do.
Not only that, Daily Cash App is not even the name of the real program that they're trying to sell you.
The truth is that Daily Cash App is just an overhyped sales page that con artists are using to drive people to another scam program.
.
RECOMMENDED: Learn How I Make a 4-Digit Monthly Income Here!
.
The real program
---
So the real program they want you to sign up to is called Click2Sell.co, which is an advertising platform.
After completing the form, you get taken to the Click2Sell.co dashboard, which you might find misleading.
I mean, they don't tell you anything about Click2Sell, so you only get to know about this if you give them your personal details.
After seeing that the actual software platform is called Click2Sell, you are like "what about Daily Cash App?".
I have noticed that scam artists behind Click2Sell and other scams don't use the real names to promote their stuff in order to prevent potential victims from finding honest negative reviews.
Once in their dashboard area, they tell you to invest in some advertising packages that cost from $200 to $25,000.
After funding your account, you can go to their marketplace to find banner ads to invest in.
The idea is to make money when people click on these banner ads and purchase from them, so the more clicks a banner gets and the more purchases people make, the more money you can supposedly earn.
In addition, they also have a referral program and you can also make money by reselling the banner ads you've bought.
Well, that's what they say. 
When it's time to withdraw or transfer your money to your bank account, that's when you realize this is not as awesome as they claim.
They will ask you for some personal documents like your ID, an utility bill or your credit card/bank account.
The reason I know this is because Click2Sell.co is like the substitute of BannerBit, which turned out to be a scam.
People behind these scam platforms want you to invest as much money as possible and then they try to make you believe that you're making money to get you to invest more and more money.
Remember that they ask you for your phone number before signing up? 
The reason they want to know your phone number is for sales calls. They will try to convince you to purchase the most expensive banner ad package.
Not only that, if you give them your main email address, you can expect them to send you spam and promotional emails concerning this scam platform or other scams.
That's how these scammers work. They do the most to profit at other people's expense, which is unacceptable and so cruel to the people who get scammed.
.
The owner is fake
Steven Jenkins is said to be the owner of Daily Cash App and a computer programmer, but the truth is that he's a fake character.
He doesn't tell us how to get in touch with him, the only thing he shows is a picture of a man who's said to be himself.
But this picture is enough for me to prove to you that he's not Steven Jenkins.
As you can see above, the picture of "Steven" is a stock photo found on Shutterstock, which means that the scam artists behind this program are using this picture to create a fake persona.
So the real owners behind Daily Cash App or Click2Sell.co don't show up, which is something that indicates a lack of transparency.
Because of this, there's no way for me to trust Daily Cash App.
When it comes to Click2Sell.co, they don't show up either. There's no way to know the people who are running this platform.
.
RECOMMENDED: Check Out My FREE Earn Money Online Guide Here!
.
The testimonials are paid actors
---
So what about the people who appear in the sales video and claim to be earning a lot of money thanks to this system?
They're paid actors, so everything they say is invented. They haven't earned any money from Daily Cash App a.k.a. Click2Sell.
I have reviewed hundreds of programs and I have noticed that most programs that have fake testimonials end up being scams.
Just take a look below to see some proofs that these people are Fiverr actors: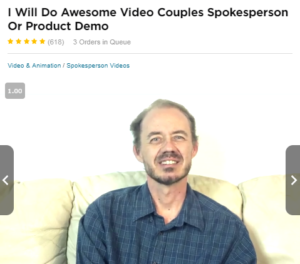 The fact that the testimonials are not genuine is something that proves this program is not as good as they want you to believe.
Legit platforms or products wouldn't lie about the success of their customers.
.
Is Daily Cash App a scam?
---
Yes, Daily Cash App is 100% scam because it's not even a real system.
Just the fact that they claim you can make $2685 a day is a huge red flag because it makes it sound like the typical get-rich-quick scheme.
There are many programs that make this kind of claims but the difference is that some products actually allow you to get a refund.
In this case, once you have bought one of their packages, you cannot get your money back. 
And the fact that the whole scheme doesn't work because it's the same as BannerBit is another reason this is not a legitimate business opportunity.
There were a lot of people who lost money to BannerBit, and now they're using Click2Sell to prevent potential victims from finding the complaints about BannerBit. That's how these unethical marketers keep ripping people off.
Because of everything I have explained, I have conclude that I do not recommend Daily Cash App.
.
How I earn a monthly income online
---
The more you keep looking for ways to make money online fast, the more scams you will encounter.
No matter the method you use, you will not make a decent amount of money in a short period of time after getting started.
If there was a program or system that provided a fast solution to people's financial problems, then a lot of people wouldn't be working jobs they don't like.
So keep in mind that you will have to put in a lot of effort and time to earn the kind of money that you deserve.
When I realized that, I'm glad that I found a proven business model that has given me a way to make a 4-digit monthly passive income online.
It's a newbie-friendly business model that takes advantage of the millions of products and services that are being sold online everyday.
You can find more about this business in my FREE step-by-step earn money online guide here:
In my free guide, you will learn how to build an online business that makes you money for many years to come.
You'll also be able to choose a topic you're passionate about to build this business, which is cool because it will make the process more enjoyable 🙂
Best part is, my guide reveals how you can start today for free and how you can get my personal help and guidance!
You will also be able to receive support from other like-minded people as well, so you're not alone in this new venture!
Are you ready to stop wasting your time on scams and get on the right track to making passive income online?
CHECK OUT MY FREE EARN MONEY ONLINE GUIDE HERE!
I hope this honest Daily Cash App review has been helpful to you and you will make the best possible decision.
Feel free to share it with whoever you believe that will benefit from it!
If there's something else you want to know or you have any questions, don't hesitate to leave a comment below and I'll get back to you ASAP! ? 
Whatever you do next, I wish you nothing but the best =)