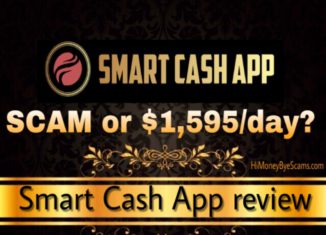 Have you been asking yourself "will Smart Cash App scam me out of my hard-earned money"?
Or will this system help you earn the kind of money you desire?
First of all, I must congratulate you for taking the time to do your own research before buying into another money-making system.
You might already know that there are too many frauds out there so doing your due diligence is the way to avoid the dangerous scams and find the genuine way to make a living online!
When it comes to the Smart Cash App (smartcashapp.net), the truth is that it's not as amazing as their sales video makes it seem, so I've put together an honest review that reveals what they haven't told you and everything you need to know about this product.
Smart Cash App review
---
Name: Smart Cash App 
Website: smartcashapp.net
Owner: "Robert Fisher"
Price: $37 + upsells
Created in: October 2018
Overall Rating: 1/5
Recommended? No
---
If you're sick of scams, check out my 1st resource to make money online HERE!
---
What is Smart Cash App about?
---
I recently received some emails concerning the Smart Cash App system so I thought I would check it out to see if this one was legit or just another ugly scam.
Robert Fisher, the alleged creator of this system, claims to provide a system that is helping people earn up to $1,595 a day.
This system is said to be like nothing you've seen before and the fact that it can supposedly start making you money the same day you get started makes it seem so cool.
I mean, who wouldn't like a system that can make money fast or easily? 
The spokesman makes this system look like the ideal system for everyone because it doesn't require you to have any special skills or prior experience.
He claims this system has nothing to do with taking paid surveys, blogging or gambling. It's a system designed to make you money on complete autopilot and it only requires you to work 30 minutes a day.

All you need to do is to follow simple step-by-step instructions to make this system work.
Everything "Robert" says about this system sounds amazing, but I have noticed that he basically talks about the good things instead of telling you what you need to know.
The sales video is basically focused on how much money you can earn and how easy it is thanks to this system, but you're not told about what you exactly need to do or what training you will get.
When it comes to deciding whether or not to make a purchase, it's important that you take into consideration if what you're receiving is worth it.
But they don't provide enough information for you to make a good decision, which is a red flag because it means that they don't really care about their customers.
I have reviewed hundreds of programs and can say that Smart Cash App is no different from the following:
Does Smart Cash App work?
---
Smart Cash App doesn't really work like the spokesman says because you're not getting a system that can make you $1,595 a day without putting in the effort.
If you have watched the sales video, you might be confused since they don't explain what this system is really about or what you will have to do to make the kind of money they talk about.
These programs work in a way that doesn't work to make you money, it works to generate profits for the creators of the system.
They try to get you excited so that you spend your hard-earned money, and once you have paid, you realize that the inside (the members area) of the product is not like what they told you in the outside (the sales page).
If you decide to pay for this product, you will get access to some basic training that doesn't go over everything you need to know to make money.
I have bought many products like this one and the training was always very similar: PLR material that you can find online for a low price or even free, YouTube videos that are from different channels (not from the owners of the product), outdated guides…
It's easy to get stuck or feel lost because they don't provide clear, comprehensive step-by-step training that allows you to know what to do now and then.
Also, you will see that you cannot do some of the things their training says because you might find that some sites or resources they recommend no longer exist. That's what you can expect from outdated material.
Click Here To Get My FREE Earn Money Online Guide Now!
Will you make $1,595/day from Smart Cash App?
---
You might learn something from the training provided but you will not earn $1,595 thanks to it. 
Not only that, you cannot expect to earn money the same day you get started because there's a process when it comes to making money online, no matter the method you use.
In this case, Smart Cash App is geared towards affiliate marketing, which is a business model that I'm very familiar with because I personally use it to earn a 4-digit monthly income online.
If you have never heard of it, your job as an affiliate marketer is to help other individuals and companies sell their products or services.
Everytime you make a sale, you will get paid a commission. That's why the spokesman mentions "daily commission payments" in the sales video.  
It's a legitimate business model that can help you generate a substantial income online. There's really no limit when it comes to the amount of money you can earn.
The problem I see with the Smart Cash App system is that they don't provide the kind of training that can help you build this business the proper way.
I mean, you might earn some money from the methods they teach, but not a full-time income online.
Smart Cash App scam signs exposed!
---
The Smart Cash App sales page is full of red flags that indicate this system is not as awesome as advertised, so let me reveal these scam signs to you…
Robert Fisher is not to be trusted
---
The spokesman claims to be Robert Fisher, the creator of Smart Cash App.
But how can we trust him when he doesn't show himself? He doesn't even show a picture of him and he doesn't tell us how we can get in touch with him.
So how can we know he's the real creator of this program? If he has supposedly created an amazing system, don't you think he should be proud enough to show up?
There are more scams than legitimate programs out there and it turns out that scammers never show their real identity to avoid getting caught.
In this case, the people behind Smart Cash App don't show who they really are because they don't want to get persecuted by the people who end up feeling ripped off.
They're not honest about the cost
---
One of the things that they don't mention is the real cost of this system. 
Building this business is not only going to cost you $37. It will cost you way more than that.
How do I know? I checked out their page for affiliates and they claim it's possible to earn up to $375 per customer, which means that this program must cost more than $375.
In case you buy this product, these are the upsells that they will bombard you with:
Upsell 1 – Smart Cash App 2.0 ($197)
Upsell 2 – Smart Cash Pro ($177)
Upsell 3 – Smart Cash Social ($97)
They will try to get you to purchase these upsells before giving you access to the members area. That's what happens with most ClickBank products.
In my opinion, a product that has upsells is not as good as advertised because these upsells are usually needed to make the main product (Smart Cash App) work.
I personally don't like the fact that they don't mention that this is going to cost you way more than $37 because knowing the total cost is essential to decide whether or not this system is right for you.
 Discover How I Make a 4-Digit Monthly Income Now!
It's marketed as a get-rich-quick scheme
---
One of the biggest red flags is the fact that this program is marketed as a get-rich-quick scam.
They make high-income claims and say that it can be done fast and with minimal effort, which is not true.
In one of the email swipes, they say that you can make your first commission today, which sounds very unrealistic because you first need to learn and get people to buy the products you promote.
Getting traffic to your offers is not something that can be done in a day if you don't know how. Before thinking of making sales, you need to build an audience and this is something that takes time.
Because of that, it's not true that you will make your first commission the same day you get started.
I personally don't like the fact that they make this kind of claims because they're making this business look like a way to get instant cash, which is something that is not.
They push you to buy the system
---
The spokesman claims he cannot reserve your spot, so you need to hurry up to buy this program.

Well, that's what they want you to believe. They want you to think that this system is exclusive and only a few people can get it. 
The truth is that there's nothing special about this program and it's going to be available for months, so you don't need to worry about not making a fast decision.
You can check out their sales page in some days and you will see that nothing has changed. 
If you think about it, these con artists would never limit the amount of money they can earn so there's no way there's limited availability.
Conclusion on Smart Cash App
---
Is Smart Cash App a scam? The answer really depends on your definition of scam.
If you judge this product based on the fact that it's misleading and doesn't live up to its promises, then it's fine that you call it a scam
But if you take into account that you actually get something for your money, then you will not call Smart Cash App a scam.
In my opinion, this is just another poor quality product because you don't get everything they promise, but I'm not calling it a scam because you can get your money back, since it's sold on ClickBank.
There are programs way worse than this one because some of them take your money for nothing, so they're total scams.
Smart Cash App is not a complete scam but it will not help you make a full-time income online either. Working 30 minutes a day or learning from outdated training will not get you there.
If making money online was that easy, don't you think most people would have already made a fortune? Many would surely quit their 9 to 5 jobs.
Because of everything I have mentioned, I have to conclude that I don't recommend Smart Cash App.
Learn how I earn a 4-digit monthly income with affiliate marketing
---
If you are committed to earning real money online, then you need to keep in mind that this is going to take time, learning, work and patience.
There are multiple ways to make money online, but I have realized that building an online business is the best way because that's the way you can also achieve financial freedom.
Having your very own business that brings you passive income is the way you can become financially free, and the cool thing is that affiliate marketing enables you to do that!
I'm very glad that I learned about this business model and put in the effort and time to make it work. I get to enjoy a 4-digit monthly income and it's growing since I put in the work everyday.
With the right step-by-step training and tools, I believe anyone can make this happen as well!
I've put together a FREE earn money online guide where I explain step-by-step what I do to make an income with affiliate marketing.
You will see that there's nothing hidden in my free guide. I reveal the 4-step formula I use, the main reason this method works, real proofs…
I also show you the place where I got started, and the cool thing is that you can start today for free!
Yes, I'm not kidding, you will be able to get your business started without spending a dime so it's risk-free to determine whether or not this business is right for you.
I will also be there to support and help you through the process so you definitely are not alone in this new adventure!
Not only that, you also get access to a community full of supportive people who want to see you succeed =)
So what are you going to do? Will you keep wasting your time on scams or will you read my free guide and start building your future today?
CHECK OUT MY FREE EARN MONEY ONLINE GUIDE HERE!
I hope this Smart Cash App review has been helpful to you and you will make the best possible decision.
Feel free to share it with whoever you believe that will benefit from it!
If there's something else you want to know or you have any questions, please leave your thoughts below and I'll get back to you ASAP! ? 
Whatever you do next, I wish nothing you the best =)