Welcome to my Get Paid Daily System review!
Wondering if get-paid-system.com or getpaid-system.com is a scam? Or perhaps you hope that you can earn daily paychecks thanks to it?
First of all, I must congratulate you for taking the time to do your own research before taking out your credit card.
Too many scammers out there are trying to take your hard-earned money, so doing your due diligence is the way to avoid frauds and find the real way to make passive income online!
When it comes to the Get Paid Daily System, you need to be careful with it because it's not legit! 
Yes, this system is nothing special and my honest review will show you some red flags that you need to be aware of.
Get Paid Daily System review
---
Name: Get Paid Daily System
Websites:
get-paid-system.com

getpaid-system.com
Owner: "Justin Stevenson"
Price: at least $250
Overall Rating: 5/100
Recommended? No
---
If you're sick of scams, check out my 1st resource to make money online HERE!
---
What is Get Paid Daily System about?
---
Someone sent me an email concerning the Get Paid Daily System, so I thought I would take a look at it to see if this one would be legit.
The second I landed on the sales page I felt something was not right about this program because of the red flags I noticed.
However, I didn't want to come to a final conclusion without doing my homework so I watched the sales video and did intensive research.
Justin Stevenson, the alleged creator of this system, claims to provide you with an opportunity that can help you earn daily paychecks.
He claims that most opportunities come with one of these problems:
They require you to spend money to start

You need strong technical skills

You need a long list of customers or clients

You're required to have connections or years of experience

You need to put in a lot of hours of work
He has apparently created a system that removes all these obstacles because it only takes 30 minutes a day to make it work and it can also put money in your bank account the same day you get started.
Sounds awesome, right? How generous this guy is, isn't he?
Oh, and he also says that you will not need your credit card because this system is free! So is he making it possible for everyone to finally make money online? 
Lol I actually couldn't help but laugh when I heard that he's not trying to sell anything because I have heard the same thing in other scam videos.
I have exposed hundreds of scams so I know what kind of claims they make and the spokesman for the Get Paid Daily System sales video makes some fake claims that I've heard lots of times.
Get Paid Daily System is no better than other programs I have reviewed. Everything the spokesman says is to get you excited so that you fall for this fraudulent system.
How does Get Paid Daily System operate?
Get Paid Daily System works in a way that takes your hard-earned money and wastes your precious time. It's the complete opposite of what the spokesman claims it to be.
According to the sales page, this system works in 3 steps:
Open a free trading account.

Make a $250 deposit.

Complete your kick-off call.
After that, you're supposed to get your first daily paycheck because the system is said to work in a way that makes you money on complete autopilot.
You just need to activate it and it makes the trades for you so you don't need to do much work. Well, that's what they say.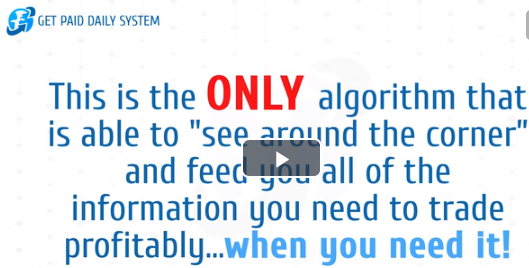 The system will tell you what and when to trade. It's said to use a machine learning algorithm that predicts the financial markets so most trades will be profitable.
Once you've made the initial investment, their trusted broker is said to execute your trades to make you money.
That's how this is supposed to work but the truth is that it works differently than that. Like I said, it works to take your money and leave you with $0.
 Discover How I Make a 4-Digit Monthly Income Now!
How Get Paid Daily System really works
---
These scammers' goal is to get you to fund your trading account so that they can profit at your expense.
All the money you invest will be gone in a matter of days. If you make the $250 investment, their recommended broker a.k.a. a scam broker will lose it all on purpose.
The only ones who get to benefit are the con artists and the scammy broker because the broker will pay a commission to these scammers everytime someone like you funds their trading account.
Not only that, they also want your phone number to call you and try to convince you to invest as much money as possible. 
They will tell you that the more money you invest, the bigger your paychecks can be. But the truth is that the more money you invest, the more money you lose and the more money they get.
These scam artists also want to know your email address to send you spam emails related to this scam system and other fraudulent programs.
Another thing is, they will probably sell your information to other companies or scammers so you can also expect to receive emails from people you don't know.
As you can see, they always do the most to benefit themselves but don't care about the harm they do to others.
Justin Stevenson is not the real owner
---
At the beginning of the sales video, we're told that Justin Stevenson is the spokesman and creator of this system.
However, this is a lie and I have an undeniable proof.
I discovered that the sales page for Get Paid Daily System is also in Spanish, so I checked out the sales video in the Spanish version and the spokesman claims to be "Marcelo Paradas".
As you can see, it's all invented. There's no way that the owner has two different names. The truth is that he doesn't show up.
The fact that the people behind this system don't reveal their identity is one of the reasons why I don't trust it. 
How can we trust people who lie to us? It's clear that they're hiding for a reason and I believe that reason is that they don't want to get persecuted by their victims.
The comments are fake
---
What about the comments (reactions) below the sales video? They're a complete fabrication!
I checked out the comments in Spanish and it turns out the pictures of the testimonials coincide but not the names.
Below you can see what I mean:
As you can see, the names are different in each version, but the pictures are the same. How can a person have more than one name? It's clear that they're fake.
The people who appear in those pictures might not even know that their pictures have been used to promote a scam software. 
Truth be told, there are no positive reviews of this system because nobody but the scammers have benefitted from it.
When someone needs to use fake testimonials, it's an indication that the system is not as good as advertised.
I mean, there would be positive reviews out there if this system really worked. Someone would have already explained their success story.
But the fact that they have fake comments and testimonials indicates that this system is not to be trusted. 
Click Here To Get My FREE Earn Money Online Guide Now!
Lack of legal information
---
At the bottom of the Get Paid Daily System sales page, there's a menu concerning legal pages like privacy policy, terms or disclaimer.
I checked it out but I got taken to the same sales page I was in, which means that they don't provide any legal information.
This is a big red flag because it indicates a lack of transparency. How are they going to use your information? What are their terms?
There's no way to know it, so this system is not even legal. 
Note that legitimate companies and websites would let you know about their privacy policy, terms & conditions, income disclosure…
This is another sign that we cannot rely on this Get Paid Daily System.
Is Get Paid Daily System a scam?
---
From my point of view, Get Paid Daily System is a total scam because it takes your money and gives you nothing.
Not only that, this system also wastes your time and can leave you frustrated or disappointed. The feelings you experience after getting ripped off are not good so this system is also toxic for your emotional health.
I have not given it a 0 because some of the ridiculous claims they made, such as this system being free, actually made me laugh. But it's still a dangerous scam that needs to be avoided.
Get Paid Daily System is no different from the typical binary options scam software like 1K in 1 Day, Bitcoin Code or CFD Society.
I consider these to be 100% scams because they don't give you anything for your money and they don't even give you the option to get a refund.
Other scams that you need to avoid are the following:
Everything about this system is fake: the owner, the testimonials, the payment proofs, their promises…
And the fact that they recommend a broker (brokerz.com) that has lots of complaints is another reason I personally will not waste any kind of energy on this system.
So, after everything I have explained, my final verdict is that I highly do not recommend Get Paid Daily System.
How I make a consistent income online
---
Investing/Trading is a great way to grow your capital, but only when you're already making a consistent income. 
If you're getting started and your goal is to become financially free, then I believe it's best that you first focus on building a stable passive income source before getting into the trading world.
Investing is very risky so it's best to do that once you have an established online business. 
When it comes to building an online business, the good news is that you don't need a large capital to get started.
The business model I use takes advantage of the millions of products/services that are available online so you don't need to worry about creating your own product either. 
It's a newbie-friendly business model that has been working for decades already, and it's only getting better because there are new products and services coming out every day.
There's a lot to say when it comes to this business so I created a FREE step-by-step earn money online guide where you can find how it all works:
Don't check out my free guide if you're not willing to make efforts. To be completely transparent with you, this is only for people who are committed to putting in the work and time.
If making money online was easy or fast, most people would have already made millions, don't you agree?
If you decide to read my free guide and take action, you will build a sustainable online business that will make you passive income for many years to come.
Not only that, you will also see how you can start today for free! 
I'm not kidding, you don't need to spend a dime to determine if this business is right for you =)
My free guide also reveals how you can receive free help and support from me and other like-minded people who are on the same path as you!
You will get answers to your questions, so you can rest assured knowing that you're not alone in this new adventure.
So what will you do? Will you keep wasting your time on the ugly scams or will you get your business started today?
CHECK OUT MY FREE EARN MONEY ONLINE GUIDE HERE!
I hope this Get Paid Daily System review has been helpful to you and you will make the best possible decision.
Feel free to share it with whoever you believe that will benefit from it!
If there's something else you want to know or you have any questions, please leave your thoughts below and I'll get back to you ASAP! ? 
Whatever you do next, I wish nothing you the best =)