Is Your New At Home Career a scam system or will you earn $500 a day thanks to it?
First of all, congratulations on doing your own research before purchasing another money-making program.
There are too many dangerous scams out there so I'm glad to see that you're doing your due diligence. That's the way to avoid frauds and discover the genuine way to make passive income online!
When it comes to Your New At Home Career, it's not as amazing as the sales video makes it seem and my honest review is going to prove it to you.
Keep reading to find what they're hiding from you, how this system really works and more.
Your New At Home Career review
---
Name: Your New At Home Career
Website: yournewathomecareer.com
Owner: "Greg Thomas"
Price: $47 + upsells
Overall Rating: 1/10
Recommended? No
---
If you're sick of scams, check out my 1st resource to make money online HERE!
---
What is Your New At Home Career about?
---
I have been receiving emails concerning Your New At Home Career, so I thought I would look deep into it to see if this program is legit or another dangerous scam.
The moment I came across the sales page, something didn't feel right because I remember coming across another sales page that was very similar.
But I didn't want to think it was the same scam so I gave it a chance to see if I found something good about it.
The spokesman, "Greg", claims you're one of the lucky few who have the chance to try this system, which can allegedly make you from $10,000 to $30,000 a month.
He says that making that kind of money is simple and only requires you to work 30 minutes a day, even if you have no previous experience or special skills.
This system has nothing to do with Bitcoin, app testing or surveys. It's way easier than that, according to him.
He makes this system sound like the ideal program when he says that this has been designed to make you money fast.
I'm not sure what "extra income" means for him because he says that this program is perfect to make you extra income but then he says that it can make you from $5,000 to $30,000 a month.
So is $5,000 an extra income for him? For many people that amount of money would be a full-time income.
This guy makes earning money online sound very easy and fast thanks to his system, when in reality this system has nothing special.
Your New At Home Career is no different than the other programs that promise you the world and then underdeliver. 
He claims this is different but he makes the same kind of claims I've heard in other scam videos and he doesn't show anything that proves this program is better than the others.
Another thing he tells you is that this program will change your life in a short period of time so that you get excited and purchase it. And once you're inside, you realize it's not as good as he told you.
How does Your New At Home Career really work?
---
Your New At Home Career works in a way that generates profits for the people who have created it. It doesn't work to make you money.
If you've watched the entire sales video, you might have felt confused at the end because the spokesman doesn't really explain what this system is about.
He says what this system is not but he doesn't mention the business model or anything that allows you to have an idea of this system.
I personally don't like sales videos that give little to no information about what you're getting into or what you're receiving if you buy it, since it indicates that the owners of this system don't really care about you.
If they cared, they would provide enough information that helped you make a wise decision, but that's not the case.
What is Your New At Home Career really about?
---
So I had to do my homework and I found out this program is about dropshipping, which is a form of e-commerce.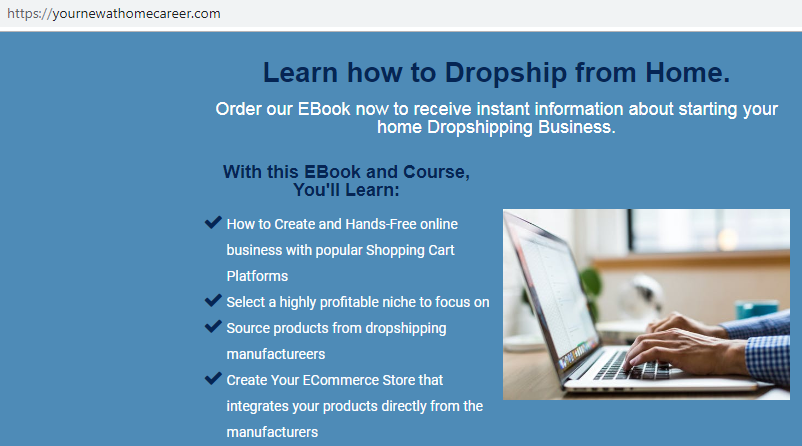 According to the information found on the main page at yournewathomecareer.com, you will get an ebook and a course about starting your dropshipping business.
Dropshipping is a legitimate business model and consists in selling physical products that you don't own.
You're not required to buy the products you want to sell before selling them, so you don't need any inventory. 
You basically find products in an online store and then list them in your own store at a higher price, so that you can benefit. After making a sale and having received the money, you purchase the product and tell the supplier to ship it directly to the customer. 
It seems simple and the process doesn't sound complicated, but it's not as easy as it sounds and there are some disadvantages.
The first disadvantage is that it can take you a lot of time to manage sales and arrage shipments, especially when you reach the point where you're making lots of sales. When you first get started, it might not seem a big deal but the more sales you make, the more work you have to do.
The second disadvantage is that there are high costs involved in driving traffic to your store. Without traffic, you have no business so you will have to invest hundreds (if not thousands) of dollars in paid advertising.
And another disadvantage is that you are the one who's in charge of refunds. If many customers requested a refund, you could end up losing money if you take into consideration the money spent on advertising.
This is something that they don't tell you in the Your New At Home Career sales video, so you really don't know what you're getting into unless you buy the program or read a review like mine.
It's possible to earn $500 a day online, but it takes a lot of time and work to reach that point, no matter the method you use. Dropshipping is not even the best business model you can use to reach that goal.
The real cost
---
Your New At Home Career basically sells you on the idea of making $500/day fast, which is something that will not happen because that's not how online business works.
When it comes to the ebook and training provided, it doesn't go over everything you need to know to build a profitable dropshipping business. 
Not only that, they don't even mention the real cost of building this business. If you end up buying this program for $47, you can expect to get bombarded with upsells that will cost you hundreds of dollars.
And like I said, you also need to consider other costs like hosting and advertising. So making this business profitable will probably cost you thousands of dollars.
Another thing I want to point out is that Your New At Home Career could be a sales funnel for another program called My Ecom Club, which is about dropshipping.
There are lots of sales pages like YNWAHC that are being used to promote this program. Marketers use pages with different names to promote a program like MEC because that's the way to prevent people from finding honest reviews.
They know that people wouldn't join their program if they found real reviews, since those are the kind of reviews that reveal how expensive My Ecom Club is.
See How I Make a 4-Digit Monthly Passive Income Online HERE!
Your New At Home Career ugly truths revealed!
---
Here I want to point out some red flags that you need to be aware of because they're very common in scam pages.
The owner doesn't show up
---
We're told that Greg Thomas is the owner of Your New At Home Career, but he doesn't show any picture of himself and he doesn't tell us how to get in touch with him.
So how can we trust what he says? How can we trust someone who doesn't show up? 
I have reviewed lots of programs and it turns out that programs that are being marketed as get-rich-quick schemes usually have fake owners. 
If you think about it, it would make no sense that scammers showed their real identity because they want to avoid harming their reputation and prevent their victims from persecuting them.
In my opinion, Greg Thomas is not the name of the real creator of YNWAHC.
Fake testimonies
---
In the Your New At Home Career sales page, we can see some testimonies below the sales video.
These people have supposedly earned thousands of dollars thanks to this system, but I noticed that they only mention their earnings. They don't mention the name of this program and don't even mention how they have made this kind of money.
I wasn't even surprised about that because I have seen these people in other scam pages. Their earnings are fake and they haven't even tried this system.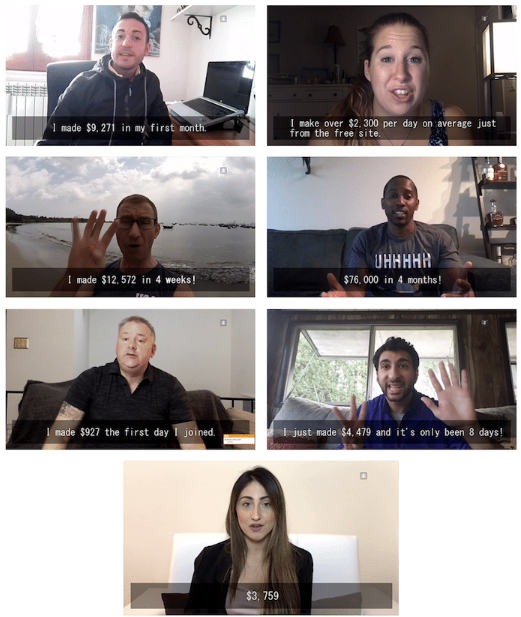 How do I know? They're Fiverr actors and below you can see some undeniable proofs…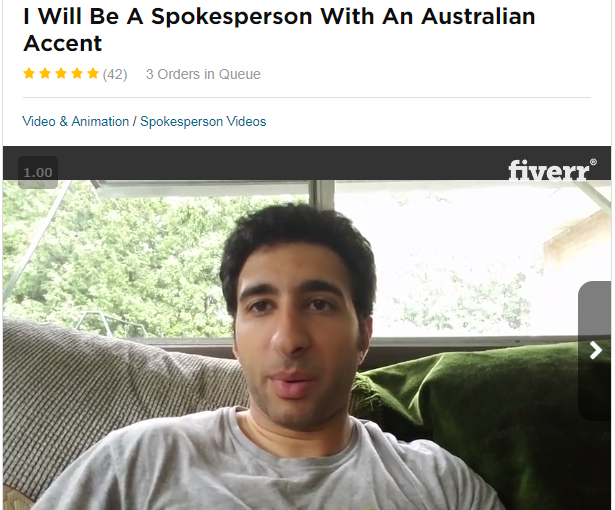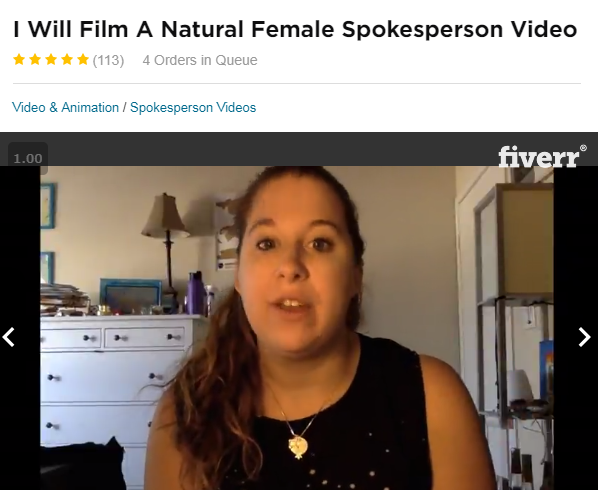 Legitimate companies wouldn't use fake testimonials to attract new customers. These Fiverr testimonies are basically present in scam sites, so whenever you see one of them, start suspecting you're in front of a scam.
Check out my FREE Earn Money Online Guide NOW!
"Limited positions available" fake claim
---
The first scam sign I noticed the second I saw the YNWAHC sales page was the fake counter.
In fact, there are two fake counters so you only need to look at them to see that they're not real. 
Just observe the screenshot below to see what I mean:

As you can see above, it makes no sense that it says there are 8 spots available and 1 remaining "positions" at the same time. 
Also, there are not 15 people watching the video. It's just another trick they use to get you to buy this program as fast as possible.
This is an old tactic that scammers use to make potential customers afraid of missing out, so that they buy on impulse.
But the truth is that they want as many people as possible to spend their money on this program. These con artists will never limit the amount of money they can make, even if they deceive other people.
Your personal information is at risk
---
Last but not least, I want to point out that they will share or sell your personal information like your email address and any details you give them.
That's what they state in their privacy policy:

Honestly, I'm not surprised that they share personal information with other partners a.k.a. other unethical marketers, since that's what scammers do to make even more money.
If you give them your email address, you can expect to receive messages from companies or individuals you know nothing about.
You need to be careful with the information you give them because they will do the most to benefit themselves regardless of how it affects you.
Is Your New At Home Career a scam?
---
Whether Your New At Home Career is a scam or not is up to you. It depends on how you look at it.
Some people will call it a scam because this program is misleading and doesn't live up to its promises. You do not get a system that can quickly make you $500/day with minimal effort.
It's not ok the fact that they're doing false advertising to lure people in. It says a lot about the values of the owners of this program.
Others will not call it a scam because they provide an ebook and a course that can help you start your dropshipping business. But there's no guarantee that you will make money.
I have read other YNWAHC reviews and it seems that people who have bought this system are trying to get a refund, so customers are likely not satisfied.
Your New At Home Career is no better than these other programs I have reviewed:
So, you are free to do whatever you want at the end. I hope you now have a better idea about the real nature of this program.
After everything I have explained and shown, I conclude that I don't recommend Your New At Home Career.
The reality of online business
---
No matter the business model you use, you will have to put in the effort and time. There are no methods you can use to gain huge profits in a short amount of time.
Whoever claims to provide you with a way to make fast and easy money is trying to take advantage of you. The owners of these fraudulent sites just want to get rich at your expense. 
When I realized that, I stopped wasting my time on new money-making opportunities and sticked to a valuable, step-by-step training that showed me how to use a newbie-friendly business model to earn passive income online.
I'm glad that I put in the work to make this business work for me. It's very cool to earn passive income in an honest way!
If you are committed to learning and taking action, I invite you to read my FREE step-by-step earn money online guide here:
My free guide will show you what I do to make a 4-digit monthly income online. You will see why this method works so well, what business model I use, real proofs that this method works…
This business model I use doesn't require you to deal with refunds or manage sales. It's similar to dropshipping because you don't need to sell your own products, but it has more advantages in my opinion. 
If you read my free guide, you will also discover how you can start this business today for free!
I'm not joking, my favorite place on the Internet enables you to get started without spending a dime =)
Not only that, you also get the chance to receive help and support from me and other Internet entrepreneurs who want to see you succeed! See my free guide for more details 🙂
So what will you do? Will you keep wasting your time on scams or will you start building your passive income source today?
CHECK OUT MY FREE MAKE MONEY ONLINE GUIDE HERE!
I hope this Your New At Home Career review has been helpful to you and you will make the best possible decision.
Feel free to share it with whoever you believe that will benefit from it!
If there's something else you want to know or you have any questions, don't hesitate to leave a comment below and I'll get back to you ASAP! ? 
Best to you =)