The Amazon Profits scam (AmazonProfits.org & AmazonProfits.co) has existed for some months already and it's been having a lot of buzz, so here I am to explain how this fraudulent work from home opportunity really works.
To begin with, I need to congratulate you for taking the time to do your own research before buying into another money-making opportunity.
There are too many frauds out there, so doing your due diligence is the way to avoid the scams and get on the right track to earn an honest income online!
When it comes to Amazon Profits, a short answer to your questions is that there's nothing real or legit about it and my honest review will unveil its lies and red flags.
Amazon Profits review
---
Name: Amazon Profits
Website:
amazonprofits.org 

amazonprofits.co
Price: $47 + upsells
Overall Rating: 0/10
Recommended? No
---
If you're sick of scams, check out my 1st resource to make money online HERE!
---
What is Amazon Profits about?
---
There's an Amazon work from home scam that is being promoted through various pages like AmazonProfits.org, AmazonProfits.co, AmazonWealth.org, AmazonMoney.co… 
There are just too many pages that scammers are using to get as much people as possible to fall for this fraud. 
You probably have received a phone call or message that claims you have been selected for a work-from-home opportunity with Amazon and all you have to do is visit amazonprofits.org/amazonprofits.co for more details.
Once you visit one of these websites, you get taken to a fake news article like Cash Website Success or Real Profits Online, which claims you can earn $14,000 per month with Amazon.
When I searched "amazonprofits.co" on Google, I saw it was the same as Real Profits Online. Below you can see the proof:

According to the information on their site, you don't need any special skills or prior experience to make this work for you.
You only need to work 1-2 hours a day and you can allegedly make $14,000/month. Well, that's what they say.
They also tell you a story about a man who lost his job and now is making a living thanks to this program, which sounds very cool but the problem is that it's 100% fake. More on this later.
The full article basically talks about how amazing this opportunity is. They don't really tell you wat this is exactly about or what you will have to do, which is a big red flag because scam sites are usually the ones that hide important information.
It all sounds too good to be true and it really is. The main goal of the creators of this program is to part with your hard-earned money, which is a selfish goal.
Learn How I Make a 4-Digit Monthly Income Here!
How Amazon Profits really works
---
Con artists behind Amazon Profits are using fake news articles to take you to another sales page, which is the real scam program.
These news articles they are using come in different names and the reason they're using them is to prevent potential victims from finding the truth. They don't want you to find honest reviews like the one you're reading now.
On the fake news article, they tell you to purchase an Amazon work from home kit, which supposedly gives you access to the training you need to follow to succeed in this program.
The real scam program
---
If you visit the sales page to buy the Amazon work from home kit, you will find a sales video that doesn't mention it.
In fact, the real name of this program is Money Sucking Websites or MSW System, which has many complaints and is considered to be a scam.
The spokesman doesn't say anything about the fake news article or the work from home opportunity with Amazon, so you might feel a little confused after landing on the sales page.
The whole sales video talks about how easy it is to earn $500 a day with this system, without doing much work. It really sounds like a get-rich-quick scheme.
This sales video is overhyped and what they say doesn't seem to be connected to the news article you read before landing on the sales page.
And when it comes to the Amazon work from home kit, it's something they use to get you to spend at least $47. But then, once you're inside, you see that you have got something different than what they told you outside.
That's when you realize you have been lied to and deceived. Well, now that you're reading this review, you already know the truth.
Does this opportunity make you an employee or a business owner?
---
There's a part in the Real Profits Online news article where they mention "work from home employees", which can make you think that this is a job.

But it really makes no sense because they're asking you to pay an initial fee. Do you ever pay to get a job?
Whenever someone asks you for payment when you're supposed to get hired, start suspecting you're in front of a scam.
Not only that, have you ever heard of a job that can make you $14,000 a month only working 1-2 hours a day? That's another sign that indicates this is not a job.
In the sales video, they mention "affiliate marketing", which is a business model I'm very familiar with because I use it to make a 4-digit income online.
Affiliate marketing can be used to earn money as an Amazon affiliate, which is what this program is really about. That's something they don't tell you in the fake news article.
I personally don't like the fact that they're marketing this program as if it were a job, since that can make you believe that you're going to start making money the day you get started.
What they're doing is unacceptable because it's not ok that they're taking advantage of people who are in need or desperate to get a job. They make it almost impossible for you to know what you're really getting into.
Check Out My FREE Earn Money Online Guide Here!
Amazon Profits scam signs revealed!
---
Both the fake news article and the sales page have multiple red flags that are very common in scams, so I'm going to point them out so that you know what to look out for whenever you come across a website.
First of all, they claim there are only 150 spots available, which is not true. They are trying to get you to purchase this program as fast as possible, that's why they want you to be afraid of missing out.
The truth is that there's no limit when it comes to the amount of people who can buy into this program. These con artists will never limit the amount of money they can earn.
The second alarming red flag is the fake story they tell. The guy who appears in the picture has nothing to do with this program, and his name is not Chris. 
In fact, that man probably doesn't know that his picture has been used to market a scam. I know all of this because I found that picture in a stock photography site and below you can see the proof: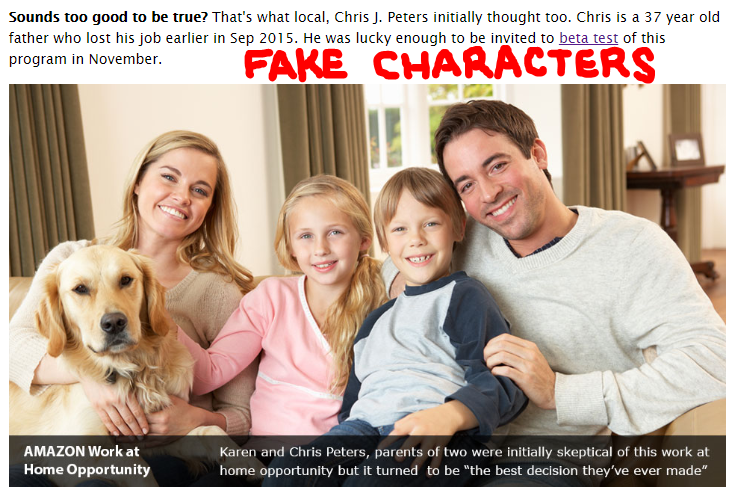 That's enough of a scam sign for me not to trust this program. The income proof they show is also fake because it has nothing to do with Amazon.
There's no information about the owner of this program, which is another scam sign because it indicates a lack of transparency.
Whenever I come across a website or product, I like to know who has created it because it helps me determine whether to rely on it or not.
In this case, I believe that the people behind this program are hiding to avoid harming their reputation.
Conclusion on Amazon Profits
---
Everything about Amazon Profits is fake, I haven't found anything real about it.
Like I said, Amazon Profits is not even the name of the underlying program. The real scam is Money Sucking Websites, which hasn't benefitted anyone but the scammers who are running it.
I've received multiple comments concerning this scam in my Amazon Cash Websites review, which is another fake news article that was getting used to promote this scam.
There's no way I can trust a program that provides fake information and lacks transparency when it comes to what's inside the members area.
Not only that, they don't even mention the real cost of building this business, which is something you need to take into consideration to determine whether or not this business is right for you.
What I know for sure is that they will call you and send you emails to convince you to purchase other additional products or upsells. These scammers will try to get way more than $47 from you.
So, what you do in the end is up to you, but I personally have to conclude that I do not recommend Amazon Profits.
How to actually earn money from Amazon
---
Making a full-time income as an Amazon affiliate is more than possible if you put in the effort and time and learn from a trusted source. Don't be fooled by the scammers who claim you can make a living online without doing much work.
If making money online was that easy, most people would have earned millions, don't you agree?
When it comes to making money as an Amazon affiliate, there are important things that you need to know like what products are relevant to your audience, what to write about, how to drive traffic to your affiliate links… 
That's not only as an Amazon affiliate, that's something you need to know as an affiliate marketer as well.
I'm glad that I gave this business model a try and now I'm making a 4-digit monthly income thanks to it. Affiliate marketing has been working for many years and it's here to stay.
There are different methods to build an affiliate marketing business and the one I use doesn't require me to spend money on traffic. Yes, I didn't pay a dime for you to find this post =)
Want to know how I did it? I explain how it all works in my FREE step-by-step earn money online guide here:
If you read my free guide, you will see that there's nothing hidden. I reveal the 4-step method I use, the reason this method works, the step-by-step training and tools I followed…
Oh, and did I mention that you will find how to get started today for free? You will see that you can check it all out without spending a penny.
To add to it all, you also get the chance to receive free help and support from me and other affiliate marketers! You will see that there's always someone willing to give you a hand =)
So, what will you do? Will you keep encountering scams or will you read my free guide and take action today?
CHECK OUT MY FREE EARN MONEY ONLINE GUIDE HERE!
I hope this Amazon Profits review has been helpful to you and you will make the best possible decision.
Feel free to share it with whoever you believe that will benefit from it!
If there's something else you want to know or you have any questions, please leave your thoughts below and I'll get back to you ASAP! ? 
Whatever you do next, I wish you nothing but the best =)