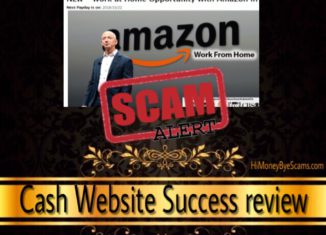 Have you been asking yourself "Will Cash Website Success scam me out of my hard-earned money"?
Or perhaps you hope that this system will help you earn money from Amazon, right?
First of all, congratulations on doing your own research before buying into another money-making opportunity.
There are too many scams out there so doing your due diligence is the way to avoid frauds and find the real way to make a full-time income online!
When it comes to Cash Website Success, my honest review will show you why this is not as awesome as they told you.
In fact, there's nothing amazing about this opportunity because it's not legit nor ethical and I'm going to prove it to you.
Cash Website Success review
---
Name: Cash Website Success
Websites:
amazonprofits.org

amazonhiring.org

internetcareer.org

amazoncash.co

amazoncash.org

amazonwealth.org

amazoncareers.co

amazonmoney.co

webstorejobs.org

goretail.org

amazongigs.org

storejobs.org

todaysnewspages.pw
Price: $47 + upsells
Overall Rating: 1/5
Recommended? No
---
If you're sick of scams, check out my 1st resource to make money online HERE!
---
What is Cash Website Success about?
---
Someone sent me an email concerning the Cash Website Success work-from-home opportunity, so I thought I would take a look at it to see if this one would be worth it.
I didn't like what I saw the moment I landed on their sales page because it reminded me of other scams I have exposed in the past.
But I didn't want to come to a final conclusion without doing my homework, so I did intensive research.
Cash Website Success claims to offer a new work-from-home opportunity to earn money with Amazon.
Well, they claim this is new but the truth is that there's nothing new about it because some months ago I came across another website that made the same kind of claims so I'm sure this is already old.
They say that you can make up to $14,000 a month and you don't even need any prior experience, knowledge or special skills.
It all sounds great and like the ideal opportunity for everyone to make a living online.
I mean, they make it seem very easy to make money with this and they also say that you only have to work 1-2 hours a day.
Not only that, they also claim you can start earning the same day you get started, which sounds too good to be true.
The truth is that they tell you what you want to hear to get you excited and then part with your hard-earned money.
Cash Website Success is really a fake news article that was created to get you into a scam program that has been around for some months already.
There's nothing genuine about it so I'm going to explain how this really works in the next section.
How Cash Website Success really works
---
Cash Website Success doesn't work for you to earn money. It basically works to make money to the con artists who have created it.
A better name for Cash Website Success would be "cash website failure", in my opinion.
Cash Website Success is not even the name of the program they're trying to get you into.
These scammers usually create lots of fake websites with different names to mislead potential victims. They know that if they use the same fake news article again and again, their potential victims will find the truth thanks to reviews like mine.
They don't tell you much about this system
---
One of the main red flags is the fact that they don't tell you what you will have to do to make the kind of money they talk about.
They show you some screenshots and claim that someone who is earning $14,000 a month was given a website that makes money for him, but they don't say what he had to do.
What was he selling to earn that kind of money? What does Amazon have to do with this?
Also, they mention this is a job but after having done my research, I have reached the conclusion that this is not a job.
It wouldn't even make sense that this was a job because they require you to pay an initial fee of $47 to get started.
When do people pay to apply for a job? If someone asks you for payment to apply for a job, they're trying to scam you.
You know what? They claim this is a job to lead you to believe that you can get paid the same day you get started. They want you to think you get paid depending on the hours you work.
But the truth is that this is a business instead of a job. If you click on any links from the Cash Website Success page, you will be taken to a sales page where you can watch a sales video.
In the sales video they mention affiliate marketing, which is a business model you can use to earn money from Amazon and other websites.
I personally use this business model and know that it can be very lucrative when used the right way.
The problem with systems like this is that they're giving this business model a bad name because they don't explain how it really works.
They make it seem it is easy and fast to make money when in reality it takes time and effort.
As an affiliate marketer, your job is to help other companies or individuals make sales.
In other words, you will be promoting other people's products/services and earn a commission per sale.
You only make money when you make sales, so you could put in lots of hours and still not get paid if you don't know how to drive traffic to the products you promote.
Because of this, this is not a job. It's actually better than a normal job because the income potential is higher, but there's no guarantee that you will make money.
So don't be fooled by these scammers who try to make this seem super easy and quickly.
Get My FREE Step-By-Step Earn Money Online Guide here!
The real scam
---
So what's the name of the real program? Money Sucking Websites a.k.a. MSW System.
I'm very familiar with this program because I reviewed it some months ago and have seen it being promoted through fake news pages like Cash Website Success.
At first I didn't think it was a complete scam because they claimed to provide you with some training that would help you make money.
I mean, it was obvious that the training provided doesn't live up to its promises because they claim you can earn $500 a day easily and fast.
But I didn't want to call it a complete scam because they at least provided something. 
Now I can say that it's a total scam because they don't let customers access the members area and they don't even provide a customer service.

Seriously, product creators who do this don't really care about their customers so there's no way we can trust them.
Also, wondering why they ask you for your phone number or email address? They want to know your phone number to call you and convince you to buy into other additional products or upsells.
Not only that, you can also expect them to sell your information to other companies or scammers, so you might receive emails and calls from people you don't know.
These con artists always do the most to make as much money as possible at other people's expenses.
Cash Website Success scam signs revealed!
---
In the Cash Website Success page, there are too many red flags that tell us this is a complete scam so I'm going to point them out and you will see how this system is not to be trusted.
The whole story is not real
---
Do you remember the story we're told about a guy named Chris?
Well, I have to tell you that the full story is fake and the man from this picture is not Chris…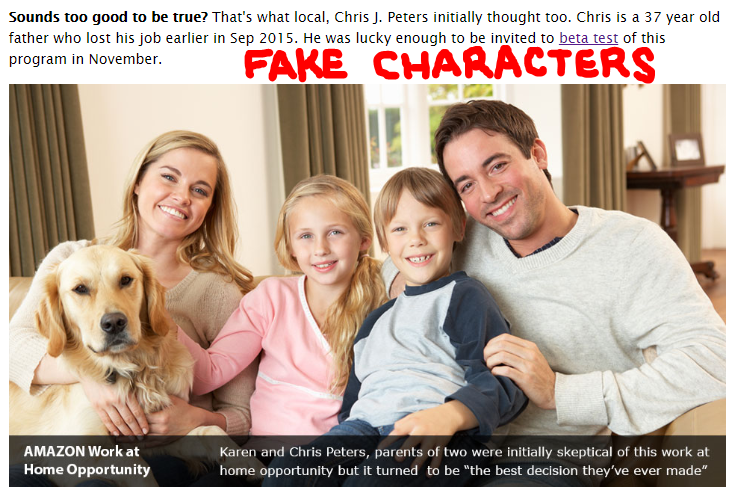 These people you see on that picture are not Chris or his family. That's a stock picture that can be found on multiple websites like Shutterstock:
The scammers have used that picture to create the fake story and make you believe that there are people who are benefitting from their program.
But as you can see above, it's all a sham. Those people are not related to Cash Website Success and they may not even know that their picture is being used to market a scam.
And what about the owners of this system? They don't any pictures of themselves and they don't offer any information that can help us determine if they're to be trusted.
Because of this, there's no way I can trust the people behind Cash Website Success or MSW System.
Check Out My FREE Step-By-Step Earn Money Online Guide here!
The earnings screenshot has nothing to do with Amazon
---
They also show a screenshot that's supposed to be "Chris" earnings, but the fact that his story is completely fake also leads me to believe that those earnings are not genuine because it has nothing to do with Amazon.
The picture above is not from Amazon, it's from Google AdSense instead.
In fact, it's from 2011 and it's about the Google AdSense interface, as you can see below: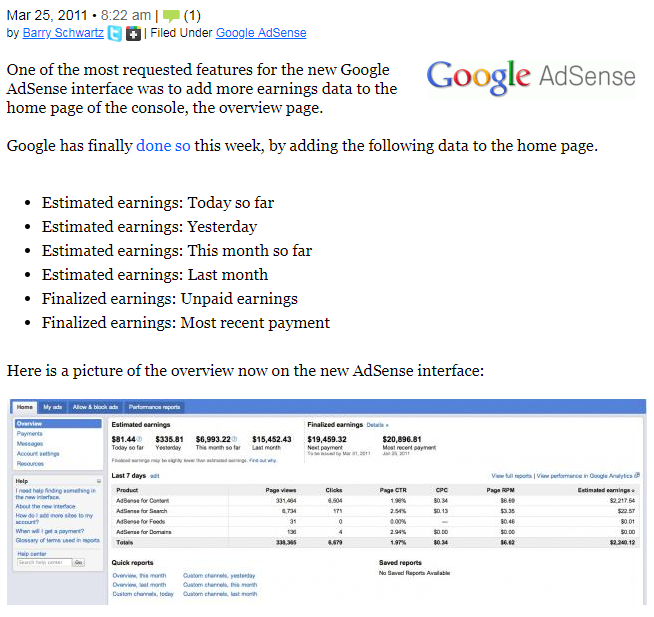 So there you have it. If they need to show fake earnings screenshots like that, how can we believe what they say? No way for me to trust their words because they lie about everything.
If this program was as amazing as they tell you, they wouldn't have had to use fake characters and screenshots.
That's why we cannot believe what they say.
They push you to join
---
Another way they try to get you is by telling you there are limited spots available, which are supposedly being filled quickly.
The truth is that there's no limit when it comes to the amount of people who can get involved in this program.
If you think about it, scam artists will never put a limit to the amount of money they can earn so don't let them fool you when they say that you need to hurry up if you don't want to miss out.
Final thoughts on Cash Website Success
---
Cash Website Success is a total scam because it doesn't live up to its promises and it's not even a real program.
The whole thing is a fraud that will not help you earn any money. It will take your money, waste your time and leave you frustrated instead.
When it comes to MSW System , it's also a scam because customers have not received what they were promised and they haven't been able to get a refund either.
This fake system has been promoted through other fake news websites like the following:
These scammers do the most to scam as many people as possible and prevent them from finding the truth in reviews like mine.
They usually create multiple scam websites to hide the real program and then part with your hard-earned money. Such a selfish goal they have!
Because of everything I have explained, I conclude that I highly do not recommend Cash Website Success.
Learn to make real money as an Amazon affiliate
---
If you're really serious about earning money from Amazon, keep in mind that you will have to put in a lot of effort and time.
There's no way to make money online without making efforts, so don't be fooled by the scammers who claim this is every easy or fast.
I'm glad that I found a proven method to use the affiliate marketing business model the right way. A way that allows me to make a consistent income online without deceiving other people.
This method I use can help you make commissions from any affiliate program that you join, not only Amazon. 
You will also be able to choose a topic you're passionate about to build your business, which is very cool because you will get to enjoy the process.
There's so much to say about the legit method I use so I created a FREE step-by-step earn money online guide where you can learn how it all works:
You will discover exactly the 4-step formula I used, the reason this method works, proofs that it works, the step-by-step training and tools I used…
But that's not all! You will also be able to get started today for free! 
Yay! That's right, it's risk-free to check it all out and determine this is right for you.
My free guide will also show you the different ways you can get support from me and other like-minded people who willing to help you out.
I'm very happy with the messages and feedback I've been getting lately. This is one of the messages that make me smile:
There's no reason you can't do this if you are determined to succeed! I'm so excited for you to leave the ugly scams behind and get your affiliate marketing business started today =)
CHECK OUT MY FREE EARN MONEY ONLINE GUIDE HERE!
I hope this Cash Website Success review has been helpful to you and you will make the best possible decision.
Don't hesitate to share this post with whoever you believe that will benefit from it!
If there's something else you want to know or you have any questions, feel free to leave a comment below and I'll get back to you ASAP! ? 
Whatever you do next, I wish you nothing but the best =)