Welcome to my Survey Money Machines review!
Will Hailey Gates scam you and leave you frustrated or can you earn easy money for taking paid surveys in surveymoneymachines.com?
First of all, I need to congratulate you for taking the time to do your own research before getting involved in another money-making program.
There are too many frauds out there so doing your due diligence is the way to avoid the terrible scams and discover the genuine way to make passive income online!
When it comes to Survey Money Machines, it's not as awesome as they tell you in the sales page and I'm here to prove it to you.
My honest review will show you how this program really works, who Hailey Gates really is, the truth about paid surveys and more.
Survey Money Machines review
---
Name: Survey Money Machines
Website URL: surveymoneymachines.com
Created in: 2005
Owner: "Hailey Gates"
Price: Free to join
Overall Ranking: 2/10
---
If you're sick of scams, check out my 1st resource to make money online HERE!
---
What is Survey Money Machines about?
---
Survey Money Machines is a website that claims you can earn money for taking paid surveys.
Well, they claim you can also get paid by answering phone surveys, testing new products and previewing movie trailers.
The alleged founder, Hailey Gates, says she is a stay-at-home mom who has been earning money for completing surveys online.
They are said to be associated with over 200 market research companies, so it seems like inside Survey Money Machines you will find a lot of survey sites to register.
Yeah, signing up to Survey Money Machines doesn't give you direct access to paid surveys.
Survey Money Machines is basically a site that has a list of survey sites that you will have to join in order to get sent surveys to complete.
They don't offer anything special because there are already many platforms and websites that connect people with market research companies.
Perhaps they make it seem like you're getting something that will help you succeed in taking paid surveys, but the truth is that they do not provide anything special that enables you to make a lot of money taking surveys.
You could just join market research companies directly and your chances of succeeding would be the same.
It is possible to earn money filling in surveys but not that kind of money that can make you quit your job. Only some extra cash.
They try to make it seem like an amazing opportunity by telling you that this is free, when in reality it's already free to join paid survey sites directly.
So I don't see anything special about Survey Money Machines. Hailey just wants you to believe that she will not ask you for money, even though she will make money if you join their recommended survey sites and take action.
It's actually legit to earn money that way but I don't like the fact that they're not transparent about it.
Survey Money Machines is no better than these paid survey platforms I have reviewed:
How does Survey Money Machines really work?
---
In order to join Survey Money Machines, you have to complete a form with your name and email address.
After that, you will be asked some questions about yourself: what's your job, how old are you, where do you live…
They supposedly ask these questions so that they can match you with the best paid survey sites.
But I still got access to a list of more than 100 sites so not sure why they ask those questions.
Some of the paid survey sites they recommend are MySurvey, Springboard America, Ipsos i-Say, Global Test Market…
Some of these survey sites are legit and others not that much, but I clicked on some of the buttons where it says "Sign Up" and I got taken to different sites than the ones I got supposed to get taken to.
For example, when I clicked on "Sign Up" to Springboard America, it took me to freelotto.com, which doesn't have positive reviews.
The fact that the links from Survey Money Machines are wrong is something that indicates they're not taking their job seriously.
I mean, if they really care about us, why don't they make sure their links are working properly? Having links to scam sites is a big red flag.
Anyway, the way the owner of Survey Money Machines is making money is by getting you to join those sites.
There's nothing wrong with that but I personally don't like the fact that they are affiliated to scam sites that have nothing to do with paid surveys, since that doesn't help anyone.
Will Hailey Gates scam you?
---
The truth is that we cannot trust the people behind Survey Money Machines.
We're told that the owner is called Hailey Gates but the pictures from the "contact us" and "how this works" pages are not of her.
As you can observe below, that's a stock photo that can be found on multiple sites: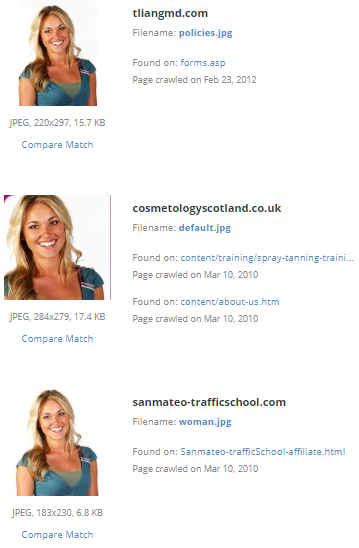 Why don't they show us the picture of the real owner? Why don't they want us to know who we're dealing with?
I have reviewed lots of websites and I have realized that websites whose owners are fake or hidden end up being scams.
If Survey Money Machines was as great as they want us to believe, don't you think that the owners would be proud enough to show up?
So, if they're not being transparent about their identity, how can we trust what they say?
Lack of transparency when it comes to the income potential
---
There's a part in the "how this works" page where they claim that you can get invited to focus groups & earn up to $100 per hour, or that you can get paid $20 per survey.
That's a complete lie and doesn't even make sense because paid survey companies don't pay that much per survey completed.
The survey sites listed on the dashboard area are nothing special. Some are not legit and the ones that are legit pay from pennies to $2 per survey.
You will not get any $20 surveys because they simply don't exist. There are lots of people taking paid surveys so companies are not willing to pay $20 just to get someone's opinion.
Yeah, the more surveys you complete, the more seriously they might take you and the more surveys they send you, but no one is getting $20 surveys.
If you do paid offers you might get earn a little bit more but some of these offers require you to pay some money.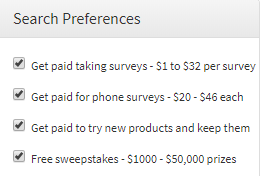 The "search preferences" picture is also very misleading because that's not what you get paid for taking surveys or phone surveys.
Not only that, it takes a lot of time to complete a $2 survey (at least 15 minutes), given that you qualify. 
You could get two paid surveys and not qualify for any of them, so you could spend 10 minutes trying to complete a survey and then be told that you don't qualify.
In case you qualified for all the surveys you got, you would earn $4/hour on average.
So is it worth your time and effort? Not for me.
You could not even work 8 hours a day completing surveys because companies don't send you those many surveys, especially when you're getting started.
Other fake claims
---
The fact that she claims she had to pay $35 for a list of paid survey companies is actually misleading because you never have to pay for this.

There are websites that might ask you for an initial fee just to get access to a list of paid survey sites, but these websites are usually scams.
Why are you going to pay for something that you can find for free? If you do your research, you don't need to pay for a list of survey sites because you can find them online without paying a dime.
Also, just the fact that they're providing a list of paid survey sites doesn't mean that all the sites from that list are legitimate.
So you would also have to do some research before joining a website because there are scam sites that also pay these people to bring them customers.
As we have seen, Hailey is a made up character so we cannot trust what we read in the surveymoneymachines.com website.
I personally don't believe that she's been earning money by taking paid surveys because that's not the way to make much money. 
What I know for sure is that they want you to join these survey sites through their links because they get paid for it. That's how they're really making money.
Is Survey Money Machines a scam?
---
No, I don't think Survey Money Machines is a scam because it's free to join and some of the survey sites they recommend are legit.
But I don't like the fact that they recommend some scam sites and they're not honest when it comes to the income potential.
The way they are marketing it leads me to believe that they care more about making money themselves than they care about helping you.
You definitely don't need to go to Survey Money Machines to find paid survey sites to join because some of the links they provide are not from survey sites and some of their recommended sites are not legitimate.
That's why I believe that it's better that you join the legit survey sites directly without going to surveymoneymachines.com, given that you want to make money taking paid surveys.
I personally tried to earn money for completing surveys when I was getting started and ended up quitting when I realized it was not the way to make a decent income online.
I got tired of wasting my time on answering questions trying to qualify. And the ones I completed didn't pay that much so I came to the conclusion that it was not worth my time.
Paid surveys is just a way to earn some extra income but it's very time-consuming so I believe a 9 to 5 job would still be more profitable. If your goal is to earn passive income online, this is not for you.
Because of everything I have mentioned, I conclude that I definitely don't recommend Survey Money Machines.
Want to make passive income online?
---
Building your own passive income source is something that will be worth your time and effort because it will give you the freedom you desire.
The day you get started, you will not earn anything but the new skills you will learn will give you the knowledge to increase your earnings in the future, which is something that cannot be achieved with paid surveys.
So if you're serious about making a full-time passive income online so that you can quit your job, spend time doing what you love and support your family financially, I believe it's best that you build your own online business.
That's what I started doing two years ago and I'm glad that I put in the effort and time to earn the consistent income I get to enjoy every month.
I get to earn money when I'm not working which is so cool and something that I couldn't have done if I was still trying to make money with paid surveys.
There's a lot to say about this business so I created a FREE step-by-step earn money online guide that you can check out if you want to learn more:
You will see that my free guide has what you need to know about this online business, how it works, why it works, success stories…
Not only that, you will also discover how you can start this business today for free! 
Yes, you don't need to take out your credit card to check it all out and make sure this is for you! 
This business is not MLM and doesn't require you to recruit anyone. It's a business that will be based on a topic you're passionate about, which will make you enjoy the process even more =)
Getting started today for free will give you access to 10 free lessons, easy-to-use tools and a community full of supportive people that want to see you succeed!
I will also be there for you so you are not alone in this new adventure. You will be able to ask the questions you want and there will always be someone willing to help you out.
I'm so excited for you to start building your online asset today!
CHECK OUT MY FREE EARN MONEY ONLINE GUIDE HERE!
I hope this Survey Money Machines review has been helpful to you and you will make the best possible decision.
Feel free to share it with whoever you believe that will benefit from it!
If there's something else you want to know or you have any questions, don't hesitate to leave a comment below and I'll get back to you ASAP! ? 
Whatever you do next, I wish you nothing but the best =)