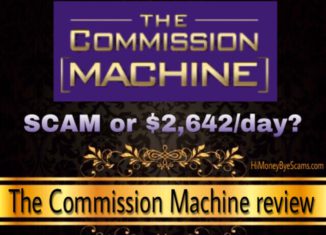 Have you been asking yourself "is The Commission Machine a scam by Michael Cheney or legit system"?
First of all, congratulations for doing your own research before buying into another money-making opportunity!
There are too many frauds out there so doing your due diligence is the way to avoid the ugly scams and discover the legitimate way to earn an income online!
When it comes to The Commission Machine (commissionmachine.net), there are some things that you need to take into consideration to determine if this is right for you.
My honest review is going to show you the full truth and everything you need to know about this proram.
The Commission Machine review
---
Name: The Commission Machine
Website URL: commissionmachine.net
Launched in: 2015
Owner: Michael Cheney
Price: $47 + upsells
Overall Ranking: 4/10
---
If you're sick of scams, check out my 1st resource to make money online HERE!
---
What is The Commission Machine?
---
The moment I came across The Commission Machine sales page, I thought I was in front of another "too good to be true" system because of the high-income claims.
But I didn't want to judge this product based on its appearance so I did my homework.
Michael Cheney, the owner of The Commission Machine, claims you can use his system to earn $2,642.60 a day.
It doesn't matter if you are a newbie without an email list, previous exprience or without money.
That's kind of misleading to say that you don't need money because you will have to pay for this product so money is needed to make this system work.
He makes it seem like this is secret and something you have never seen before, but the truth is that this is no different than other products I have reviewed.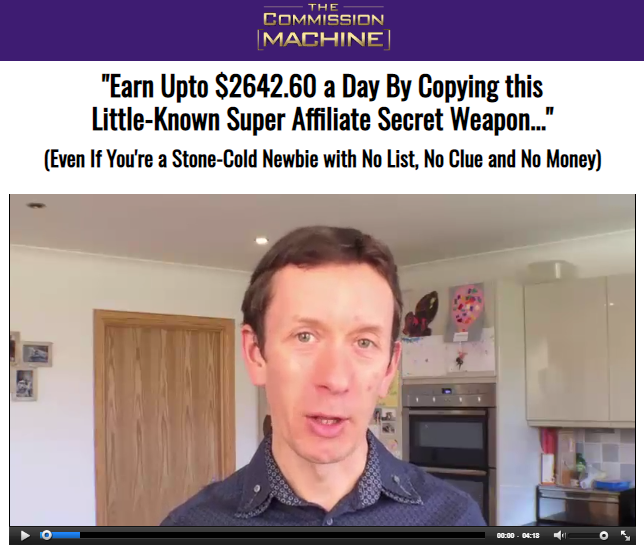 This system is focused on using email marketing to promote affiliate products and earn commissions.
You will learn how to drive leads to your landing/squeeze pages, convert them in subscribers and send them emails to get them to buy the affiliate offers.
Michael makes it sound very easy to make money this way, when in reality it's not that easy because you first need to build an audience.
That's why, if you are a newbie, you cannot expect to profit in a short amount of time. There are some important factors that he doesn't mention so that's what I'm going to explain in the next section.
I have reviewed many "make money online" programs or systems and can say that The Commission Machine is no better than these ones:
Does The Commission Machine work?
---
The Commission Machine can work for you to make money online, but it's not as simple as advertised.
This system works in the following steps:
You create a landing page to collect visitors' email addresses.

Drive traffic to this landing page using free and paid traffic methods.

Once you have collected some emails, you will send follow-up emails to build trust with your subscribers.

Send promotional emails to your prospects to market affiliate products from JVZoo.

You will earn a commission when one of your prospects buys a product through your affiliate link.
This method is legit and you can use it to make money. It's called affiliate marketing, which is a simple but lucrative business model that has been working for many years already.
As an affiliate marketer, you will be promoting other people's products/services and will earn commissions when people buy them through your affiliate link.
In this case, you will build an email list to promote these JVZoo products. There are lots of products and services that you can earn commissions from, but Michael focuses on products from the JVZoo affiliate network, which is the one he uses as well.
These products are profitable but what I don't like about them is that they're usually marketed in a scammy way. Their landing pages always mention how much money you can make with this system/software, it's all hype.
They will teach you to do what they're doing to you, which is to send people emails concerning the new system or program that has recently come out.
These guys will tell you to email your subscribers everyday but you can expect them to unsubscribe if they receive too many emails, especially if one of the products that you recommended hasn't worked for them.
Check out my FREE Earn Money Online Guide NOW!
What's included inside The Commission Machine?
---
The Commission Machine includes step-by-step videos that are divided in 7 modules. The whole training lasts less than 3 hours, which is not much if you take into account that there's a lot to learn.
 Michael calls his method the R.A.P.I.D. method, which means that following:
This is the part where Michael teaches you to join the JVZoo affiliate network (if you aren't a member already) and choose products from there.
I personally don't like the fact that he recommends you to promote "make money online" products because some of those products are overhyped and make fake claims, they're usually marketed as the the typical get-rich-quick scheme.
Not only that, just because these products are profitable for Michael doesn't mean they're going to be profitable for you too.
There are many affiliate programs and networks so I don't understand why he only focuses on JVZoo.
This is about putting yourself and your offers in a position where you can attract customers and get them to purchase your offer.
Michael will show you some examples and case studies so that you can have an idea of what has worked.
Providing incentives a.k.a. bonuses will help you get your clients to purchase from your affiliate link instead of buying without your affiliate link.
The goal is to show your customers why they will benefit more if they buy from you than if they buy directly from the seller or another affiliate, and this is something that Michael talks about in the training.
This is when you start taking action on what you have learned.
You will invest in an autoresponder tool to start building your email list and your sales funnel. Michael will tell you to invest in the GetResponse autoresponder and he will make money from it.
How much does The Commission Machine cost?
---
The Commission Machine doesn't only cost $47. Their sales funnel has some upsells in the hundreds.
Just after you purchase this product for $47 (when it came out it cost $19.95), you will be bombarded with the first upsells.
That's what happens with most products like this. Before getting access to the members area, they try to get you to spend more money.
Below you can take a look at the cost of the 2 upsells and 1 downsell: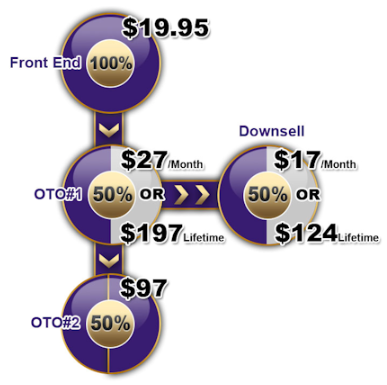 Upsell 1 (OTO #1) – The Golden Ticket

 
This product costs $27/month or $197 for lifetime access and gives you access to the Michael's monthly live webinar, which will show you how he creates an affiliate campaign and profits from it.
The downsell for this only gives you access to the recordings of the webinars and the cost is $17/month or $124 lifetime.
Affiliates get to earn 50% commission for each sale they make.
Upsell 2 (OTO #2) – Commissionology
This one costs $97 and is a done-for-you service that provides you with 7 "done-for-you" sales funnels (Michael calls them "commission machines") along with email swipes you can use for each funnel.
Affiliates can also earn 50% commissions from this one.
Apart from the upsells, you also need to consider other costs like these:
GetResponse autoresponder (the one recommended by Michael), which costs between $15/month and $1,199/month depending on the amount of subscribers you have.

A link tracking software like ClickMagick, which costs between $12/month and $66/month.

Paid traffic.
Paying for traffic is part of how this system works, so you can expect to spend hundreds or even thousands of dollars just to test and optimize your campaigns.
Because of this, you can expect the total monthly cost to be in the thousands, especially if you want to scale up your business.
In my opinion, this system is not beginner-friendly because it costs too much and people who are starting out might be on a low budget or might not want to spend that much.
Get my FREE Earn Money Online Guide NOW!
What's good about The Commission Machine?
---
I believe there's something good in everything so let's see what's good about this product.
Firstly, I like the fact that Michael is a real person and not a fake character. 
I have reviewed hundreds of products and websites and it turns out that many of them are promoted under fake names, so I'm glad that this product's owner shows up instead of hiding like many product creators.
Secondly, I like that this couse provides step-by-step lessons because that's the way to know what to do next. 
Many of the products I have reviewed provide some training but it's not comprehensive or step-by-step so that makes it easy to get stuck or lost.
Thirdly, Commission Machine is a JVZoo product so you can get your money back if you ask for a refund within 30 days starting from the day you bought it.
What's not so cool about The Commission Machine?
---
After having explained what I like about The Commission Machine, I'm going to point out some red flags that you need to be aware of.
It's overhyped
---
The sales page for this product is very overhyped because it makes this system look like a way to earn money easily or fast, which is very common in scams.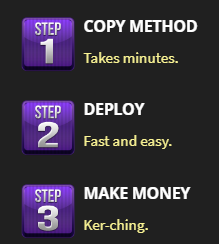 Instead of explaining how his method works, Michael focuses on getting you excited with all the hype and testimonials.
I personally don't like this kind of advertising because it can give customers false expectations and they can end up feeling ripped off.
Telling people what they want to hear instead of what they need to hear might increase conversion rates but it can also increase the refund rate, so I don't believe this is the best way to do marketing.
Just the fact that they're not 100% transparent about how this really works is a red flag because it indicates that they don't really care about you making an informed final decision.
It's risky
---
All businesses carry some level of risk, but this one is riskier than other methods I know.
Even though he claims there's no risk, that's not true because you only can get a refund for the product, but not the business you're going to build.
The whole system requires you to invest in tools and paid traffic to make it work. 
Michael teaches you free traffic methods like promoting your offers on social networks like Facebook and Twitter, but this is not so effective if you don't have targeted followers.
And when it comes to paid traffic, you can only get a good ROI if you buy from good sources, if you purchase traffic from bad sources it will be a disaster.
Get my FREE Earn Money Online Guide HERE!
They don't teach you to build your own website
---
Even though it's possible to make money by driving traffic to your landing/squeeze page, having your own website is also important.
Your website is the place where your visitors come to find what they're searching for and it's also the way to build trust with them.
It's one of the most important elements when it comes to having an online business, that's why it's a red flag the fact that this is not taught in The Commission Machine.
Not much information about traffic generation
---
Another red flag is that Michael doesn't teach you about driving targeted traffic to your offers.
Yes, he mentions free traffic and paid traffic methods but he doesn't go deep into it.
For example, he doesn't reveal how you can drive free targeted traffic to your offers, which is the best kind of traffic.
Along with a website, this is another important piece of the "make money online" puzzle because without traffic there's no money to be earned.
For example, if you had a restaurant, without people coming to your restaurant you would have no business.
Is The Commission Machine a scam?
---
In my opinion, The Commission Machine is not a scam because you get some good training that you can learn from and earn money from.
Another reason I don't consider it to be a scam is that you can get your money back.
However, I don't like how misleading the sales page is and the fact that they don't cover important things like building your own website or traffic generation strategies.
Building an online business using this method is expensive, not to mention that it doesn't teach you to build a complete business.
Not only that, the system doesn't touch the part where you need to choose a topic you're passionate about. Michael tells you to promote "make money online" products, which is not the best thing to do because there are lots of scam products in this industry.
Promoting scam or low-quality products to your subscribers will only make them unsubscribe from your list so I recommend that you don't do that.
Because of this, my final verdict is that I don't recommend The Commission Machine.
What if you make your online business complete?
---
If you are serious about generating an online income in an ethical way, then I believe it's best that you build your own online business that helps your audience.
Having an email list is a part of your business, but it doesn't make it complete. Just like I said before, your business should have a website that you use to help your visitors and build trust with them.
That's what I do and I'm grateful that I can do it, not only because I earn a consistent monthly income, but because I don't have to deceive anyone in the process.
Another cool thing about the method I use is that it doesn't require me to spend a dime on paid traffic because I know how to get free targeted traffic to my website.
There's so much to say when it comes to what I do so I created a FREE step-by-step guide where you can learn more:
You will discover what I used, the 4-step formula I followed, success stories that prove this method works, the main reason this method works…
My free guide also shows you where I got the training and tools that I used and how you can start for free today!
Yeah, you will not have to spend a penny to receive the step-by-step training that will help you started.
And that's not all! You will also receive free help and support from me and thousands of like-minded individuals who want to see you succeed =)
This business takes time and effort to build but it's all worth it in the end. Note that you will be building a business based on a passion you have or a topic you're interested in, something that will make the process more enjoyable for you =)
Looking forward to seeing you start building a complete online biz!
CHECK OUT MY FREE EARN MONEY ONLINE GUIDE HERE!
I hope this Commission Machine review has been helpful to you and you will make the best possible decision.
Feel free to share it with whoever you believe that will benefit from it!
If there's something else you want to know or you have any questions, don't hesitate to leave a comment below and I'll get back to you ASAP! ? 
Whatever you do next, I wish you nothing but the best =)