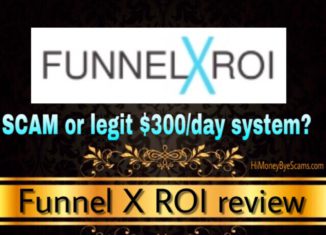 Have you been wondering "Is Funnel X ROI a scam or will this system work?" 
If that's what you want to know, then you are in the right place because my honest review will show you the complete truth.
To begin with, I need to congratulate you for taking the time to do your own research before investing in another money-making opportunity.
Unfortunately, there are so many scams out there so doing your due diligence is the way to avoid the dangerous scams and find the honest way to make money online!
To be completely transparent with you, I am not associated with Funnel X ROI a.k.a. Funnel X Project so you will not see any affiliate link in this review.
I'm here to show you what this system is really about and how it really works so that you end up making a wise, informed decision.
Funnel X ROI review
---
Name: Funnel X ROI (similar to Funnel X Project)
Websites: 
Owner: David Dekel
Price: Free to join + Multiple costs
Overall Ranking: 2/5
---
If you're sick of scams, check out my 1st resource to make money online HERE!
---
What is Funnel X ROI about?
---
Someone sent me an email regarding Funnel X ROI, so I thought I would check it out to see if this is a legit system.
David Dekel makes this system seem very easy and simple to make money with.
He claims you can earn $100 a day quickly, even if you don't have any previous experience or special skills, no website, no email list or no product to sell.
Also, when he says that he's going to give you this system for free is kind of misleading because you will need to invest hundreds (even thousands) of dollars before making money (more on this later).
The truth is that this Funnel X ROI system was created to get you involved in other business opportunities, products and tools.
So yeah, it's free to join but you will have to invest in these products and opportunities. That's how David is going to make money.
In other words, he's using this Funnel X ROI system to refer you to other websites that you have to pay for. He's affiliated with those websites so he will earn money whenever you make a payment.
He's using the affiliate marketing business model, which is legitimate and something I use every day to earn my online income.
The problem is that he doesn't recommend great programs that can help you achieve your goal of becoming financially free.
I mean, they are not 100% scam programs but are not the best to get started because they are not newbie-friendly.
The programs and tools that David recommends you to get involved with are the following: Easy1Up, Now Lifestyle, ClickMagick, AdvertisingBoost, Aweber…
How does Funnel X ROI work?
---
This system is basically focused on list building and this can be an effective method to drive leads to your recommended products/programs but it's not beginner-friendly, which I'll talk about later.
The way you will make money is by promoting the same programs and tools that David is recommending to you. 
In other words, you will have to do the same that David is doing, you will have to "copy" him.
I personally got emailed this system by one of David's affiliates, so that's what you will be doing.
You will be emailing your subscribers this Funnel X ROI system and when someone buys into the same programs and tools you have invested in, you will earn those commissions that David talks about.
And then, your referrals will have to do the same thing. Everyone who gets involved in this system does the same. It's a never-ending cycle.
Now I will explain a little bit about the programs and tools that you will be getting involved so that you know if this is something you want to invest in and recommend to other people.
Easy1Up
---
This is a "done-for-you" system where you get to make money by getting other people to join.
In other words, it's one of the many systems that are focused on recruiting other people and selling them the same packages you have purchased.
They offer 5 packages: Elevation ($25), Elevation Elite ($100), Vertex ($250), Vertex Elite ($500) and Vertex Pro ($1000).
Unlike other programs, you can get started with the package you desire. If you have thousands of dollars laying around, then you might want to invest in the Vertex Pro package so that you don't have to purchase the other packages.
The thing is, you can only earn money from the package you have invested in or lower.
If you purchase the Elevation package (the cheapest one) and your referral buys Elevation Elite, you will not earn the 100% commission.
In case you purchase the Vertex Pro package, you will be eligible to earn commissions from all levels but you will have to pass up your second referral to your sponsor.
This kind of MLM programs are not sustainable because the money only comes from recruitment and they are not offering any products or services to people who are not members.
Therefore, when people stop signing up, the whole scheme will collapse and fall down. That's why it's not a good business to get involved with if you want to make a full-time income online for the long-term.
I personally choose not to take part of systems like this because they rely on recruiting and are unsustainable too.
You can learn more about it on my Easy1Up review here.
Check out my FREE Earn Money Online Guide HERE!
Now Lifestyle
---
This one is an MLM company that has been around for more than 10 years already.
They provide nutrition supplements, business automation tools and a health & wellness membership.
In order to make money, you will have to make direct sales and recruit other people into the program.
You can become a reseller by paying $24.97 a month, even though you will also have to try the products you want to promote as well so you can expect to spend much more than $24.97/month.
Just like other MLMs, Now Lifestyle has a compensation plan where you can earn from your direct referrals and their referrals.
For me, Now Lifestyle is better than Easy1Up because they offer valuable and tangible products that can help members create a better lifestyle for themselves.
They also have been more years in business, which is an indication that Now Lifestyle is more legitimate.
With that said, I wouldn't get involved in it because I don't like the MLM business model, since it limits the products and services you can promote.
My favorite business model enables you to promote products from different companies, so it gives you more freedom.
Tools
---
Apart from Easy1Up and Now Lifestyle, there are these other tools that you will have to invest in to make this system work:
Also, you need to take into account that you will have to spend money on paid traffic (for example Facebook Ads) to drive leads to squeeze/landing pages like the ones that they sent you via email.
You will have to invest in paid advertising to bring traffic to your squeeze pages and collect people's emails to build your email list.
A landing/squeeze page is a one-page website that cannot get free organic trafic because search engines like Google don't like this kind of websites, that's why you will have to pay to get people to see them.
Another thing you need to consider is that the landing pages that will be given to you are hosted on the Funnel X ROI website, which is owned by David.
So you will not have to build your own website but the problem I see is that you will not have control over this business either.
The way I see this is that you will be helping David grow his business because your job will be to drive leads to his sales funnel.
Get my FREE Earn Money Online Guide HERE!
Is Funnel X ROI a scam?
---
The answer to this question really depends on what you want to achieve and how you define a scam.
There are people who will not call Funnel X ROI a scam because it's possible to make money with this system.
People who get involved with this system and don't make any money, might call it a scam.
Something I like is the fact that David shows up and is a real person. At least Funnel X ROI is not like those systems that are promoted under fake names.
I personally don't like the programs that David recommends you to invest in because they keep you limited and dependent.
Easy1Up is a done-for-you program that is not a good choice to make money for the long-term and Now Lifestyle is a legit MLM but also limits you. That's the thing with MLMs and "done-for-you" systems.
Anothet thing I don't like is the fact that David claims you can earn big commissions fast, some of the claims he makes make this system sound like a get-rich-quick scheme.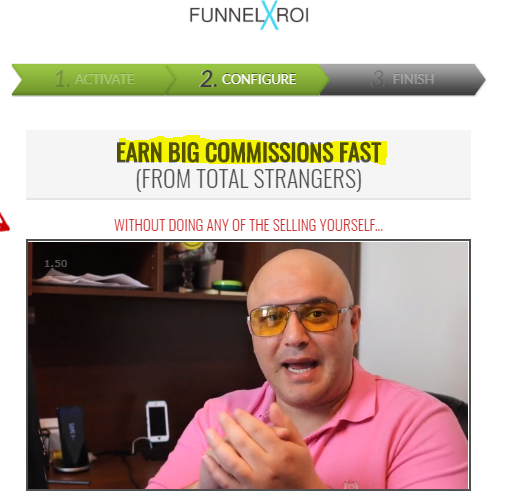 Before earning commissions, you will have to invest hundreds and even thousands of dollars (if we take into account paid traffic costs), so I see it's very misleading to say that you can make big commissions fast.
In the earnings disclaimer found at the bottom of the funnelxroi.com website, you can read that there's no income guaranteed so don't get too excited when David claims you can make money fast.
If you are a newbie, paid traffic can be very risky because it requires you to spend a lot of money to find the "right formula".
The Funnel X ROI system makes it possible for you to make money but I don't believe it's as awesome as advertised because it's not the kind of system that you want to use to earn a long-term income online. 
I mean, it's a system that you have no control over so you can't rely on it. They also don't teach you how to build your own business so you will be left with nothing if this system shuts down.
Having most of the work done for you might sound attractive but it's not good if your goal is to generate a full-time income for the long-run.
Some done-for-you systems that I have reviewed are the following:
Because of everything I have mentioned, I conclude that I don't recommend using the Funnel X ROI system.
It's best to build your own system
---
What about building your own business? This is something that no one can take away from you so you will not have to depend on done-for-you systems that eventually fall down.
When I learned how making money online works, I stopped looking for the newest done for you system that claimed to make me money quickly.
I'm grateful that I learned how to build my online business using a newbie-friendly business model that has been working for many years already.
Also, I don't have to spend a penny on paid traffic to get visitors to my site. Sounds cool?
There's a lot to say about this business so I created a FREE step-by-step earn money online guide where I explain how it all works:
My free guide will show you how the process of making money online works, how the business model I use works, why it works…
And you will also be able to learn from the same place I learned it all! Best part is, you will find out how you can start today for free =)
That's right, you don't need to risk a dime to make sure this business is right for you!
You will need to put in the work and time to achieve success in this business but if you are committed enough, I believe you can make it happen. 
Also, you will receive help and support from me and other like-minded people so you can rest assured knowing that you don't have to do everything alone!
Are you excited to leave the scammy done-for-you systems behind and start your own online biz today?
CHECK OUT MY FREE EARN MONEY ONLINE GUIDE HERE!
I hope this Funnel X ROI review has been helpful to you and you will make the best possible decision.
Feel free to share it with whoever you believe that will benefit from it!
If there's something else you want to know or you have any questions, don't hesitate to leave a comment below and I'll get back to you ASAP! ? 
Whatever you do next, I wish you nothing but the best =)