Is Legendary Marketer a scam? Will David Sharpe take your hard-earned money?
Or is this a legit system that you can use to earn thousands of dollars online?
To begin with, I must congratulate you for taking the time to do your own research before getting involved in another money-making program.
There are too many scams out there so doing your due diligence is the way to avoid the terrible scams and discover the real way to make money online!
To be starightforward with you, I am not affiliated with Legendary Marketer so you will not see me trying to recruit you into this program.
It's possible to earn money with this program but there are some red flags that you need to take into consideration to decide whether or not this is the right program for you.
My honest review will show you how this program really works, what they are hiding from you and more.
Legendary Marketer review
---
Name: Legendary Marketer
Website URL: legendarymarketer.com
Owner: David Sharpe
Launched in: 2016
Price: $30/month + $10,000s in upsells
Overall Ranking: 2/5
---
If you're sick of scams, check out my 1st resource to make money online HERE!
---
What is Legendary Marketer about?
---
Legendary Marketer is an online platform that can supposedly help you start an online business or scale up an existing business using advanced marketing strategies.
It was created in 2016 by David Sharpe, who has been involved in other businesses so he is no newbie.
David Sharpe was the co-founder of a MLM program called Empower Network, which turned out to be a pyramid scheme and got shut down in 2017, even though David had left the company prior to that.
He has 9 years of experience in the Internet marketing industry and has created 3 multi-million online companies.
The fact that the owner of Legendary Marketer is a successful online entrepreneur is something that can make you believe that you are in good hands, right?
Well, this program does seem the real deal. Their website looks very professional and all the tools and training provided seem what you need to finally make a living online.
However, I have noticed that they are using some misleading landing pages to promote this program, which is something I don't like.
I mean, these sales pages are making this program sound like a solution to earn a lot of money without doing much work when in reality it takes a lot of work.
They try to get you excited by talking about earning huge commissions but they are not telling you the full truth.
So what are they hiding from you? Keep on reading…
How does Legendary Marketer work?
---
Legendary Marketer does not work as easily as they tell you in sales pages like EndFinancialStressNow.com or DuplicateDaves.com.
These sales videos make this Legendary Marketer system sound like the ideal system for you but the truth is that they basically tell you what you want to hear.
They claim that most of the work is done for you, you can make thousands of dollars in commissions with minimal effort, you will also get a coach and a sales team that will close the sales for you…
Everything he says sounds amazing, so why give not it a try?
The business model
---
Dave claims that the success rate of an online business startup is as low as a traditional business startup because 9 out of 10 fail.
That's why he decided to use the franchise business model, which he claims that has a higher success rate (9 out of 10 franchise businesses survive).
An example of a traditional franchise business model would be McDonalds, which requires a large capital to get it started.
So Dave decided to bring the traditional franchise business to the online space.
He has created a high-converting sales funnel and you just have to "copy" what he has done.
In other words, you have to "duplicate" him. If you use this system and make money, Dave makes money too.
That's why, if you get involved in Legendary Marketer, they will provide you with sales pages and tools to help you drive leads to this system.
This is what they don't tell you in the sales videos
---
So what are they hiding from you? Why is this system harder than they claim?
When it comes to marketing this system, they are promoting it as a way to make money easily or fast, which sounds like the typical get-rich-quick scheme.
But what they don't talk about is the cost of this system, which is a red flag because the cost is important to take into consideration before getting involved in this program.
If you thought that you would only have to spend $30 to make huge commissions, I'm sorry to tell you that this system is going to cost you thousands of dollars.
The $30 initial fee is just to get you ready to do the massive spending. Well, in order to get access to their training you will have to keep paying $30 every single month.
And what about your coach? What about the sales team that is going to close the sales for you?
These coaches are sales people that will try to get you to pay for all the Legendary Marketer's products so that they can earn those big commissions.
This is not an MLM but it works very similar to other MLM programs that are known for having coaches a.k.a. sponsors that are there to get you to upgrade and upgrade.
How much does Legendary Marketer cost?
---
Wondering how much will you have to spend to get paid those massive commissions?
Just take a look at their list of products here: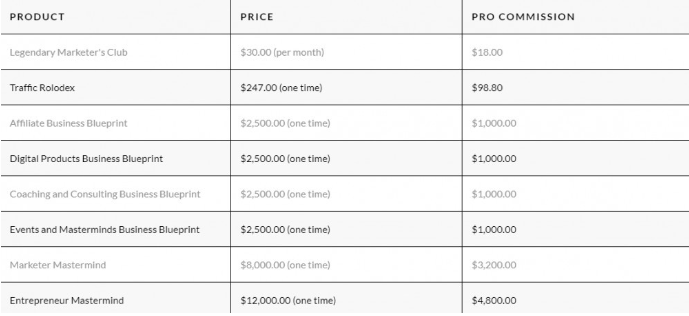 The only product that requires you to pay a monthly fee is their Legendary Marketer's Club membership.
By getting your referrals to invest in that membership, you can earn $18/month if at least one of your referrals sticks around.
If you want to make bigger commissions, you will have to spend thousands of dollars on their masterminds and events.
For example, in order to earn the huge commission of $4,800, you will have to pay $12,000 for their Entrepreneur Mastermind.
They only allow you to earn commissions on the products you pay for, which means that you can lose commissions if you don't invest in their pricey products.
Let's say that you pay for the Legendary Marketer's Club membership and you get a referral that buys the Marketer Mastermind ($8,000). 
In that case, the $3,200 commission will pass up to the next sponsor who has already purchased the Marketer Mastermind.
If you end up risking thousands of dollars, you will need to sell at least 3 times each product you have bought. That's the way to make your money back.
When it comes to their products, they provide valuable training and tools, but I believe the only one that's worth it is their $30/month membership. The other ones are way too expensive.
Also, there used to be a product named Legendary Lifestyle Experience, which was an event that took place in exotic locations and included 1 on 1 training with Dave and other marketers. 
The whole experience was priced at $30,000 but I'm not sure if they still sell it because it's not listed on their events page.
What's good about Legendary Marketer?
---
Is there something good about Legendary Marketer? I believe there's something good in everything so let's see what's good about this program.
It's a high-ticket program but not an MLM
---
Legendary Marketer is a high-ticket program because it provides expensive products, but it's not a MLM because it doesn't have multiple levels.
In other words, you can only earn money from your direct referrals, but not the referrals of your referrals.
It's similar to other high-ticket programs because of the products' cost, but when it comes to the commission structure is different.
For me, this is good because it's easier to understand. MLM programs that operate on multiple levels have complex compensation plans, which can be very confusing.
Also, this means that Legendary Marketer cannot be a pyramid scheme like MOBE and Digital Altitude (both got shut down), since Legendary Marketer only has one level. 
With that said, Legendary Marketer's business model is not sustainable either. More on this later.
Get my FREE Earn Money Online Guide HERE!
You can get a refund
---
They have a 30-day money-back guarantee, but this is only for the Legendary Marketer's Club membership.
You can get a refund if you cancel the subscription within 30 days. If you cancel your membership your second month or later, you will not get your money back.
So the refund is only for the first month and only for the Legendary Marketer's Club product. There are no refunds when it comes to the expensive events or masterminds.
In case you give it a try, I recommend that you learn from their training and apply as much as you can so that you can decide if it's right for you in less than a month. 
Step-by-step training
---
I'm glad that Legendary Marketer offers step-by-step training and one-on-one coaching, since this way you will know what to do next.
This will prevent you from getting lost. I have reviewed many products and have noticed that many of them are not newbie-friendly because they don't provide step-by-step training.
So I'm glad that Legendary Marketer is different from other programs when it comes to the training.
However, keep in mind that your coach will try to get you to do massive spending on the high-ticket products, like I mentioned earlier in this review.
The owner is a real person
---
David Sharpe is a real person instead of a made up character, which is a good sign.
I have exposed and reviewed many scams or low-quality programs and have noticed that they are usually promoted under fake names.
So the fact that David Sharpe shows up indicates transparency, which is good because it gives this program more credibility.
Legendary Marketer's red flags
---
After having mentioned the good things about Legendary Marketer, I want to point out some red flags that I believe you need to be aware of.
It's a "done-for-you" program
---
I know it sounds attractive that most of the work is done for you, but it's not as awesome as it seems.
Done-for-you systems don't encourage creativity and keep you dependent on them.
Everyone involved gets and promotes the same products, so guess what would it happen if this program got shut down?
They would leave all affiliates with nothing. Members would have to join another program or start their own business in order to continue earning money.
Because of this, programs like this are not the way to go if you are looking to make a living online for the long-term.
The one who ends up benefitting the most is the owner (David Sharpe in this case), not the members.
Other done-for-you programs that I have reviewed are the following:
It's a limited opportunity
---
In my opinion, Legendary Marketer limits you when it comes to the products you can earn money from.
I mean, they make it difficult for you to earn money from their products because they are very expensive and many people may not be able to afford them.
But not only that, they don't want you to promote other products from the same category as Legendary Marketer.
That's what you can read in their affiliate agreement:
They should let everyone promote whatever products they want.
If there's a competing product that is cheaper than Legendary Marketer and you want to earn money from it, they will not allow you to do that.
Well, if they find out that you are promoting competing products, they will probably terminate your account.
I remember there's another done-for-you program called Global Affiliate Zone, which has a similar affiliate agreement.
I personally wouldn't want to do business with a company that doesn't give me freedom to promote whatever I want.
Check out my FREE Earn Money Online Guide HERE!
Not beginner-friendly
---
Legendary Marketer is not 100% newbie-friendly because it's very expensive.
People who get started in the digital marketing world might not want to make huge investments, especially if they have been scammed before.
This is one of the reasons why I don't consider this program to be for beginners.
Apart from the pricey products, there are other costs that you need to take into account.
For example, when it comes to traffic, they teach you paid traffic methods. 
They also teach free ways to drive traffic to their sales pages but the main focus is on paid traffic.
Paid advertising is very risky because it takes a lot of trial and error, so you will need to spend hundreds (if not thousands) of dollars.
When we take into account that this program is very expensive, not many people will be willing to get involved so you will have to spend a lot of money on paid ads to find the few people who have thousands of dollars laying around.
Not only that, you also need to take into consideration the autoresponder (email marketing service) monthly fee. 
Affiliates are not making much money
---
There are many programs like this one and it turns out that most people spend more money than they earn.
In this case, affiliates are making an average annual income between $500 and $2,000.
That's what they state in their income disclosure:

So there you have it. Affiliates are not earning enough to cover the products' cost.
Honestly, I'm not surprised because it's very expensive and most people who get involved don't have that kind of money.
And people who have that money wouldn't spend it on these done-for-you programs.
I believe that the reason it's that expensive is for Dave and the top affiliates to earn those thousands dollars. They are the ones who benefit the most, not newbies.
In my opinion, Legendary Marketer is for marketers who have been involved in other high-ticket programs and know how it all works.
Is Legendary Marketer a scam?
---
The answer to this question really depends on what you are looking for.
If you are looking to make money, have thousands of dollars to invest and don't care if Legendary Marketer is not going to last, then this is for you.
But if your goal is to make a living online for the long-term and you don't want to invest that much money to get started, Legendary Marketer is not for you.
I personally don't consider this program to be a complete scam because they provide something for your money, but there are many red flags that I don't like and their business model is not even sustainable.
The money only comes from members, so what will it happen when people stop joining? The money will stop coming into the scheme so it will fall down.
If they provided some products for people outside the system, then it would be more sustainable because the system wouldn't 100% on their members.
But the money just passes from one member to another without building something of value. No one is building their own business because the training is focused on promoting Legendary Marketer itself.
So who is the "Legendary Marketer" here? The owner a.k.a. David Sharpe.
Like I said earlier, the FTC shut down two high-ticket programs that were very similar to Legendary Marketer because they considered this business model a scam.
Even if Legendary Marketer is not a pyramid scheme, it could be considered a cash-gifting scheme because its focus is on recruiting and the money passes from one member to another.
That's why, if they don't change their business model, we cannot expect this program to last for the long-term.
Because of everything I have mentioned, I conclude that I do not recommend Legendary Marketer.
Making money online doesn't cost thousands of dollars
---
The good news is that you don't have to "pay to play" when it comes to earning money online.
There are various methods to generate a full-time income and the one I use doesn't require you to risk your life savings.
This business model doesn't limit you when it comes to the products you can promote, so it gives you more freedom.
Also, the traffic method I learned doesn't require me to spend a dime!
I also want to make clear that this business model is not blacklisted by the FTC and has been working for decades already.
Many people, myself included, are using it to make a consistent online income month after month.
There's so much to say about this business so I created a FREE step-by-step earn money online guide where I explain how it all works:
My free guide reveals the method I use, the reason this method works and also the step-by-step training and tools I used.
You will see that there's nothing hidden and you will also see how and where you can start today for free!
This is completely risk-free because you don't have to spend a penny to determine whether or not this is for you.
Not only that, you will also find out how you can get help and support from me and thousands of like-minded people =)
I'm so excited for you to start building your own biz today! Are you ready?
CHECK OUT MY FREE EARN MONEY ONLINE GUIDE HERE!
I hope this Legendary Marketer review has been helpful to you and you will make the best possible decision.
Don't hesitate to share it with whoever you believe that will benefit from it!
If there's something else you want to know or you have any questions, feel free to leave a comment below and I'll get back to you ASAP! ? 
Whatever you do next, I wish you nothing but the best =)