Welcome to my Leveraged Breakthrough System review!
Wondering if Leveraged Breakthrough System (leveragedbreakthrough.com) is your ticket to financial freedom? Or maybe you have questions like "is Leveraged Breakthrough System a scam that will take my money?".
Well, firstly, I need to congratulate you for taking your time to do some research because this is the way to make sure you know what you're in front of and find the real way to earn money online!
I want to make clear that I'm not affiliate of the Leveraged Breakthrough System, so you will not see any affiliate link in this review.
The purpose I have with this review is to let you know the truth about Leveraged Breakthrough System so that you end up making an educated decision concerning this program.
Leveraged Breakthrough System review
---
Name: Leveraged Breakthrough System
Website URL: leveragedbreakthrough.com
Price: between $3,247 and $21,847
Created in: 2018
Overall Ranking: 4/10
---
If you're sick of scams, check out my 1st resource to make money online here!
---
What is Leveraged Breakthrough System about?
---
The Leveraged Breakthrough System is said to be a program that can make you thousands of dollars in commissions.
The spokesman makes it sound amazing because:
You will get a coach that closes the sales for you.

You will not have to talk to anyone on the phone.

You will not have to sell anything to anyone.

It doesn't require you to have any previous experience or special skills because almost everything is done for you.

You can start making money the same day you join.
The only thing you will have to do is to drive people to the sales page you're provided with, but this is not as easy as they want you to believe.
The spokesman wants to get you excited so that you believe that this is the ideal system that will finally help you become financially free online. 
He claims you can earn commissions between $1,500 and $10,500 depending on the membership you get. It all sounds awesome until he talks about the price of the whole system.
Well, at least he's more honest than other high-ticket programs that never reveal the real price upfront. Other high-ticket programs usually try to convince people to join for a small fee and then get them ready to do the massive spending.
But again, it's not as easy as they make it seem and the business model is not good for the long-term, as I will explain in a bit.
How does Leveraged Breakthrough System work?
---
The Leveraged Breakthrough System works in a way that you have to recruit other people into the same program.
It's a "pay to play" system, which means that you will have to purchase the products you want to make money from. If you sell the products without having bought them first, you will not make a dime.
The product levels
---
So what's the first thing you will have to do? Purchase the first product level which costs over $3,000. I was quite surprised when I heard that their cheapest product was in the thousands because other high-ticket programs' cheapest product costs between $37 and $100.
In this case, below you can see the cost of each product level: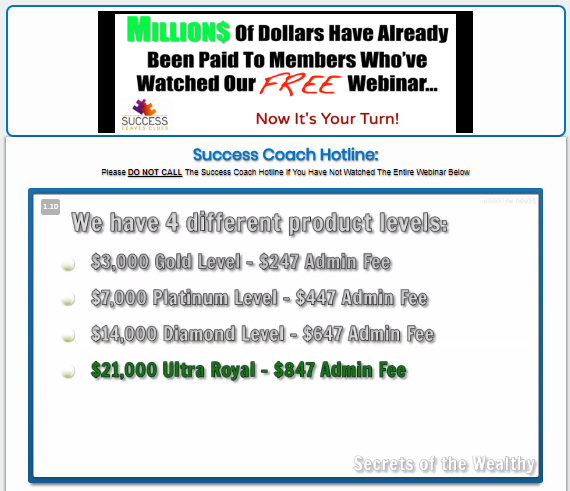 After purchasing the Gold level, the person who got you in gets paid a commission and the admin fee goes to the people who are running this program.
After that, your job is to get other people to purchase the same level that you have bought.
It's important to note that you will only be able to earn money from the level you're in or a lower level. Never a higher level.
For example, if you recruit someone who buys into the Platinum level, you will not make any money. The huge commission will go to your coach, given that he/she's at the Platinum level or higher. 
When it comes to the money you can make, you can earn a 50% commission off each sale. So it would be like this for each level:
Gold level – $1,500

Platinum level – $3,500

Diamond level – $7,000

Ultra royal – $10,500
Therefore, in order to earn as much money as possible, you will have to recruit as many people as possible. The more people you recruit, the more sales you can make.
What does it include?
---
Now you might be wondering why the product levels cost this much.
You might think that products that cost thousands of dollars must be high-quality products that include great training and tools, but it's not this way.
The reason why they are so expensive is because this system is designed to make thousands of dollars to members. 
Apart from getting the right to sell the products, this is what you get by paying thousands of dollars:
A cookie cutter website

Email swipes to promote this system to your subscribers

A lead tracking system

PLR (Private Label Rights) digital products
Do you think this stuff is worth thousands of dollars? Hell no!
Firstly, a cookie cutter website is a duplicate website, which is not valuable nowadays because you don't even own it.
Secondly, a lead tracking system is kind of cheap.
Thirdly, email swipes are often given for free. Many low-quality products that I've reviewed have an affiliate program that provides email swipes to promote the product without having to purchase it.
So what about the products? Are they any good?  They are nothing special, honestly.
They are PLR products about Internet marketing and personal growth. The fact that they are PLR products means that they haven't been created by the owners of this system. They bought the products from someone else and re-branded them as if they were their own. 
The thing is, some of these products contain outdated information and they can be found online for free or for a small fee. All of them together (there are less than 50 products) might not even cost $1000! 
For example, this product below is included in the Platinum level which costs $7,000:
But you know what? I found this product for only $1.99 on plrshop.org, below is the proof: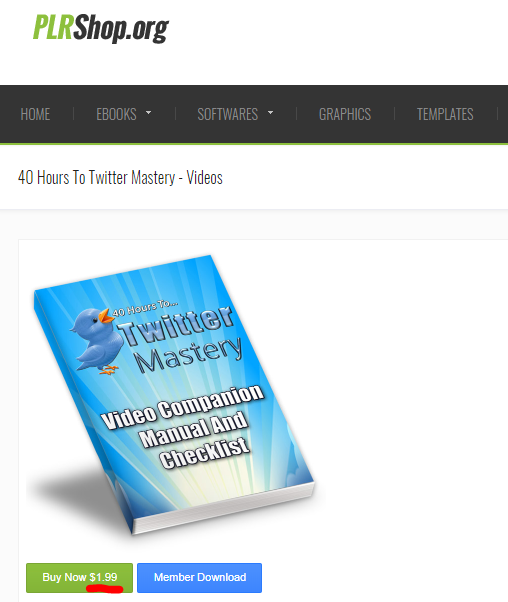 So yeah, the products included in each level are not worth thousands of dollars! The reason they are this expensive is to get the opportunity to earn thousands of dollars.
What does this mean? The creators of this program are giving more importance to the money-making opportunity than the products. They are not selling the products, they are selling the opportunity itself.
It's not automated
---
Your goal is to recruit as many people as possible to earn as much money as possible, but recruiting is not that easy.
In order to recruit people, you will have to bring them to the sales page you're provided with. And you will be using paid advertising to do that.
Paid advertising is a risky business model because it requires a lot of trial and error. You will have to invest thousands of dollars to find out what works and what does not work and end up creating a high-converting campaign.
The reason why this system is not automated is because you need to do massive recruiting. If you stop recruiting, people will stop joining the system which means that there will be no commissions to be made.
And another reason why this is harder than they make it seem is because there aren't many people willing to get involved in a high-ticket program.
I mean, most people don't have thousands of dollars waiting to be spent on a money-making opportunity like this, especially if there are no guarantees.
"Done-for-you" is not always good
---
For some people, something that is done for them might sound very attractive because it can save them a lot of time.
However, if you are looking to make a long-term living online, "done-for-you" systems are not the way to go.
First of all, something that is done-for-you makes you dependent. What does this mean? You are relying on a system that you don't own to make money. 
So, even if you start making money, the day this system shuts down you will be left with nothing. This is what happened to the affiliates of Digital Altitude and MOBE, two of the most known high-ticket programs. 
Another thing is, done-for-you stuff doesn't encourage creativity. Everyone involved in the system gets and promotes the same products so you are not creating something of your own. You do not own the business. You're basically helping the owners of this system build their business.
It's a cash gifting scheme
---
According to the FTC (Federal Trade Commission), the business model used in these high-ticket programs is not legitimate.
When a business model involves passing money to one member to other members, it can be considered a cash gifting scheme which is not legit.
These high-ticket programs have no retail sales since they do not sell any real or tangible products to people who are not part of the system. This means that the money only comes from the people who get involved in the system, which is not sustainable because there's a limit when it comes to the amount of people who can join. 
At one point, it will collapse and people will lose out, especially the last people who have invested in the system.
For example, the last people who bought the Digital Altitude and MOBE's expensive packages, have ended up losing thousands of dollars because they cannot make their money back and these programs don't offer any refunds for the pricey packages.
That's why getting involved in a high-ticket program is very risky. No one guarantees that you will make your money back and the program can shut down when you least expect it.
Is Leveraged Breakthrough System a scam?
---
I know some people would not call Leveraged Breakthrough System a scam because it gives you the opportunity to make money.
However, just because it's possible to make money, doesn't mean it's legitimate. 
As I explained in the last section, the business model that Leveraged Breakthrough System uses is not sustainable and considered a scam by the FTC.
With that being said, I want to point out two red flags because I've seen some of them in other scam products.
The testimonies are not real
---
Remember the people who appear in the sales video claiming they have earned 5 and 6 figures with this system?
Well, the problem is that these people are not real members of this system. They haven't tried this system so what they say is not true.
For example, this woman below has appeared in other scam videos like Clicks Dealer and 7 Figure Profit Code. She sells her acting services on Fiverr.com.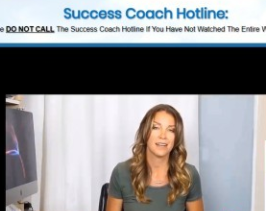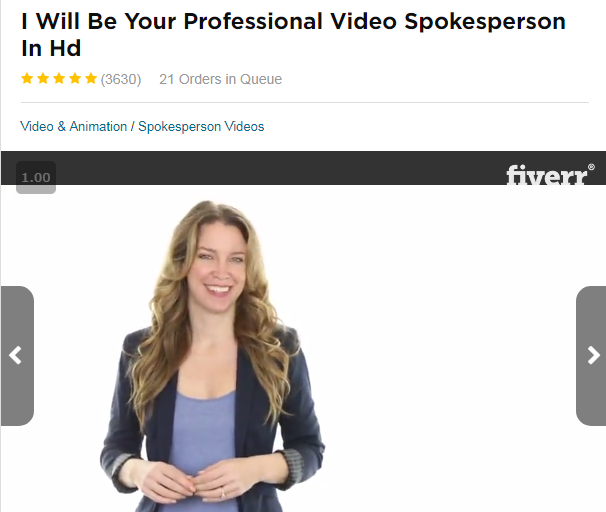 If this system were that good, don't you think they wouldn't have had to use fake testimonials?
More fake claims
---
In the sales video, the spokesman claims they have 15 years of successful experience and some of the testimonials claim to have been earning thousands of dollars in the last four months.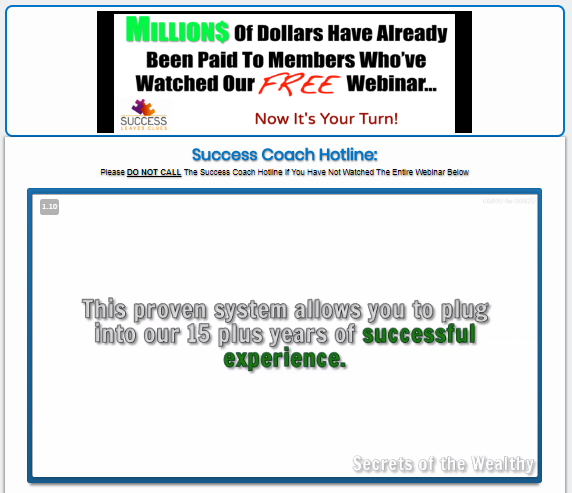 But this is not true because I found out that Leveraged Breakthrough System has existed for only 4 months as of this review.
As you can see below, it was registered on February 23rd 2018: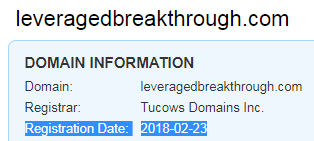 It makes no sense that these members have made thousands of dollars just after getting started, it's clear that those testimonies are fake.
Make money online without spending thousands of dollars
---
Leveraged Breakthrough System is not a reliable system to build a long-term online business, so there's no way I can recommend it.
The fact that they lie about the testimonials and their years of experience is another reason why this system is not to be trusted.
When it comes to earning money online, there are more scams than legitimate programs. 
Some high-ticket programs seem to be legitimate because they allow you to make money, but they turn out not to be sustainable for the long-term, as I explained earlier.
Another thing to take into consideration is the fact that you don't need to spend thousands of dollars to make a full-time income online.
There are legitimate business models that allow you to get started for even less than $100 and also have more benefits than high-ticket programs.
For example, the business model I use allows you to:
Choose from millions of products to promote. You don't need to promote the same as everyone else.

Pick a topic you love to build your business around.

Get free organic traffic so you don't need to spend money on advertising.
There's a lot to say about this business model so I decided to create a FREE step-by-step earn money online guide where I explain it all:
My guide will show you how this business works, why it works, what you need to make it work, how to get started from scratch…
And I also show you where to get started for free! Yes, you don't need to spend a penny to see it all for yourself =)
There are many people making a living online using this business model, so I believe you can also do it as long as you put in the effort and time!
You will not be alone in this! I also show you how to get help and support from a community of like-minded people, myself included =)
I'm so excited for you to leave the scams behind and start building your online biz using a legitimate business model!
CHECK OUT MY FREE EARN MONEY ONLINE GUIDE HERE!
I hope this full review has been helpful to you and you will make the best possible decision concerning Leveraged Breakthrough System. Don't hesitate to share it with whoever you believe that will benefit from it!
If there's something else you want to know or you have any questions, feel free to leave a comment below and I'll get back to you ASAP! ? 
Best wishes =)