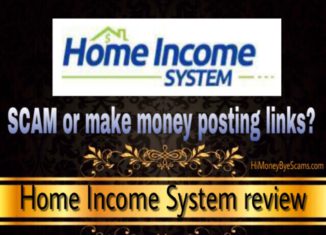 Have you been asking yourself "will the Home Income System scam (theinternetsupport.com) me out of my hard-earned money?"
Or perhaps you hope that this system will help you make money for posting links, right?
To begin with, I must congratulate you for doing your own research before purchasing another work-from-home program.
As you may already know, there are sooo many scams out there so doing your due diligence is the way to avoid scams and find the genuine way to earn money online!
To be honest with you, Home Income System is not as awesome as advertised!
That's right, ad link posting does not work like they claim!
So I decided to write a review because there are some red flags that you need to be aware of before making a final decision.
Home Income System review
---
Name: Home Income System
Website URL: theinternetsupport.com
Owner: "Kevin"
Price: $97 + upsells
Overall Ranking: 1/5
---
If you're sick of scams, check out my 1st resource to make money online HERE!
---
What is Home Income System about?
---
Someone sent me an email to the Home Income System, so I thought I would look deep into it.
The moment I landed on the Home Income System sales page, something didn't feel right about it.
I mean, their sales page is very similar to other scam pages I have come across.
Anyway, I didn't want to come to a final conclusion without finding out what this is really about so let's get started.
The spokesman for the Home Income System makes this system sound amazing.
This system can help you earn $400 a day and you can work as much or as little as you want, that's what he says.
He even claims that you can work on your spare time, so it gives you a lot of freedom and flexibility because it enables you to choose your own hours and work anywhere with your laptop and an Internet connection.
Sounds cool?
Oh, and you supposedly don't need any previous experience or special skills to make this work. So is Home Income System that ideal system that will help everyone make a living online?
Something I don't like is the fact that he doesn't explain how this system works in the first video. He says that it has nothing to do with MLM, but then you have to complete a form to access another video to find out how it works.
I personally don't like the fact that he asks you for your information without explaining what this is about. By doing that, he proves that he's more interested in getting your personal data than anything else!
So I used some random details to complete the form and get access to their second video.
After watching it, I can say that it's very misleading!
I have been reviewing hundreds of money-making opportunities, so I know why what they have told you does not work like they say.
Let's see the truth in the next section.
How does Home Income System work?
---
Home Income System simply does not work as easily as they make it seem.
They are making ad link posting seem like something that you can do to make money online easily and fast.
The way they are promoting it could make you think that you can earn money the same day you get started, right?
I mean, they claim that posting links doesn't take much time, so you can work as much or as little as you want.
They want you to believe that you get paid just for posting links, but the truth is that this is not that simple.
Ad link posting is not a real opportunity!
---
Plain and simple. Ad link posting is not a real opportunity to make an income from home.
It simply doesn't work the way they say. You will not make money only posting links.
These con artists are taking advantage of a well-known business model to deceive people. I believe they don't mention the real name of this business model to prevent potential victims from finding the truth.
If you are wondering how this business really works, let me explain.
Posting links is a part of the process, but it's not the only thing you need to do. You could post a thousand links and still not make a cent.

When they say that you can post 10 links in an hour and earn $150, they are trying to mislead you.
First of all, they don't mention where you will have to post the links! Social networks? Blogs? Forums? They say nothing about this.
Second of all, not every link you post can make you the same amount of money. Unless you post the same link multiple times, if you post different links, you will not earn the same amount per link because each link takes people to different products.
Third of all, if people see your links but don't click on them, you will not make a dime because you need people to buy products in order to earn money!
Trust me, I personally use this business model and I can say that getting people to click your links is not that easy.
Not only that, you need to ensure that the people who click your links are the kind of people who are willing to buy those products/services.
In other words, you need to drive targeted traffic to links. This is something that the spokesman for Home Income System does not tell you.
He doesn't mention the real business model behind everything he's telling you. The main concept is not to post links, it's to sell other people's products or services.
Without making sales, you will not earn a dime. And without getting traffic, you will not make sales. That's the reason why this is not as easy as advertised.
Don't you think that if it were as simple as posting links, everyone would be doing this? It's not even true that there's a demand for "ad link posters".
There are many people using this business model to help companies make sales, so there's no demand. Most people can start this kind of business because the entry barriers are so low, but not everyone who starts achieves success.
Another thing is, they are making this look like a work from home job, when in reality it's an online business.

Wondering what's the name of this business model? Affiliate marketing.
Using this business model can be very lucrative when it's done the proper way. The problem is that there are many scams and low-quality programs that mess up this business model to deceive newcomers.
These scam artists just want to make as much money as possible at other people's expenses.
What about the one-on-one call with an agent?
---
They claim that you are going to get a one-on-one call with an agent that is said to help you and support you.
Truth be told, this agent is basically a sales person who will try to get you to spend and spend.
If you spend $97 on the Home Income System, you can expect them to call you to convince you to purchase another product.
These unethical marketers never limit the amount of money they can earn so they will call you multiple times to try to get more money out of you.
If they were honest about what they are offering, then there would be nothing wrong.
But the fact that they are marketing this Home Income System product as a solution to earn easy cash, it's an indication that this product is not as awesome as advertised.
There are no magical systems or programs that you can use to get money on demand, so don't be fooled by these scammers who promise easy income.
Get my FREE Earn Money Online Guide HERE!
Home Income System scam signs revealed!
---
There are some red flags that you need to take into consideration because they prove how this system is not as awesome as advertised.
These red flags are very common in scams so this will help you not fall for this kind of frauds.
"Limited spots available" fake claim
---
The spokesman claims they can only help a limited amount of people, which is not true.
They want as many people as possible to join but they claim there are limited spots available to get you to buy into this product as fast as possible.
These marketers usually pay other marketers with huge mailing lists so that they promote these BS products to their subscribers.
Someone has sent me an email to this product multiple times, so there's no way they are limiting the amount of people that can purchase this.
Why would they limit the amount of money they can earn? They would never do it!
They use your information for profit
---
It's clear that they want to get your personal information because they ask you for it before telling you what this system is about.
I checked out their privacy policy and it turns out that they will use your information to share or sell it to other marketing partners a.k.a. other unethical people. 

If you have given them your main email address, you can expect to receive unwanted or spam emails from people you don't know. 
I personally don't recommend that you check them out because some of these emails probably contain links to other scams.
They also will call you or send you text messages. They will do the most to "get" you.
Check out my FREE Earn Money Online Guide HERE!
The spokesman doesn't show up
---
Something that tells me this Home Income System is not to be trusted is the fact that "Kevin", the alleged spokesman, doesn't show up.
He only mentions his name but he doesn't show any picture of himself, which indicates that he's trying to hide something from us.
Not only that, he does not even say if he's the owner of this system or who are the people behind it.
I have reviewed many products and have noticed that scam products don't usually provide information about its owners.
Scammers usually don't show up to avoid getting caught or persecuted. 
Location exclusivity is fake
---
Another trick they use is the location exclusivity thing. They want you to believe that you qualify just because you are in a country or city.

The name of the location changes depending on your IP address. In my case, I live in Spain so they mention a city of Spain, but it will say Florida if you live there.
Conclusion on Home Income System
---
Is Home Income System a scam? The answer to this question really depends on what's a scam to you.
If a scam is something that takes your money for nothing, then this product would not be a scam because they provide something for your money.
But if you judge Home Income System based on the fact that they make false promises and use unethical tactics, then it's normal that you call it a scam.
Even though they claim to have a 60-day money-back guarantee, I would not rely too much on it because some of these unethical marketers never give people their money back.
Other scams that need to be avoided are the following:
The final decision is up to you. You can do whatever you want with your time and money so it's all up to you. 
For my part, I have to conclude that I don't recommend Home Income System. 
A proven method to make money as an affiliate marketer
---
Remember that I told you affiliate marketing is the real business model they are taking advantage of?
Well, this is the business model that I personally use to earn an online income consistently.
This business model has been working for decades already and there are many people using it.
Depending on the method or strategy you use, you can get different results.
In my case, I'm grateful that I learned a proven method that's sustainable for the long-term and I've never looked back.
There are many things I like about this method, one of them is that I don't need to spend a dime to drive targeted traffic to my affiliate links.
If you want to find more about this method, you can get my FREE step-by-step earn money online guide here:
Inside my free guide, you will learn step-by-step how this method works, why it works, proof that it works, the in-depth training and marketing tools I used…
One of the coolest things about this is, you can get started today for free!
Yes, you don't need to spend a penny to determine whether or not this is for you, so it's risk-free =)
Not only that, you will also discover how you can get help and support from me and other successful affiliate marketers!
You are not alone in this new adventure, there will always be someone that will reply to your questions 🙂
Are you ready to say bye to the ugly scams and start building your affiliate marketing biz today?
CHECK OUT MY FREE EARN MONEY ONLINE GUIDE HERE!
I hope this Home Income System review has been helpful to you and you will make the best possible decision.
Don't hesitate to share it with whoever you believe that will benefit from it!
If there's something else you want to know or you have any questions, feel free to leave a comment below and I'll get back to you ASAP! ? 
Whatever you do next, I wish you nothing but the best =)