Welcome to My Home Success Plan review!
You have landed on My Home Success Plan sales page (myhomesuccessplan.com) and have some questions about it, right?
Well, first of all I need to congratulate you for taking the time to do your research before getting involved with another money-making opportunity.
Doing your research is the way to avoid getting scammed and find the real way to earn money online!
Now you might be wondering "is My Home Success Plan a scam?" or "can I make money with My Home Success Plan?", so I decided to write a post to tell you the truth about this opportunity.
In this review, I will show you what My Home Success Plan is about, why it does not work, the scam signs that I've found and more!
My Home Success Plan review
---
Name: My Home Success Plan
Website URL: myhomesuccessplan.com
Owner: "April Matthews"
Price: $97 + upsells
Overall Ranking: 1/5
---
If you're sick of scams, check out my 1st resource to make money online here!
---
What is My Home Success Plan supposed to be?
---
The moment I came across the My Home Success Plan first page I thought it was another scam because I have come across many similar pages.
They want you to believe that this is the perfect opportunity to make money online because it supposedly allows you to:
Work whenever you want

Work anywhere you want

Start earning money immediately
Oh, and you don't even need any previous experience or special skills! They make it sound like the ideal opportunity that will make your dreams come true.
And then, after entering a name and an email address and landing on the second page, you can watch a video that starts playing news clips about making money working from home.
Later in the video a spokesman (who doesn't even present himself) claims you are guaranteed to earn $500 just for watching the video and also says that you can earn $3K, $5K and $10K every day thanks to this system.
But he says nothing about what you will have to do to make money.
Well, below the video you're introduced to "April Matthews" and her story about how she went from broke to making millions thanks to this link posting thing.
According to the information on the site, link posting has changed her life because she's now earning thousands of dollars per month and she gets to enjoy life without worrying about money.
They also try to make you believe that you can earn $379 per day easily without doing much work. But they don't mention anything about earning $5K or $10K a day, just like the spokesman from the sales video tells you.
The sales video and the letter don't seem to be talking about the same opportunity because in the sales video they don't tell you what you have to do to make money and in the letter they tell you that all you have to do is to post links. It's very misleading.
The truth is that they just tell you what you want to hear to get you excited and take your hard-earned money. 
Does My Home Success Plan work?
---
My Home Success Plan does not work like they want you to believe. This program works to make money to the people who have created it.
I'm very familiar with the sales letter from the My Home Success Plan page because I've read the same letter on other scam programs like Automated Daily Income and Auto Home Profits.
In fact, the same sales letter has been used on multiple pages under different names. If you read it and question what they say, you can reach the conclusion that they make no sense.
Why My Home Success Plan makes no sense
---
My Home Success Plan makes no sense because link posting is not a real way to make money online.
They claim you only need to post links to make money because posting links is something that anyone can do so they know you will get excited thinking that this is very easy.
If you think about it, everyone would be already making money online if this were as simple as posting links.
What the owners of My Home Success Plan don't mention is what these links are about.
I mean, what do these links have that make you money? Why do companies "give" links? Companies don't pay people just for posting links.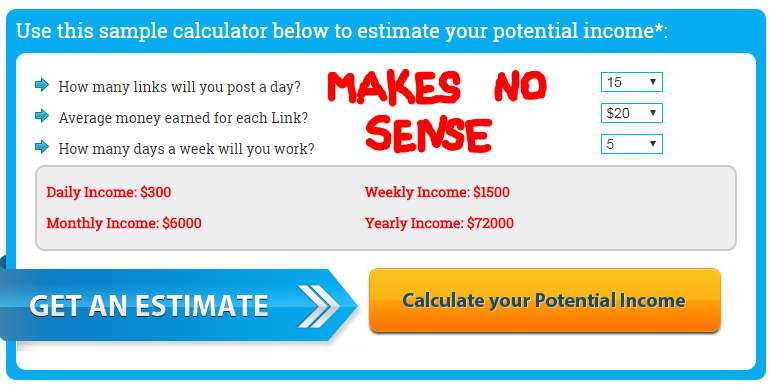 Imagine that a company paid $20 for each link you posted and you posted the link 100 times a day. Do you believe this company would pay you $2000 a day just for posting a link multiple times? It would make no sense because a lot of people would be doing this if it were this simple.
What the company really wants is to make more sales. That's what the links are for. 
Posting links is not the goal. The goal is to sell the product/service that the link sends someone to. 
Therefore, posting links doesn't guarantee that you will make money because you can post many links but not make a single sale. 
After posting a link, you need to get people to click that link and purchase a product/service. If people click the link but don't purchase anything, the company will not make any money so they will not pay you.
In other terms, your job is to help other companies sell their products. This is called affiliate marketing but My Home Success Plan doesn't even mention it because they don't want you to realize that this takes way more work and time than they tell you.
They don't want you to know that posting links is just one part of making money using affiliate marketing. And they don't even mention that you need to get a lot of people to click the link and make a purchase in order to earn a job-replacing income.
Therefore, concerning the sample calculator, the questions should be "how many sales will you make a day?" and "average money earned for each sale?".
I'm really tired of programs like My Home Success Plan because they give a bad name to legitimate business models like affiliate marketing.
My Home Success Plan is not the real program
---
The truth is that My Home Success Plan is not the real name of the program they want you to buy.
I know this because the other similar fake pages that I have exposed are basically funnels for high-ticket programs.
Remember that the spokesman talks about earning $3K, $5K and $10K? I've heard the same numbers in other videos that were used to promote MOBE.
The thing is, MOBE got recently shut down by the FTC for being a pyramid scheme so I don't know what program they are trying to lure you in, but I believe it's a high-ticket program very similar to MOBE.
If you've never heard of MOBE, it was a digital marketing company that sold very expensive digital marketing products (some of them cost more than $10,000) and it was focused on getting people to buy and promote those products. People used to spend thousands of dollars to get the right to sell the same pricey products to other people.
Click here to check out my FREE affiliate marketing guide!
Is My Home Success Plan a scam?
---
Yes, My Home Success Plan is definitely a scam for several reasons:
They are giving you false expectations.

It's not the name of a real program.

Making money for posting links is not real.
With that being said, I want to point out some red flags that I have found because they prove this is not as good as it appears to be.
April Matthews is a made up character
---
I know April Matthews is a fabricated persona because I've read the same sob story in other fake pages that I've exposed.
For example, Auto Home Profits is another fake page that uses two different ladies for the same sob story. Take a look at the screenshots below: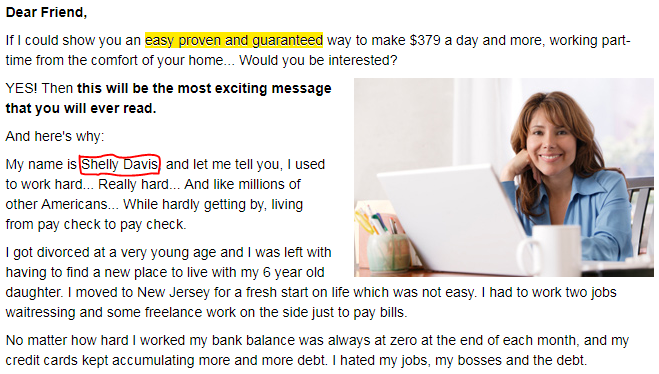 What a coincidence, right?
And "April" has the same sob story: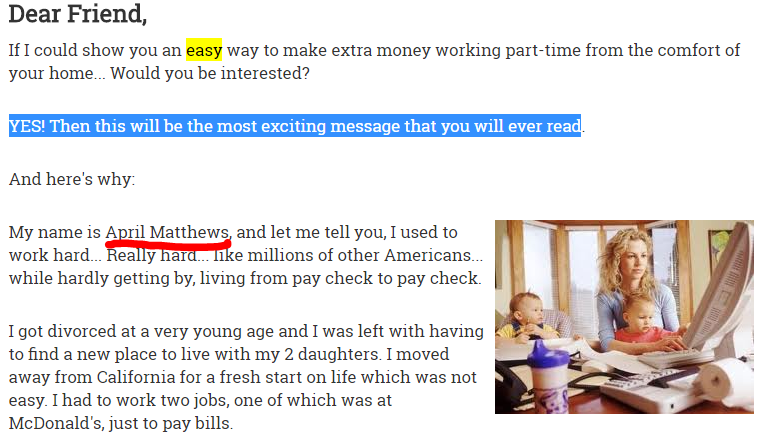 It's clear that it's all fake. But I also did an image search and found that her picture is used on different sites online, which means that the con artists behind My Home Success Plan have downloaded the image to use it for this scam.
Fake news logos
---
Another red flag is the fact that they show some news websites logos probably to make you believe that My Home Success Plan has been recognized by these companies so that you think that this is legitimate.
You can confirm they haven't been seen in those news sites because they do not appear on those sites. If you search for a connection between My Home Success Plan and those news sites, you will find nothing.
Also, the news clips from the sales video have nothing to do with My Home Success Plan. They're just talking about working from home without mentioning My Home Success Plan.
Limited availability
---
They claim that the amount of positions available is limited and in the video the spokesman claims that you lose your spot if you exit the page. 
The truth is that this is completely fake. They just want you to be afraid of missing out to get you to purchase this program as fast as possible. 
If you think about it, why would they limit the amount of money they can earn? They will never reject someone who is willing to put money on their pockets.
Unrealistic income claims
---
The fact that they claim you can earn over $10,000 per month just working 1 hour per day is one of the biggest red flags.
Don't you think that a lot of people would have quitted their 9 to 5 jobs if making a full-time income online doing little to no work was possible? 
Most people would have got rich online if it were that easy to earn money.
Just because this is online, it doesn't mean that it's easier than offline. Yes, sending messages and checking out pages on the net is fast to do, but making money online is no different than making money offline.
Any program or website that promises you a lot of money in a short period of time is surely a get-rich-quick scheme a.k.a. a fast way to lose money.
Another thing you can expect
---
Last but not least, you can also expect these scam artists to share your information with third parties.

In the first page, they ask you for your email address, your name and your phone number (optional) just to get access to the sales page.
The reason why they do this is because this is their way to make money in case you don't buy My Home Success Plan.
These con artists sell people's email addresses to other companies or unethical people, so you can expect people you don't know to send you emails related to other "make money online" products.
Oh, and you can also expect them to call you (if you gave them your phone number). These scammers always do the most to make money at other people's expenses.
Learn affiliate marketing the proper way
---
My Home Success Plan is a way to waste money instead of making money, that's why I cannot recommend it.
After all the red flags that I've mentioned, it's clear that My Home Success Plan is not a reliable money-making opportunity.
When it comes to earning money online, there are more scams than programs I can recommend. The way to stop wasting time on scams is by keeping in mind that there are no easy and quick ways to make a substantial income online.
Making a living using the affiliate marketing business model is very possible for anyone who learns from a legitimate source and takes action.
There's a lot to say about affiliate marketing so I created a FREE step-by-step guide where I explain how this business model works, why it works and more:

You will learn what you need to build this business the proper way, how to get started, where to get the training and tools you need…
And I even show you how to get started for free! Yes that's right, you don't need to spend a dime to check it all out for yourself.
You will also discover a place where you can get help and support from a huge community of like-minded people, affiliate marketers and Internet entrepreneurs! 
Not only that, I will personally be there for you so you can ask me for help whenever you want =)
Looking forward to seeing you say bye to the ugly scams and get your online biz started!
CHECK OUT MY FREE AFFILIATE MARKETING GUIDE HERE!
I hope this My Home Success Plan review has been helpful to you and you will make the best possible decision. Feel free to share it with whoever you believe that will benefit from it!
If there's something else you want to know or you have any questions, don't hesitate to leave a comment below and I'll get back to you ASAP! ? 
Best wishes! =)