Hey there!
Today I'm going to talk about how you can get started in the affiliate marketing world for little money or even without spending a dime.
I know that many people who are searching for legit ways to earn a living online are on a low budget and can't afford to spend thousands of dollars just to get started. 
The good news is that starting a digital business is not as expensive as starting a brick and mortar business, and thanks to business models like affiliate marketing it's possible to start for $0.
There are many business models you can choose to start a business, but I've decided to focus on affiliate marketing because I believe it's the best option for people who are on a tight budget.
.
Why an affiliate marketing business?
---
Well, first of all, a definition of affiliate marketing would be "a situation where a vendor/company pays a commission to a publisher/advertiser for a sale the second one has made".

So why have I chosen affiliate marketing instead of another business model like network marketing?
Simply put, affiliate marketing has some great advantages that other business models don't, below are some of them:
It's beneficial for everybody involved. The vendor is happy because their product has been sold, you (the affiliate marketer) have earned a commission off the sale you've made and the purchaser/customer has got a product that meets their needs.
You don't have to create your own product. You're going to market other people's products so you won't have to worry about spending money or time on creating your own.
You can market any kind of product. You are free to choose the product you want to sell, even though I recommend that you market products you already use or like.
You can make passive/residual income. You can market a product once and make lots of sales, so you don't always need to be present in order to earn money. This will only happen if you put in the work, not when you're starting out.
You can earn a full time income. This is similar to the previous one, it won't occur overnight. If you work hard, there will come a point where you make enough sales and get to earn the kind of income that replaces your 9 to 5 salary. 
You can sign up to affiliate programs/networks for free. There are a lot of companies that offer affiliate programs and affiliate networks that can be joined for free. After all, why would they make you pay if you're willing to help them make sales?
Affiliate marketing plainly works because people are always looking for answers to their questions.
Let's say that you want to know how to tan your face the proper way, so you Google "how to sun tan your face" and find the following results:
Then you click that link and you're taken to a website about beauty essentially. That article teaches you how to tan your face in the sun or salon, how to tan your face the sunless way and at the end you there's a list of products recommended by the person who's written the article: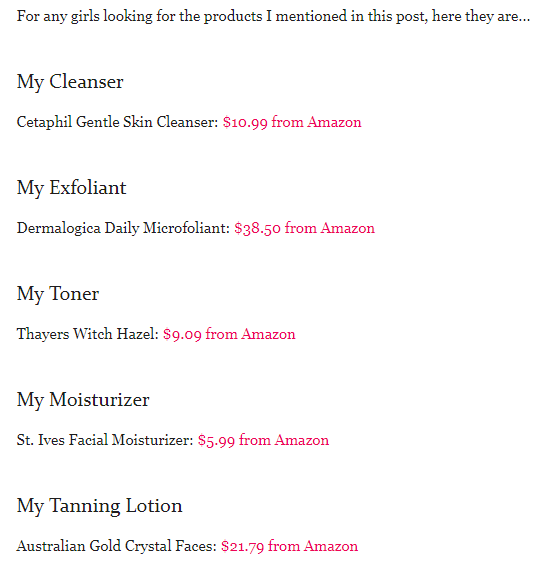 If you click on any of those links (affiliate links) to check out the products, you'll be taken to Amazon.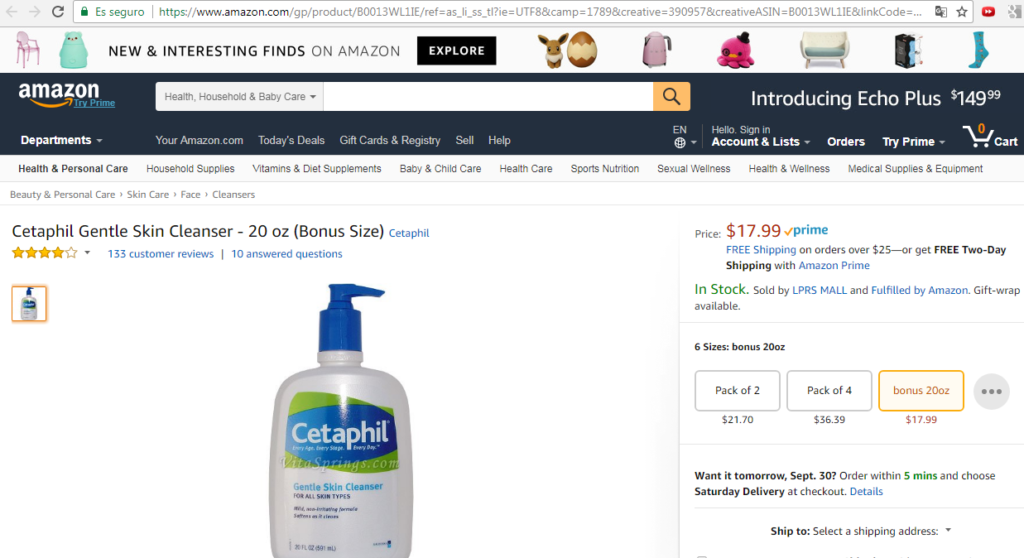 If you take a look at the search bar, you can see the affiliate link. Therefore, if you purchase this cleanser, the person who has written that article will earn a commission.
Imagine how much money they make if a lot of people click on that article and end up purchasing some of the recommended products.
Can you see the potential of an affiliate marketing business?
.
What do you need to start an affiliate marketing business?
---
I've seen many unethical marketers use black hat techniques to earn a quick buck.
Things like creating different pages with the same content (an example of this would be scam softwares that have use different domains with duplicated content), link spamming, repeating keywords, hidding content…
Most people who make use of these tactics are scam artists and unscrupulous people who don't care about other people and are only concerned about their own benefit.
This may work in the short term but they eventually get banned by search engines and can even get prosecuted by the authorities. Trust me, those fraudulent tactics are no good if your goal is to build a business that's profitable in the long term. 
If you're willing to build an affiliate marketing business the proper way, this is what you'll need to make it work:
A niche. What do you love to do or what are your hobbies/passions? It can be anything like sports, personal growth, healthcare, beauty, traveling, music… It's up to you. I recommend that you take your time to choose a niche, this is a very important factor that determines what you'll be doing and offering.
A website. You'll need to build a website to use it as a platform to talk about anything related to the niche you've chosen, speak your mind about certain topics, give tips and advice to help people… Building a website no longer requires you to have coding skills or be a computer geek, it can be done in a few minutes. 
Products/services. Think about products or services relevant to your niche. Then you'll join affiliate programs or networks that let you market these products. You'll get affiliate links that you can post on your website along with the valuable content and information you provide.
Traffic to your site. Without people there's no business, that's why it's important that your site has visitors. The more traffic your site has, the more sales you'll make. Getting traffic to your site is something that takes time and will depend on the content you provide and the keywords you use for that content. You can also try PPC (Pay-Per-Click) to get traffic, but I don't recommend it if you're on a tight budget.
Other important elements and resources are the following (applies to any kind of online business):
A computer or another electronic device. I suppose you already have one, you wouldn't be reading this otherwise lol.
An Internet connection. Same as before, anything "online" requires an Internet connection.
Patience. Success won't happen overnight, so you'll need to be patient and have faith that it will work out. 
Hard work. It's essential that you put in the necessary effort on a daily basis, nothing great is built with little to no work.
Training & education. In a rapidly changing world, you'll need to keep on learning and educating yourself, what worked yesterday may not work tomorrow.
Time & money. Building a successful business takes lots of time, just like anything worth having in life. You can get started for free but it will come a point where you'll need to make a little investment, for example in your website domain, hosting, security, email marketing, training and education and other business tools. It's all up to you and your current situation.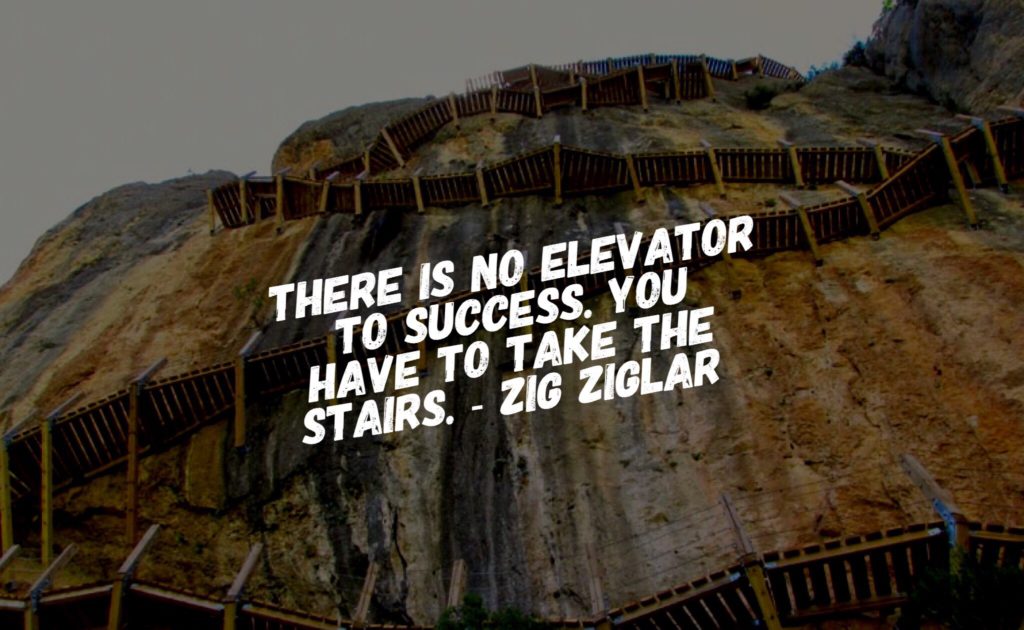 .
Where to start an affiliate marketing business?
---
The best platform where you can start and grow an affiliate marketing business is Wealthy Affiliate, since it includes a lot of training, courses and business tools that will help you start your affiliate marketing business from scratch and take it to the next level.
This online business platform has these 13 classrooms:
Getting started

WA Affiliate Program

Keyword, Niche and Market Research

PPC Marketing

The Wealthy Affiliate platform

Authoring & Writing Content

Everything WordPress

Email Marketing

Video Marketing

Local Marketing

Website Development & Programming

SEO

Social Engagement & Marketing
These classrooms contain questions and answers, tutorials, video trainings and courses regarding the topics I've mentioned before.
This platform also offers live video classes that take place every Friday. These webinars last an hour more or less and they get recorded so no worries if you miss out, you can watch them whenever you want! They have been doing these live trainings for 5 years now so there are over 250 past webinars already.
Members can also create their own trainings and video tutorials as well as ask questions or write mini blogs. This is great because they share their experience, tips and even their successes, so you can learn a lot from them.
And we haven't finished yet, this platform offers so much more:
SiteRubix platform. This includes a website builder, site manager to manage your websites and keep track of their health, hosting & security, site support to get technical support for your website/s, site comments to offer and receive comments, site content to write articles for your site, site domains to find and purchase domains, site feedback to give and receive feedback for your site/s, site email to create and manage email accounts.
Keyword tool that enables you to search and find the best keywords for your content, and save them. 
Live chat to interact with other members. This is a great tool to ask quick questions and get quick answers.
Private messaging to message the community members, as well as the owners =)
Online Entrepreneur Certification course. This is the course that will help you get started if you join. You'll be guided step-by-step from choosing a niche to attracting visitors to your site and making money.
Affiliate Bootcamp course. This course will teach you to build a website to promote Wealthy Affiliate.
One of the things I love about Wealthy Affiliate are the supportive community members and owners.
Whenever you have questions or issues, there's always someone who's willing to help you out. I've personally always had my questions answered!
Another thing is the fact that the founders of this platform, Kyle and Carson, are always updating and improving the platform, as well as adding new features and tools.
They've been doing this for 12 years already and the fact that they've never increased the membership costs says a lot about how much they care about the community members.
Wealthy Affiliate is really free to join because you have no obligation to upgrade and they don't even ask for your credit card information.
They offer a free membership that includes two free websites along with free hosting, free support, 20 lessons and more training from 3 classrooms to get started. When you join, I and other members will welcome you to the community help you get started. 
You can click below if you want to join now for free:

If you would like to learn more about Wealthy Affiliate, click the button below:

.
I hope this article has been helpful to you and you have enough information to make the decision that best suits your needs. Don't hesitate to share this post with whoever you think that may benefit from it.
In case you have any questions about affiliate marketing or Wealthy Affiliate, feel free to leave a comment below and I'll be more than happy to help you out. I always love hearing from my readers! 🙂 
Cheers!