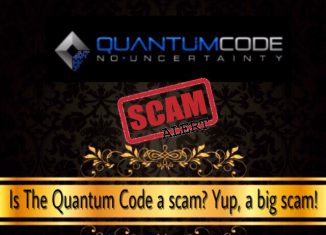 Hey guys!
I just stumbled upon another so called software, this one is called The Quantum Code. It's not even new, it's been around since 2016 already. Just the moment I saw the page, I immediately thought it was a scam.
Within this review I'm going to explain what is The Quantum Code, why it's a scam that you need to stay away from and what to do next.
.
The Quantum Code review
---
Name: The Quantum Code
Website: https://thequantumcode.xyz/
Owner: "Michael Crawford"
Created in: 2016
Price: $250 as a minimum
Overall Rating: 0/10
.
---
If you're sick of scams, check out my 1st resource to make money online here!
---
.
What is The Quantum Code about?
---
The moment you visit The Quantum Code site, the video that starts playing shows a man and an air hostess in front of a private jet. 
This man presents himself as Michael Crawford, also known as "The Wall Street Wizard", "The Millionaire Trader" and "The Nicest Rich Guy in the World". He claims to be a well known philanthropist apart from making a lot of money. 
He says that he's been helping hundreds of regular people become millionaires for free thanks to a highly sophisticated piece of software executing calculations at speeds nobody has ever heard of before.
His magical software is supposed to be an amazing opportunity for people who are looking for a fast way to solve all their financial problems because it's a 100% guaranteed way to make profits every day, forever.
He's giving to 20 people the opportunity to get this fantastic software for free. It doesn't require any experience or knowledge in trading or any investment of any sort so it doesn't matter if you don't have a single penny.
According to Mr Crawford, another great thing about this software is that it always wins and never loses because it's always one step ahead of any other person or machine placing trades on the markets, no matter what market it is.
They called this software The Quantum Code because it uses "Near Quantum Speed" technology. It's 100% automated and works for 24/7 with 100% accuracy.
At the end of the video, he tells you to complete the form by entering your name and email to get started.
.
What if you join The Quantum Code?
---
If you enter your name and email in the form below the Quantum Code sales video, you'll be led to another page where another video will start playing.
Then "Michael" will congratulate you for having reserved your spot as they claim that the "free spots" available are limited. However, this is just a fake scarcity tactic to make you hurry up to join.
He'll tell you to fill in the form next to the video with your name, email address, phone number and password to get access to your trading account.
After that, you'll need to fund your trading account with $250, the minimum amount required to start trading. 
Even though it's free to get access to the software, you won't be able to start trading if you don't make the $250 investment. Therefore, you need money to start trading, so it's not free to make money trading.
If you make the $250 deposit and turn the auto-trader on, that's when you'll start losing the money you've invested.
But didn't Mr Crawford say that The Quantum Code never loses? Yes, but that's a lie. It just doesn't exist a software that always wins.
According to "Michael", The Quantum Code copies other people and institution trades and beats them.
The problem is that he doesn't say anything about the traders the software looks for, so we can assume that it scans random trades, what means that not all the trades it looks for are profitable, and this means that it can't always win.
Therefore, The Quantum Code is not a perfect software that never loses and that's a fact. If you invest at least $250, you can't expect to get it back. 
The people behind The Quantum Code are affiliated with unregulated brokers, what means that they're getting paid big commissions every time they bring a paying customer to the broker. So everybody behind this scam software will make money at your expense. 
Note that they won't allow you to transfer your money to your bank account. They'll try to entice you to deposit more money to the trading account by telling you that the software will end up making you more money than the amount you've lost.
Once they have your money, they'll hide and won't even let you log in to your trading account.
Another thing is, you can expect to receive lots of emails to your inbox. Emails about other scam offers.
Oh, and they'll also call you to ask you to make the $250 deposit in case you don't do it right away after signing up.
.
Is The Quantum Code a scam?
---
Obviously, The Quantum Code is a dangerous scam you need to avoid at all costs.
There have been various domains for this scam like "thequantumcode.net" and "the-quantumcode.com".
They're now using "thequantumcode.xyz" to promote this scam, we'll see how long it lasts.
In this section I'm going to post some undeniable proofs that expose this scam software.
.
Who is Michael Crawford?
---
Michael Crawford is supposed to be the founder of The Quantum Code, but I found out he's just a paid actor.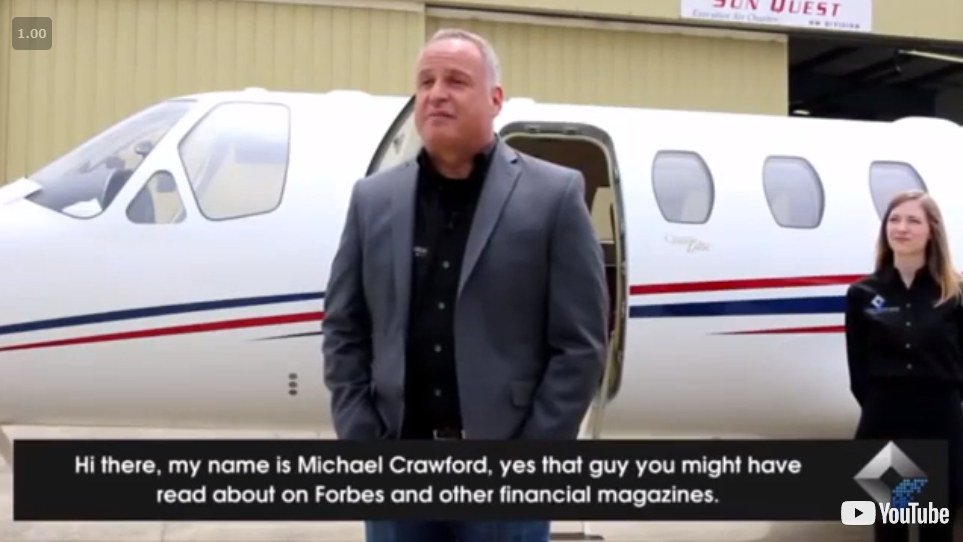 He's not appeared on Forbes or any other magazine like he claims. Apart from that, there's no information about him or his background outside The Quantum Code site. He doesn't even provide us with any way to contact him.
However, I discovered he's appeared on a sales video of another scam called Terran Capital, as you can see below: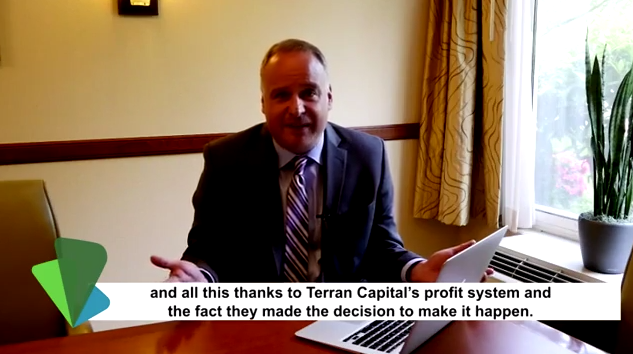 So this man is an actor who got paid just to recite a script that the real creator of The Quantum Code invented. 
Would you trust a software whose real creator is unknown? I clearly would not.
.
The Quantum Code testimonials are invented
---
After you enter your name and email in sales page of The Quantum Code, you'll be taken to another page where you can watch the second sales video. 
If you scroll down, you'll see pictures of people who are supposed to be members of The Quantum Code along with their names and their earnings, but all of this is completely fake.
Let's take a look at one of these members: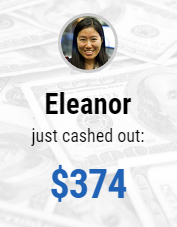 Eleanor is not the real name of the person who appears in the picture. I did an image search and found out the same picture on various websites, as seen below:
Let's see another testimonial:
I searched for his image and found out his LinkedIn profile. His real name is John Fawcett and he's the founder of Quantopian.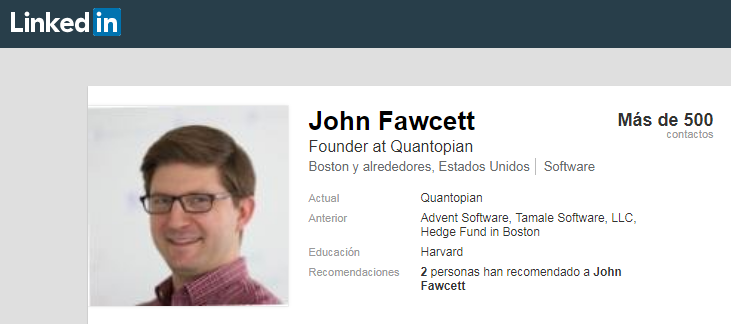 Truth be told, apart from the con artists behind The Quantum Code, the unlicensed brokers and the paid actors, there's nobody who has made money thanks to The Quantum Code.
This software has no real members and everybody who's joined has lost their hard earned money.
.
Read the disclaimer!
---
If you scroll down to the bottom of The Quantum Code site, you'll be able to click "Disclaimer" to read it. I know some disclaimers can be kind of boring to read, but this one contains important information.

As you can read, actors have been hired to present The Quantum Code and success or income are not guaranteed. 
I believe people who have been victim to this fraud wouldn't have fallen for it if they had read it before joining.
.
My closing thoughts on The Quantum Code
---
I hope I've provided enough information to prove that The Quantum Code should not be trusted. 
Everything about The Quantum Code is completely fabricated and designed to steal your money and personal and financial information. 
I've read some reviews that claim this software to be legitimate, but the truth is that people who say this are just affiliated with The Quantum Code and just want to make a quick buck.
My advice for you is to avoid this system as well as other systems/softwares that promise to make you money overnight because most of these systems (not to say all of them) are plain out scams that will only make the swindlers rich.
Some of these scams I've already exposed are the following:
If you're looking for a reliable place where you can learn to earn a living online, then I'm sure you'll love a platform I always recommend.
This platform offers step-by-step training, courses, video trainings regarding topics like SEO, PPC, market research, social media marketing, email marketing, content marketing and any other topic that can help you start an online business from scratch and take it to the next level.
Inside this platform you'll meet people who are on the same path as you. People who will help you out with any questions or issues you might have. This way you won't feel stuck or alone. I've personally always had my questions answered! 🙂 
Another thing I love about this platform is that they let you join for free and get a free membership without asking for your financial information, so you can join and see if it's for you. 
If you're interested in learning more about this top recommended platform, you can now click the banner below to read the detailed review I wrote about it:
.
That's it for today! I hope you've found this review helpful and you have enough information to know what to do next. Don't hesitate to share this review with whoever you believe that may benefit from it.
In case you have any questions or want to share your opinion on The Quantum Code or another online program, leave a comment below and I'll be more than glad to help you out. 
Best wishes! 🙂