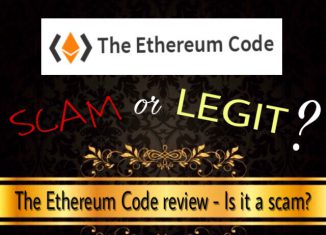 Hey guys!
Today I'm going to review another software that has recently come out called The Ethereum Code. 
I'm going to explain whether this software is legit or just another of the countless online scams so you know whether to avoid it or not.
After having written numerous reviews, I can say that at least 90% of auto-trading softwares are plain out scams.
Let's get started with The Ethereum Code review!
.
The Ethereum Code review
---
Name: The Ethereum Code
Websites (in English, Spanish, Italian and German):
http://ethereum-code.com/ 

http://ethereum-code.co/

http://ethereum-code.com/es/ 

http://theethereumcode.com/ 

http://theethereumcode.com/es/

http://theethereumcode.com/it/

http://ethereum-code.com/it/

http://theethereumcode.com/de/

http://ethereum-code.com/de/
Owner: "Jad Baker"
Price: "Free"
Created in: 2017
Overall Ranking: 0/10
.
---
If you're sick of scams, check out my 1st resource to make money online here!
---
.
What is The Ethereum Code about?
---
The Ethereum Code is supposed to be an auto-trading software that allows you to make money by trading a cryptocurrency called Ethereum. 
Just the moment you start watching the Ethereum Code sales video, you are promised to make $1500 within 24 hours or $10,000 per week, every week for the rest of your life.
According to Jad Baker, the alleged creator of this software, all members of The Ethereum Code have the cash pouring into their bank accounts as soon as they activate their membership.
This man claims to have worked as an investment banker at a private bank, and he found out a particular investment called "gold rush" that he used to help their clients turn their thousands into millions.
He says that the "gold rush", also known as Ethereum, is the fastest growing cryptocurrency online, so he developed The Ethereum Code to help hard-working people profit from it.
This magical software presents the following features:
It has a complex algorithm that identifies exactly when to enter the market at the best time for maximum earnings.

It takes care of the calculations for you.

It tells you which buttons to click to make the most amount of money.

It has an accuracy of 99.7%.

It doesn't require you to learn any trading skills or have previous experience.
Mr Baker wants to give 20 people the chance to get free access to The Ethereum Code, and then this opportunity will not be given anymore.
To be honest, I've heard a similar thing in most scam systems, they always say that there are limited spots available to make you act fast, but the amount of spots available is really unlimited. 
After watching the sales video, taking a look at The Ethereum Code site and doing some research, I could find out the true nature of this software, which I'm going to explain in the next section.
.
Is The Ethereum Code a scam?
---
Unfortunately, The Ethereum Code is another ugly scam you need to stay away from. 
If you check out their page and watch the sales video, you might notice some red flags that show this software shouldn't be trusted.
I'm going to post some red flags that expose The Ethereum Code as the fraud it is.
.
Fake news
---
If you take a look at the top of The Ethereum Code site, you'll see this:
So I searched for The Ethereum Code in these magazines websites and found nothing. This is just a trick used in scam products to make it look legitimate, but there's no real proof that The Ethereum Code has been featured on well known magazines like Forbes or Fortune.
.
Jad Baker is a fictional character
---
The Ethereum Code page and video are in other languages like Spanish, Italian and German so I checked it out in Spanish and found out that Jad Baker is not the real creator of this software.
If you watch the video in English, they show an Instagram account named "jadbaker".
If you watch the Spanish version of The Ethereum Code, the show the same instagram account with the username "julio_mosquino".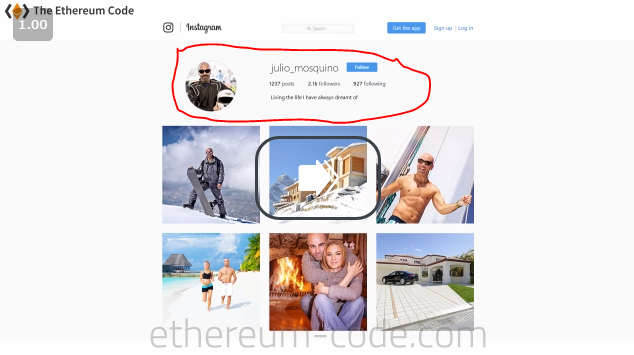 However, the profile picture, the posts and the numbers of follows, posts and following are the same. 
I'm sure they've also changed the name of the owner for the Italian and German versions of The Ethereum Code sales video.
If you have an Instagram account, you can even look for those usernames and will see they don't exist. Apart from that, the pictures are stock photos or stolen from other sites around the net.
In conclusion, "Jad Baker" is an invented character so the real owner/s of The Ethereum Code remain hidden. Would you get involved with a software whose creators are unknown? I obviously would not.
.
The video testimonials are paid actors
---
The people who appear on The Ethereum Code sales video are not real members of The Ethereum Code.
They're actors that promote themselves on outsourcing sites like Fiverr and usually charge like $5 per video, so that's not a big deal for the con artists behind The Ethereum Code scam software.
Let's see one of them:
I've already seen this actor appear on other scams like Click 4 Surveys. He's a Fiverr actor: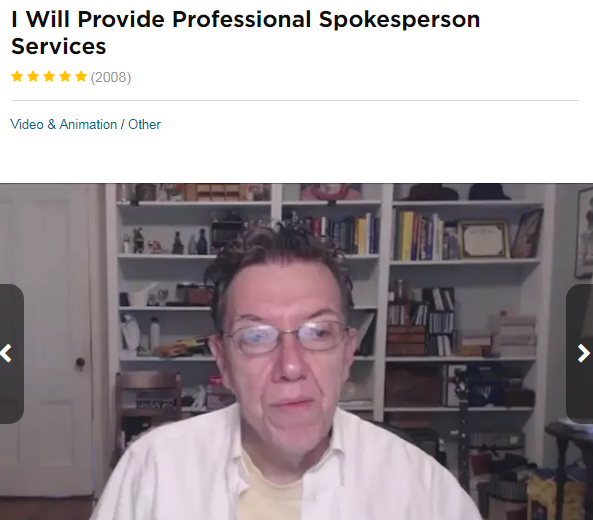 Therefore, none of those people who appear in the video have tried The Ethereum Code. They're just talking positive about this software to get paid.
.
The Facebook comments are not real
---
Below The Ethereum Code sales video, you can see some positive Facebook comments, but they're all completely fabricated.
You can notice the fakeness by taking a look at the English version and the Spanish one.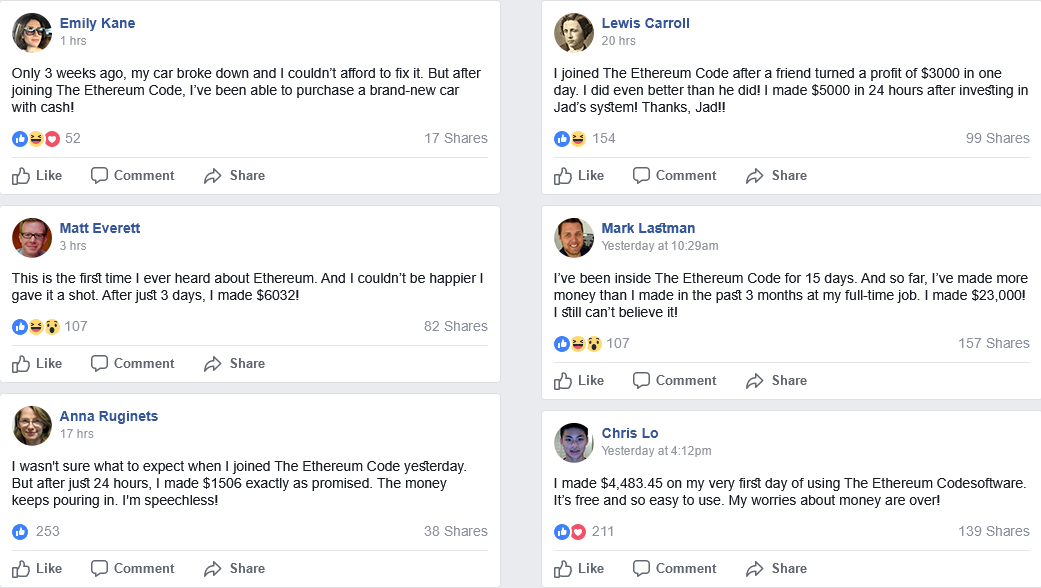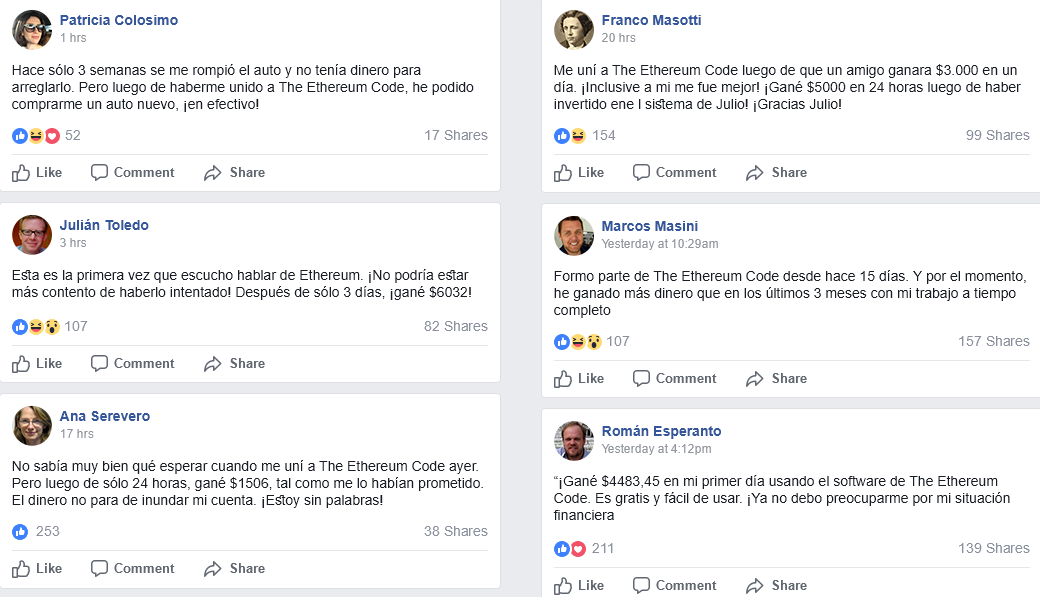 As you can observe, the comments are translated and the profile images remain the same, but their names are different.
How is it possible that the same person has two different names? It doesn't make sense.
If you look for them on Facebook, you won't find users with those profile pictures because they're merely copied or purchased from other websites.
So those are not real opinions of The Ethereum Code, they're all invented. They just want you to believe that The Ethereum Code works and will make you money to make you join. Don't let those Facebook comments fool you.
.
How much does The Ethereum Code cost?
---
One thing I've noticed in most get-rich-quick scams is that they claim their product to be free, but then they ask you for a payment or for your financial information before being able to use the product/system.
In this case, you get free access to The Ethereum Code but you'll need to fund your account with at least $250 to start trading, what means that you'll need to provide your credit card information. 
They don't tell you about it in the sales video, which is a big red flag.
What they do is telling you to enter your name and email in the form next to the video. Then you're taken to another page where you'll be asked to complete another form with your name, email, phone number and password.
After that, you'll get access to the software and then comes the big surprise! You can't start trading without money in your trading account, so if you don't make the $250 deposit, the software is useless.
However, if you make the $250 investment and then turn the auto-trader on, you'll start seeing losses.
Why? Because the software has not been created to generate profits for you, it's designed to steal your money instead.
People behind The Ethereum Code are affiliated with unregulated brokers who steal the money of their clients, so the broker you're assigned will pay massive commissions to The Ethereum Code scam artists.
That's how these binary options scam softwares work. Everybody involved with it earns money at your expense.
Moreover, if you scroll down to the bottom of The Ethereum Code website, you can click on "disclaimer" and find out the truth about it:

As you can read above, The Ethereum Code sales video is fictional and actors have been used. There's no guarantee that you'll have success or will make money with this software.
Why isn't the disclaimer right below the sales video? I guess they don't want you to read it and find out what The Ethereum Code really is.
.
My final verdict on The Ethereum Code
---
In my opinion, you should not consider The Ethereum Code as a way to solve your financial problems or earn a living online. 
The Ethereum Code sales video and page is full of lies and BS so I wouldn't think twice when it comes to staying the heck away from it.
The Ethereum Code reminds me of other scam softwares I've exposed like 1K Daily Profit, Dubai Lifestyle App, CFD Society and The Bitcoin Code. 
I've noticed that some of the latest scam softwares have been using the popularity of cryptocurrencies to part with people's hard-earned cash.
Another advice is, avoid any program or product that promises you to make money overnight with little effort, it's something surreal.
Everyone would be wealthy if those get-rich-quick schemes really worked, I would even tell my family and friends if such thing existed lol.
Truth be told, generating an online income requires real hard work, time, patience, persistence, among other factors. 
If you're willing to do what it takes to make that kind of money that will allow you to quit your day job, let me introduce you to a digital marketing platform that I love.
This platform (free to join, no credit card required) offers courses, video trainings and step-by-step trainings that will help you start an online business from scratch and take it to the next level.
Not only that, this platform also has a community full of members who are on the same path as you. People who are willing to help and support you with any questions or issues you may have. I've been a member for more than a year now and I've always had my questions answered! 🙂 
Another thing is, the owners of this platform are always updating the trainings, helping and interacting with the members. The fact that this platform has been in business for more than 12 years show how dedicated they are.
If you would like to know more about this top recommended platform, you can now click below to read the detailed review I wrote about it:
.
I'm glad that you've done your research and now have information that will help you make the right choice. Don't hesitate to share this review on social media so more people can benefit from it.
If you have any questions or opinions about The Ethereum Code or other online programs, or would like to request a review, feel free to drop a comment below and I'll be more than glad to reply. I love hearing from you all! 🙂 
Whatever you do next, I wish you the best!