Hey there!
I just stumbled upon a brand new software (it came out this month, September 2017) named Crypto Wealth, which came out some days ago and found out it's a dangerous scam.
If you've already come across it but don't know whether to give it a try or not, read this review because I'm going to explain what this software is about, why it's a scam that you need to avoid and what to do next.
Let's get started with this review!
.
Crypto Wealth review
---
Name: Crypto Wealth 
Websites:
crypto-wealth.co

cryptowealthcreator.co
Owner: "Max Carney"
Created in: 2017
Price: "Free"
Overall Ranking: 0/10
.
---
If you're sick of scams, check out my 1st resource to make money online here!
---
.
What is the Crypto Wealth software about?
---
The Crypto Wealth software, also known as Crypto Wealth Creator, is a software that is supposed to earn you money by trading cryptocurrencies like Bitcoin, Ethereum and NEO. 
The Crypto Wealth Creator allegedly analyzes millions of blockchains and uses artificial intelligence to provide trading signals of the highest quality.
These are some of the claims that the supposed creator of this software, Max Carney, makes:
This software can work for people from all walks of life and different cultural backgrounds like high school dropouts, dentists, accountants, taxi drivers… 
You don't need any prior experience or knowledge to use this software because all the hard-work is done for you.
It's 100% legal, 100% free and you can earn from $4,000 to $7,000 in a day thanks to it.
There's no risk involved because Crypto Wealth Creator never loses trades.
Max Carney says that he knew how to access the log files of the blockchains, so he could see the blockchains logged on one company's computer system a fraction of a second before they were synchronized across the whole network.
This allowed him to analyze the buying and selling of cryptocurrencies fractions of a second before they were synchronized across the marketplace, and then after two years of writing code he finally created the Crypto Wealth software.
This man claims that you'll be able to use the Crypto Wealth Creator for the next 36 days for no charge and then he and his team will earn a 1% commission off the profits you make. 
I believe they say that so you don't think that they're giving you the software for free for nothing in return. That's just a way to decrease potential suspicions, since they know that it would sound too good to be true if they gave something for nothing.
However, the whole sales video and page are full of lies and deceitful claims that make this software an ugly scam. More on this in the next section.
.
Is Crypto Wealth a scam?
---
Yes, Crypto Wealth Creator is a scam designed to part with your hard-earned money.
Pay attention to this section because I'm going to explain the red flags we can find on the Crypto Wealth sales video and page.
.
Crypto Wealth Creator's owner is unknown
---
But wasn't Max Carney the Crypto Wealth's software creator?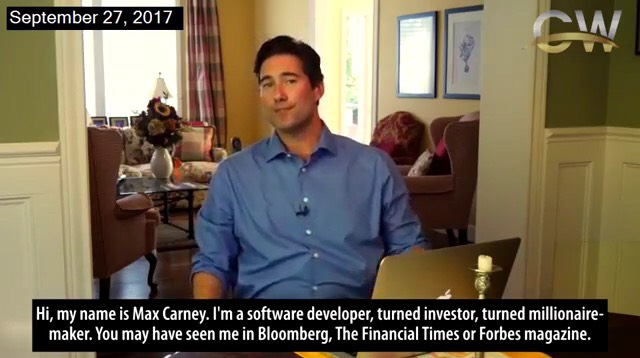 This man who introduces himself as Max Carney, claims to have appeared in important magazines like Boomberg, Forbes or The Financial Times.
However, I searched for information about him and found out he's not appeared in any of these famous magazines. There's no information about him outside the Crypto Wealth Creator website.
So I thought he was an actor who got paid to play the role Crypto Wealth software's owner. 
Furthermore, I found out he also appeared in the sales video of another scam software called 7 Figure Months (already out of business).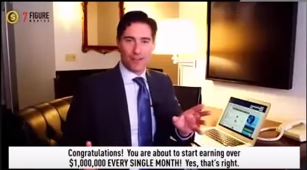 The fact that this man was involved in another scam just proves that he's not the owner of Crypto Wealth and he's not even a millionaire. Therefore, we can't trust him or what he says.
Note that the real creators of these scam softwares always remain hidden.
.
The positive reviews and testimonials are fake
---
If you've watched the Crypto Wealth Creator sales video, you've seen two people who talk positive about this software. 
If you've also taken a look at the Crypto Wealth software page, you may have read some positive reviews. 
Well, let me tell you that nothing they say is true. The testimonials who appear in the sales video are paid actors and the positive reviews/comments are all made up.
You can read one of those comments below:

"Matteo Ormaz" claims to be making money just 34 minutes after starting to use Crypto Wealth. Truth be told, this comment and name are false and the picture is a stock photo that can be found on sites like iStock.
Let's take a look at another comment:

So Moe Zanner is supposed to be a Crypto Wealth member but it's another made up character. This comment and name are invented and the picture can be found on another stock photography site called Thinkstock.
.
Fake claims
---
They claim that this software will make you at least $4000 the same day you start using it. Oh, and today is the final day.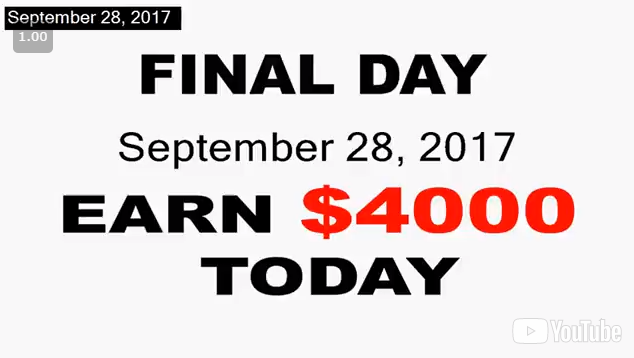 However, I watched the video yesterday and it said the same thing.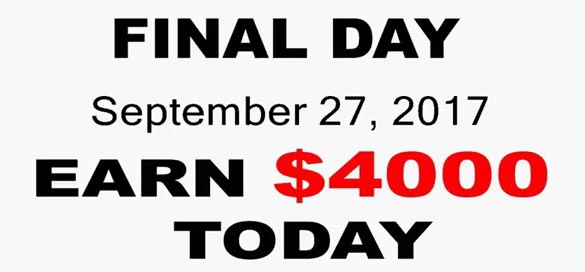 It's clear that they use the "final day" thing to make you pressure you to sign up. They want you to believe that this opportunity expires the same day you're watching the video so you hurry up to join, it's a fake scarcity tactic.
However, I watched the Crypto Wealth promo video yesterday and today so it's clear that it does not expire the day you watch it. Don't let them fool you with things like "today is the final day", "limited spots available" or the fake countdown.
They also want you to believe that you can make a lot of money fast, which is a big red flag because it's something very unrealistic.
I believe everyone would be rich by now if this was possible. I would be having fun in exotic islands like Bora Bora lol.
As I've said other times, earning money online is not magic and doesn't happen overnight, so whenever you hear or read that you can make money quickly and easily, get away.
.
They prey on your dreams
---
They want you to believe things like "this software will make you rich", "you won't have to worry about money again", "you'll be able to afford whatever you want"… just to get you excited so you start daydreaming and don't question their ulterior motives.
I've heard this so many times in other scam videos that it's not even funny. If it were that easy, everybody would be financially free by now. 
.
What can you expect from Crypto Wealth scam software?
---
In the last section I've posted some proofs that expose Crypto Wealth Creator as the fraud it is, so I wouldn't expect anything good from it.
According to "Max", that's the steps you need to follow to use his magical software:
Fill out the form next to the Crypto Wealth sales video by entering your name, email address, phone number and creating a password.
Then your Crypto Wealth Creator account will be activated in your name and a new trading account will be created for you with their "trusted broker".
In order to activate your trading account, you'll be asked to make a deposit of at least $250 (their recommended broker's minimum requirement).
If you make the $250 investment, then you can forget about getting your money back. You'll turn the auto trader and will start seeing losses instead of profitable trades. 
If you try to withdraw the money you haven't lost yet, they won't let you do it because they'll claim that you need to reach a minimum amount. 
In addition, they'll call you to incite you to fund your trading account with more money by telling you that that software will make you more money than the amount you've lost.
Pay them no attention when they try to convince you to make another investment because they clearly want to steal all the money they can.
Apart from that, you can expect to receive lots of spam emails about other scam products. Note that they'll do their best to get away with everything they can.
I suggest that you read the disclaimer you can find at the bottom of the Crypto Wealth Creator site.
As you can read above, you may lose some or all of your invested capital. 
Wondering why they don't tell you this on the sales video? They don't want you to read the disclaimer. Well, they hope that you won't scroll down to the bottom to read the disclaimer. 
There are countless scams like this one, these are some of them:
.
My final verdict on Crypto Wealth Creator
---
I believe I've provided enough information to expose Crypto Wealth Creator as the fraud it is.
I highly recommend that you avoid it at all costs because it will only waste your money and time and will leave you in a worse financial situation than you were before. 
When it comes to trading, my advice for you is to never invest more money than what you can't afford to lose. 
When it comes to online money-making opportunities, always do your research before joining a program or purchasing a product. You should also stay away from all systems and softwares that promise you easy riches.
Let me tell you that it's possible to earn a living online or more, but it won't happen all of a sudden. You'll need to learn some skills, work hard and smart, have patience and be persistent.
If you dream big and are committed to doing what it takes to generate an online income, then there's a digital marketing platform that I'm sure you'll love.
This platform (it's free to join by the way) has already been around for more than 12 years and it provides courses, step-by-step training, tutorials… to help you build an online business from scratch and take it to the next level.
I don't only like this platform because of the high-quality training and tools, I also love this because of the supportive community members and founders. It's awesome to meet like-minded people who are on a similar path as you. 🙂 
No matter the questions or issues you may have, there will always be someone there to help you out. I've personally always had my questions answered! 
If you're interested in learning more about this top recommended platform, you can now click the button below to read the full review I wrote:
.
That's it for today, folks! I hope this review has been helpful to you and you now have enough information to make the decision that best suits your needs. Don't hesitate to share it with whoever you think that may benefit from it.
If you have any questions or want to share your opinion about Crypto Wealth Creator, other online programs or would like to request a review, leave a comment below and I'll be very glad to help you out. I always love hearing from you! 🙂 
All the best =)