Welcome to my Click 4 Surveys review!
Today I came across a website called Click 4 Surveys so I was like "why don't I write a review about it?". Perhaps you've also heard of this site but are not sure whether you should give it a try or not. 
In this review I will explain what Click 4 Surveys is about, how it works, whether it's a good opportunity to make money or not and more, so make sure you read it before you purchase Click 4 Surveys.
Let's get this review started!
.
Click 4 Surveys review
---
Name: Click 4 Surveys
Website: www.click4surveys.com
Owner: "Daniel Cooper"
Created in: 2014 
Price: $19 + upsells
Overall Ranking: 15/100
.
---
If you're sick of scams, check out my 1st resource to make money online here!
---
.
What is Click 4 Surveys about?
---
The moment the Click 4 Surveys sales video starts playing, you can see some people saying that they're very thankful and that the best decision they've ever made is to join that program (referring to Click 4 Surveys).
Then you'll see a man (supposed to be Daniel Cooper) who explains that all Click 4 Surveys members earn money just for completing surveys. He says that everybody is welcome to join, since factors like your age, your country or your background don't matter.
He claims that there are big companies out there that are spending billions of dollars on market research, so they're willing to pay you just to know your opinion.
If you take a look at the Click 4 Surveys site, you'e promised to make between $500 and $3,500 per month just for filling in surveys. 
But what is Click 4 Surveys really offering? 
Click 4 Surveys is not a site where you can find surveys to fill out. Click 4 Surveys is a membership site that will provide you with a list of companies or websites that offer surveys and will pay you for each one you complete.
Apart from that, you can also promote Click 4 Surveys as a ClickBank affiliate and earn a commission for each sale you make. 
.
Is Click 4 Surveys a scam?
---
After watching the Click 4 Surveys sales video, taking a look at the page and doing some research, I could conclude that Click 4 Surveys is a scam. 
In this section I'll post some proofs that expose Click 4 Surveys as the hoax it is.
.
Red flag 1 – No reliable information about the owner
---
Apart from the information you can find on the Click 4 Surveys site, there's no information about Daniel Cooper.
I searched for information about him but didn't find anyone that looks like the man who appears in the Click 4 Surveys sales video, so there's no information about him outside the Click 4 Surveys page. 
There's no way to know whether he's a paid actor or not because he doesn't even give us any way to contact him or to know more about him. 
I believe he may be a paid actor because he would have told us ways to get in touch with him otherwise.
.
Red flag 2 – The testimonials are fake
---
All those people who claim to be making money by filling in surveys are nothing more than fake testimonials or invented characters. 
The ones who appear in the sales video are paid actors you can find on sites like Fiverr. Like the one below: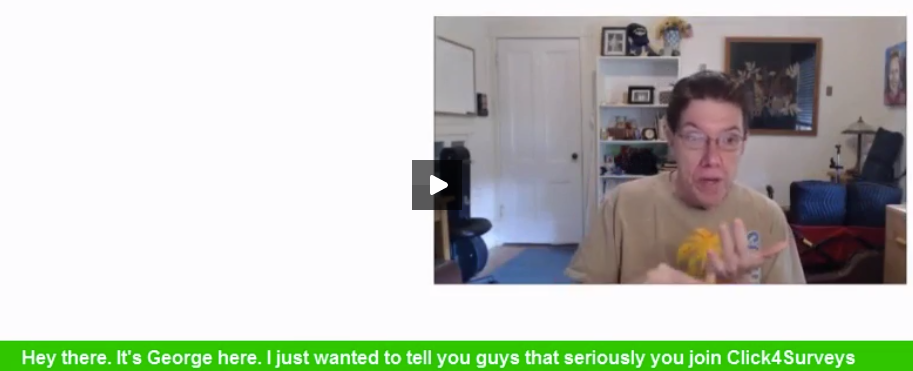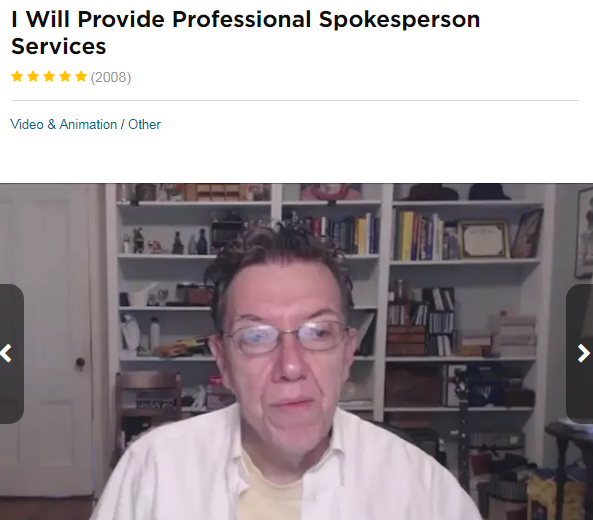 These kind of actors usually charge $5 for a video testimonial so that's not a big deal for the people behind Click 4 Surveys.
There are also the testimonials who appear on the right side of the Click 4 Surveys site. Those are just stock pictures with fake names and fake comments. Take a look at one of them below:
As you can observe above, that picture can be found on stock sites like Dreamstime and Crestock.
Truth be told, none of these people earn a living by completing surveys and they aren't even Click 4 Surveys members. It's all pure fabrication and lies.
.
Red flag 3 – Fake claims
---
The whole Click 4 Surveys page is full of lies. For example, "Daniel" claims that that opportunity is something most people don't know about.
But don't be fooled. He says that to make you believe that that opportunity is valuable and to make you feel like you're lucky to have found it.
That's just a way to hook you up so you stay watching the video and end up buying Click 4 Surveys.
.
Red flag 4 – You're paying for something you can find for free
---
If you buy Click 4 Surveys, you'll just have paid for a list of surveys sites.
There are lots of surveys sites around the net, so you can find them on your own and don't need to pay sites like Click 4 Surveys to get access to those sites. 
The thing is, sites that pay you to complete surveys can be joined for free, so there's no way you need to pay to complete surveys because you're actually helping those companies that need to know your opinion.
Note that getting paid to fill in surveys is kind of a normal job. Do you pay to get a job? No, you're the one getting paid.
.
Red flag 5 – Unrealistic earnings
---
They claim that you can make $3500 per month for filling in surveys, but this is so far from the truth. Unless you're willing to complete thousands of surveys per month, you won't earn $3500 just for completing surveys. 
Why? Because survey sites will only pay you from $1 to $5 for survey. Therefore, if you want to make $3500 per month, how many surveys will you have to complete? At least 700.
Oh, and those surveys are not even easy to fill in. It can take you at least 15 minutes to complete one, not to mention that you can't reply whatever you want. Most surveys are related to a specific topic and companies are only willing to pay people who suit their profile's criteria. 
Would you pay $20 to someone just to fill in a survey about a topic they know nothing about?
There may be surveys for all kinds of people out there, but not enough to make you that "quit your job" income.
Another thing you need to take into consideration is that some of these sites that offer surveys to complete won't even pay you cash. They'll give you some kind of rewards or points that can be converted to cash, but most of the times you'll need to reach a minimum amount of points or rewards to do so.
.
What can you expect from Click 4 Surveys?
---
Just after finding out that Click 4 Surveys is a scam, you can't expect good things about it.
According to "Daniel", these are the steps you need to follow to get paid for completing surveys:
Scroll through a database of companies that are willing to pay you to take their surveys.

Choose the surveys you want to complete from the surveys that are sent to your email.

Get paid via Paypal or paper check sent to your home.
However, he forgot to mention the price of Click 4 Surveys. They ask you to enter your email address before saying the price.
If you enter your email address, you're led to another page where you can see that the "activation fee" is $97. 
If you enter the code "INSTANT65", you'll get a 65% discount and the price will go down to $34.
If you try to exit the page, "Daniel" will give you $15 (a discount of $15), so the final price will be $19.
However, see how he claims that he's going to offer you this only once? It's just a tactic pressure you to purchase Click 4 Surveys. The truth is that you can leave the site and come back and you'll have that discount again.
The fact that they don't mention the price after you give them your email address is a big red flag.
If they have your personal information like your email address, you can expect to get spam and unwanted emails about other scam offers to your inbox and they can even sell this information to other unethical marketers.
Oh, and don't let the "60 days money back guarantee" trick you into joining. Once they have your money, don't expect them to reply to your requests. There are some negative opinions and complaints on Click 4 Surveys around the net, like the one below:

.
My closing thoughts on Click 4 Surveys
---
You can earn affiliate commissions by promoting Click 4 Surveys, but why would you try to sell a scam? Only unethical people would do that.
If you're looking to make money for completing surveys, I recommend that you stay away from Click 4 Surveys because it will only waste your time or money.
There are some sites like ClixSense that you can join for free if what you want is to make extra money. 
Taking surveys is not something I would recommend if you're looking to generate a full time income online, since you would need to spend lots of time filling in surveys and wouldn't get paid much in return.
If your goal is to earn a living online or more, then I suggest that you start thinking in terms of building your own business. 
There's a digital marketing platform that I believe you'll love if you're really committed to building an online business. 
In this platform you'll get step-by-step training and courses that will help you start a business from scratch and take it to the next level.
Building a business is not easy and doesn't happen overnight, but the fact that your business will be based on your passions will make the process more enjoyable! 🙂  
Anothet thing I love about this platform (free to join by the way, no credit card required) is the supportive community members and owners.
I've been a member for more than a year now and I remember having lots of questions when I was getting started, but there has always been someone who has helped me with whatever questions and issues I've had. It's a great feeling to know that you don't have to do this alone! 🙂 
If you're interested in learning more about my top recommended platform, you can now click the button below to read the detailed review I wrote about it:
.
I hope this review has been helpful to you and you have enough information to make the choice that best suits your needs. Feel free to share this review on social media so more people can benefit from it.
In case you have any questions or would like to share your opinion regarding Click 4 Surveys or other online programs, or you simply want to request a review, don't hesitate to leave a comment below. I always love hearing from you! 🙂