Welcome to my Legit Online Jobs review!
You have been sent to the Legit Online Jobs sales page (legitonlinejobs.com) and are wondering if you can find a real high-paying job to make money online?
Or maybe you are suspicious and are asking yourself "Is Legit Online Jobs a scam that will waste my time?", am I right?
First of all, there are many scams out there so I need to congratulate you for doing your own research before buying another "make money online" product. This is the way to avoid scams and find the real way to earn money online!
I want to be honest with you, I'm not affiliated with Legit Online Jobs because it's not as good as it appears to be, so you will not see me promoting it to you like others have been doing.
In this Legit Online Jobs review, I will show you what this is really about, whether or not it can benefit you, what they haven't told you and more.
Legit Online Jobs review
---
Name: Legit Online Jobs
Website: legitonlinejobs.com
Price: $34.95 + upsells
Owner: "Ross Williams"
Overall Rating: 1/5
---
If you're sick of scams, check out my 1st resource to make money online here!
---
What is Legit Online Jobs about?
---
Just for the name "Legit Online Jobs", you would think legitonlinejobs.com is a great website that provides a list of online jobs that you can apply for.
It sounds like an amazing opportunity for people who are tired of their jobs or want to start working online immediately because they claim you don't need any previous experience or special skills to get started. 
You only need a laptop or computer, basic computer skills and an Internet connection.
And the fact that what you will have to do sounds kind of easy is another reason why you might want to try this out.
You will only have to post ads for companies online and… boom! You can start making money on autopilot without having to be working all day, such an amazing system right?
After reading the sales letter, I realized that there are no jobs to be found on legitonlinejobs.com, that's why it's very misleading.
This program is more of a business opportunity than a place to find jobs, so if you are looking for something that can enable you to start making money the same day you get started, this is not for you because the opportunity they are offering is not a way to earn money right away.
When they say that you will have to post ads for companies in order to make money, they are not using the right words to describe this opportunity which I'll go over in a bit.
Also, they claim that this is for individuals who are willing to put in the effort but they will only have to work one hour or two per day, which is not working that much.
Their sales page is kind of misleading so I'm going to explain how this opportunity really works so that you realize that this is not as easy as they are trying to lead you to believe.
How does Legit Online Jobs work?
---
As I said, Legit Online Jobs is not a place where you can find a list of jobs to apply for.
Even if they had a list of jobs, you cannot expect to find high-paying jobs that don't require you to have any experience or skills. The jobs that pay the most, require you to have some level 
When they mention that you don't need prior experience, they are talking about the business opportunity 
According to them, you only have to take 3 steps to make money with this program:
Create an account

Select companies

Start posting
They make it sound as if it were so simple and easy, but you can notice that there are important details they don't give us. After reading that, I have questions like:
What do I have to create an account for?

Where do I have to select the companies? 

What kind of companies do I have to select?

Where do I need to start posting?

How will this make me money?

What do I have to learn before selecting companies and starting to post?
I mean, there's no way that making money is as easy as posting an ad because many people would have already earned a fortune doing this.
There's a part in the sales letter where they mention a word that's key to understand what they are talking about.
Affiliates! That's the right name! They are talking about affiliate marketing, which is not the same as a job.
I'm very familiar with affiliate marketing because it's a business model that I personally use to make money online.
If you haven't heard of it, your job as an affiliate marketer will be to promote other companies' products/services and earn a commission when someone purchases something through your affiliate link.
The problem with Legit Online Jobs is that they are not teaching you to do affiliate marketing the proper way and are also misleading you.
When they talk about creating an account, they mean that you will have to sign up for affiliate programs or networks where you can find products to promote.
When it comes to selecting the companies, the list of companies they show in the picture is not appropriate because some of these companies don't have affiliate programs and you can't just "select" them. You will have to apply for the affiliate programs and wait until you get approved.
After that, you will get the affiliate links for the products you want to promote and will finally be able to start posting the links or ads with the links embedded.
They mention ways to get free traffic and paid traffic methods, but the problem is that they don't explain it in detail.
For example, they tell you to post on forums, social networks, do paid traffic, post classified ads and also use a website/blog.
Posting on social networks, forums and classified ads is not difficult but the problem is that thet can ban you from posting if you do it too much.
The best ways to get traffic to your affiliate links is by using a blog/website and doing paid traffic, but the problem is that the training provided by Legit Online Jobs is not enough for you to do this the right way, not to mention that paid traffic is very risky because it takes a lot of trial and error.
The red flags
---
There are some red flags that I want to point out because they indicate this is not as good as they claim.
The income calculator is very misleading
You can post as many ads or links as you want every single day, but without traffic to your links, you will not make a dime.
Another thing is, each ad or link will not make you the same amount of money because it represents that each ad/link is connected to a product/service, which don't cost the same.
For example, if you post 3 ads a day (the first one for an ebook, the second one for a digital course and the third one for a laptop), you cannot expect to earn the same amount of money if you sell the ebook than if you sell the laptop.
The commissions you earn will vary depending on the product you sell and the affiliate network/program the product belongs to. 
That's why the income calculator makes no sense.
Ross Williams is not the real owner
According to the information on the Legit Online Jobs sales page, Ross Williams is the man who has created this program.
Honestly, I don't believe he's the real owner and his story for two main reasons:
I have heard a similar sob story in other scam websites/products. These stories are usually about someone who was broke or struggling financially and one day they found a "secret system" that made them money right away.

The man who appears in the picture on the Legit Online Jobs sales page is not Ross Williams, that picture is a stock photo that can be found on websites like shutterstock and other stock photography websites. Let's see the proof:
So there you have it. How can we trust a program whose real owners don't show up? 
If Legit Online Jobs was as amazing as they want us to believe, don't you think the owner would be enough proud of himself/herself to show his/her identity?
They lie about paid surveys
Another thing that I don't like about Legit Online Jobs is the fact that they mention paid surveys but they don't say the truth about it.
Paid surveys are not a way to make a full-time income so saying that you can earn $50 per hour just for giving your opinon is a lie.
I have reviewed other paid surveys low-quality products that make this kind of claims: Take Surveys For Cash, Paid-Surveys.tv and Click4Surveys.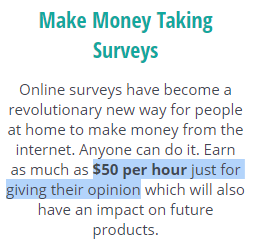 It's possible to make money for completing surveys, but it's very time-consuming and the income potential is low (from pennies to $2 per survey), just like I explained in this article I wrote.
It's being promoted as an easy way to make money online
I took a look at their page for affiliates and found out they recommend people to use banners that contain misleading information.
For example, the one below is very misleading because posting ads is not exactly what you will have to do to make money.
I guess they mention "posting ads" because it sounds easier than saying "selling other people's products".
I mean, saying "posting ads" makes you think that you can get paid just for posting ads, when the truth is that you will not get paid if you don't make sales.
Also, the fact that they claim you can earn $200 a day is also a red flag because there's no guarantee that you will make money.
Yes, it's possible to earn $200 a day online and even more, but the way they are marketing it makes it sound like something easy.
In fact, Legit Online Jobs has been around for some years already. I found out that back in 2012 it was being promoted as a solution for urgent cash, which is basically a "get-rich-quick" scheme. Below you can see how it looked back in 2012:
As I said, Legit Online Jobs has existed for more than 5 years already, so what are other people saying about it? Are there any positive reviews?
No, but I found multiple complaints!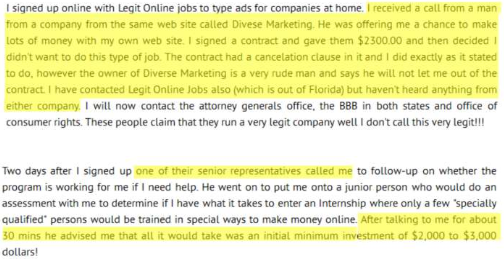 If you give them your phone number, you can expect them to call you and try to convince you to spend thousands of dollars so that you can "make more money".
But the truth is that they want to take as much money as possible from you and can also expect them to charge you monthly fees.
There's no one who has benefitted from Legit Online Jobs, the only ones the con artists who have created it and the affiliates who are promoting it.
Click here to check out my FREE Affiliate Marketing Guide!
Is Legit Online Jobs a scam?
---
If you are still wondering "is Legit Online Jobs a scam?", I have to say yes, this program is a scam because it doesn't live up to its promises.
The only ones who have benefitted from it are the scammers who have created it and the unethical affiliates who are promoting it, not to mention that they try to take as much money as possible from people who fall for this.
Yes, you might get some training after purchasing it but the information provided is outdated and you can even find it for free online, so why pay for something that is not valuable?
I have reviewed many ClickBank products and I usually call them low-quality products because they provide something for your money and you can also get a refund, but Legit Online Jobs looks a litlte bit worse than the others so it's a scam to me.
These are the other poor quality ClickBank products that I recently exposed:
The truth about making money with affiliate marketing
---
I definitely don't recommend Legit Online Jobs because of everything I have explained, but you are the one who decides whether to buy it or not because you are free to do whatever you want with your money and time.
Remember that I said they really mean affiliate marketing by saying "posting ads"? 
Well, the truth is that it's possible to make $9,000 a month and even more by building an affiliate marketing business, but the problem is that Legit Online Jobs does not provide good training to reach this goal.
There are many people making money with affiliate marketing, myself included. And you know what? They all have learned from a legitimate source that provides step-by-step training and easy-to-use tools.
Affiliate marketing is an amazing business model for many reasons, one of them is that it allows you to build your business based on a topic you have a passion for.
If you are committed to putting in the work and time, I believe you can build a successful online business using affiliate marketing, just like many people are doing.
There's a lot to say about this so I created a FREE step-by-step affiliate marketing guide where I explain how it all works:

My free guide shows you how affiliate marketing works, why it works, proof that it works, the tools and training I have used…
And you will also find out where and how you can start this business for free! Yes, that's right, you will not have to spend a penny to get started =)
Not only that, you can also get free help and support from me and other supportive affiliate marketers who want to see you succeed! That's right, you will be able to ask as many questions as you want and get immediate help. See my guide for details!
Are you ready to stop wasting your time on scams and start building your money-making business?
CHECK OUT MY FREE AFFILIATE MARKETING GUIDE HERE!
I hope this Legit Online Jobs review has been helpful to you and you will make the best possible decision. Feel free to share it with whoever you believe that will benefit from it!
If there's something else you want to know or you have any questions, don't hesitate to leave a comment below and I'll get back to you ASAP! ? 
Whatever you do next, I wish you nothing but the best =)