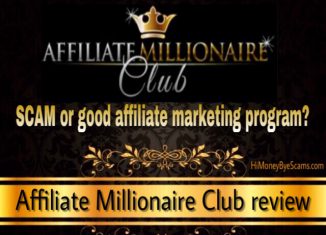 Welcome to my Affiliate Millionaire Club review!
You have come across this program called Affiliate Millionaire Club (affiliatemillionaireclub.com) and are wondering if this one will help you become financially free, am I right? Or is it just another scam that will leave you with less money at the end of the day?
Firstly, congrats on doing your research! There are many scams and low-quality programs out there so you need to make sure you know what you're in front of before making a purchase.
I'm not affiliated with Affiliate Millionaire Club so you will not see any affiliate link here in this review.
I will show you what Affiliate Millionaire Club is about, how it really works, whether or not you can benefit from it and more.
Affiliate Millionaire Club review
---
Name: Affiliate Millionaire Club
Website URL: affiliatemillionaireclub.com
Owner: Mo & Ahmed
Launched in: 2014
Price: $47/month + upsells
Overall Ranking: 2/10
---
If you're sick of scams, check out my 1st resource to make money online here!
---
What is Affiliate Millionaire Club supposed to be?
---
When I first heard the name Affiliate Millionaire Club, I thought it would be another overhyped product.
I mean, I've reviewed hundreds of products and I've noticed that most products with the word "millionaire" in their names are usually scams or low-quality products.
When it comes to the sales page, it looked like another get-rich-quick scam page because it had some red flags that I'll discuss later in this review.
However, I didn't want to judge this program based on its appearance or name, so I watched the sales video and did intensive research.
The Affiliate Millionaire Club sales video can really get you excited, right?
Mo has set up an affiliate website that is already earning you money while you're watching the video. So are you making money just for watching the video??
Even though this program was launched in 2014, the video I watched was uploaded to YouTube in 2017 and has over 4,700 views, as you can observe in the screenshot below:
So my question is: has Mo created these many affiliate websites? No, it wouldn't make sense that he was creating affiliate websites for everyone watching the video. 
He claims you're making money while watching the video just to get you excited and keep you on the page, but it's all a lie. 
If it were true, don't you think everyone would be watching that video? I would even tell my family and friends to watch it lol.
There's no such thing as making money without doing nothing, if it were that easy then most people would have already made millions online.
Mo bashes the gurus for scamming people and claims his goal is to stop them, but he's literally doing the same thing. He tells you everything you would like to hear just to get you to purchase this program. 
And then, what will it happen? Will you make money or not? Let's see how this program really works.
How does Affiliate Millionaire Club work?
---
Affiliate Millionaire Club doesn't work like Mo claims. There's no way you're going to earn money the same way you get your affiliate website. 
There's no button you can push to start making sales on autopilot. As I said, everyone would be doing it if it were this easy.
In this section I'll be going over the business model, what you get with this program and the reasons why it doesn't work.
The business model
---
The business model taught in this program is legitimate and can be very lucrative when used the proper way. 
If you haven't heard of affiliate marketing before, your job as an affiliate marketer is to promote other people's products/services and make a commission from each sale. 
The concept is easy to understand, but it still takes time and hard work to generate a full-time income online using this business model. 
I wrote a post where I explain how you can get started in the affiliate marketing world for free.
What does Affiliate Millionaire Club include?
---
Let's see what's inside the Affiliate Millionaire Club members area:
Training
The training includes videos and PDFs about affiliate marketing, email marketing, social media marketing, SEO (Search Engine Optimization), Google Adsense and personal growth.
All of this cannot be learned in a day and requires you to put in the time and effort to make it work, that's why there's no such thing as starting making money right away after purchasing it.
Another problem I see with the training is that it's not updated and doesn't go over everything you need to know to start making money.
     2. A website builder
What about the websites? You will get a website builder to build websites easily. You will only need to choose the product you want to make money from, choose a domain name and put in your affiliate link.
One of the problems is that building websites is not enough. Without your website getting traffic, there are no sales to be made.
Another thing is, these websites are "cookie-cutter sites", which means that they're created with the same template and have no original content, something not liked by search engines like Google.
Why Affiliate Millionaire Club doesn't work
---
As I said before, the websites you'll be getting with Affiliate Millionaire Club aren't original or valuable so they will not make you any money.
Everyone who purchases this program will be given the same websites, which means that they will not rank on any search engines and will not get any organic traffic.
Search engines like Google, Yahoo and Bing rank websites that constantly provide original, interesting, helpful and valuable content. Duplicated websites with copied content don't work nowadays.
Another problem is the fact that the websites created by the Affiliate Millionaire Club software are subdomain websites, which means that you don't own them and don't have control over them.
Therefore, if Affiliate Millionaire Club shuts down, you will lose the websites. That's why having your own domain website is essential if you're looking to build a profitable long-term online business.
Click here to check out my top recommendation (FREE to get started)!
Is Affiliate Millionaire Club a scam?
---
I know many people would call Affiliate Millionaire Club a scam because it doesn't live up to its promises.
In my opinion, it's a low-quality program because some of the training is helpful, even though is not enough to make a full-time income through affiliate marketing.
With that being said, I want to point out some of the red flags I've found so that you know what to look out for if you ever come across another program like this.
The testimonials are fake
---
The people who appear in the sales video and claim to have earned thousands of dollars in a short amount of time are not real members of this program.
They're Fiverr users who sell their acting services for something like $5, which is no big deal for the con artists behind Affiliate Millionaire Club.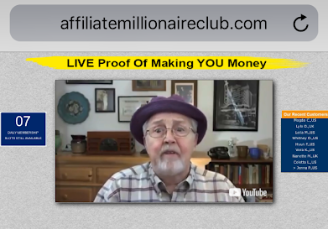 I remember this man below has appeared on many scam videos, like Click4Surveys.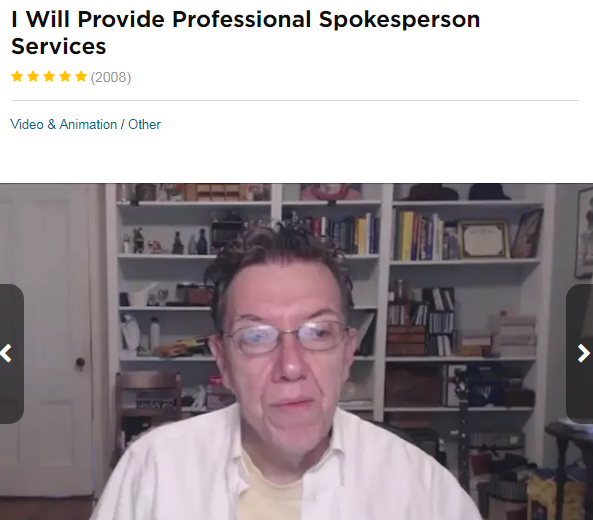 If Affiliate Millionaire Club really worked like Mo claims, he wouldn't have had to pay these Fiverr actors for positive opinions, don't you agree?
Fake members' earnings
---
What about the members' earnings that Mo shows in the sales video? These proofs of income are completely fake and these people from the pictures haven't even tried Affiliate Millionaire Club.
They might not even know that their pictures are being used to promote this scam.
As you can observe below, these pictures can be found on stock photography websites like shutterstock, depositphotos, pixabay..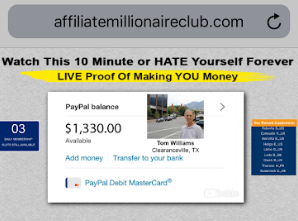 False scarcity
---
They use the "limited slots available" tactic just to get you to purchase this program as soon as possible. 
But the truth is that there's no limit when it comes to the amount of spots left, do you think these people would reject your payment? 
You can check out the Affiliate Millionaire Club sales page tomorrow and nothing will have changed, the amount of spots available will be the same as today.
Ads inside the members area
---
Another thing I don't like about this program is the fact that the members area is full of advertisements and banners. 
I find it's quite annoying and an indication that Mo just cares about making money himself. Those banners have affiliate links embedded, which means that Mo will earn commissions when people click on them and purchase those products.
Lack of transparency
---
When it comes to the price, they're not being transparent because they don't mention all the costs.

They want you to believe that you will be able to make a full-time income online just for $47. But the truth is that this is a membership that will cost you at least $47/month, not to mention that you will be bombarded with upsells just after joining.
This is how these kind of programs make most money.
Oh, and it's completely fake that you can earn a "fast & easy commission", it's just another fake claim to rush you into buying this program.
What the real Affiliate Millionaire Club members have said…
---
I haven't found any real positive review of Affiliate Millionaire Club. All comments and reviews I've found are negative.
Most of them claim they haven't got a response from support and haven't even got their money back.


As Alan Hastie says, they don't deliver what they promise and their customer support is uncaring. All of this proves that the people behind Affiliate Millionaire Club just care about earning money themselves.
The truth in the disclaimer
---
Last but not least, if you scroll down to the bottom of the Affiliate Millionaire Club sales page, you will find the earnings disclaimer where the truth about this program is stated.
"The typical purchaser may not make any money using this system"
The reason why this disclaimer is at the bottom of the page is because they hope it will go unnoticed and you will not read it.
Build an affiliate marketing business the right way
---
I highly don't recommend Affiliate Millionaire Club for several reasons that I've explained in this review.
Programs like Affiliate Millionaire Club are what give the whole Internet marketing industry a bad reputation, that's why I feel the need to expose them.
Affiliate marketing is a legitimate business model that was created to benefit everyone involved. Yes, you don't need to promote crappy or low-quality products just to make money. Chasing the money doesn't work for the long-term.
If you're starting out and looking for an ethical way to make a living online, it's best to build your own online business that makes you passive income for many years to come.
I and many other people are using the affiliate marketing business model to make money online and I believe that anyone who puts in the effort and time can do it too.
One of the reasons why I love affiliate marketing is because it allows you to make money from products/services related to a topic you're passionate about.
With the right training and business tools, you'll be well on your way to building a thriving affiliate marketing biz.
If you're interested in learning where you can get the same training and tools I use, click the button below now:
When you check out my review about my favorite affiliate marketing platform, you will also see how you can get started for free!
In addition, you will get my personal help & support and will also get the chance to get in touch and interact with other bloggers & Internet entrepreneurs =) 
I'm so excited for you to stop wasting your time on scams and start building your online business today!
LEARN ABOUT MY TOP RANKED PROGRAM NOW!
I hope you have found the answers to the questions you had regarding Affiliate Millionaire Club. Please feel free to share this post with anyone who might benefit from it!
If there's something else you want to know or you would like to share your opinion, don't hesitate to leave a comment below and I'll get back to you soon. ? 
Best wishes =)