Welcome to Your Easy Business review!
You have come across a site called Your Easy Business (youreasybusiness.com) and are wondering if you can make real money online? Or maybe you're skeptical and wondering if Your Easy Business is a scam? 
Well, I'm glad that you're doing some research and have decided to check out this post because you're finally going to know the truth about Your Easy Business.
I will be going over what Your Easy Business is about, how it really works, whether or not it can benefit you and more.
Your Easy Business review
---
Name: Your Easy Business
Website URL: youreasybusiness.com
Owner: "Paula Shaffer"
Launched in: March 2018
Price: $37 + upsells
Overall Ranking: 17/100
---
If you're sick of scams, check out my 1st resource to make money online here!
---
What is Your Easy Business said to be?
---
The sales page for Your Easy Business reminds me of other scam pages I've come across in the past, since it has the typical characteristics like the high-income claim, the sales video as the main element and the lack of information.
That's why I thought I was in front of another get-rich-quick scheme, but I didn't want to come to conclusions just by judging the sales page, so I watched the sales video to find out what this program is about.
Paula Shaffer, the alleged owner of Your Easy Business, really knows how to get you excited by telling you what you want to hear.
She claims to have made millions thanks to some amazing websites that make at least $1000 per day and she's copied them to make you money.
Paula is a tech person so she takes care of everything for you. You don't need to have any previous experience in Internet marketing and you don't even need a computer!
People who have already tried this system have been able to make money with their smartphones. In fact, all you have to do is to check your account every few days to see how much money you're making.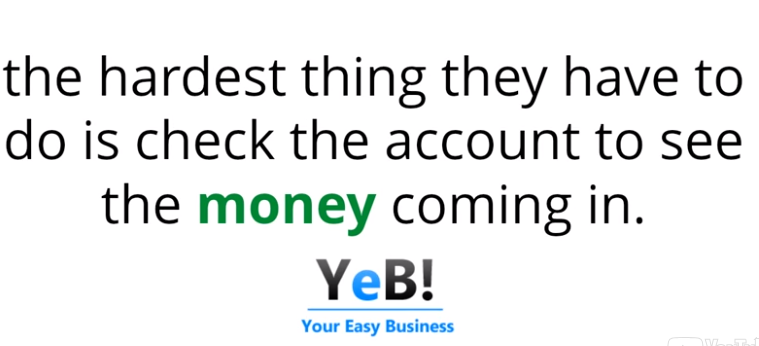 She has already set up your money-making account where the commissions don't stop coming in, so you're making money while watching the sales video.
Doesn't it sound amazing to be earning money without doing any work? Thanks to these "magical" websites, you will be making money on complete autopilot, no matter what you're doing.
You will finally be able to work wherever you want and take a vacation whenever you want without worrying about money or paying the bills. Doesn't it sound like a dream come true?
Well, the truth is that there are many important things she doesn't tell you about, and she also lies about what it takes to make money from a website.
What they really want is that you believe it's easy to make money just to part with your money.
Can Your Easy Business help you make money?
---
The short answer is yes, Your Easy Business might help you make some money.
However, it will not help you make the money they talk about in the sales video. I'll explain how it really works in this section.
How Your Easy Business really works
---
Your Easy Business doesn't work like Paula claims because there's no way you can generate a copy of a website and start making money right away.
The problem here is that she doesn't mention how these websites work. The questions I have are the following:
What are these websites about? 

What do these websites sell to make money?

Where does these websites' traffic come from?

Are they providing good training?
She wants you to believe that these websites make money out of thin air, but the truth is that there's no such thing as a website that makes money without traffic. No traffic = no money.
Another thing is, she claims everyone in the network makes money when you make money, which leads me to believe that Your Easy Business is not the real program here.

The real program they're trying to get you into is a high-ticket program, that's why they don't mention the name of the real program.
A high-ticket program like MOBE has many upsells, which are additional products you'll have to buy in order to promote them and earn commissions from them.
The thing is, these products usually cost thousands and thousands of dollars, so you will have to spend more money than you can earn when you get started.
For example, if you spend $2,500 on a product, you will have to make 2 or 3 sales to make your money back.
Below you can take a look at the real cost of MOBE:

If you end up purchasing these pricey packages, then you will have to recruit other people and get them to buy the same packages you've purchased in order to make the massive commissions. And they will have to do the same, and so on. It's a never-ending cycle.
There are many high-ticket programs like MOBE that give you the chance to earn thousands of dollars in commissions, but most people don't make their investment back and end up getting into huge debt. 
If you think about it, most people don't have thousands of dollars laying around. And if they do, they wouldn't need to spend them on a high-ticket program.
What you will have to do
---
What kind of websites are you going to get if you purchase Your Easy Business and get into the high-ticket program?
Basically, you're going to get squeeze and landing pages like Your Easy Business. Yeah, these are the kind of websites that Paula talks about in the sales video.
The problem is that these websites don't get any traffic so your task will be to drive traffic to these websites. The traffic part is one of the hardest parts when it comes to making money from a website.
I mean, building a website is no longer a big deal because there are tools that allow you to build websites in a short period of time. But getting visitors is much more difficult, especially if you are starting out and are on a tight budget.
There are many types of traffic you can drive to a website, but in this case, you will have to do paid advertising which is very risky.
Paid traffic requires a lot of trial and error to find out what works and what doesn't, which means that you will have to spend thousands of dollars in order to generate enough leads that result in referrals and sales.
Click here to check out my top recommendation (FREE to get started)!
Is Your Easy Business a scam?
---
In my opinion, Your Easy Business is a scam because it's very misleading and is not the real system they're trying to get you into.
As I've explained before, the real program is a high-ticket program that cost thousands of dollars and doesn't work as easily as they want you to believe.
Apart from that, there are so many red flags that you need to be aware of because this is what you need to look out for whenever you come across these kind of overhyped sales pages.
Not enough information about Paula Shaffer
---
Paula Shaffer is said to be the owner of Your Easy Business, but she doesn't show any picture of herself and doesn't tell us how we can get in touch with her. There's not enough information for me to believe that she's a real person.
I've reviewed other scam pages like this one and one thing I've noticed is that the real owners never show up. They usually create and use fake characters to avoid revealing their real identity.
In this case, Paula Shaffer could be a made up character and the real owner is a high-ticket program affiliate that is hiding his/her identity to avoid getting persecuted by people who fall for this scam.
"You are one of the few lucky people invited"
---
"Paula" claims you are one of the few lucky people to have been invited to take part of this opportunity, but the truth is that many people have been invited and the sales page is public, so anyone with an Internet connection and a smartphone/laptop can watch the video presentation.
She makes this fake claim just to make you feel special and lead you to believe that this is a life-changing opportunity, so that you end up purchasing this program.
Fake scarcity
---
The spokeswoman claims she's going to close the video at 12 o'clock midnight, but this is completely false. You can check out the Your Easy Business sales page tomorrow and it will still be up.
She makes this fake claim just to get you to purchase this system as fast as possible so that you do it without thinking logically and make the final decision based on the fear of missing out.
The truth is that the owner of this system wants to recruit as many people as possible as fast as possible. This is one of the oldest scam tactics in the book.
"You're being paid right now"
---
The claim that you're making money while watching the sales video makes no sense at all. 
First of all, the video is not live because it's a YouTube video that was uploaded on March 15th 2018.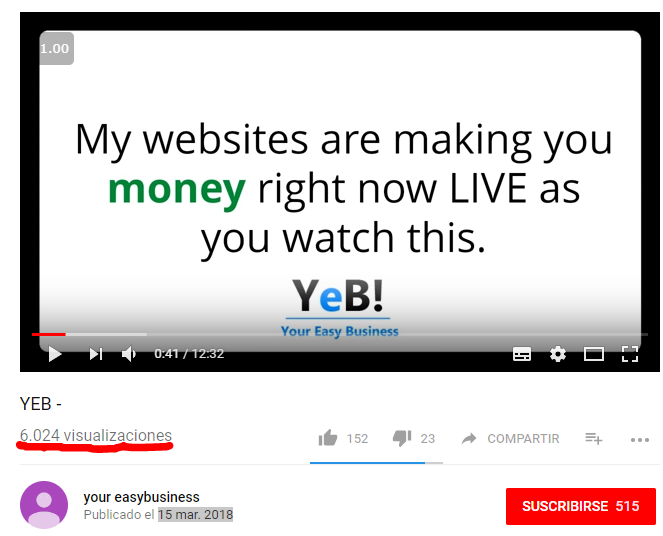 Second of all, that video has over 6K views! It makes no sense that people who are watching that video are making money at the same time.
Third of all, if it was possible to earn money just for watching that video, don't you think everyone would be watching it right now? A lot of people would have already made a fortune online if it were that easy.
The disclaimer
---
If you take a look at the bottom of the Your Easy Business page, you will find a little note where the truth is stated.
See the screenshot I took below:
As you can observe, I highlighted the part where it says "the typical purchaser does not make any money using this system". 
So this is the truth. As long as they provide a disclaimer like this, they're not responsible for your results and can say whatever they want in the sales video. 
How to earn real money from websites
---
After everything I've explained, I don't recommend Your Easy Business, but the final decision is up to you.
Other similar pages that I've exposed are:
There are many websites and pages that claim you can earn easy or fast money online, but the truth is that all those sites are low-quality programs or scams that don't live up to their promises.
There's no push button system or "magical" software that can make you money in no time. It's possible to generate a full-time income online and there are many ways to do so, but it takes time and effort.
If you're looking to make a full-time income from websites, you will need to learn from a comprehensive step-by-step training and apply what you learn. Without action, great results don't come!
The training I and many other people use goes in-depth on how to build websites in a matter of seconds, drive traffic and make money. You will also learn how to earn money from products related to a topic you love.
Oh, and you will not even need to spend thousands of dollars on paid traffic. You will learn how to bring free organic traffic to your website/s =)
If you're interested in learning more, click the button below now:
You will find out where you can find the complete training and business tools I and other people have been and are currently using, not to mention that I also show you how to get started for free! 🙂 
I also let you know that you will get lots of help and support from a community of bloggers & Internet entrepreneurs, myself included!
This is not a get-rich-quick scheme and requires a long-term commitment from yourself, but if you're willing to do the work I believe you can make it happen!
LEARN ABOUT MY TOP RANKED PROGRAM NOW!
So excited for you to leave the scams behind and get the real deal!
I hope you have found the answers to the questions you had regarding Your Easy Business. Please feel free to share this post with anyone who might benefit from it!
If there's something else you want to know or you would like to share your opinion, don't hesitate to leave a comment below and I'll get back to you soon. ? 
All the best!