Hey everyone!
I recently came across AlphaJob.info and DollarsTrue.online, two websites that are literally clones. That's why I thought I would write a post to expose both.
If you have come across to one of these sites and are wondering "is AlphaJob.info a scam?" or "is DollarsTrue.online a scam?", then you're in the right place because here you will find the truth about these sites.
I will show you what these websites are about, how they really work and all the red flags I've found.
AlphaJob.info and DollarsTrue.online review
---
Name: 
AlphaJob.info

DollarsTrue
Websites:
alphajob.info

dollarstrue.online
Owners: Not revealed
Price: Free to join
Overall Rating: 0/10
---
If you're sick of scams, check out my 1st resource to make money online here!
---
What are AlphaJob.info and DollarsTrue.online supposed to be?
---
AlphaJob.info and DollarsTrue.online are two websites that look exactly the same and work the same way.
They claim to offer the easiest way to earn money. In fact, it's also a fast way to make money because all you have to do is a small task that only takes 30 seconds and lets you earn $10.
$10 in 30 seconds?? Doesn't it sound too good to be true? I mean, it sounds as if this "magical" task didn't require you to make any kind of effort.
This sounds very unrealistic because making money always takes some kind of work. Just because it's happening online, it doesn't mean that it's easy. Making money online is like making money offline, it takes time and effort.
So what will you have to make money? What's the easy task about? They don't say anything about it in their homepage, so I had to register to see what this is about.
Once inside, you might get excited when you see you have received a bonus of $25 just for joining. And then, you only need to share your referral link in order to earn money.
You can share it on Facebook, Twitter, forums, chats, blogs, YouTube, private messages… wherever you can think of. When someone clicks your referral link and visits the DollarsTrue or AlphaJob.info website, you will allegedly earn $5-$10.
And then, in order to cash out, you have to reach the minimum payout threshold of $300 and they supposedly send payments via MoneyGram, check, bank transfer, BTC wallet or PayPal.
The fact that it's free to join makes it very tempting to try it out, right? They make it seem like everyone with an Internet connection and a laptop/smartphone can finally earn easy cash online. I mean, you don't need any previous experience or special skills to know how to share a link.
But don't you get too excited because these websites don't work like it's advertised. Let's see how they really operate in the next section.
Can you earn money with AlphaJob.info and DollarsTrue.online?
---
The answer is no. AlphaJob.info and DollarsTrue.online are not websites you can rely on to make money.
If you're already sharing your referral link, I know you probably are excited to see your earnings increase and increase, and you can't wait to reach the minimum payout of $300 and receive the payment.
But the truth is that all those earnings are not real, it's all fake, so you will not get paid. Let's see the truth.
The reason why they will not pay you
---
According to the information on both websites, they're getting paid by some advertisers so they pay you to bring traffic to these advertisers websites.
However, do you see any ads on AlphaJob.info or DollarsTrue.online? I personally don't see any ads so I don't believe what they say.
Clearly, they're not working with any advertiser, which means that they're not getting paid when people visit their websites.
So… without them getting paid first, it would make no sense that they paid you to bring visitors to AlphaJob.info or DollarsTrue.online.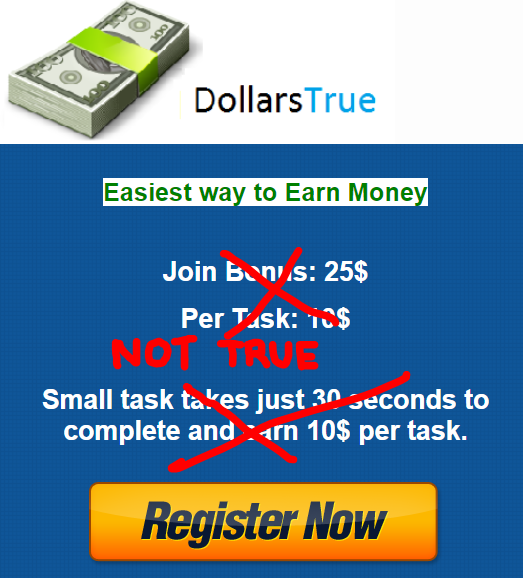 And they will not even pay you when you get referrals. There's no registration fee so they are not getting paid when people sign up, that's why they will not pay you anything.
In conclusion, they will never pay anyone. There are other websites like these that I've exposed before:
How they make money at your expense
---
The reason why they want you to believe that you will make money is to earn money themselves. 
If you have this question: how do they make money if it's free to join? Let me explain.
First of all, they want you to share your referral link and invite other people to join because they want as many people as possible to join.
When people join, they enter their email address so the con artists behind AlphaJob.info and DollarsTrue.online want to collect as many email addresses as possible.
In fact, they want to collect as much personal data as possible because the more data they get, the more money they can make.
Once they've collected many personal details, they will sell them to other companies or scam artists.
Therefore, if you have used your mail email address to join AlphaJob.info or DollarsTrue.online, you can expect to receive spam and junk emails from people you don't know.
I don't recommend that you open those emails because they might contain links to other fraudulent websites or files infected with malware or viruses.
But this is not all. There's another way they try to make money at your expense.
They want you to believe that you're making money to get you excited to reach the $300 minimum payout threshold. They know that you will claim your payment once you've reached $300. 
Why do they want you to claim your payment? Because if you ask them to get paid, you will have to complete a fake captcha test.
This fake captcha test is basically a list of offers with affiliate links embedded. These offers are about filling in forms, downloading apps, signing up for free trials…
If you start completing these offers hoping that they will end, you will get bored because these offers are time-consuming and never end. Some of them will even ask you for your bank account or credit card information.
The reason why the scammers behind AlphaJob.info and DollarsTrue.online want you to complete these offers is because they're affiliated with them, which means that they will make some money if you complete them.
There's nothing wrong with trying to make money through CPA (Cost Per Action) offers, but the problem here is that they're deceiving you to make money. They're wasting your precious time, something that you will never get back.
Click here to check out my top recommendation (FREE to get started)!
DollarsTrue.online and AlphaJob.info scam signs
---
It's clear that DollarsTrue.online and AlphaJob.info are a total scam. They want you to do all the work to make money themselves, which is very unethical.
If they shared some of their profits with you then what they do would be ok, but they will not share anything with you so what they do is unacceptable because they're stealing your time. Such a greedy and selfish goal they have.
The truth is that someone doesn't even have to join these websites to conclude that they're completely fake. Their homepage is full of red flags reveal the fakeness.
#1 Red flag – No legal information
---
Both AlphaJob.info and DollarsTrue.online are illegal. They don't provide any information about the company location, privacy policy, terms & conditions or earnings disclaimer.
This is a huge red flag because these pages contain essential information that website visitors need to consider in order to decide whether to get involved with these websites or not.
How are they going to use your personal details? What are their rules when it comes to terminating accounts? They don't provide any of this information, not to mention that they don't even allow you to delete your account and don't tell you what to do if you don't remember your password.
#2 Red flag – No information about the owners
---
Another scam sign is the fact that the people behind DollarsTrue or AlphaJob don't reveal who they are. They don't mention their names and don't show any pictures of themselves.
How can we trust people who are not transparent about their identity? How do we know if they are going to keep our information safe? No way to know it, but the fact that they're hiding is an indication that they don't want us to know who they are.
Imagine that people who don't show their face came to visit you and asked you to give them your full name and email address. You wouldn't give it to them, would you?
So here happens the same, I personally would not give my personal data to people who don't show up.
#3 Red flag – Lack of support
---
If you have any issues or questions concerning AlphaJob.info or DollarsTrue.online, no one behind these websites will help you because they don't provide any ways to get in touch with them.
They don't provide any email address, phone number or customer service… Nothing. Nada. 
This is an indication that they don't really care about you. They only care about what you can do for them, which in this case is to make them money.
#4 Red flag – The fake character
---
What about the woman that appears in the DollarsTrue and AlphaJob.info homepage? This woman has nothing to do with these websites. Her real name is not Lauren Murray and she's not a marketing manager.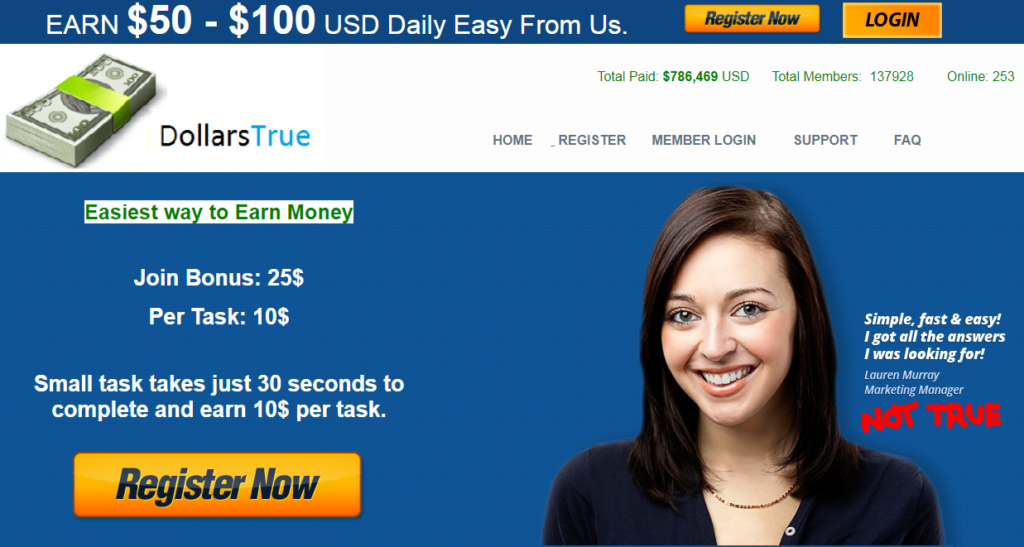 I know she's a made up character because I did an image search and I found out this woman's picture is a stock photo. As you can observe below, her picture can be found on stock photography websites like istockphoto.com and gettyimages.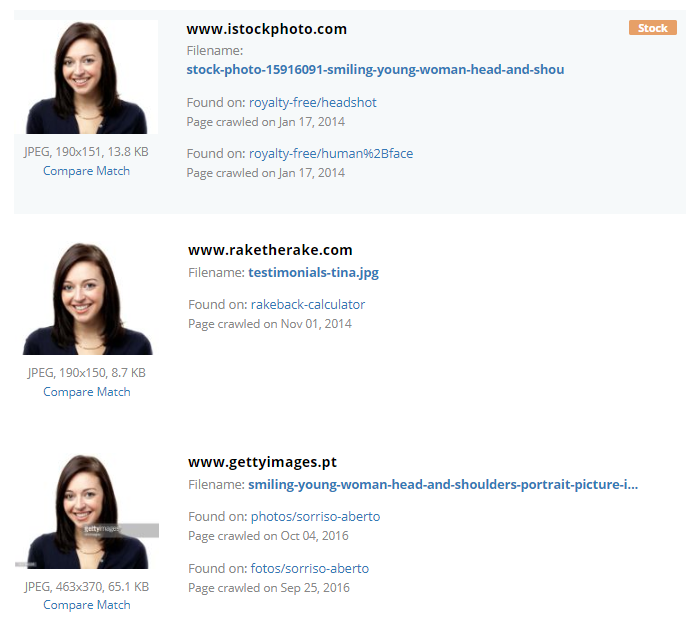 A real way to make a full-time income online
---
My final verdict is that AlphaJob.info and DollarsTrue.online are not worth it, so I highly don't recommend them.
In my opinion, websites that deceive people to earn money are not worth your time, but what you end up doing is up to you.
I personally will not waste my time sharing my referral link or trying to get other people to join one of these sites because I would not be doing a favor to hard-working people who are looking to make money. The only ones who would benefit from it would be the scammers.
When it comes to making money online, there are more fraudulent websites than programs or platforms I can recommend. What you need to keep in mind is that there are no easy or fast ways to earn money online, so my advice is that you stay away from websites that promise easy riches. If you're someone who is looking to make money online today, then this is not for you.
The good news is it is possible for you to make a full-time income online, but you need to be committed to putting in the effort and time. It's definitely not easy, it's not like the con artists want you to believe.
After having tried multiple ways to earn money, I've reached the conclusion that the best way is to build an online business that has the potential to bring recurring passive income.
The business model I use has given me a way to make a consistent income month after month. In fact, there are many people who are using this exact business model to make a living online.
It's a newbie-friendly business model that allows you to make money from many of the products that are being sold online every day.
If you're interested in learning more, click the button below now:
You will learn how this business works, how it works and I will also show you how you can get started for free!!
You will also see how you can get the step-by-step training and tools that I and many other people use to build our businesses =)
I'm so excited for you to stop wasting your time on scams and get on the right way to make money online! I and other bloggers & Internet entrepreneurs will be there to guide you through the process so rest assured knowing that you are not alone in this. 🙂 
LEARN ABOUT MY TOP RANKED PROGRAM NOW!
I hope you have found the answers to the questions you had concerning DollarsTrue.online and AlphaJob.info. Please feel free to share this post with anyone who might benefit from it!
If there's something else you would like to know or you want to share your opinion, don't hesitate to leave a comment below and I'll get back to you soon. ? 
Best to you!