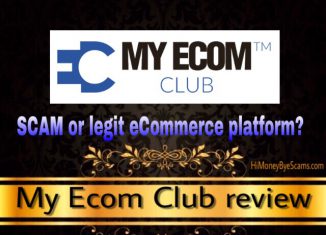 Welcome to My Ecom Club review!
You have stumbled upon the My Ecom Club website (myecomclub.com) and are wondering if you can make real money with eCommerce, right? Or maybe you are wondering if My Ecom Club is a scam desiged to get your hard-earned money?
There are many scams and low-quality programs out there that come in all forms, that's why I'm glad that you're doing some research before deciding whether or not to open your wallet and give My Ecom Club a try.
In this review, I will show you what My Ecom Club is about, how it works, the red flags I've found and more.
My Ecom Club review
---
Name: My Ecom Club
Website URL: myecomclub.com
Owner: Teo Vee
Price: $37, $37 per month, $97 + thousands of dollars in upsells
Overall Ranking: 4/10
---
If you're sick of scams, check out my 1st resource to make money online here!
---
What is My Ecom Club about?
---
The My Ecom Club website doesn't look like the typical scam page, it actually looks like a legitimate website.
But I didn't want to judge it based on its appearance, so I did some intensive research and I'm going to tell you everything I've found.
What is My Ecom Club about? It's an online platform that is said to teach and help people to build an eCommerce business. 
They claim you don't need any previous experience or technical skills because they provide all the tools and training that you need to create your own online store.
And they also offer "done-for-you" services to make it easier and faster than if you were to do it alone.
How does My Ecom Club work?
---
Here in this section I'm going to talk about what's included in My Ecom Club and the business model.
The memberships
---
In order to join My Ecom Club, you will have to complete a form with your name, your email address and your phone number.
After that, you will get access to the first training video where Teo merely talks about how much money you can earn by applying his strategies. I personally didn't like this video because I noticed some red flags that I'll discuss later.
And then, they will tell you to purchase their cheapest product that costs $37.
There are three memberships/products to buy:
Instant eCommerce website template. You will get your online store a little bit designed and set up for good conversions. Price: $37.
Inner Circle Membership. You will get a monthly training call and will also get access to the My Ecom Club Facebook group so that you can ask questions to the leaders. Price: $37/month.
Gold Membership. This membership includes the tools and training to get your eCommerce store started and you will also get a coach that will guide you through the process.
The business model
---
An e-commerce business can be very very profitable if built the right way, in fact there are people who are making 5 and 6 figures per month from their online stores.
My Ecom Club focuses on teaching teaching you to create your own dropshipping (a type of e-commerce) store.
Dropshipping doesn't require you to create your own products or have inventory. You don't even need to buy the products you want to sell.
Your job is to find products from another website like Amazon or AliExpress and then sell them on your store at a higher price in order to profit. When you make a sale, you purchase the product with the client's money and then the supplier will package and ship it out. So you basically work as an intermediary between the supplier and the customer.
It's a good method to earn money online and I actually tried it when I was getting started in the "make money online" world. 
Even though I made some money dropshipping, I didn't like to deal with refunds so I ended up quitting when I discovered this business model I'm currently using to make money.
The My Ecom Club training is good, but there are things that they don't tell you that you need to know, which I'll talk about next.
Click here to check out my top recommendation (FREE to get started)!
Is My Ecom Club a scam?
---
No, My Ecom Club is not a scam because they provide some training and tools that can help you build a dropshipping business.
However, there are some important things they don't tell you and there are some red flags that you need to be aware of because they're an indication that this is not as good as it appears to be.
Fake team members
---
I checked out their "about us" page where I saw some pictures of the team members. 
However, I did some image searches and found out that the people from the pictures are not real team members. These people have nothing to do with My Ecom Club!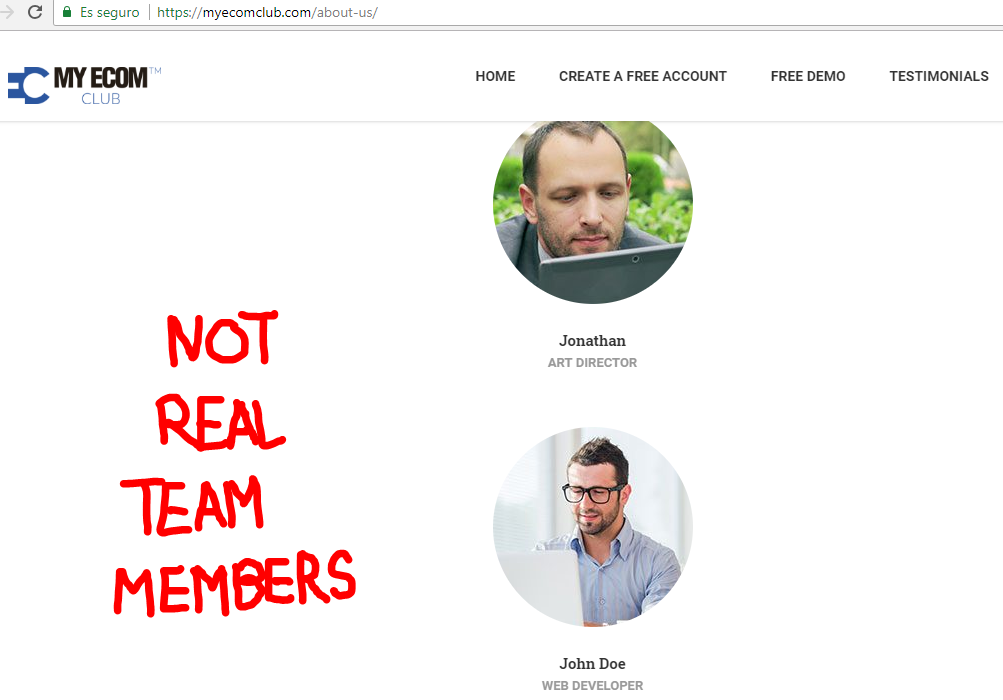 John Doe is not a web developer. His picture is a stock picture that can be found on stock photography sites like Shutterstock, as you can observe below: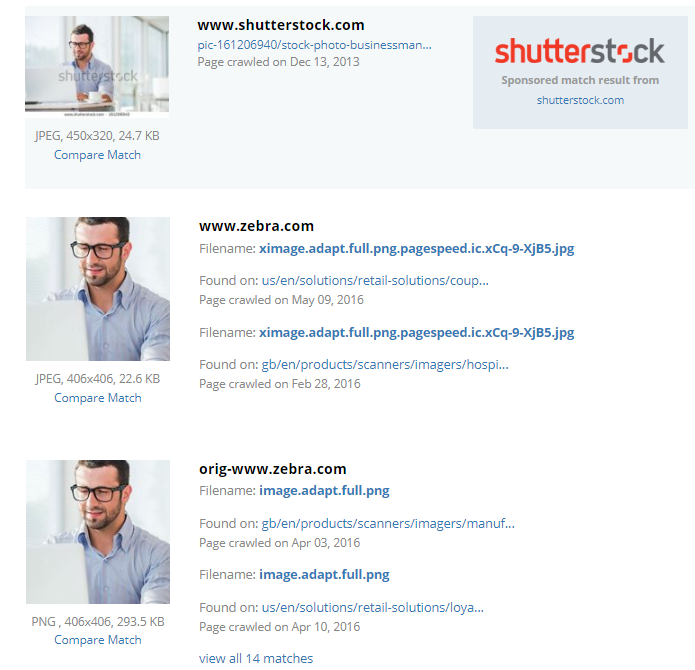 The rest of team members are also stock photos or pictures that can be found on other sites. They're not real team members of My Ecom Club! Why do the people behind this program lie about the team members? 
This is a red flag because that's what scam artists do. This is what I've seen in other low-quality/scam programs I've exposed like Profit With Our Sites, Profit With Alex, Tube Profit Sniper…
Scammers usually create fake characters to avoid showing up their real faces. They do this to prevent potential victims from persecuting them.
Lack of transparency when it comes to the price
---
I read some of the My Ecom Club reviews and found out that there's an extra cost involved if you want them to do build your Shopify store for you.
The done-for-you package costs $1997 + $97/month, which is way more than the memberships costs. 
I personally don't like the fact that they don't mention this cost anywhere on their website. I mean, before getting involved in a program like this, wouldn't you like to know all the costs upfront?
This person who wrote a review on the My Ecom Club Facebook page would have liked to know all the extra cost ahead of time: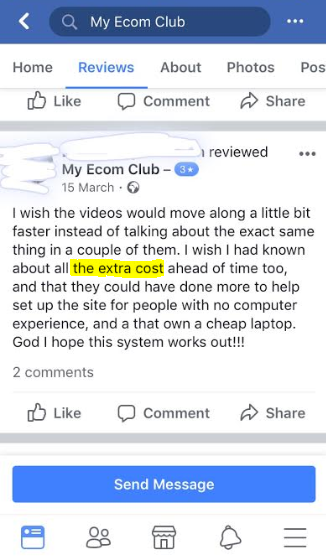 Apart from the "done-for-you" package cost, you also need to take into consideration the paid advertising costs. Paid advertising is kind of risky if you're on a low budget, since it requires a lot of trial and error to find out what works and what doesn't.
Fake testimonials
---
If you take a look at the My Ecom Club "create a free account" page, you can read these comments:
The problem is that these comments are invented and the people from those pictures are not real members of My Ecom Club. As you can observe below, these are stock images found for sale on gettyimages:
Another fake success story
---
After creating a free account, you will get taken to another page where you can watch an introductory video. Teo talks about some success stories, but the problem is that they're fake. 
For example, this one below is invented because this man on the picture is not a real member of My Ecom Club: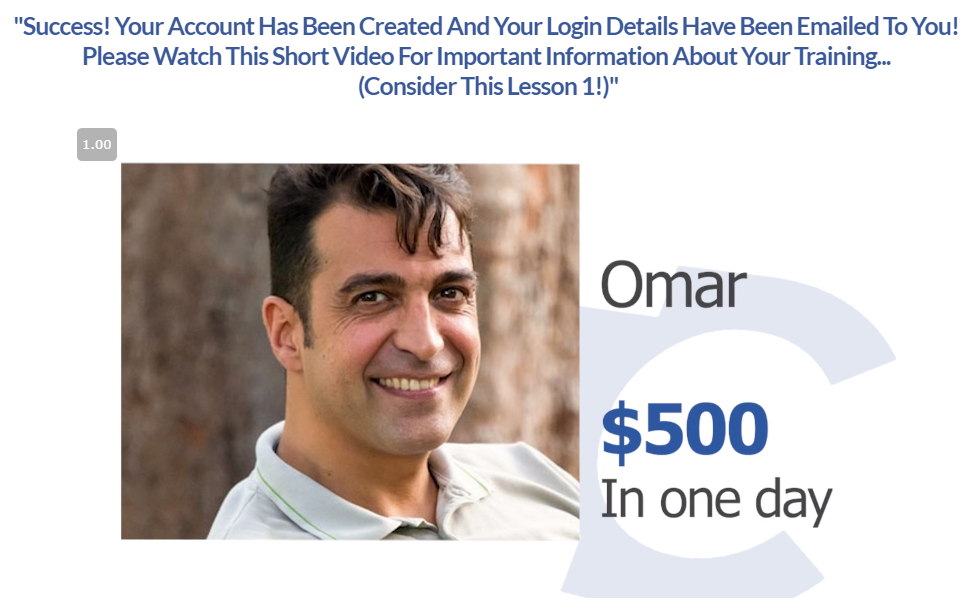 I found out that's a stock picture: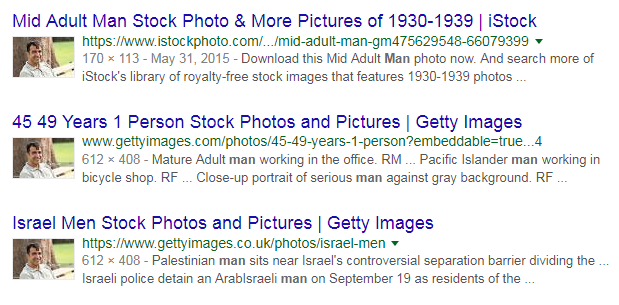 I don't like the fact that Teo is promoting it as if it were easy to make $500 a day. Why are they using scam tactics if they provide decent training?
Their address is connected to a scam page
---
Another thing I don't like is the fact that their corporate office's address is the same as the Countdown To Profits address.


As you can observe above, Countdown To Profits has a bad BBB rating (1 out of 5 starts), something that doesn't surprise me because it turns out to be a scam page used to get you into a high-ticket program with massive upsells.
All of this makes me wonder if some of the people behind My Ecom Club are the same people behind Countdown To Profits.
Another thing you can expect
---
When it comes to the information you provide them with (your email address and your phone number), they might share it with other companies, as you can read in their privacy policy:

This means that you can expect to receive emails from people you don't know (in case you've already signed up to My Ecom Club using your main email address). They may send you emails related to programs or website like My Ecom Club a.k.a. "make money online" products. 
I personally wouldn't be surprised if they email you low-quality or scam products, since we've seen that My Ecom Club is connected to the Countdown To Profits scam.
What the real My Ecom Club members are saying…
---
My Ecom Club has a 4.5/5 rating on their Facebook page, but I've noticed that many of these reviews are from people who still haven't reached the point where they discover the cost of the "done-for-you" packages. 
Apart from the $1997 + $97/month package, there are more costs involved, as Michelle says:
Building and managing an eCommerce business is not easy and definitely not for someone who's on a tight budget. Well, the whole "make money online" thing is not easy either, but there are ways to make a living online that don't require you to spend thousands of dollars.
A less risky business model
---
I definitely don't recommend My Ecom Club because it's very expensive and the people behind it might be connected to other scams.
Even though My Ecom Club is not a scam, I personally don't want to do business with people who use scam tactics to make money.
The thing is, you don't need to deceive anyone to make a living online. And you don't even need to spend thousands of dollars to build an online business.
The business model I and many people use is much simpler and doesn't require you to worry about refunds or customer service, not to mention that you will not even need to spend money on paid traffic because you will learn to drive free organic traffic to your website.
It's definitely not an easy or fast way to make money and it takes a lot of effort and time, but I believe that anyone who's committed to doing what it takes and gets a complete step-by-step training and business tools, can achieve success.
By clicking the button above now, you will learn where you can get the same training and tools I'm using, and I also show you how to get started for free!
Yup, you can check it all out without spending a dime and see if it's right for you =)
In addition, you will also get the chance to get help and support from other bloggers and Internet entrepreneurs, myself included 🙂 
LEARN ABOUT MY TOP RANKED PROGRAM NOW!
I hope you have found the answers to the questions you had concerning My Ecom Club. Please feel free to share this post with anyone who might benefit from it!
If there's something else you would like to know or you want to share your opinion, feel free to leave a comment below and I'll get back to you soon. ? 
Best wishes!