Welcome to my Tube Profit Sniper review!
Looking at this new product called Tube Profit Sniper (tubeprofitsniper.com) and wondering if you can earn a substantial income from YouTube? Or is it just another scam created to get as much money as possible from you?
There are too many low-quality products and scams out there so it's necessary that you do your research in order to make a wise and educated decision. Doing your due diligence is the way to avoid scams and find the legit way to earn money online!
Here in this review, I will show you what Tube Profit Sniper really is, how it really works, what they don't tell you and more. 
Tube Profit Sniper review
---
Name: Tube Profit Sniper
Website URL: tubeprofitsniper.com
Creator: "Mike Andrews"
Price: $37 or $17 (discount) + upsells
Launched in: May 2018
Overall Ranking: 21/100
---
If you're sick of scams, check out my 1st resource to make money online here!
---
What is Tube Profit Sniper about?
---
The moment I came across the Tube Profit Sniper sales page I thought I was in front of another get-rich-quick scheme because of the hype and outrageous claims. 
But I didn't want to conclude it was just another ClickBank product like others I've recently exposed so I decided to watch the sales video and after watching it I was not surprised at all, since it's very similar to other scam videos I've watched in the past.
According to the spokesman, Mike Andrews has created this amazing system called Tube Profit Sniper that is helping people make at least $500 per day from YouTube. 
Even though they also claim it can make you over $2,000/day, which is kind of a contradiction. I mean, what's the real earning potential of this system?
In fact, he claims all his students have started earning money the same day they've purchased this system and they didn't even have any technical skills or experience in Internet marketing.
This is a "done-for-you" system that doesn't require you to do much work to start making money. As you can read in the picture above, it supposedly only requires 17 minutes to set up.
Oh, and it also makes money on autopilot so you will be able to take some days off without worrying about making money.
He makes it sound as if this was the system that will finally enable you to become financially free and have the lifestyle you've always wanted.
Doesn't it sound too good to be true? I mean, most people would have made a fortune online if systems like this really worked.
So, I can tell you right now that making a full-time income online is not as easy as he claims and there's so much more to it. 
The Tube Profit Sniper sales video is very misleading, it's overhyped and doesn't tell you everything you need to know to make a good decision concerning this product. That's why I'm here to let you know the truth and the red flags I've found.
How Tube Profit Sniper really works 
---
If you're wondering if it's possible to make money with the method taught in Tube Profit Sniper, the short answer is yes. 
However, it doesn't work as easily as the spokesman claims. 
According to him, you only need to take 4 steps to make this system work:
Step 1. Log in

Step 2. Pick a niche (choose a topic you're passionate about)

Step 3. Connect your cash siphon

Step 4. Collect your money
He makes it sound as if you just had to push a few buttons to start making money, but then when you get inside the course you realize there's a lot of work to do.
The business model
---
Tube Profit Sniper focuses on a business model called affiliate marketing, which I also use to make money online.
If you haven't heard of affiliate marketing before, it basically consists in revenue sharing. As an affiliate marketer, you will be promoting other people's products/services and will earn a commission each time someone purchases a product through your affiliate link.
There are many ways you can promote a product or service to earn money. In this case, Tube Profit Sniper is geared towards using YouTube to promote affiliate products.
This is the step-by-step process you will basically need to follow:
Choose a topic you're interested in.

Open a YouTube channel.

Create videos about the topic you've chosen.

Join affiliate programs and networks.

Find products relevant to your audience and get your affiliate links.

Add affiliate links to your YouTube videos.

Get your YouTube videos ranked in the search engines.

Make commissions when people buy the products you've recommended.
Most affiliate programs and networks are free to join but some of them will require you to have a website or a minimum of traffic to your channel, that's why you might not be able to promote many affiliate products when you're getting started.
Apart from your YouTube videos getting ranked on the search engines, you can promote them on social networks, your email list (if you have one) and your website (if you have one).
I personally recommend that you primarily focus on creating valuable videos that can help your target audience before thinking about making sales because you first want to earn your audience's trust.
The training
---
Tube Profit Sniper costs $37, but you can get it for $17 if you try to exit the sales page.
Once inside the members area, you will be able to start watching the training videos that explain things like:
How to start a YouTube channel.

How to find good keywords to get your videos ranked.

How to add a logo or image to your channel.

How to add a description to your channel.

How to add pictures to your videos.

The different styles of videos you can create.
In total, inside the Tube Profit Sniper course there are 19 videos divided in 9 parts. The problem I see is that they don't talk about how to choose a niche, how to find good affiliate products to promote or how to monetize your YouTube channel with ads. 
The training merely covers the getting started part, but I honestly didn't expect much for $17 that I paid.
Apart from that, there are three videos about:
Making money by taking surveys

User testing

Freelancing
Paid surveys and user testing are good methods to earn extra money, but not a full-time income. I personally didn't like that these videos are from other YouTube channels like why pay for them if you can find them for free on YouTube?
This is how the members area looks: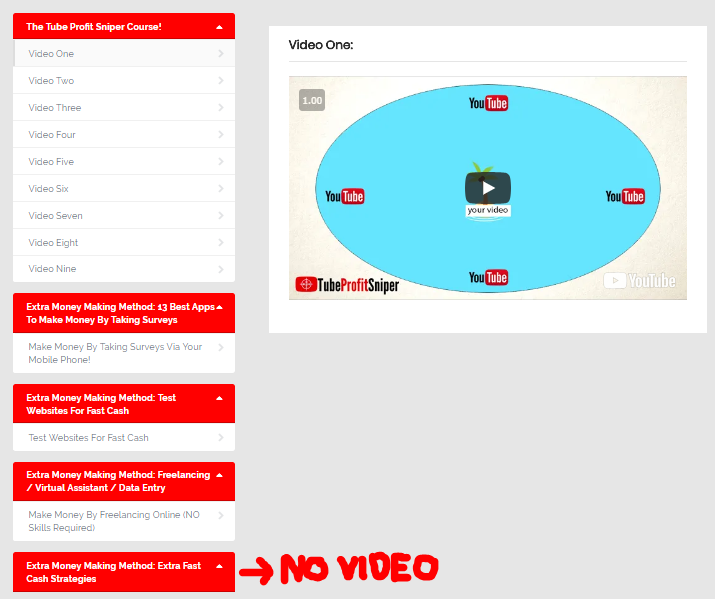 Oh, and I noticed that the "extra fast cash strategies" has no video.
I'm actually not surprised with what's included inside Tube Profit Sniper, since it's very similar to other ClickBank products I've bought in the past, like 60 Minute Profit Plan.
There's more stuff included in the members area, which I'll go over in the next section because they're related to other red flags.
Click here to check out my top recommendation (FREE to get started)!
Is Tube Profit Sniper a scam?
---
I know many people would call Tube Profit Sniper a scam because it doesn't live up to its promises. I mean, there's no way someone is going to make $500 per day in a short period of time.
Not to mention that the training the provide doesn't cover everything you need to know to make a substantial income from affiliate marketing.
In my opinion, Tube Profit Sniper is a low-quality product like many others I've exposed. Some of them are the following:
With that being said, let's see what I don't like about Tube Profit Sniper and other red flags I've found.
The testimonials are paid actors
---
The people who appear in the sales video and claim to have earned thousands of dollars thanks to this system are not real members and don't even have YouTube channels.
They're Fiverr actors that have appeared in other videos from other low-quality/scam products.
For example, this woman below has appeared in the AZ Code sales video too: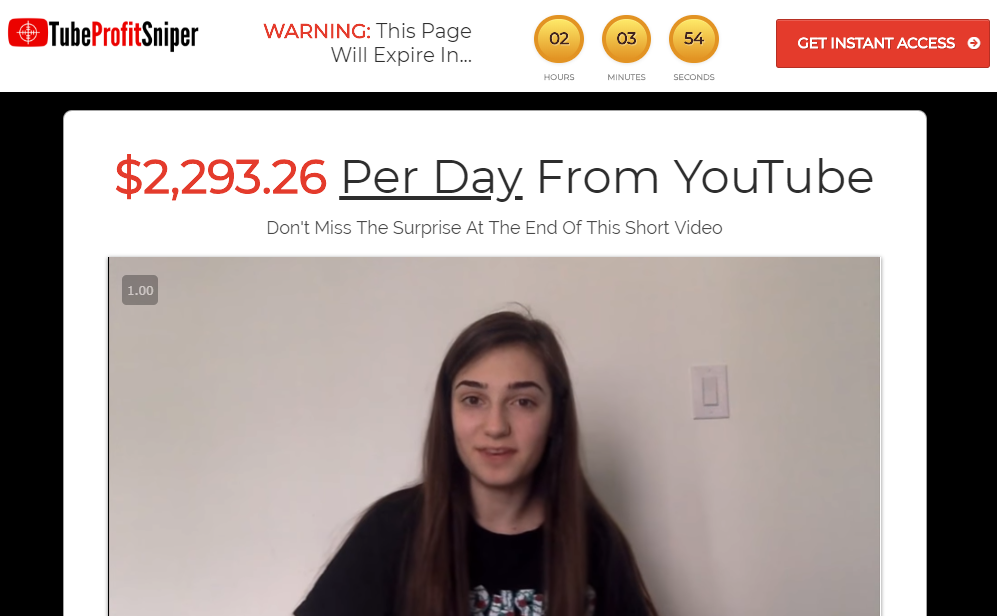 And this guy below is also a Fiverr actor: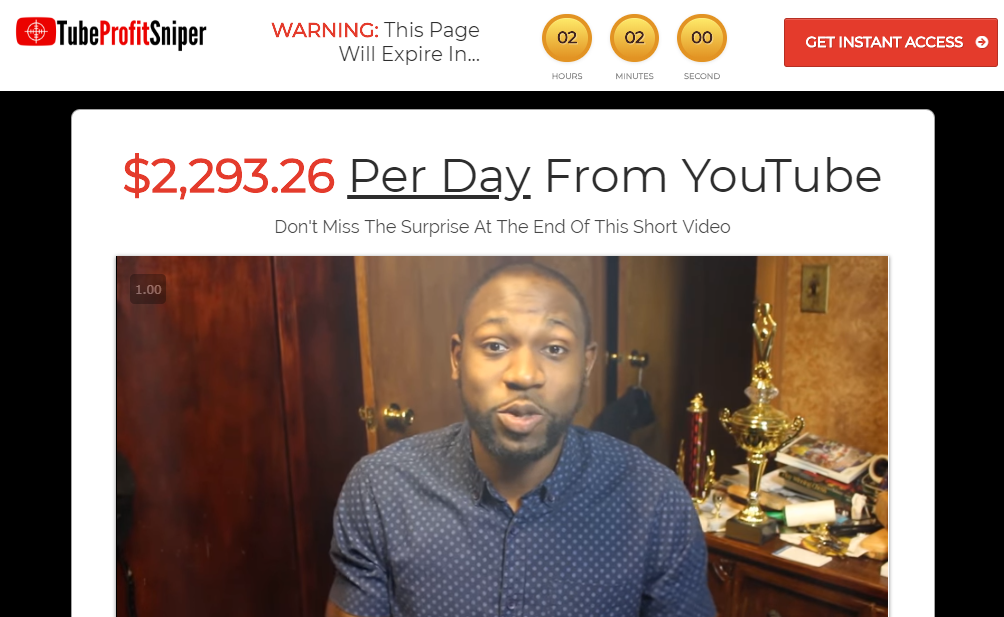 If Tube Profit Sniper really worked like they claim in the sales video, they wouldn't have had to pay these actors to get positive opinions.
The comments are fake
---
In the sales page, we can also find some Facebook comments and tweets, but the problem is that they're completely invented.
They look fake to me and just by observing them you can conclude they're fabricated.
As you can observe above, they have used the same picture for "Scott Sibley" and "Howard Myers", which is an indication that the man who appears in the picture has nothing to do with Tube Profit Sniper.
I mean, it makes no sense that the same person has two different names. It's clear that they're all fake. You can even search on Facebook and Twitter for those comments and you will not find them.
Mike Andrews is not the real owner
---
The spokesman claims Mike Andrews is the owner of Tube Profit Sniper, but this is not true.
Firstly, we're not shown any picture of himself and he doesn't even tell us how we can get in touch with him. 
Secondly, we're shown a picture of someone who's supposed to be his friend but I did an image search and found out that this picture is being used in many other websites, which means that the people behind this program has got that picture from other websites.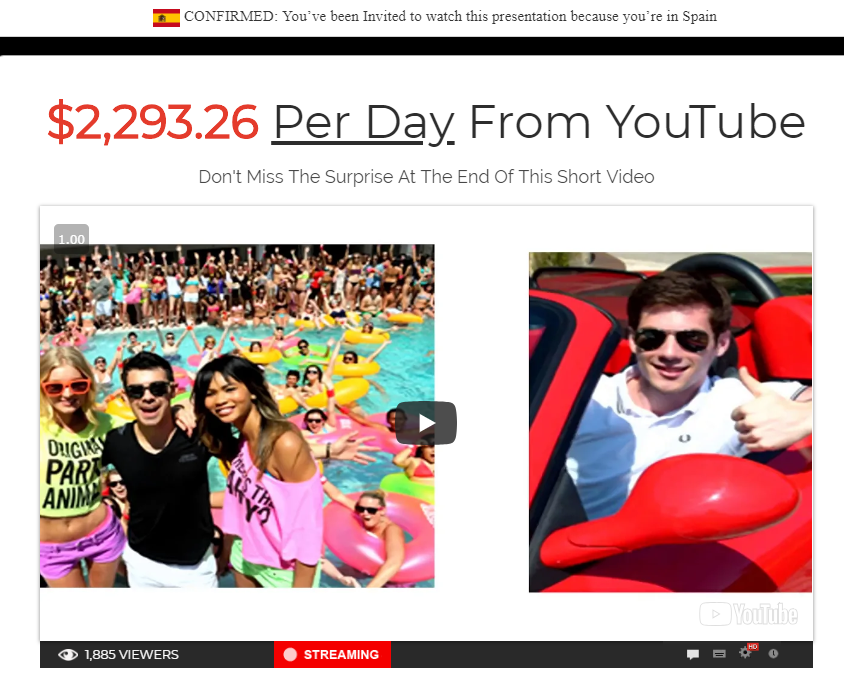 All of this leads me to believe that everything we're told about Mike Andrews is fake. He's a made up character used for this low-quality product.
The fact that the people behind this program doesn't show up is a red flag because it means they're trying to hide something. I personally wouldn't buy anything from people who are lying about their identity.
They pressure you to purchase it
---
Another thing I don't like is the fact that they use the fake scarcity tactic to get you to purchase it. There's no way there are limited spots left because this product has been sent to many email addresses.
These con artists have affiliates who send these kind of systems to their email subscribers, which means that they want to reach as many people as possible.
The truth is that they claim there are limited spots left to get you to buy it as fast as possible, but they never limit themselves when it comes to the amount of sales they want to make. They will not reject your payment because they want to earn as much money as possible.
The upsells
---
After paying $37 or $17 for this product, you can expect to be bombarded with upsells and downsells.
There are 3 upsells and downsells:
Upsell & Downsell 1 – Gold version a.k.a. Tube Profit Sniper Pro ($147/$97)

Upsell & Downsell 2 – Platinum version a.k.a. Auto Profit Multiplier ($97/$47)

Upsell & Downsell 3 – Titanium version a.k.a. Tube Profit Duplicator ($97/$47)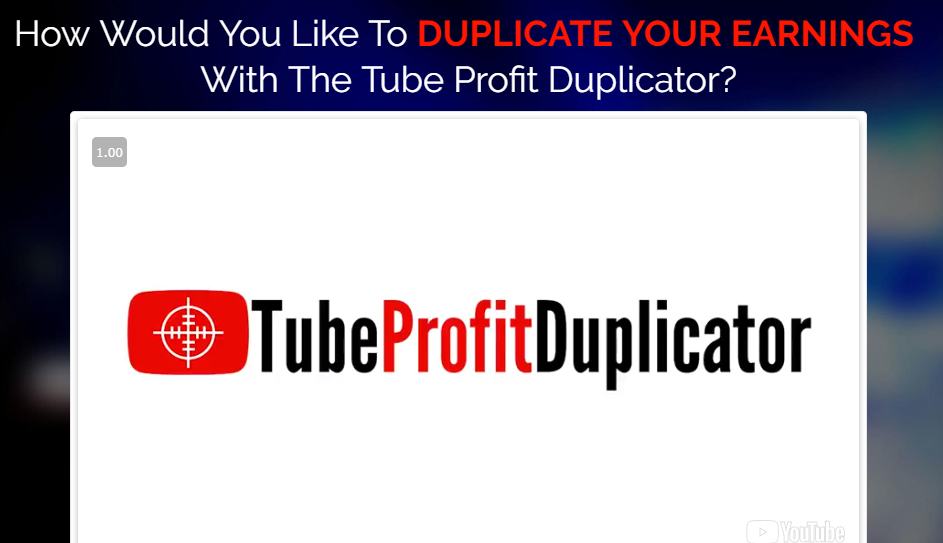 I don't like the fact that in the main sales page they don't mention these upsells or downsells because knowing all the costs is something you want to know.
I got access to these additional products and found out that they're not what they tell us.
If you purchase them, this is what you will receive:
Gold version – Online Income Formula (a PLR product)

Platinum version – 21 videos about YouTube ads

Titanium version – Overnight commissions by Glynn Kosky
Note that these products cost something like $10, way less than what they're selling them for. Well, this is understandable. 
What it's not ok is the fact that they're marketing them as a different products than what they are. It's unethical to deceive people this way.
I mean, you wouldn't like to purchase a shirt and receive a jumper on delivery day, would you?
The problem with their recommendations
---
Last but not least, I don't like their recommendations because they're not good.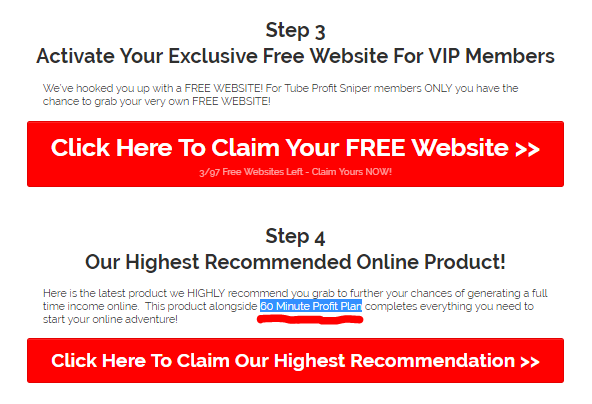 For example, they recommend that you claim your "free" website (it's not even free) with CoolHandle, which has many complaints.
They also recommend that you purchase a product I exposed called eCom Profit Sniper, but the problem is that it's another low-quality product and is about dropshipping, it has nothing to do with making money from YouTube. Why are they recommending it if it's about another business model?? Honestly, I see it kind of unnecessary.
Another problem I see is that they don't provide any training about website traffic or content creation. Like really? If they're telling you to build a website, don't you think they should at least provide some training on content creation and traffic?
All of this leads me to believe that they don't care about helping you build a successful online business. They're using affiliate links so the reason why they are recommending CoolHandle and eCom Profit Sniper is to earn affiliate commissions at your expense.
Learn to build a complete affiliate marketing business
---
After everything I've explained, I conclude that Tube Profit Sniper is not worth it. I don't like that they market it as a get-rich-quick scheme because it gives people false expectations and some might end up losing hope when it comes to making money online.
The good thing I see about it is the fact that it's sold via ClickBank, which means that you can get a refund if you end up getting this product.
In order to build a successful affiliate marketing business, it's important that you choose the right niche, build your own website, build an audience and recommend valuable products/services that you believe in.
It's not easy or fast to build an online business using the affiliate marketing business model, but putting in the effort and time ends up paying off.
There are many people who are using this business model to earn a full-time income online, so I believe you can do it if you are committed to doing the work and get the proper step-by-step training and marketing tools.
By clicking the button above now, you will find out where you can get the training and tools I've been using to build my online business and even how to get started for free! 
In addition, you will also get to meet other affiliate marketers and Internet entrepreneurs if you get inside my favorite business platform (free to join). Not to mention that you will get my personal help and support as well =)
I'm so excited for you to leave the low-quality/scam products behind and get your affiliate marketing business started today!
LEARN ABOUT MY TOP RANKED PROGRAM NOW!
I hope this honest review has been helpful to you and you will make the best possible decision for you.
If there's something else you want to know or you have any questions concerning Tube Profit Sniper, don't hesitate to leave a comment below and I'll get back to you ASAP! ? 
Best wishes =)