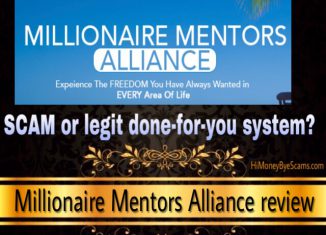 Welcome to my Millionaire Mentors Alliance review!
Looking at this system and wondering if you can earn thousands of dollars in commissions? Or maybe you are a bit skeptical and have been asking yourself questions like "Is Millionaire Mentors Alliance another scam to stay away from?".
First of all, I need to congratulate you for taking the time to do your research before buying into another online money-making program.
There are so many scams on the Internet so doing your due diligence is the way to avoid the dangerous scams and find the legitimate way to earn money online!
I have come across other systems similar to Millionaire Mentors Alliance and can say that they are not as good as advertised, something I'll go over in this review.
Millionaire Mentors Alliance review
---
Name: Millionaire Mentors Alliance
Website URL: millionairementorsalliance.net
Price: from $500 to $50,000 (yup, not kidding)
Created in: March 2018
Overall Rating: 2/10
---
If you're sick of scams, check out my 1st resource to make money online here!
---
What is Millionaire Mentors Alliance said to be?
---
Millionaire Mentors Alliance claims to be an association of entrepreneurs and business owners who are committed to helping others achieve personal and financial success.
They are said to be the elite group of business owners who offer a marketing system that can help individuals from all walks of life get successful results and earn a great income.
According to the information on their website, integrity and trust are some of their core values but I have seen some things on their website that are questionable. More on this later.
Another thing they say is that they are not a MLM company but I found out that this is no different than other high-ticket programs I know.
In fact, Millionaire Mentors Alliance is a new name for the Business Success Alliance.
They make this program sound very easy to make money with because most of the work is apparently done-for-you.
But this is not all. They also talk about how much money you can earn which can really get you even more excited.
I mean, wouldn't it be awesome to earn from $500 to $50,000 a sale? Anyone would want to participate in a program like this, right?
Everything they claim sounds amazing and something that will really change your life for the better, but I've heard similar claims in other programs I have come across and can tell you this is not as good as they tell you.
After doing intensive research, I'm sure Millionaire Mentors Alliance is no better than the other high-ticket programs I have reviewed. 
These programs are not as amazing as advertised and way more difficult to succeed with because they are very expensive and what you will have to do is the hardest part of the whole system.
Does Millionaire Mentors Alliance work?
---
Millionaire Mentors Alliance works in a way that you will have to spend thousands of dollars before making any money.
In the sales video they try to get you excited by telling you the amazing amount of money you can make per sale and how easily you can do it.
In order to get started, you need to choose one of the seven packages/levels, fill out a form with your contact and payment information, and pay the one-time admin fee for that level
Let's see how much each level costs, the admin fees and the commissions you can make per sale on every level:
1) Bronze Level
Cost: $500

Admin fee: $195

Commission per sale: $500
2) Silver Level
Cost: $2,000

Admin fee: $198

Commission per sale: $2,000

3) Gold Level
Cost: $3,500

Admin fee: $298

Commission per sale: $3,500
4) Platinum Level
Cost: $7,000

Admin fee: $398

Commission per sale: $7,000
5) Diamond Level
Cost: $15,000

Admin fee: $448

Commission per sale: $15,000
6) Elite Level
Cost: $25,000

Admin fee: $498

Commission per sale: $25,000
7) Empire Level
Cost: $50,000

Admin fee: $1,498

Commission per sale: $50,000
As you can notice, the cost and the commission per sale always coincide, which means that you can earn 100% commissions per sale.
After paying the admin fee, you will be provided with your done-for-you affiliate site, the training included in the package you've chosen and other tools that will get you ready to start.
Not only that, you will also get to talk on the phone with your coach a.k.a. your mentor that allegedly will guide you along the way.
But you know what? He/She will try to get you to start doing some massive spending! 
Yes, they will try to get you to spend thousands of dollars on the packages I've mentioned before, just so that they can earn the huge commissions.
And then, you will finally be able to start promoting the package you have bought in order to make 100% commissions per sale.
The fact that you need to pay for each level you want to earn money from is something they don't tell you. You get to know about this once you have paid the admin fee, which is what you pay to the company.
Well, you also need to know that the commission from your first sale isn't for you, it's for your sponsor that recruited you into the system.
If you have thousands of dollars waiting to be invested in this system and you like recruiting, then you might make some good money after purchasing the expensive packages. 
In order to get the return on investment after purchasing your first package, you will have to make at least 3 sales of that package (the first one goes to your sponsor, the second one for you and the third one will recoup the admin fee you initially paid).
Click here to check out my FREE Earn Money Online Guide!
Millionaire Mentors Alliance red flags & problems
As I said before, this system is not as awesome as they tell you in their website and sales video, so I'm going to point out all the scam signs and issues I have found.
I took a look at their results tab on their site and saw some testimonies and success stories from people who are said to have had success with this system.
However, I did some image searches and discovered that these testimonials are invented, which means that the people from the pictures are not members of Millionaire Mentors Alliance.
The people behind Millionaire Mentors Alliance have purchased those pictures on stock photography sites like Bigstock and Shutterstock, as you can observe below:

The fact that they lie about these testimonies is something that indicates Millionaire Mentors Alliance is not as good as it claims to be.
If this system had many successful members, then they wouldn't have had to purchase stock photos and invent the comments to create fake testimonials.
"You can immediately start making money with our system"
Another thing that I don't like is that they claim you can start earning money with their system right away because claims like this are very common in get-rich-quick schemes.
Truth be told, there's no system that you can use to make money the same day you get started. If things were as easy as these done-for-you systems claim, don't you think most people would already be making money online?
There wouldn't be such thing as giving up when it comes this. If you believe these con artists that claim you can make money easily, I can guarantee you'll end up disappointed.
Unsustainable business model
Honestly, people who get involved in these kind of programs don't do it for the products/services provided, they do it just to make money by promoting the same stuff they've purchased.
Each package includes some digital marketing training/products to make the whole system look more legitimate.
However, these products are only available for people inside the program, they are not sold to the general public so there are no retail sales, which is a huge red flag because it means that the money is only coming from people who join the system.
When money only comes from people inside the system, it's an indication that this is not a sustainable business model and will not last for the long-term.
If there are no people joining, the money will stop coming into the scheme which means that it will eventually fall down.
Because of this, you can't rely on a system like this if you are looking to make a living online for the long-term. 
Millionaire Mentors Alliance is using an unsustainable business model, the same that was used on other high-ticket programs like MOBE and Digital Altitude, which got shut down by the FTC.
Many people lost money to these programs so guess what will happen when Millionaire Mentors Alliance falls down… many members will have lost their hard-earned money!
Not only that, they will be left with nothing because programs like this don't really teach you to build your own business. These done-for-you systems only exist for you to help the owners build their businesses.
It's not as easy as it sounds
In order to make money with this system, you will need to do massive recruiting which is not easy because it's very expensive.
I mean, do you think there are many people who have lots of money to invest in a risky system like this? Hell no.
Because of this, you will have to recruit non-stop which means that you will have to spend thousands of dollars every single month to find the few people who can afford to purchase those pricey packages.
Even if there are people who have that kind of money, I don't believe they will be willing to spend it on packages that are not worth the cost.
I took a look at what's include inside each package and I don't think it's worth the cost. The reason why these packages are very expensive is for the members to make more money per sale. 
As I told you earlier in this review, Millionaire Mentors Alliance was Business Success Alliance so I did some research on that and found a complaint.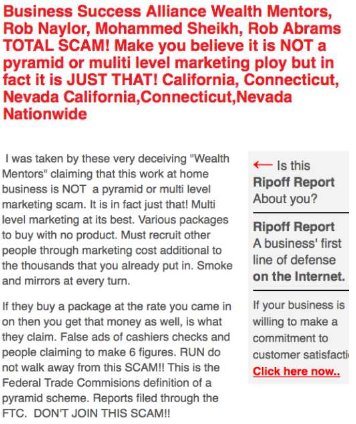 Not only that, I also found out that they are not BBB accredited which is not a good sign when you take into consideration that legitimate companies are usually BBB accredited.
Is Millionaire Mentors Alliance a scam?
---
Millionaire Mentors Alliance could turn out to be a ponzi or pyramid scheme, which is illegal.
Just because some people are making money thanks to it, doesn't mean it's legitimate.
If we take into account that it's not reliable for the long-term, it could be considered a scam. 
It just works the same way as these other done-for-you systems and high-ticket programs I have reviewed:
I personally don't like these kind of programs because they keep you dependent on their system and don't teach you how to create something that you own.
In a high-ticket program, everyone involved is doing the same thing instead of using their creativity to build something different and unique.
And the fact that most people involved end up losing their investment is another reason why I don't like them. They are not structured in a fair way.
Because of everything I have explained, I highly don't recommend Millionaire Mentors Alliance.
What about building an online biz that you own?
---
What you can do to say bye to these high-ticket programs and done-for-you systems is building your own online business that makes you money for many years to come.
You can't get involved in a high-ticket program and expect to make a good income online for the long-term because these programs use an unsustainable and risky business model, just like I said.
Using a viable business model that has been working for decades is the way to go if you are serious about making a full-time income online.
There are many people using the same business model as me and generating a substantial income online.
It's a beginner-friendly business model that doesn't require you to spend thousands of dollars on the products you want to earn money from.
Not only that, you will not even have to do massive recruiting or promote the same as everyone else! You will be able to choose a topic that you have a passion for to build your business around. 🙂 
There's a lot to say about this business so I created a FREE step-by-step earn money online guide where I explain how it all works:
My free guide shows you the 4-step process, the reason this business works, real proofs that it works, the step-by-step training and easy-to-use tools I used…
And wondering how much is it going to cost you to get started? $0. Yes, that's right, inside my guide you will discover how and where you can get started for free!
Your free account will give you access to the training and tools that will help you get started the proper way.
In addition, you will also see how you can get free support and help from me and a big community of like-minded people so you can rest assured knowing that you are not alone in your new adventure!
Are you ready to leave the expensive high-ticket programs behind and start building your online biz?
CHECK OUT MY FREE EARN MONEY ONLINE GUIDE HERE!
I hope this Millionaire Mentors Alliance review has been helpful to you and you will make the best possible decision. Feel free to share it with whoever you believe that will benefit from it!
If there's something else you want to know or you have any questions, don't hesitate to leave a comment below and I'll get back to you ASAP! ? 
Whatever you do next, I wish you nothing but the best =)