Welcome to my Push Button Profits review!
You have landed on the sales page for this system and wondering if you can make large sums of money? Or is Push Button Profits a scam that will leave you with less money at the end of the day?
First of all, I need to congratulate you for taking the time to do your own research before buying into another "magical" online money-making system.
As you might already know, there's a sea of scams on the Internet so doing your due diligence is the way to avoid scams and discover the legitimate way to earn money online!
To be straightforward with you, Push Button Profits is not as good as they tell you in the sales video, so here I am to expose the ugly truths they are hiding from you.
Push Button Profits review
---
Name: Push Button Profits
Website URL: pushbuttonprofits.com
Price: $47/month or $144/month + $1,000s in traffic packages
Overall Rating: 2/10
---
If you're sick of scams, check out my 1st resource to make money online here!
---
What is Push Button Profits about?
---
Push Button Profits claims to be an amazing system that has paid members over $500,000 the first week.
They claim traffic is one of the most important elements when it comes to building your business, since you cannot make any money without getting people to buy your products/services.
Because of this, they have created this Push Button Profits system that allegedly can make you a lot of money the first week you get started.
I guess they are calling it "push button" because you just have to buy one of their traffic packages in order to get people to purchase your offers.
They make it sound like this system makes it very easy for everyone to make money quickly without doing much work.
However, after watching the long sales video I found out that Push Button Profits is not even the real system or program.
Push Button Profits is a page that affiliates are using to get leads to Traffic Authority, which is the real program they are trying to sell you.
I've reviewed hundreds of products and websites and have reached the conclusion that when someone is hiding the name of the real program is because it's not as good as advertised.
If you believe what the spokesman tells you in the sales video, I'm sorry but you are going to get disappointed when you realize that this is not a solution to get fast and easy money.
Does Push Button Profits work?
---
As I said, Push Button Profits a.k.a. Traffic Authority is not as good as advertised.
I got surprised when I found how expensive this is. Let's see what's included in their memberships and how much it costs:
Traffic Optimizer. It includes a lead capture page builder, a traffic link creator, a traffic rotator and more tools. Price: $47/month.
Traffic Academy. It includes the same as the Traffic Optimizer, traffic secrets and the right to resell it. Price: $144/month. 
And now let's see the cost of the traffic packages:
Basic – 170 to 190 clicks. Price: $220.
Bronze – 350 to 380 clicks. Price: $440.
Silver – 510 to 570 clicks. Price: $660.
Gold – 850 to 950 clicks. Price: $1,097.
Platinum – 1700 to 1900 clicks. Price: $2,197.
Titanium – 3400 to 3800 clicks. Price: $4,297.
Diamond – 8100 to 8400 clicks. Price: $8,397.
In order to make money, you will have to purchase the Traffic Optimizer or Traffic Academy monthly membership and then will have to get other people to purchase the same membership you've purchased.
For example, if you get Traffic Optimizer and your referral gets Traffic Academy, you will not earn any money.
If you get Traffic Academy and one of your referrals buys Traffic Optimizer, you will earn a monthly commission of $16 and a monthly commission of $40 if he/she buys Traffic Academy.
And then, if your referrals buy those traffic packages, you can earn the thousands of dollars in commissions they talk about.
Click here to check out my FREE Earn Money Online Guide!
Push Button Profits scam signs & problems
---
There are some problems with this method that you need to be aware of because they are key to understand why this is not going to work that well.
No information about traffic quality
There's no information about the quality of the traffic packages.
Yes, they are very expensive but that doesn't mean the traffic is highly targeted and will convert. They don't tell you where these people are coming from.
Why pay thousands of dollars when you don't know where the traffic is coming from?
I have many questions about it and without knowing the answer, I cannot determine the traffic packages are worth it:
What are those people interested in?

Where are these people from?

What language do these people speak?
If Traffic Authority gets this traffic from websites that pay people to click on ads, then the traffic is not going to convert because these people will just click on your website without wanting to spend money on what you are offering.
So buying the most expensive packages doesn't mean you will earn money. If all the clicks they've bought are coming from a PTC (Paid To Click) website that pays people to click, then you cannot expect to make any sales.
Buying these clicks will not make not make you any money because these are not the people interested in what you're offering, so I don't recommend that you spend thousands of dollars on those low quality traffic packages.
I believe the reason these traffic packages are that expensive is that their main focus is to make commissions from the people who buy them.
It's not a sustainable business model
Relying on Push Button Profits a.k.a. Traffic Authority is not the way to go if your goal is to make a full-time income online for the long-term.
Traffic Authority is very similar to other high-ticket programs like MOBE and Digital Altitude, which got shut down by the FTC some months ago.
Why are they so similar? All these programs require you to recruit other people and sell their memberships in order to make money, which means that you're entirely depending on them.
They are not teaching you to build your own business so you are not in control of them. What they are really doing is to teach you to help the owners of Traffic Authority build their business.
That's why, if Traffic Authority falls down, you will be left with nothing. This is the problem I see with these other "done-for-you" systems that I have reviewed:
Why pay to participate in their affiliate program?
In order to join you will have to pay at least $47/month, as I said before.
They don't let you try it out for free and don't even offer any free trial, not to mention that you don't even earn the $40/month commission if you don't pay $144/month for the Traffic Academy membership.
So why pay to participate in this affiliate program when affiliate programs usually let you join for free?
There are many websites and companies like Amazon, ClickBank, eBay… that have affiliate programs that are free to join, and you don't even have to pay for the products you want to earn money from. 
That's why I don't see what's the point of spending hundreds or thousands of dollars just to promote those traffic packages as an affiliate.
It might be a pyramid scheme in disguise
The only way money comes into Traffic Authority is by recruiting people into the scheme and getting them to buy the traffic packages, which means that there will be no money to be earned when no one signs up.
If the clicks they're selling were high-quality traffic and they sold it to non-members, then they would be offering a valuable service, which means that it would be more viable.
However, they are not offering any tangible products and what they are selling is not a great product/service. The main focus of this program is on getting other people to become members and buy the memberships & the traffic packages just to make commissions.
They also claim you will earn from your the referrals of your direct referrals a.k.a. your downline, but the truth is that it will not last long because people are not going to keep paying month after month if they don't get any positive results.
Becuase of the fact that this program relies on recruiting instead of providing a valuable product/service, it can be considered a pyramid scheme.
It's marketed as a way to make money quickly
The fact that they are marketing Push Button Profits as a solution to making money fast is one of the biggest red flags out there.
Only scammers will tell you that you can start making money immediately the same day you buy their product. 
The truth is that the ones who want to make money fast are these scam artists who are taking advantage of the fact that there are people who need urgent cash but don't know how the Internet marketing industry works.
They tell you what you would like to hear just to get you to spend your hard-earned money on them, and you only realize you've been lied to when it's too late.
There's no program that will make you quick or easy money so I suggest that you stay away from all programs/systems that claim to be "done-for-you" or "completely automated". 
Is Push Button Profits a scam?
---
Is Push Button Profits a scam when it's not even a real program and doesn't live up to its promises? In my opinion yes, I consider it to be a scam because it doesn't work like they tell you in the sales video and could also be a pyramid scheme.
Pyramid schemes are illegal and don't last more than 5 years, that's why I wouldn't get involved with these kind of programs even if I could make some money.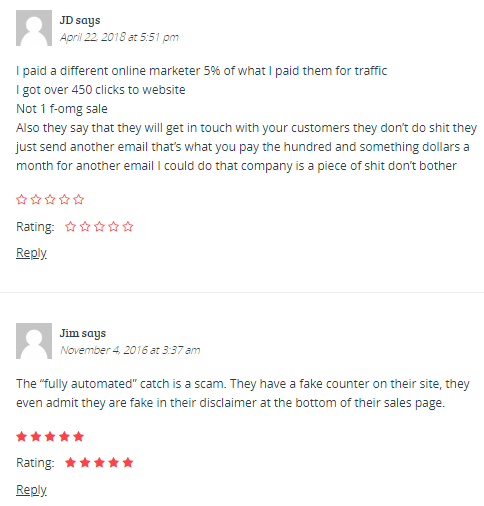 I haven't found any genuine positive reviews of Push Button Profits or Traffic Authority, I've found some complaints that you can read in the screenshot above.
It's clear that the people behind Traffic Authority don't really want to help you make money online because if they did, they would provide a valuable service/product. 
They wouldn't be selling memberships that don't include any training or traffic packages that don't make you any money.
Because of everything I've mentioned, I highly don't recommend Push Button Profits or Traffic Authority.
It's best to build something that you own
---
The way to stop wasting your time on scams and programs that don't last long is by keeping in mind that there's no way to make a living online with little to no work and all done-for-you systems eventually fall down.
If you are really serious about making a full-time income on the Internet, it's best that you focus on building your own online business that makes you money for many years to come.
The business model I use is newbie-friendly and has given me a way to make a consistent income month after month.
In fact, this business model has existed for maaany years and there are many people using it to make a living online
It's a business model that takes advantage of the millions of products and services that are being sold every day, and the best part is that you don't need to spend money on worthless traffic packages to get traffic to your offers.
I personally didn't have to spend a dime for you to land on this post! Want to learn more? I explain how it all works in my FREE step-by-step earn money online guide here:
My free guide reveals why this business works, proofs that it works, the 4-step process to make it work, the easy-to-use tools and in-depth training I have used…
And you know what? I also show you how and where to get started for free today! Yes, you will not have to spend a penny to decide whether or not this is right for you =)
Your free account will give you access to step-by-step training that will help you get started the proper way. 
Not only that, you will also discover how to get FREE support and help from me and thousands of like-minded people who are on the same path as you. 🙂 
I know there are many scams out there and it's easy to be skeptical, but if someone like me makes money online, I believe anyone can do it so what's stopping you from getting started now?
CHECK OUT MY FREE EARN MONEY ONLINE GUIDE HERE!
I hope this Push Button Profits review has been helpful to you and you will make the best possible decision. Feel free to share it with whoever you believe that will benefit from it!
If there's something else you want to know or you have any questions, don't hesitate to leave a comment below and I'll get back to you ASAP! ? 
Whatever you do next, I wish you nothing but the best =)