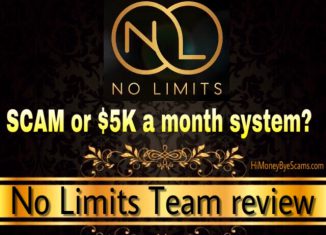 Welcome to my No Limits Team review!
Looking at No Limits Team by Adriana Villegas and wondering if you can make $5K a month using this system? Or is it just another scam that will leave you with less money and waste your time?
First of all, I need to congratulate you for taking the time to do your own research before investing your hard-earned money in another online money-making system.
There are so many scammers out there so doing your due diligence is the way to avoid scams and find the real way to earn money online!
To be honest with you, No Limits Team is not as awesome as they tell you, so I decided to write this honest review to reveal some hidden truths.
No Limits Team review
---
Name: No Limits Team
Website URL: various
Owner: Adriana Villegas
Price: $25, $50 and $100
Overall Rating: 2/10
---
If you're sick of scams, check out my 1st resource to make money online here!
---
What is No Limits Team about?
---
I remember one of my readers asked me if richmindsets.com was scam or legit so I thought I would check it out and see what this is about.
Richmindsets.com is basically a squeeze page that claims you can earn $75-$150 per hour without having any previous experience.
I was curious to know what's good with this so I entered an email address and got taken to the No Limits Team sales page, where I started watching the sales video where Adriana starts talking about this business opportunity.
She claims this is a direct sales business opportunity that allows you to earn $100-$300 a day.
All you have to do is copying and pasting ads on social media like Facebook, Instagram, Twitter… and when someone purchases a product you will get paid a 100% commissions.
In order to qualify, you just need to have a PayPal account, a smartphone or laptop and an Internet connection. So isn't it easy to qualify? Lots of people have all of them.
Everything she says sounds amazing, doesn't it? Especially when she shows those earnings screenshots right?
After watching the sales video, I clicked "get started today!" and got taken to another page where there's more information about this opportunity.
After reading the sales page and doing intensive research, I discovered that No Limits Team is not even the real name of the system they are trying to get you into.
What No Limits Team really is is a funnel to the EPS (Email Processing System), which is not as good as they claim.
I have reviewed other systems similar to this one and they never work as advertised so here I am to tell you what they are hiding from you.
How No Limits Team really works
---
The fact that they don't mention the real program here is Email Processing System is a big red flag because it indicates that they don't want you to know what you're really getting into, just to prevent you from searching for reviews.
Luckily, you are here and are about to know how this really works.
In order to get started, you will have to choose one of these three packages:
1) Basic Level – $25. Step-by-step instructions, Craiglist & Facebook training, 100 converting ads and customer support.
2) Elite Level – $50. The same as the basic level package + an affiliate website, training on Instagram, Facebook & Craiglist and other marketing strategies.
3) Pro Level – $100. The same as the basic & elite level packages + training on Instagram & YouTube and access to a $5K blueprint.

All levels are focused on teaching you to recruit other people into the system, who will have to do the same thing over and over again.
Depending on the level you join at, you will be able to earn more or less commissions. 
In other terms, they only allow you to earn commissions from your level or lower so in order to earn $100 commissions, you will have to purchase the Pro Level.
For example, if you join at the Elite Level and the person you recruit joins at the Pro Level, the $100 commission will go up to the next sponsor who's at the Pro Level.
If you join at the Basic Level, keep in mind that your sponsor (Adriana or another person from her team) will try to convince you to purchase the other levels.
Not only that, I noticed that they are also selling Weebly websites for a $10 fee. 
Click here to check out my FREE Earn Money Online Guide!
Can you make money with this system?
---
Yes, it's possible to make money with the Email Processing System, but it's not as easy and fast as they want you to believe.
There are a few problems with this system which I'm going to point out:
It's not good for the long-term
Relying on this system to make a living online is not the way to go if you are looking to earn a full-time income online for many years to come.
Why? Because systems like this are using a unsustainable business model as the only way to make money is recruiting other members into the system.
What does this mean? When people stop joining the system, there will be no money to be made and this system will fall down.
And you will be left with nothing! No tools, no training and no income.
Not only that, these systems are not good for most people involved because the majority of people need to be constantly paying so that a few ones make a lot of money.
If someone joins today and this system shuts down tomorrow, this person will get nothing and will not even get their money back because these systems don't offer any refunds.
They are not teaching you to build your own business
The training provided is not focused on teaching you to build an online business that you own or anything of value, it's only focused on getting other people to join the system instead.
In my opinion, they have a selfish goal because the way this system is structured is only good for the people who joined at the early stages and the people who created the system.
If they actually provided training that can help you build your own business, then this would be better but the case is that they are only providing what can help them grow their business.
Not only that, the way they are teaching you to drive traffic to the system is not the best way because it requires you to spam on different social media, which could get you banned.
The problem is that they don't provide targeted traffic generation training, so that's why it's not as easy as they tell you to collect those $25, $50 and $100 commissions.
They are giving you false expectations
Another thing I don't like is the fact that they are not being honest about this system. They are marketing it as a system that doesn't require you to do much work to make a substantial income, which can get people disappointed when they realize that this is not that easy.
Making money online is not as easy as copying and pasting ads on social media because if it were that easy, everyone would be doing this.
Even if you make some money, you cannot expect to make long-term money with this because it will eventually shut down.
It might be a ponzi/pyramid scheme in disguise
No Team Limits a.k.a. Email Processing System doesn't offer any tangible products or services, so they have no retail sales.
If they provided something for non-members, then the profits would not only come from people who join the system, but this is not the case.
When a program solely relies on recruiting is not good because it resembles a pyramid or ponzi scheme, which is illegal.
According to Wikipedia:
"A ponzi scheme is a form of fraud in which a purported businessman lures investors and pays profits to earlier investors using funds obtained from newer investors."
If you think about it, this is exactly how Email Processing System operates: new members pass the money to old members, which means that new members are always needed for old members to get paid.
Therefore, it's only a matter of time that Email Processing System falls down.
Is No Limits Team a scam?
---
No Limits Team is not a real program or system so I have to call it a scam. 
I have noticed that many done-for-you systems and high-ticket programs are usually promoted under fake sales pages, something that I don't like because it shows a lack of transparency.
When a program uses false advertising, it means that they are trying to hide something that's not good. 
So is Email Processing System (EPS) a scam? It really depends on your definition of scam.
This program would probably be a scam according to the FTC (Federal Trade Commission) because the business model used is not sustainable, just like I said.
In fact, the FTC shut down two of the big players in this industry (Digital Altitude and MOBE), so I wouldn't be surprised if Email Processing System was next.
Other similar systems that I have reviewed are the following:
Because of everything I have mentioned, I don't recommend No Limits Team or Email Processing System.
Better use a sustainable business model
---
If you are really committed to generating a full-time income online for many years to come, I suggest that you use a sound business model instead of a cash-gifting scheme that can get shut down anytime and leave you with nothing.
When you build your own business in a way that's viable for the long-term, you will stop coming across scams and systems that don't last long.
The business model I use has been working for many years and doesn't require you to spam or recruit other people just to make money.
In fact, you will not even have to promote the same as everyone else. You will be able to choose a topic you are passionate about =)
This business takes commitment, work and time but it also comes with many benefits so making efforts is worth it in the end.
You can find how this business works in my FREE step-by-step earn money online here:
In my free guide you will discover the proven 4-step formula, why this business works, real proofs that it works, what you need to make it work…
And wondering how much is it going to cost you to get started? 0 dollars!. Yes, inside my free guide you will find out how and where you can get started today for free!
Not only that, you will also discover how you can get free support and help from me and other business owners who want to see you succeed!
I'm very happy with the messages and feedback I've been getting lately. This is one of the messages that make me smile:
Are you ready to leave the done-for-you systems behind and start building your online business?
CHECK OUT MY FREE EARN MONEY ONLINE GUIDE HERE!
I hope this No Limits Team review has been helpful to you and you will make the best possible decision. Feel free to share it with whoever you believe that will benefit from it!
If there's something else you want to know or you have any questions, don't hesitate to leave a comment below and I'll get back to you ASAP! ? 
Whatever you do next, I wish you nothing but the best =)