Welcome to my Evergreen Wealth Formula review!
Looking at the Evergreen Wealth Formula sales page (evergreenwealthformula.com) and wondering if buying it would be a great idea?
Or perhaps you are skeptical and have been asking yourself "Is Evergreen Wealth Formula a scam that will take my money?", am I right?
First of all, I need to congratulate you for taking the time to do your research before purchasing another "make money online" program.
There are many scams on the Internet so doing your due diligence is the way to avoid scams and discover the real way to earn money online!
To be honest with you, Evergreen Wealth Formula is not a scam but there are some red flags that you need to be aware of in order to make a good decision, which is what I'm going to reveal in this review.
Evergreen Wealth Formula review
---
Name: Evergreen Wealth Formula
Website: evergreenwealthformula.com
Price: $197 + $147 (upsell)
Owner: James Scholes
Overall Rating: 5/10
---
If you're sick of scams, check out my 1st resource to make money online here!
---
What is Evergreen Wealth Formula about?
---
Evergreen Wealth Formula is said to provide you with step-by-step training and tools that will help you start generating sales today and easily scale it up into an automated 6-figure business in 90 days.
Sounds great, right?
When I read these claims I thought I was in front of another get-rich-quick scheme, so I watched the sales video and did intensive research to see if I was wrong.
According to James Scholes, the creator of this program, Evergreen Wealth Formula works in 3 steps:
Set everything up quickly and easily.

Set up your automated traffic streams to get fast results and let the whole business run on autopilot.

Add more traffic sources to make more sales and grow your business.
The whole concept sounds great because it seems this method doesn't require you to do much work unless you want to grow your business.
It's actually possible to have your business run on autopilot and make money while you're eating, sleeping, traveling or anything else. Sounds great, right? 
But you also need to know that all of this takes work and cannot be done as easily and fast as some con artists or marketers claim.
If you think about it, if it were that easy to build an online business that runs on complete autopilot, many people would have already made millions online, don't you think?
So keep in mind that it's definitely possible to build a 6-figure automated business online, but it's only going to happen if you put in the effort!
How Evergreen Wealth Formula works
---
Evergreen Wealth Formula is geared towards making money using the affiliate marketing business model.
In other words, you will have to sell other people's products/services in order to make money.
You will be provided with step-by-step video tutorials, tools and other resources to build your affiliate marketing business.
This is what you will learn to do based on the training:
Set up your first email marketing campaign using Aweber.

Build a website and squeeze page to capture emails in order to build your email list.

Fill your website with copied content or your own content to get your visitors to trust you and subscribe to your email list.

Use social networks like Facebook, Instagram and Twitter to bring traffic to your website.

Use paid traffic methods like solo ads to drive traffic to your website.

Open a YouTube channel and create relevant videos to get views and more traffic to your website.
To sum it up, your goal is to get your visitors to sign up to your email list so that you can promote affiliate products and services to them, and then, when your subscribers buy your recommended products through your affiliate link, you will earn commissions.
The problems I see with this method
---
It's definitely possible to make money using this method, but there are some things that I don't like and other problems that you need to be aware of.
In order to drive traffic from social networks to your website, James teaches you to create fake aliases a.k.a fake identities/profiles for each social network.
He mentions some websites to create fake names and find pictures to create the fake characters.
Once you have created the fake profiles, you will join groups or communities in each social network, for example Facebook groups, and then will publish posts to get people to visit your website.
The more posts you publish, the more people who will see them and the more visitors and subscribers you will get.
I personally don't like this method because it's unethical to create fake profiles and this is something that scammers do.
I review scams and low-quality programs all the time and it turns out that most of them are promoted under fake names and use fake pictures, something that leads me not to trust them.
Therefore, if you create fake social media profiles, your potential subscribers can find out that you're hiding and not trust you. Is this how you want to build your audience? 
I personally believe that it's important to be honest and genuine to gain your visitors/subscribers trust, so that's why I don't agree on this tactic that James recommends.
The training doesn't apply to all niches
James gives you some free training lessons that you can send to your subscribers, but the problem is that these lessons are about making money online which means that they will not be relevant to your audience if you're not in the make money online niche.
For example, if your niche is about beauty or wellness, your subscribers will not be interested in your emails which means that you cannot expect a good conversion rate.
There's no training on SEO
Another thing I don't like about the training is the fact that James recommends that you copy his content or other people's content so that you don't have to create your own.
The problem here is that your website will not get free organic traffic because duplicated content is not the kind of content that search engines like Google and Yahoo like.
In my opinion, traffic from search engines is highly targeted and the kind of traffic that can make you money, so I don't like the fact that Evergreen Wealth Formula does not provide training on this.
Click here to check out my FREE Earn Money Online Guide!
Evergreen Wealth Formula scam signs & red flags
---
Apart from the problems I have mentioned above, I have also found some scam signs that I want to point out because I've seen them in poor quality products I have reviewed.
Fake scarcity + too much hype
Two red flags I have noticed are the following:
Unrealistic claims like "start generating sales today"

Fake claims like "there's limited spots available"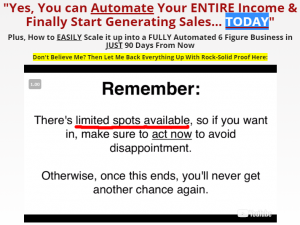 First of all, it's not impossible to make sales the same day you purchase this program, but only if you are an experienced marketer.
If you are a beginner just starting out, you cannot expect to make money the same day you get started because there's a lot of learning you need to do and lot of things to implement.
Second of all, it's not true that there are limited spots available because Evergreen Wealth Formula has been around for at least 2 years already.
Saying that there are limited spots available is a tactic used by con artists to get you to purchase their product as fast as possible.
So, why is James using tactics used by scam artists if his program is not a scam?
I don't like the fact that James doesn't mention the hidden costs because it's important that you are aware of them.
First of all, if you purchase Evergreen Wealth Formula for $197, you will be bombarded with an optional upsell of $147 (Jackpot Paydays).
I don't like the fact that he claims this upsell will not be available for much longer because it's not true. James is not putting a limit to the amount of sales he can make.
Apart from it, other costs you need to consider are the following:
The cost of building and hosting your own website (domain name + hosting cost).

The cost of the autoresponder you use for your email marketing campaign, Aweber in this case (at least $19/month).

If you want to get fast traffic to your website, you will have to invest in solo ads, which can cost you hundreds or thousands of dollars a month.
So you can expect to spend hundreds if not thousands of dollars a month to build your business using this method.
Last but not least, Evergreen Wealth Formula doesn't offer any money-back guarantee, so it's not risk-free.
If you purchase this product and then feel this is not for you, you will not be able to get your $197 back so I wouldn't recommend that you buy it if you can't afford to lose $197.
Not only that, they may share the information you provide with third parties a.k.a. marketers who offer similar products to Evergreen Wealth Formula, which means that you can expect to receive emails from people you don't know.

Is Evergreen Wealth Formula a scam?
---
Even though Evergreen Wealth Formula is being marketed in a misleading way, I don't consider it to be a scam because you can make some money thanks to the training provided.
Not only that, James also provides quality support for members and there's also a discussion area where you can get help from him and other members.
Because of this, I will not call Evergreen Wealth Formula a scam, but that doesn't mean I recommend it.
As I said, it's kind of risky and some of the tactics taught are not good, so that's why I don't recommend Evergreen Wealth Formula.
With that being said, you can do whatever you want with your time and money so the final decision is up to you.
A less risky way to build your business
---
Affiliate marketing is a great business model to earn money online, just like Evergreen Wealth Formula is promoting.
The thing is, you don't need to risk hundreds or thousands of dollars to build this business.
I personally use affiliate marketing to earn a consistent income month after month, and you know what? I didn't have to spend hundreds of dollars in order to start making money.
The method I use allows me to get free organic traffic so I don't need to spend a dime to get visitors to my website. That's right, I didn't pay for traffic to get you here =)
Want to know how I did it? You can find all the details in my FREE step-by-step affiliate marketing guide here:

My free guide shows you why affiliate marketing works, the 4-step process I followed to build this business, the step-by-step training and easy-to-use tools I used…
And I also show you how and where you can get started for free! Yes, this is completely risk-free because you don't need to spend any money to determine if this is right for you. 🙂 
Not only that, you will also get the chance to get FREE help and support from me and other successful affiliate marketers for no extra cost.
So yeah, you are not alone in your new adventure!
Are you ready to start your online business in a risk-free way?
CHECK OUT MY FREE AFFILIATE MARKETING GUIDE HERE!
I hope this Evergreen Wealth Formula review has been helpful to you and you will make the best possible decision. Don't hesitate to share it with whoever you believe that will benefit from it!
If there's something else you want to know or you have any questions, feel free to leave a comment below and I'll get back to you ASAP! ? 
Whatever you do next, I wish you nothing but the best =)