Welcome to my Success With Anthony review!
Some days ago I got an email about this product so I decided to check it out and see what this is about.
If you have questions like "is Success With Anthony a scam?", then you're in the right place because here you will find the truth about this program.
In this review, I will show you what Success With Anthony is about, how it works, whether or not you will make money and more.
Success With Anthony review
---
Name: Success With Anthony
Websites:
swa2017.com

successwithanthony.com
Creator: Anthony Morrison
Created in: 2012
Price: $67 or 2 payments of $49 + upsells
Overall Ranking: 3/10
---
If you're sick of scams, check out my 1st resource to make money online here!
---
What is Success With Anthony about?
---
I found two sales pages for Success With Anthony: successwithanthony.com and swa2017.com.
The first one was registered in 2012, which proves that this program has existed for 6 years already. And the second one (swa2017.com) is the page I was sent to via email.
Even though the sales videos are not the same, the program you're getting is the same and costs the same so what I'm going to explain applies to both sales pages and videos.
The moment I came across the sales page I was sent via email, I thought this program was another get-rich-quick scheme because the sales page looks like other get-rich-quick schemes sales pages.
But a book cannot be judged by its cover so I decided to watch the 33 minutes sales video to get a better understanding of this program.
Anthony really knows what to show and what to say to get you excited lol. His program is said to provide a way that will help you start making money fast.
If you've watched the same sales video as me, you might remember the people who claim to have earned thousands of dollars thanks to this program.
And then, seeing three regular men who met up with Anthony and made over $160 in ther first hour is something that made me feel quite skeptical about this program.
He also shows how each of these three men earned something like $2,000 in three days after getting started… Doesn't it sound too good to be true?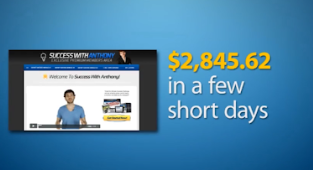 I mean, he makes it seem as if this was a push button system or get-rich-quick scam because all programs or systems that talk about making money the same day you get started are usually scams.
And the fact that he doesn't even explain what these three people exactly did to make money in an hour is another red flag. He really makes it seem as if the money had appeared magically in these people's ClickBank accounts.
But the truth is that there's no such thing as making money an hour after getting started. When you're starting out, there's a lot you need to learn before you can start making money, and all of this takes way more than an hour. 
Does Success With Anthony work?
---
The short answer is yes, Success With Anthony might help you make some money.
The business model
---
Even though the sales videos make it seem like this is a secret system, the truth is that this is nothing new. It's an affiliate marketing program.
If you've never heard of affiliate marketing, an affiliate marketer is someone who promotes other companies products/services and makes a commission for each sale. It sounds simple but it actually requires time and effort to make a substantial income with it.  
There are also many ways to do affiliate marketing. Depending on the method you use, you will make more or less money. 
How does Success With Anthony work?
---
Success With Anthony will show you how to build a "Profit Cycle Funnel", which means that you will be using a sales funnel to promote affiliate offers.
You will have to send people to the sales funnel and get them to purchase a product/service through your affiliate link. It doesn't sound complicated but there are important factors you need to take into consideration like the type of traffic and sales pages. 
I mean, you need to make sure you're promoting the product/service to the right people. For example, if you promote diapers to parents who don't have babies then you can't expect to make any sales. 
So let's see an overview of the process:
You build your Profit Cycle Funnel

You drive traffic to a squeeze page (a page with some quick points that explain what people are going to receive and a form where people need to enter their email address)

Once people have submitted their email address, they are taken to a "Thank you" page that contains your affiliate product.

If someone purchases the product, then you collect the commission.

When it comes to people who don't make the purchase, you send them follow up emails to try to get them to purchase your affiliate product.
The training
---
Some of the content has not been updated (it's from the 2012 version), but there's new training from the 2017 version.
You will get access to training videos that explain things like:
How to set up a sales funnel to promote ClickFunnels

How ClickFunnels works

How to use an autoresponder to collect people emails and send them emails automatically (Anthony recommends GetResponse)

Where to buy solo ads to bring traffic to your squeeze page

How to find affiliate offers on ClickBank and ClickFunnels

How to use a Facebook business page to drive more traffic to your sales funnel
Even though Anthony claims his funnel to promote ClickFunnels is high converting, it is not likely that it will convert for long because there's a lot of competition, since all members of Success With Anthony promote the same sales funnel.
Click here to check out my top recommendation (FREE to get started)!
Is Success With Anthony a scam?
---
I don't consider Success With Anthony a scam because you're getting some training and tools for your money, and the method taught can help you make some money.
I know some people would call it a scam because the sales video is kind of misleading, since it is unlikely that someone is going to earn money in the first hour after getting started.
Now I want to point out some of the problems and red flags I've found so that you know what to look out for if you ever stumble upon another program like this.
The upsells
---
After paying $67 or two payments of $49 to purchase Success With Anthony, you will be bombarded with upsells and downsells.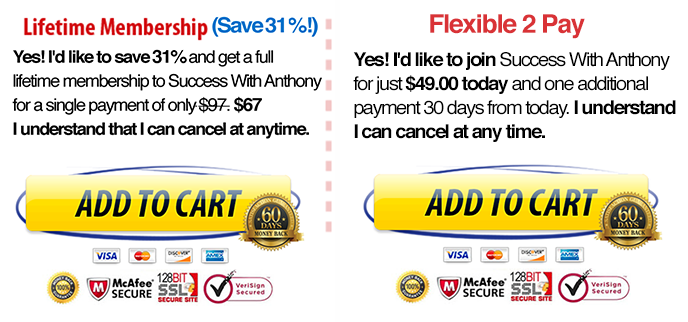 Some additional products are necessary tools like ClickFunnels ($97 per month) or an autoresponder like GetResponse (at least $15/month). Others are additional training or tools that are optional. One of the most expensive upsells is the coaching, which can cost over $1,000.
I personally don't like the fact that Anthony doesn't mention anything about these additional products or upsells, since this is something important to consider in order to decide whether or not to buy this program.
I mean, you wouldn't like to purchase an item and then be told that you need to purchase another one to make the first one work, would you?
The fake scarcity tactic
---
In the swa2017.com sales page, you can read that this is an early-bird launch special and it's ending tonight.
However, this is not true because I checked out the sales page yesterday and it said the same thing. You can check it out tomorrow and nothing from that page will have changed.
This is a trick to get you to purchase this program the same day you come across the sales page. I wanted to point this out because most websites that use this tactic turn out to be scams.
It's not newbie-friendly
---
In my opinion, Success With Anthony is not a beginner-friendly program and can make you spend more money than you would think.
They recommend that you buy solo ads, which means that you will have to pay someone to send promotional emails to their list of subscribers. They're not much expensive but the problem is the quality, so they might not convert well.
Therefore, you could end up spending more money on paid traffic than you earn from the affiliate sales. Paid traffic methods usually take a lot of trial and error to find out what works and what doesn't, that's why this is risky for people who are on a tight budget.
The disclaimer
---
Last but not least, I checked out the little note at the bottom of the sales pages (successwithanthony.com and swa2017.com) and see what I read:
"The typical person who purchases these materials makes little to no money"
After reading that, it's clear that there's no guarantee you will earn money. They're not saying that the earnings they talk about in the sales video are fake or that this program is a scam, but the disclaimer states that people who buy this program hardly make money, which would be enough for me to decide whether or not to purchase this program.
My final thoughts on Success With Anthony
---
I definitely don't recommend Success With Anthony for several reasons that I've explained before. 
Even though it provides some good training, it's quite expensive and doesn't go over everything you need to know. I mean, you will have to spend a lot of money on additional training and tools before you make your investment back.
In my opinion, if you're starting out or are on a low budget, it's better to learn the free traffic methods first and once you start making money, then you can invest in learning the paid traffic methods.
I and many people have got started using the free traffic methods first so we haven't had to spend a dime on traffic. For example, I didn't have to pay for traffic for you to read this post, sounds good?
So yeah, you don't need to spend thousands of dollars to build an affiliate marketing business. The place where I got started and still very active today, showed me what to do exactly to earn money without risking my savings.
By clicking the button above now, you will learn what I and other people are doing to make money through affiliate marketing, how you can get started for free and more!
Also, the training I recommend is being constantly updated and there's always new training and tutorials being added, so there's always something new to learn =)
Looking forward to seeing you get on the right track to build your online biz! I and other bloggers & Internet entrepreneurs will be there to help and support you 🙂 
LEARN ABOUT MY TOP RANKED PROGRAM NOW!
I hope you have found the answers to the questions you had concerning Success With Anthony. Feel free to share this post with whoever you believe that will benefit from it.
If there's something else you want to know or if you would like to share your opinion, don't hesitate to leave a comment below and I'll get back to you soon!
Best wishes!