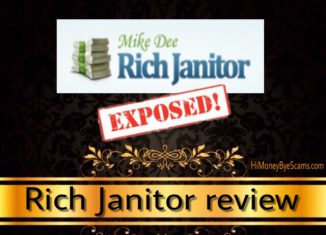 Welcome to my Rich Janitor review!
Have you come across the Rich Janitor sales page (richjanitor.com) and are wondering if it's a great program that will help you become financially free? Or is Rich Janitor a scam that will leave you with less money at the end of the day?
I was surprised to find that this program has been around for more than 6 years already, so does this mean this is legit and still works?
Here in this review, I will be going over what Rich Janitor is about, how it really works, whether you can make money or not and more.
Rich Janitor review
---
Name: Rich Janitor
Website URL: richjanitor.com
Creator: "Mike Dee"
Price: $27 + upsells
Created in: 2010
Overall Ranking: 1/5
---
If you're sick of scams, check out my 1st resource to make money online here!
---
What is Rich Janitor supposed to be?
---
I found multiple sales pages for Rich Janitor, but only one of them had a sales video so that's the one I watched.
At first I thought it was another get-rich-quick scheme because of the outrageous claims that are present in the sales video and page, but I didn't want to judge it by its cover so I looked deep into it.
Mike Dee, the alleged owner of this system, claims to be offering an amazing system that is going to earn money to everyone who tries it.
He created this "secret" system to achieve this goal: to prevent the gurus from scamming hard-working people who are looking to make money online. 
So yeah, he's supposedly against the gurus who always hype up everything to steal people's money. He's the one who is going to stop these scammers from taking advantage of newbies. Sounds great, right?
But then, when you realize he's doing the same as the gurus, you start wondering if he really means what he says. 
I mean, why does he claim you will not have to put in the effort to make money? Is it really as easy as clicking a few buttons? Is it true that you only need to tap your phone and don't need a keyboard?
Then he starts talking about the profitable money loopholes his system finds. There are too many loopholes so he wants to share them with other people who have got scammed by those greedy gurus. 
Thanks to this magical system, you will finally be able to earn a full-time income online in less than a week so you will never need another system. Doesn't it sound too good to be true?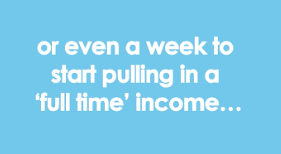 Sure, it sounds too good to be true and this is because it really is. Let's see why this system doesn't work like "Mike" claims.
Does Rich Janitor work?
---
No, Rich Janitor does not work to make you money. Let me explain why.
If you purchase Rich Janitor, you will get some training, a website and the software. Honestly, for $27 I wouldn't expect to get anything special.
The software you will get is an article generator, which means that you will not need to spend time on writing articles for your website. Maybe that's why he said you would not need a keyboard lol.
So these articles created by this software will include good keywords, which will help get your articles ranked in search engines like Google and Yahoo, and then your website will get free organic traffic. So when people click on your articles, read them and purchase a product through your affiliate link, you will make commissions.
Well, that's the idea behind this system. "Mike" claims you will not need to put in the work because the software creates the articles for you. This is something that used to work back in 2010/2011 when this program came out, but now it does not work.
The problem is the fact that the content this article generator creates is not unique content, something that nowadays is essential to get your articles ranked in the search engines.
There's no way to get your articles ranked by copying other people's content. Google is much smart these days, so it can easily detect if your site is full of copied content and penalize it for that. What does this mean?
This means that your website will not get seen by anyone, so it will not make any money.
When it comes to the training, it's outdated so you can't expect it to work. Not everything is bad but it doesn't go over everything you need to know. For example, it doesn't cover how to create unique and valuable content for your website, which is something very important as I said.
The business model used here is affiliate marketing, which is legitimate and it's how I and many people make money, but the problem is that Rich Janitor doesn't provide the necessary training and tools to help you make it work.
Click here to check out my top recommendation (FREE to get started)!
Is Rich Janitor a scam?
---
I know some people would consider Rich Janitor a scam because it doesn't live up to its promises.
Others would not consider this program a scam because they provide something for your money. At least it's not as bad as the trading software scams that get your money and give you nothing in return.
In my opinion, it's just another low-quality program because you can learn something from the training but it's not enough to make money online, which is what you want.
With that said, I want to point out some of the red flags I've found so that you know what to look out for if you ever come across another money-making opportunity like this.
Lack of transparency when it comes to the price
---
First of all, he claims you're going to get $70 for watching the sales video, but this is completely fake.

Then he claims this program costs $97 but he's going to pay $70 to make it cheaper for you, which is another trick to make you believe that you're getting a lot for a low price.
However, after paying $27 for this product, you will be bombarded with 3 upsells of $97, $197 and $497. This is the reason why affiliates who promote this product get to earn $300 per sale. 
I personally don't like that they don't mention anything about the upsells because knowing the total price is something you need to consider in order to make a wise decision.
The fact that this product was first launched on ClickBank and then was removed for violating their terms & conditions says a lot about it. 
It's marketed as a get-rich-quick scheme
---
Mike Dee's Rich Janitor is marketed as a get-rich-quick scheme, something I don't like because it gives people false expectations. 
Products like this one are what give the Internet marketing industry a bad reputation and make beginners not believe there are people who really want to help them. 
I know I could promote this product as an affiliate to make money, but I choose not to do it because it's very unethical and would harm my reputation.
The email swipes they provide for affiliates to promote this product are full of lies. See an example below:
Whenever you receive an email like that, I recommend that you unsubscribe from that email list because people who make these fake claims of "make $1000 with a click" want to profit at your expense, they don't really want to help you.
There's no such thing as a push button system or "one click system" that works to make you money, so don't believe people who promote this.
Mike Dee is not the real owner
---
When this product came out in 2010, they claimed the owner was Mike Dougherty, which means that Mike Dee is not the real creator of this system.
He's a made up character to promote this system, so I don't believe the sob story he tells us of being $8,500 in debt and finding money loopholes that made him rich.
I also did a whois search and found that the domain richjanitor.com is owned by someone named Ankur Patel, so he might be the real owner behind this system.
I don't know about you, but I cannot trust a system whose owner lies about his identity.
The complaints
---
What are people saying about this system? Is there any positive review?
The answer is no, there are no positive reviews of Rich Janitor. I've only found complaints from people who haven't got any refunds.
As you can read above, the con artist/s behind Rich Janitor charged this person without his/her consent!
And customer service is so bad, this person below has asked for a refund seven times but still haven't got any money back.
A better alternative to make a living online
---
After everything I've explained, there's no way I can recommend Mike Dee's Rich Janitor.
They use unethical tactics, the method is outdated and they don't seem to care for their customers, so I suggest that you stay away from it.
When it comes to making money online, there are more low-quality programs and scams than legitimate programs I can recommend. What you need to keep in mind is that you will need to put in the work and time in order to generate a full-time income online.
No matter the method or business model you use, money will not come without making efforts. This is just like anything worth achieving in life, it takes effort and time.
Apart from that, it's important that you always keep learning because some of the methods that worked some years ago do not work today, so that's why you need to learn from a training that is always being updated.
If you're starting out and looking for a way to make a living online or more, then it's best to build your own online business based on something you're passionate about.
The business model I'm using has given me a way to earn a consistent income month after month. In fact, there are many people who are using this exact business model to make a substantial income.
If you're interested in learning how this business works, why it works and where you can get the comprehensive training and marketing tools I've used, click the button below now:
I also let you know that you will be able to get started for free, so you can see everything for yourself and see if you like it =)
I'm so excited to help you on your way to making money online, not to mention that you'll also get to meet other bloggers & Internet entrepreneurs you can interact with and learn from!
Looking forward to seeing you leave the scams behind and start building your long-term online business today 🙂 
LEARN ABOUT MY TOP RANKED PROGRAM NOW!
I hope you have found the answers to the questions you had concerning Rich Janitor. 
If there's something else you want to know or if you want to share your opinion, don't hesitate to leave a comment below and I'll get back to you soon. 🙂 
Best wishes!