Welcome to my Real Money Streams review!
You have stumbled upon Real Money Streams (realmoneystreams.com) and are wondering if you can make real money online, right? Or are you suspicious and want to know if Real Money Streams is another scam created to rob you blind?
There are many scams and low-quality programs out there so I'm glad that you're taking your time to do some research and make sure you know what you're in front of before making a purchase.
Here in this review, I will show you what Real Money Streams is about, how it really works, whether or not you can make money and more.
Real Money Streams review
---
Name: Real Money Streams
Website URL: realmoneystreams.com
Creator: "Chris Johnson"
Price: $37 + upsells
Created in: 2014
Overall Ranking: 2/10
---
If you're sick of scams, check out my 1st resource to make money online here!
---
What is Real Money Streams about?
---
The sales page for Real Money Streams looks like many other ClickBank products sales pages.
It looks kind of overhyped but I actually found the sales video entertaining and different from most "make money online" products videos I've watched.
According to the spokesman, Chris Johnson, you can make $500 per week just by completing simple tasks like taking surveys and temporary jobs.
He makes it seem like there are many benefits when it comes to making money online this way because:
You're not required to have any previous experience or skills.

They don't require you to present any job resume or do interviews.

You can take the time you want to complete each task or little job.

There are all kind of tasks (researching, categorizing stock items, proofreading, editing, filling out forms, tagging images…) so you will not get bored easily.
Everything he says makes it very tempting to purchase this product and try it out. After all, if it's possible to earn at least $500 per week thanks to this product, what do you have to lose?
However, don't get excited too soon because it's not as easy and good as the spokesman claims. Let's see what you can find inside the members area and the problems I see.
What if you purchase Real Money Streams?
---
If you decide to pay the $37 initial fee, you will get access to the members area, where you will find all of this I'm going to discuss.
Two sections
---
There's a section where you can find online tasks to do and another one related to offline tasks.
The online tasks are about content categorization, content moderation, product matching, search relevance, data entry, copywriting and content tagging. 
Most tasks are related to Amazon Mechanical Turk, a platform that connects companies with online workers, who get paid for completing simple tasks like transcribing audio recordings, identifying objects in a photo or video, reviewing images, removing duplicated content…
Companies usually pay cents per task or job completed, so I believe AMT is a good place if you're looking to earn some extra money.
When it comes to getting paid, only workers from the US and India get paid in cash. The rest are paid with Amazon gift cards.
What about the offline tasks? They list three sites that require you to download an app so that you can do simple tasks on a local basis. 
For example, some tasks involve going to shopping centers or restaurants to test some kind of service like evaluating staff or product testing.
The problem I see here is that not everyone has the same opportunity. I mean, people who don't live in big cities would have to travel in order to visit the shopping centers or restaurants and perform the tasks.
So, depending on where you live, it might not be worth it to travel just to complete some little tasks that don't make you much money because you would spend more money on transport than you earn.
Apart from that, those sites they list are only in English, so they are not for people who live in a non-English speaking country.
The training
---
The training you will find are ebooks and videos about online jobs and making money online in general. These are some of them:
Twitter Profits Unleashed. A video about getting paid to send tweets.

Blogging professional. An ebook about making money blogging.

Domain Cash Generator. A video about flipping domains to profit.

Amazon's Affiliate Program. A video about earning commissions for selling Amazon products as an affiliate.

Google Adwords & Adsense Made Simple. An ebook about how to use Google Adwords and Adsense to earn money.

Selling On eBay. A video about finding products to resell on eBay.
Most of these ebooks and videos are PLR (Private Label Rights) products, which means that you can find them for free just by doing some Google searches.
It might seem like you're getting great information for $37, but the truth is that this is not going to help you make the money the spokesman talks about. More on this in the next section.
Is Real Money Streams a scam?
---
I know many people would call Real Money Streams a scam because it doesn't live up to its promises. 
In my opinion, it's not a 100% scam because you're actually getting some information for your money and you can also get a refund, since it's a ClickBank product.
At least Real Money Streams is not like many of the trading scam softwares (1K Daily Profit, Crypto Genius, The Bitcoin Code) that I've exposed. These scam softwares are worse than any ClickBank product because they don't provide any training, they take your money and leave you with nothing.
Because of this, this is just another low-quality product to me. Other poor quality products I've recently reviewed are:
With that being said, I want to point out some of the red flags I've found so that you know what to look out for whenever you come across another money-making website.
Chris Johnson doesn't show up
---
The fact that the spokesman doesn't show any picture of himself and doesn't tell us how to get in touch with him is a scam sign to me.
I usually don't trust programs or websites whose owners don't show up because it means that they're trying to hide something, and this is what scam artists do.
They usually create fake characters and never display their real name in order to avoid getting persecuted by their victims.
In this case, Chris Johnson could be an invented character and the spokesman a voice actor.
The upsells
---
Another thing I don't like is the fact that they don't mention the upsells in the sales video, which is something that doesn't surprise me because this is what happens with most (not to say all) low-quality products.
The spokesman looks like he wants you to believe you only need to invest $37 to make a full-time income online. But the truth is that they will try to get you to spend some money every single month.
See the upsells below: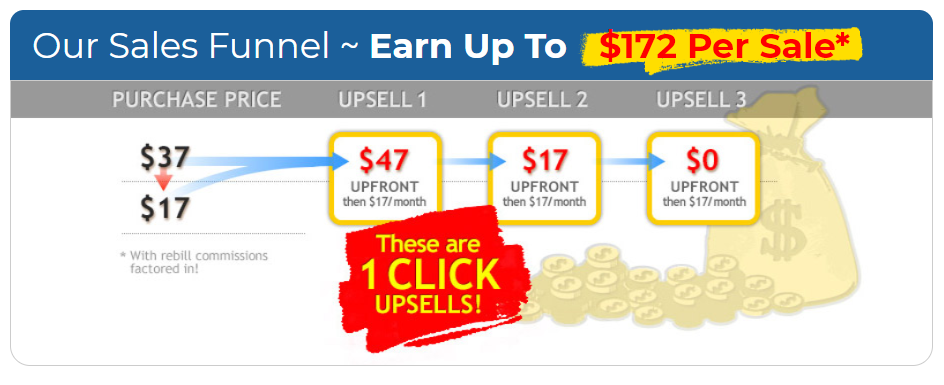 The upsell 1 is a VIP mastermind training called Money Making Moguls, which promises you will earn $1000 per day.
If you try to close the page, they will try to get you to purchase the same product for $17 upfront and then $17/month. If you refuse to purchase it, they will offer it for $0 upfront and $17/month.
I personally didn't purchase it because I don't like these kind of products that promise more than they offer and use deceitful tactics to get your money.
The training is outdated
---
Another reason why I don't believe Real Money Streams is worth your time is because the ebooks and videos are out of date.
Some of the links inside the ebooks don't work because the company/platform recommended no longer exists, and the videos are from 2009/2010/2011. 
This is more of a problem than it might seem because what used to work some years ago doesn't work anymore. That's why it's important to keep on learning and get training that's being constantly updated.
For example, if you apply some of the SEO methods taught in these ebooks, your website probably will not get good rankings on search engines, which means that it will not get visitors and you will not earn money.
My favorite way to earn money online
---
Real Money Streams teaches legitimate methods about making money online, but the training is outdated and doesn't go over everything you need to know to make a full-time income online.
You might earn some money by taking surveys or completing some small tasks, but just some extra dollars. The sites they list are not the places to go if you're looking to earn a job-replacing income. I wrote an article about the truth about making money by taking surveys, which you can read by clicking here.
So, my final conclusion is that Real Money Streams is not worth it so I don't recommend it, but the final decision is up to you. 
There are many ways to make money online and know it might seem hard to know what way to choose when you're starting out as a complete newbie.
But after trying many ways to make money, I've concluded that it's best to build your own online business that makes you money for many years to come.
The business model I use has given me a way to earn a consistent income month after month while helping other people and doing something I love.
In fact, there are many people who are using this exact business model to make a full-time income online. 
Also, it's important that you keep in mind is that this requires a lot of work, patience and persistence, just like anything worth achieving in life.
I believe that anyone who gets the proper step-by-step training & tools and is committed to doing what it takes, can build a successful online business.
If you're interested in learning how this business works, why it works and how to get started, click the button below:
You will also be able to get started for free if you get inside the platform where I got started back in 2016 and still very active today!
To add to it all, you will get to meet other bloggers and Internet entrepreneurs you can interact with and ask questions to. Not to mention that I will be there to give you a hand whenever you need help or support =)
Looking forward to seeing you leave the scams behind and start building your online biz today!
LEARN ABOUT MY TOP RANKED PROGRAM NOW!
I hope you have found the answers to the questions you had concerning Real Money Streams. 
If there's something else you would like to know or you want to share your opinion, please feel free to leave a comment below and I'll get back to you soon. ? 
Best wishes =)