Welcome to my review of 30 Minute Money Methods!
You've come across this page called 30 Minute Money Methods and are wondering whether this one is the real deal or just another scam, right?
Some days ago I stumbled upon it and knew I had to look deep into it just to write a review and let you all know the truth. 
.
30 Minute Money Methods review
---
Name: 30 Minute Money Methods
Website URL: http://30minutemoneymethods.com/
Creator: "Shelly West"
Price: $37 or $27 + upsells
Created in: 2017
Overall Ranking: 12/100
.
---
If you're sick of scams, check out my 1st resource to make money online here!
---
.
What is 30 Minute Money Methods?
---
30 Minute Money Methods is supposed to be a system that you can make $500 in 30 minutes with. At least that what the woman who narrates the sales video claims.
Just the moment I came across their sales page I felt something was not right.
I thought I was dealing with a scam because the main components seen in the sales page are a sales video, a form below the video and a high income claim above the video, something I've seen in most of scam pages.
But I didn't want to think it was a 100% scam so I watched the video and didn't get surprised, to be honest.
The woman who narrates the sales video claims to be Shelly West and she's going to show you how she went from broke to rich.
She claims she had no college degree and she didn't earn enough money to feed her two children, so she had to ask her mother to take care of her children while she was trying to make money online.
She claims she tried to earn money by filling in surveys but most of the surveys entered her into a prize draw that she never won. 
Then she tried to make money blogging but she was spending more than what she was earning from the banner ads, so she quitted.
And then the third time she tried to find a way to make a reliable income online, it finally worked. She found "secret websites" that made her money right way. She started making $10,000 per week so she was able to quit her job and her life completely changed.
Wow, how amazing these secret websites are, right?
And now she's giving the chance to make this huge amount of money to other people, anyone can make money the same day they try this system, according to her.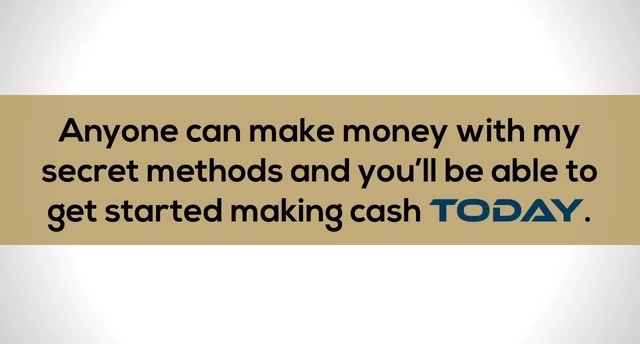 The thing is, there's no reliable proof that verifies what she's telling is real. And the fact that she claims she was able to make money in no time just after finding some secret websites is a big red flag.
I've heard other sob stories similar to this one in other scam sites. They're invented just to make you believe that there's some shortcut or something that can make you money online fast.
.
How does 30 Minute Money Methods work?
---
"Shelly" claims that these methods are so easy to implement and anyone who uses them will start making money instantly. 
She also says that some of the 30 Minute Money Methods members only work 30 minutes per day and still get to earn thousands of dollars per week.
These secret websites she mentions work on auto-pilot. But there's a problem with this.
She doesn't explain what kind of websites you're going to get. When she talks about how much money she's made, she doesn't say where the money comes from like what is she selling? Her own products, other people's products…?
There's no way to know what you'll be exactly doing to earn those thousands of dollars she mentions in the sales video, which is a red flag.
She doesn't say whether those sites are affiliate sites, e-commerce sites, "done-for-you" sites…
When she claimed that those secret sites work on auto-pilot, the first thing that came to mind was that those sites are some kind of "done-for-you"  sites that use autoblogging to produce content, which consists in a software that grabs content from other sites and this is something that doesn't rank well as search engines don't stand up for sites with duplicated content.
Or perhaps those websites are sites that only have one page or a few pages that don't have quality content. These kind of websites don't rank well either as search engines don't like sites that have little to no content.
.
What can you expect from 30 Minute Money Methods?
---
You can expect 30 Minute Money Methods to only work for the people who have created it. I'll explain why.
According to the 30 Minute Money Methods sales video, it only costs $37 and there are no hidden fees, something that I don't believe.
The fact that they ask for your name and email address without telling what you're getting for $37 is a huge red flag. 
That's why I decided to complete the form below the sales video with a random name and email. Then I got to the checkout page and it said nothing about what's included. 
I also noticed that you can get 30 Minute Money Methods for $27 if you try to exit the page, this is another red flag because it indicates that they just care about getting your financial information and then prepare you to pay more.
There would be no problem with paying more if they offered good quality products but what they're going to offer you simply does not work.
Let's take a look at their disclaimer:

As you can read above, there's no guarantee that you'll make money with 30 Minute Money Methods, which indicates that what they're offering might not work. This is contrary to what it's claimed in the sales video.
Apart from that, when it comes to your personal details, in their privacy policy page you can read how they'll use them:
As you can see, they'll share your personal information with people who offer similar services, which means that they'll share your information with other scam artists.
And another thing you can expect from them is to send you emails related to other products similar to 30 Minute Money Methods a.k.a. other poor quality products so it's completely fake that there are no hidden costs or upsells.
The truth is that they'll try to get as much as possible from you. That's what con artists do.
.
Is 30 Minute Money Methods a scam?
---
30 Minute Money Methods is not a 100% scam, it's a low-quality program, in my opinion. 
The whole sales page and video is full of red flags that tell me this program is not reliable.
I've explained why it will not work as they advertise and now I'll post the scam signs you need to be aware of.
.
Shelly West is a fictional character
---
Shelly West is not the real creator of 30 Minute Money Methods. There's no way to verify her identity because she doesn't show up and there's no page with a picture of her or information about her social profiles.
I searched for information about her but there's nothing. There's a singer named Shelly West but she has nothing to do with 30 Minute Money Methods.
I believe the woman who narrates the 30 Minute Money Methods is a voice actress who's been paid just to recite the script the scam artists have given to her.
.
Fake video testimonials
---
Truth be told, all those people who appear in the sales video that claim to have made a lot of money thanks to 30 Minute Money Methods, haven't even tried it.
They're paid actors that sell their services on outsourcing sites like Fiverr.  
Take a look at the one below: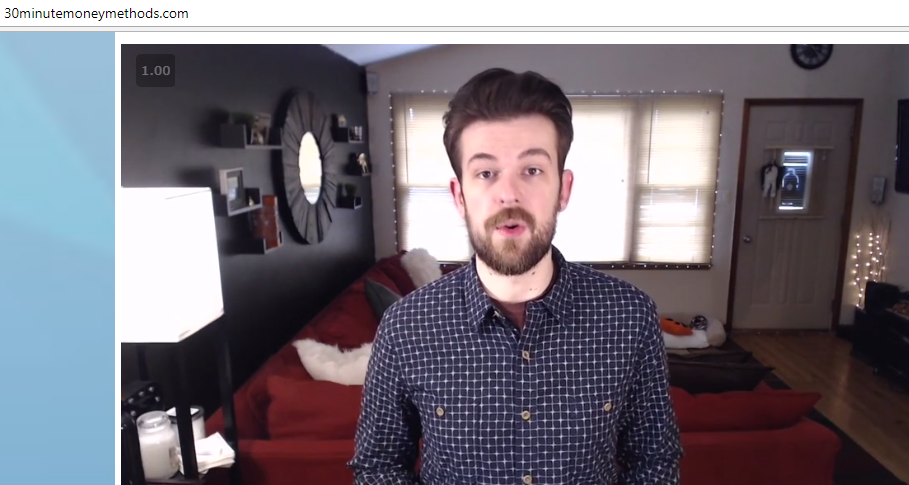 I've lost the count of the scam videos this guy has appeared in. He's appeared in Bahama Banker and Monaco Treasure, two binary options scams that I exposed some months ago and seem to be shut down now.
He's a Fiverr actor as you can see below:
If miraculous programs like 30 Minute Money Methods really worked, they would not use fake testimonials to make you believe that there are people who are making money thanks to it.
.
Fake comments and questions
---
All the comments and questions that appear below the 30 Minute Money Methods are invented. 
I tried to leave a comment and they took me to the checkout page. They ask for your email to post a comment as a way get your email, since when you click "add your comment" you're directly taken to the checkout page, so the comment never gets posted. 
They just do this to get your email and be able to sell you other scam products as I've explained in another section.
.
My final verdict and suggestion
---
I highly do not recommend 30 Minute Money Methods as it doesn't live up to its promises.
It's just another get-rich-quick scheme in which you're promised to make a lot of money in no time without being told what you'll have to do. 
And it's not only what they're offering that matters, it's the way they're offering it. They make lots of fake claims and they also try to pressure you to sign up by telling you that you will lose your chance to make $50,000 per month if you don't act quickly.
I personally don't like their way of doing business so there's no way I'll recommend a product like 30 Minute Money Methods. 
It's a ClickBank product so you can ask for a refund if you've purchased it. That's the only good thing I see about it.
My advice for you is that you avoid all products and systems that promise you easy riches as that's something that does not exist.
If you're really serious about making a full-time income from home, know that you'll have to work your butt off to make it happen. Great things have never come in an easy or fast way.
If you're committed to doing what it takes to achieve your goals, then there's a digital marketing platform that you might want to check out.
This platform is very affordable (even free to join) and provides courses, useful tools and step-by-step training that will help you create and grow a successful business online in a ethical and sustainable way.
Apart from that, you'll get to meet like-minded people who are on the same path as you. I've been a member of this platform for over a year already and people are very supportive and helpful there, you can rest assured that you don't have to do this alone!
I love lots of things about this platform, if you're interested in learning more you can click the button below now and read the detailed review I wrote:
.
That's it for today, folks! I hope you've found answers to the questions you had about 30 Minute Money Methods. 
In case you have any questions or want to share your opinion, feel free to leave a comment below and I'll get back to you ASAP. 
Best wishes! 🙂