Hey guys!
Have you come across Profit With Our Sites (profitwithoursites.biz) or Clone My Sites (clonemysites.com) and are wondering if you can earn $1000 per day? Or perhaps you have questions like "is Profit With Our Sites a scam?" or "is Clone My Sites a scam?", am I right?
Well, I'm glad to see that you're doing some research and have come across this post because here you're going to find out the truth about these two websites.
The reason why I've decided to write a review for these two websites is because they're the same exact thing and work the same way so what I'm going to explain applies to both.
Profit With Our Sites and Clone My Sites review
---
Name: 
Profit With Our Sites

Clone My Sites
Websites:
profitwithoursites.biz

clonemysites.com
Owners: "Jake"
Price: $37 + upsells
Overall Rating: 15/100
---
If you're sick of scams, check out my 1st resource to make money online here!
---
What are these websites about?
---
The moment I came across the Clone My Sites sales page I was like "I've come across a similar page before", so I did some research and found out it was a copy of the Profit With Our Sites sales page.
Profit With Our Sites came out some months ago but I still had not exposed it, so I thought I would write a post to expose both Profit With Our Sites and Clone My Sites.
As you can observe below, they look the same and the only difference between them is their domain: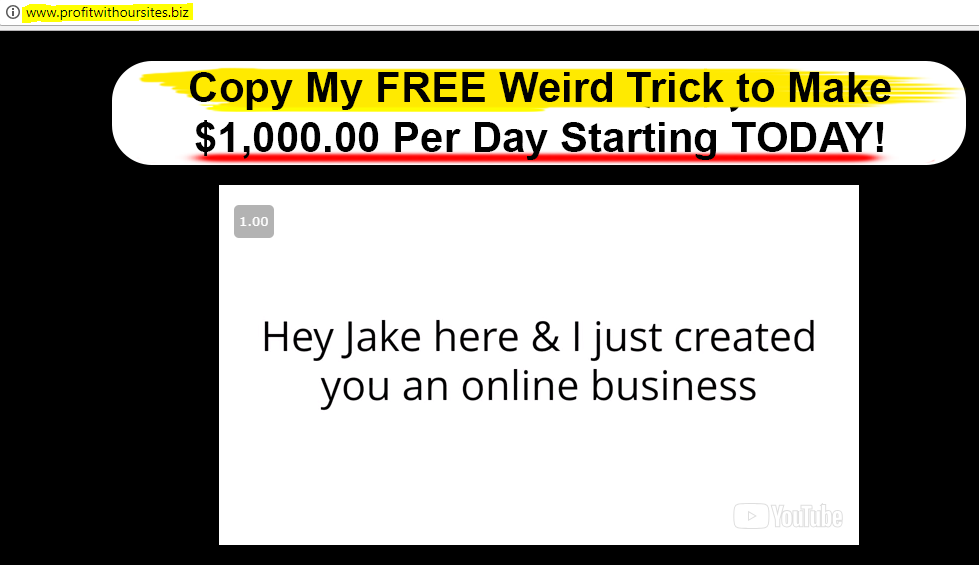 I've come across many sales pages like these and they all usually end up being get-rich-quick schemes, but I didn't want to come to any conclusion yet so I watched both sales videos.
Jake, the spokesman, really knows what to say to get you excited about this program. He claims to have created your money-making account that is making you money while you watch that video, sounds amazing right?
I mean, how come is he going to make you money without you doing any work? Oh, and this is supposed to be happening live while you are watching that video, doesn't it sound like a dream come true?
But don't get too excited because that video is not even a live video. The truth is that it's a YouTube video that has been watched over 20K times!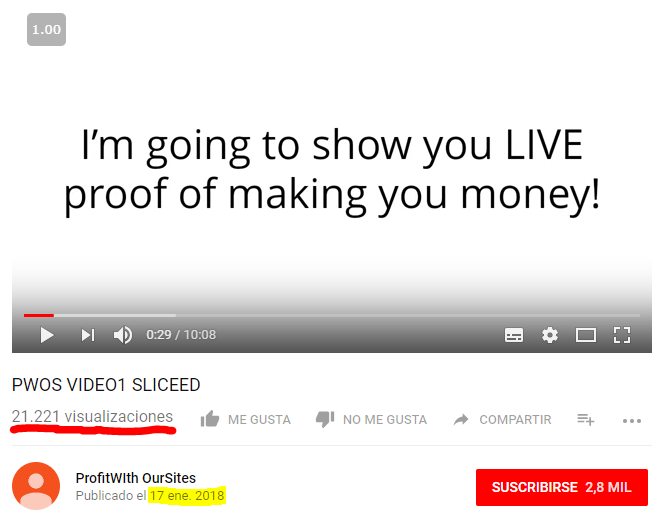 Therefore, it makes no sense that the video has made money to everyone who has watched it. If what "Jake" says was really true, don't you think this video would be famous already? Everybody would be watching it! I would even tell my family and friends to watch it lol.
So yeah, the video is full of lies and fake claims. "Jake" just wants you to get excited and fall for this program.
I know it sounds very attractive the idea of having a done-for-you system that makes you easy money on autopilot, but the truth is that these systems are not that good.
A system that doesn't require you to do much work is not that good because it keeps you dependent on the system itself, which means that you will stop making money if the system shuts down.
Apart from that, there's no system that can make you $1000 per day the same day you get started, so whenever you hear someone claim that you can earn easy money fast, run away!
How Clone My Sites & Profit With Our Sites really work
---
What's for sure is that Clone My Sites & Profit With Our Sites don't work the way "Jake" tells you.
The fact that he doesn't explain what you will exactly have to do to make money is a big red flag. He acts as if making money with his websites was magical and could be done by clicking a few buttons, but there's so much more to it.
The questions I have are:
What is he selling to make money? 

What kind of websites are you going to get?

Is the training good?
After watching the sales video, I concluded that you will not be taught to create your own products because he claims he makes money when you make money, which means that you will be selling other people's products.
Apart from that, the testimonials who appeared in the sales video looked familiar to me so I did some research and finally found how this really works!
For example, these testimonials below appeared in the Massive Internet Profits sales video: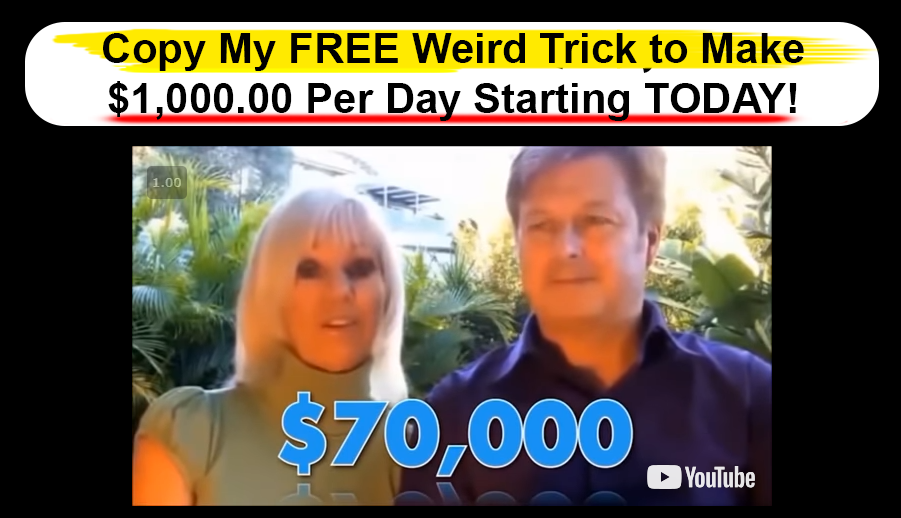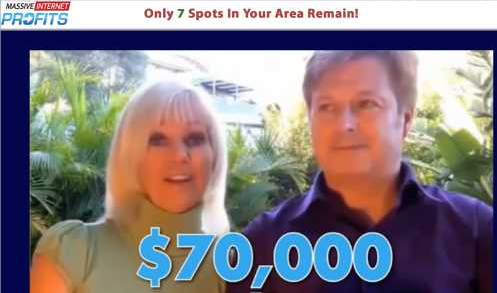 Massive Internet Profits was another fake page that I exposed some months ago and now looks like it got shut down.
The thing is, Massive Internet Profits was created to get people to buy into a high-ticket program, so I believe that Profit With Our Sites and Clone My Sites were created for the same thing.
So what's the name of the real program? MOBE. You can see it appeared in the Massive Internet Profits checkout page: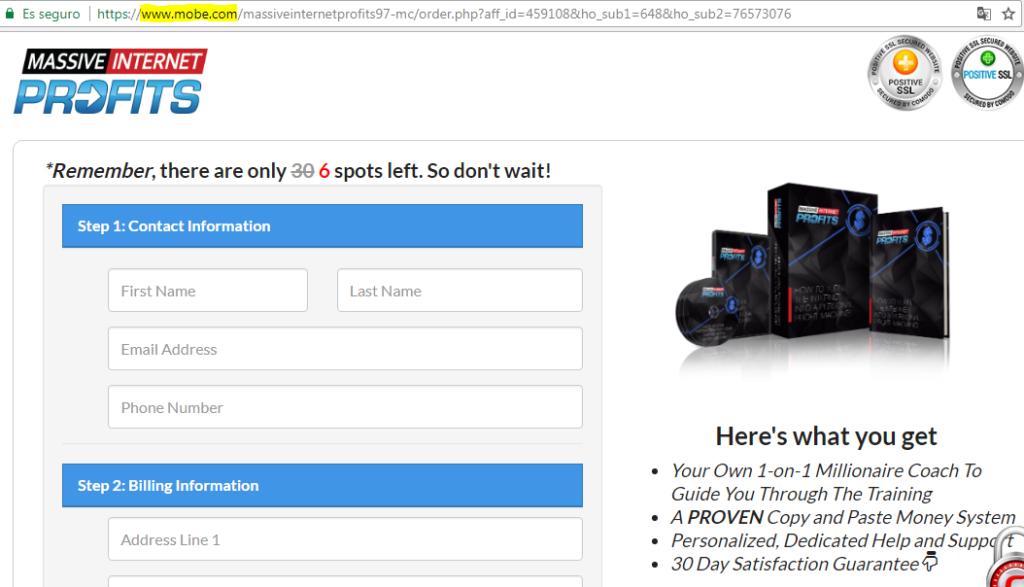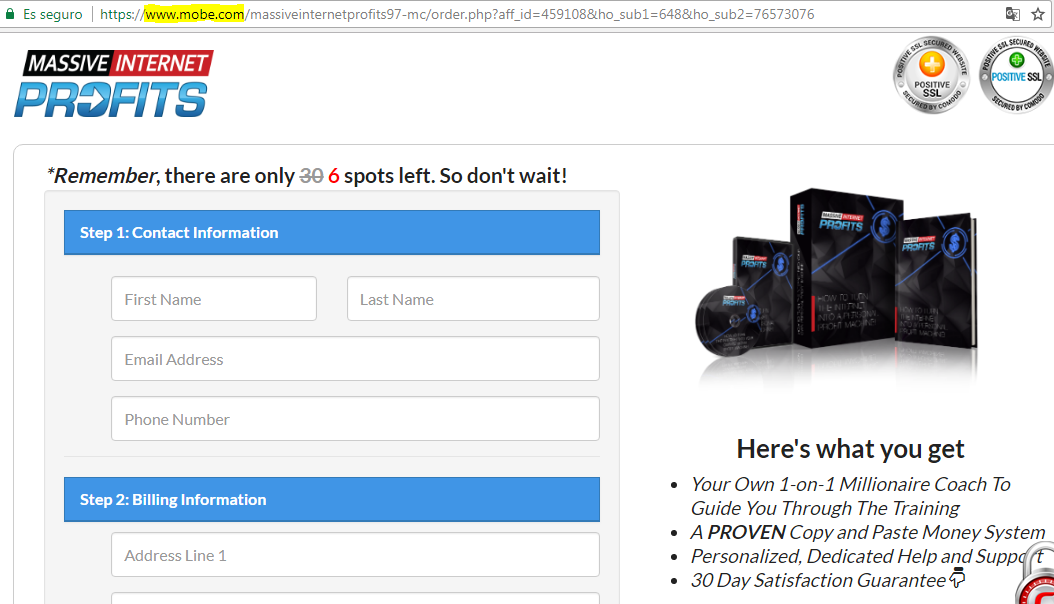 In fact, there are many pages like Profit With Our Sites and Clone My Sites that are being used to get people into MOBE. 
So what's MOBE about and how does it work?
MOBE is a high-ticket program that provides good Internet marketing training but it's geared towards promoting MOBE itself. So what you will basically have to do is to promote MOBE products to make sales and make money, but this is not as easy as it sounds and I'll go over it in a bit.
When it comes to the price, the $37 initial fee is just the beginning. You will receive some training to get you started and ready to do the massive spending.
Yes, they will try to get you to purchase the expensive packages that cost over $50,000 in total. See the prices below:

The thing is, MOBE requires their affiliates to buy all those packages they want to earn money from, that's why you will have to spend thousands of dollars to earn $10,000 in commissions.
But I'm not 100% sure that Profit With Our Sites and Clone My Sites will lead you to MOBE because they don't say anything about MOBE in their terms or privacy policy, but trust me when I say that there's no system called Profit With Our Sites or Clone My Sites.
High-ticket programs like MOBE usually use fake names and pages to get leads to prevent potential victims from finding negative reviews. 
Most high-ticket programs are not newbie-friendly because they require people to "pay to play" and the tactics they use to get leads are kind of risky.
In the case of MOBE, they do paid advertising which is very risky because it takes a lot of trial and error to see what works and what doesn't. They need to spend lots of money on ads in order to recruit the few people who are willing to spend thousands of dollars on MOBE's packages.
Anyway, another thing that proves that Profit With Our Sites or Clone My Sites don't work to earn you money is their disclaimer:
"The typical purchaser does not make any money using this system"
This is the complete opposite of what "Jake" says in the sales video. Wasn't that easy to make money with this system? That's what they want you to believe, but the truth is stated in the fine print that can be found at the bottom of profitwithoursites.biz and clonemysites.com.
They can say whatever they want in their sales video but at long as they state the truth somewhere in their page, they will not be responsible for people who fall for this.
Click here to check out my top recommendation (FREE to get started)!
Profit With Our Sites & Clone My Sites scam signs
---
We've seen that these websites don't work as advertised and are not even real systems. They are pages used to get leads to high-ticket programs like MOBE.
With that being said, I want to point out some of the red flags I've found so that you are aware of them if you ever come across another scam page.
No information about Jake
---
The fact that Jake doesn't show up is a big red flag because it means that he doesn't want you to know his real identity.
Whenever I come across a money-making opportunity I want to know who has created it because it helps me determine whether or not to trust it.
In this case, I believe that Jake could be a fictitious character used to promote this scam. In fact, scammers usually create fake characters for their scams.
The testimonials are fake
---
In the sales video, "Jake" talks about how members are earning a lot of money with this system but this is completely fake. 
They have used stock pictures and have invented their names and earnings. It's all a complete fabrication.
For example Jay Watkins who has supposedly made $500 in a day but I did an image search and found out that this man's image is being used in other websites:
The same happens with the rest of testimonials. They're not real members of Profit With Our Sites or Clone My Sites.
How many people have received an invite?
---
To be honest, I couldn't help but laugh when "Jake" claims you're one of the few who's received an invite. It makes no sense.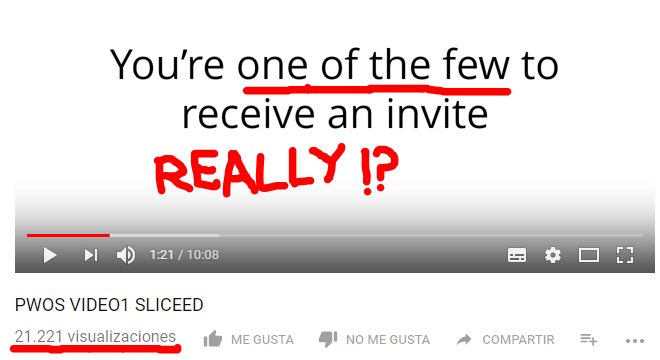 I don't know how many people are "a few" to him but for me, 20.000 leads me to believe more than 10.000 have watched that video.
The truth is that they've sent an "invite" to many people! These scam artists usually buy subscribers from people who have huge mailing lists in order to email their "magical systems" to as many people as possible. 
Their real goal is to get as many people as possible to fall for this scam. They never limit themselves when it comes to the amount of money they want to make. 
A real way to make a living online
---
After everything I've found and explained, I definitely don't recommend Clone My Sites or Profit With Our Sites.
They're not transparent when it comes to the real program they want you to buy, they lie about the testimonials, they lie about what it takes to make money online… no way I can recommend it.
The day people understand that there are no push button systems that work or that making money doesn't happen easily or fast, then they will stop wasting their time on scams.
The way to avoid scams and make a full-time income online is by getting educated and building your own online business, just like I started doing back in 2015 when I got started in the "make money online" world.
I'm very glad that I came across a platform that provides step-by-step training, marketing tools and support that have helped me and many other people build our businesses.
The business model I use is newbie friendly because it doesn't require you to create your own products and it's very affordable, not to mention that it's possible to get started for free!
By clicking the button above now, you will learn how this business works, why it works, the place where you can get started today and more!
The business you will build will be based on something you're passionate, which will make the process more enjoyable =)
To add to it all, you will get to meet other bloggers and Internet entrepreneurs you can interact with or ask questions to. I'll personally be there for you as well =)
LEARN ABOUT MY TOP RANKED PROGRAM NOW!
It's your time to leave the scams behind and get on the right track to build a thriving business online!
I hope you have found the answers to the questions you had concerning Profit With Our Sites or Clone My Sites. 
If there's something else you want to know or if you would  share your opinion, feel free to leave a comment below and I'll get back to you soon. ? 
Best wishes!