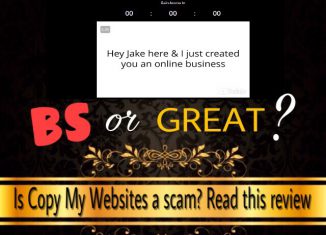 Hey y'all!
I recently came across a page called Copy My Websites and the first question that came to mind was "Is Copy My Websites a scam?", so I looked deep into it to discover the real nature of that site.
To be honest, I thought it was a scam just the second I stumbled upon it, but I wanted to know what it really was so I did intense research.
Make sure you read this Copy My Websites review to find out the real nature of this program.
.
Review of Copy My Websites
---
Name: Copy My Websites
Website: http://www.copymywebsites.com/
Creator: "Jake"
Created in: 2016
Price: $37, $27 or $17 + upsells
Overall Rating: 14/100
.
---
If you're sick of scams, check out my 1st resource to make money online here!
---
.
What is Copy My Websites about?
---
The moment you stumble upon the Copy My Websites page, a sales video starts playing. 
The narrator of that video claims to be Jake, who says that he's making you money while you're watching that video. Sounds amazing right?
He claims that you can make at least $1000 per day by only copying his websites that have made him millions of dollars in four years. 
He also claims to have paid everybody who has already joined Copy My Websites. 
So this magical program is supposed to have the following features:
It can make you money fast.

You don't need to have a computer, having a smartphone is enough.

It's a "done-for-you" system because "Jake" takes care of the web design, the PPC advertising, funnels, list building, the merchant processing…

You don't need to work hard to make this program work for you.
The Copy My Websites is just focused on how much money you can make and lacks a lot of important information. 
He doesn't tell us how those websites will make you money like will he teach you to sell your products or other people's products?
There are various business models and lots of ways to make money online, so this is something he should have explained in the sales video. 
But that's what happens with scam sites, they make all kind of overhyped and fake claims and lack details everybody needs to know to decide whether to purchase it or not.
.
Is Copy My Websites a scam?
---
Copy My Websites is a scam, in my opinion. 
The whole sales video and page are full of red flags that show this program doesn't live up to its promises. 
.
Jake is not the real owner of Copy My Websites
---
The man who claims to be Jake and narrates the Copy My Websites sales video doesn't even show his face. I don't know about you, but I would not trust someone that doesn't show up. 
He doesn't even tell us his surname so we can't search for information about him outside the Copy My Websites page as there are a lot of people with the name of Jake. There's no way to verify his real identity.
I truly believe that the person who narrates the Copy My Websites video is a voice actor because he sounds like he's reciting a script and he has been hired by the con artists behind this program. 
.
Copy My Websites has no real successful members
---
All those people who are said to have been paid after joining Copy My Websites are not real. Their names are invented and the pictures have been purchased or downloaded from other sites. 
The truth is that nobody that has joined that program has got paid. 
Take a look at this testimonial whose name is alleged to be Lin Xiong:
I found that picture is for sale on a stock video and photo website called Videoblocks:

This makes it clear that the testimonials shown on the Copy My Websites video are fabricated.
None of those people are involved in this program and I believe they don't even know their pictures have been used to create false testimonies.
.
Fake scarcity tactic
---
They claim that you need to act fast so that another person doesn't take your spot, but that's just to rush you into purchasing it.
They also show a fake countdown to create a sense of urgency so that you join as soon as possible.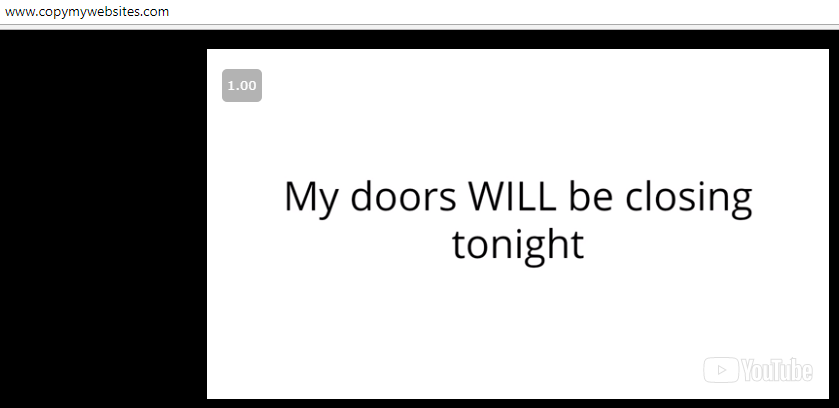 They just want you to think that you'll lose your spot if you come back later. If they are "closing tonight", then that video is very very outdated because the copymywebsites.com domain was registered on September 7th 2016. 

You can check out that video tomorrow and nothing about it will have changed unless the whole Copy My Websites scam page shuts down.
.
Does Copy My Websites really work?
---
Copy My Websites only makes money to the people who have created it.
I didn't think of purchasing it after finding out it was a scam. But after putting a random email address to the form below the Copy My Websites sales video, I got taken to a checkout page and got kind of surprised when I saw that the product name was "One Click Pay Day", which is another scam.
The One Click Pay Day cost is $37, but after trying to close the page a couple of times I got a $20 discount, so the final cost is $17.
This just shows that it's a crappy product and that they just want to get paid even if it's not much.

I guess the people behind Copy My Websites are the same who created the One Click Pay Day scam.
Apart from that, if you check out the footer of the Copy My Websites page, you'll read this disclaimer:

As you can read above, the typical purchaser doesn't make any money using that system.
This reveals the real nature of Copy My Websites and One Click Pay Day. No one who has purchased it has made money with it. 
I've seen the exact same disclaimer in another scam page I recently exposed named The Auto Money System, they also mention The Easy Internet Plan which is another scam.
I guess it's the same con artists the ones who are behind all these 4 scammy products (Copy My Websites, The Auto Money System, One Click Pay Day and The Easy Internet Plan).
Moreover, if we take into account how websites generate revenue, it's not possible to earn money just by copying someone else's websites. 
Search engines like Google like unique websites that offer valuable content and information, not duplicated or copied information. If you copy someone else's website, it will most likely get penalized and won't appear in the search engines.
Another thing you need to take into account is that you'll have to get traffic to your site, which requires hard work and doesn't happen overnight.
Even if you attract visitors to your website, you need to offer something they will benefit from so that they purchase it. 
That's why Copy My Websites is not what they claim it to be, they don't teach you the important and essential parts of the process.
They want you to believe that making money online is magical and happens in no time, which is so far from reality. If it were that easy, everybody would be doing it, don't you think?
.
My final verdict
---
I clearly won't be recommending Copy My Websites because the whole sales page and video is full of lies and red flags, and they take you to purchase another crappy program called One Click Pay Day, which is very misleading because they don't mention One Click Pay Day in any moment.
There are many other scam pages that I've exposed in the past and you need to avoid:
It's possible to earn money with a website, but it's not as easy and fast as it's claimed in Copy My Websites and other bogus systems. It takes a lots of time and effort to earn a full-time income from a website.
You'll need to build a unique website, provide valuable content, bring traffic to your site and offer them products or services relevant to them. 
There's a digital marketing platform where they show all of this. They provide the right training, courses and tools that you need to build an online business from scratch. You'll learn all the essential steps that need to be taken to make money online.
It's a great platform to get started and it's where I got started back in 2016. Another thing I love about this platform is that it has community full of members who will support and help you out, you don't have to do this alone!
Apart from that, they have a free membership so you can join for free and try it out to see if it's for you.
You can click the button below to read the deatiled review I wrote if you want to know more:
.
I hope this review has been of help and you now have enough information to make the right choice for you. 
If you have any questions or opinions regarding Copy My Websites or other online programs, feel free to share your thoughts in the comments section below and I'll be very glad to connect with you! 🙂 
Best wishes =)