Welcome to my Online Flex Job review!
Have you come across onlineflexjob.com and are wondering if you can get a legit flex job? Or is it just another scam designed to make money at your expense?
There are many scams out there and they all come in different forms and shapes so it's great that you're doing your research to make sure you know what you're in front of.
Here in this review, I will show you what Online Flex Job is about, how it really works, whether or not you can benefit from it and more.
Online Flex Job review
---
Name: Online Flex Job
Websites:
onlineflexjob.com

onlineflexjob.net
Owner: Hidden
Created in: February/March 2015
Price: at least $25
Overall Rating: 1/10
---
If you're sick of scams, check out my 1st resource to make money online here!
---
What is Online Flex Job about?
---
The first time I came across onlineflexjob.com I noticed there was a lack of importnant information so I felt like something was not right about it.
I didn't want to think it's a scam so I started doing some research and found out there are two websites for Online Flex Job: onlineflexjob.com and onlineflexjob.net. 
As you can see below, they look the same: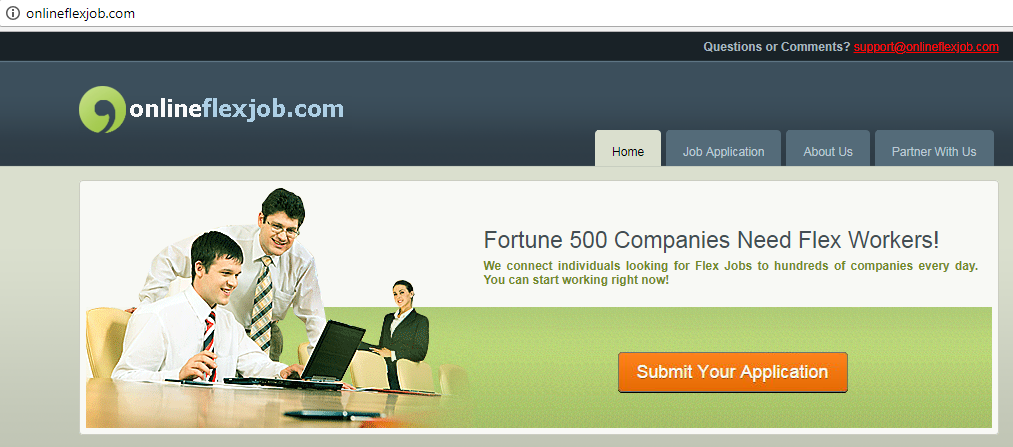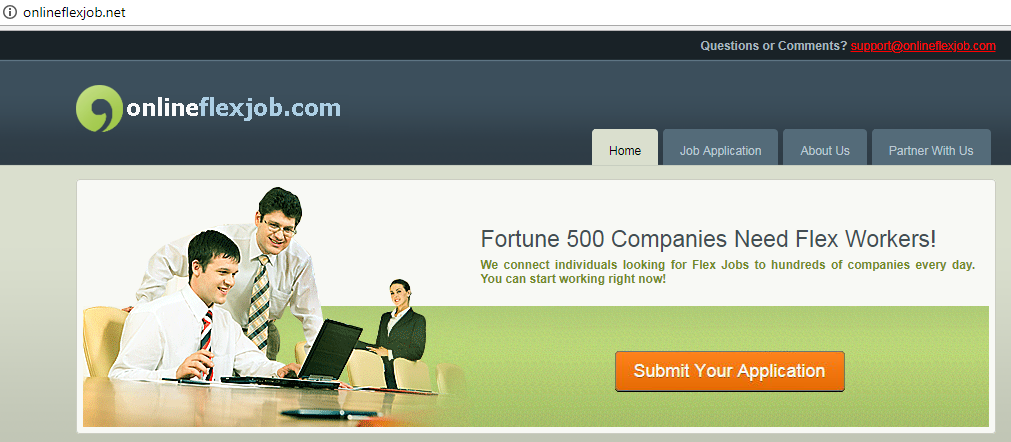 I personally don't like the fact that there are more than one website for the same company because it's something scammers do. Some of the scams I've come across have multiple similar and identical pages to promote it so it's a red flag. For example, Postal Jobs Source has like 15 websites to promote the same scam.
Ok, so what's Online Flex Job about?
Online Flex Job is a website that claims to work as an intermediary between Fortune 500 companies and people who are looking for flexible work from home jobs.
They claim to offer their unique services in the processing industry in the US, Canada, UK, Australia and New Zealand.
They supposedly have helped over 840,000 employees to find great high paying jobs and careers. Sounds good?
In my opinion, it's very uncommon for a company like this to work with over 840,000 employees so that's another reason for me to suspect about it.
There are other red flags I've found, which I'll discuss later in this review.
How Online Flex Job works
---
The way Online Flex Job really works is actually different than the way it really works. 
I'm going to explain how they claim it works and how it actually works so that you are aware of the differences.
What they say
---
According to them, you will only have to:
Complete an application with your personal details so that they can match you with companies that fit your profile.
Choose which of their partners companies you want to work with. You can start working with multiple companies because there's a lot of demand.
Start working. You can set your own schedule and get paid between $18.50 to $29.90 per hour depending on the company.
How it really works
---
They make it sound like it's easy to get a job and start making money but there's a lot more to it.
What made me question these jobs they're talking about is the fact that they claim there are many companies you can start working for.
I mean, a job is a company hires you to do a certain line of work and then you get paid a weekly, bi-weekly or monthly salary.
So what are these "jobs"? They are really offers like taking surveys, signing up for free trials, downloading software or other stuff…
The thing is, these offers don't pay $19 or more per hour, they pay way less.
For example, you can earn $1 or $2 per survey you complete, so you would have to complete lots of surveys to make a substantial income.
Also, you need to take into account that completing surveys is not easy because you first need to qualify and they take 15 minutes or more to complete.
Oh, and companies don't usually email many surveys to complete. When you start out, you might receive 2 or 3 paid surveys per day at most.
This is why OnlineFlexJob.com is not a good opportunity if you're looking for an online full-time job. Paid surveys and other offers are just a way to make extra money.
What will it happen if you join onlineflexjob.com?
---
In order to join, you will have to complete a form with your name, your email address, your address and your phone number.
I signed up because I was curious to see what I would found, but I didn't use my personal details to sign up due to the red flags I had found.
I got kind of surprised that I got qualified because I didn't enter an address and invented the other details.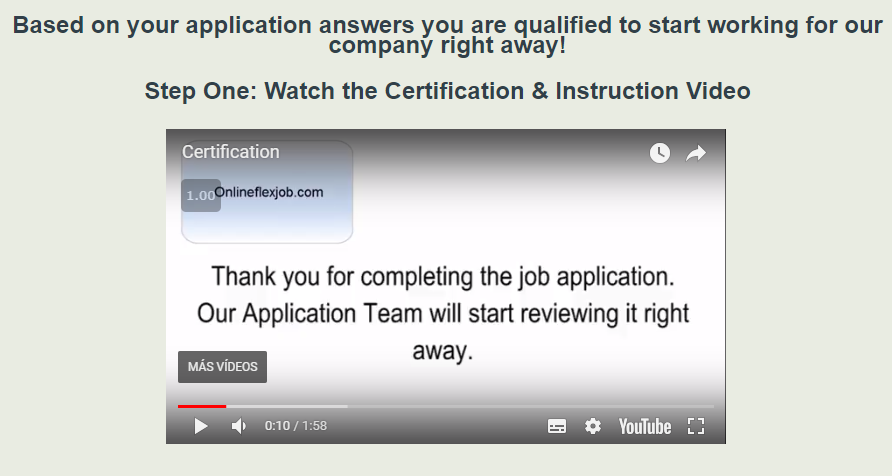 So it was really easy to join and qualify! And now what?
At this point is when they try to scam you. They will tell you to download an antivirus software that costs like $25, since you will allegedly have to handle sensitive data for customers.
But as I said, what you will have to do is to complete surveys and other offers, something you don't need the software for.
And it doesn't even make sense that they're going to give you a full reimbursement at the training center. I mean, why couldn't they make it free or give you the option to access the training videos without having to pay upfront?
It's clear that their goal is to get you to pay for the antivirus software. What's in it for them? Well, they're affiliated with the antivirus software so they will earn a commission if you buy it.
There's nothing wrong with making money this way, the problem I see is that they're doing it in an unethical way. I mean, why didn't they mention you would have to make a payment before accessing the training center? 
Instead of saying that you will be able to pick your jobs, they should have said that you will be required to buy an antivirus software? 
And what if you already have an antivirus software and don't need another one? They don't give you any more options, which indicates that they just care about making money even if it's at your expense.
Click here to check out my top recommendation (FREE to get started)!
Is Online Flex Job a scam? 
---
How would you call a company that doesn't tell you the truth about what you're really getting? A scam?
In my opinion, Online Flex Job is a scam because it doesn't live up to its promises. They are very misleading because they're not going to help you get an online job, which is what you were looking for.
Now I want to point out some of the red flags I've found so that you know what to look out for whenever you come across another job or money-making opportunity.
The owners don't show up
---
The people behind Online Flex Job don't mention their names and don't provide any picture of them. They don't disclose who's running the company and also use an anonymous domain registration.
The picture they use for the team section is not a picture of them.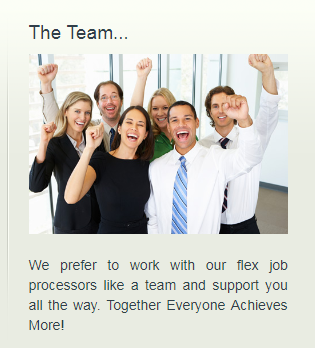 I did an image search and found that this picture can be found on many other sites, like the ones below: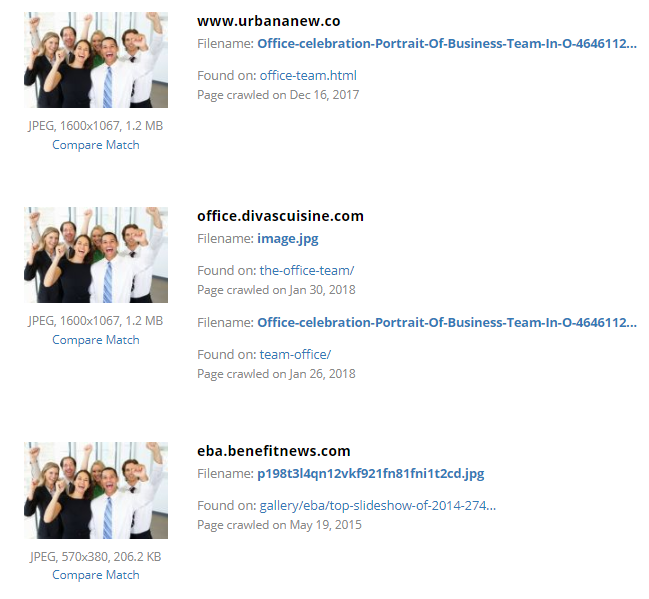 So yeah, they're not honest about their identity, which makes me not trust them. What about you? Would you trust a company whose owners hide their identity?
The testimonials are fake
---
In the job application page you can watch some video testimonials, but the problem is that they're fake.
Firstly, those videos where uploaded the same month that Online Flex Job was created, so how can someone give a real genuine review without having had at least a month of experience?
Secondly, those videos have more dislikes tha likes which indicates that something about them might be wrong.
And thirdly, in their disclosure they state that the testimonials are paid affiliates, which means that the owners of onlineflexjob.com have paid these testimonials for talking positive about Online Flex Job.
The website is not secure
---
If you take a look at the onlineflexjob.com or onlineflexjob.net site, you will see that it appears "not secure" on the left of the domain names, which means that any data you give them is not safe and can easily be stolen.
Oh, and the fact that they do not let members delete their accounts and they might share your data with third parties is another reason why I believe it's not good to give them your personal data.
A complaint
---
While doing my research, I didn't find genuine positive reviews or opinions concerning Online Flex Job. I only found complaints like the one below:
As you can read above, Online Flex Job doesn't really offer what they claim. Their real goal is to get people to buy the antivirus software for $25 and get paid the commission.
Their affiliate program doesn't work
---
I also read that they have an affiliate program so I wanted to see if there was something good about it.
However, when I tried to sign up multiple times the link didn't work so I gave up on it.
Even if I could have signed up as an affiliate, I would not promote Online Flex Job because it's not something I believe in.
I mean, they're misleading people and don't offer a valuable service so I wouldn't be doing a favor to anyone but the scammers behind Online Flex Job.
A better way to use your time
---
After everything I've found and explained, I highly don't recommend Online Flex Job.
The fact that they don't provide what they promise is enough of a reason for me not to recommend it. And another reason to stay away from it is the fact that they're being dishonest to make money.
Whenever you come across another similar website that claims to help you find a work-from-home job, I recommend that you check out the jobs website to make sure the jobs available really exist and are not scams.
With that being said, if you're looking for a way to make a full-time income from home, I believe it's best to build an online business.
One of the reasons why I believe that building an online business is better than getting a job is that a business can give you more freedom in the long-term, especially an online business that can make you passive income.
For example, when it comes to taking paid surveys to make money, if you stop taking them you also stop earning money. But when it comes to an online business, it gives you the potential to earn money when you're inactive (for example, when you're eating or sleeping) so it gives you more freedom.
I also let you know that an online business is a long-term commitment, so it's not the way to go if you're looking to make money easily or fast.
In my case, the business model I use has given me a way to earn a consistent income month after month. In fact, there are many people who are using this business model to make a living online.
I really believe that this is possible for anyone who is committed to doing the work and gets great step-by-step training & business tools.
By clicking the button above now, you will learn how this business works, why it works, the place where you can get started for free and more!
To add to it all, you will also get to meet lots of bloggers and Internet entrepreneurs you can interact with and ask questions to. I'll personally be there to support and help you too =)
So excited for you to stop wasting your time on scams and start building your future today!
LEARN ABOUT MY TOP RANKED PROGRAM NOW!
I hope you have found the answers to the questions you had concerning OnlineFlexJob.com. 
If there's something else you would like to know or you want to share your opinion, please don't hesitate to leave a comment below and I'll get back to you soon. ? 
All the best =)