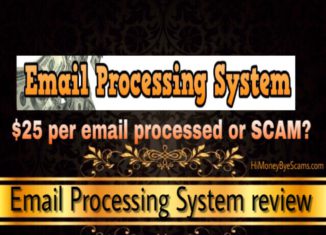 Will Email Processing System scam you out of your hard-earned money? Or can you really earn $25 per email processed?
Well, first of all, I need to congratulate you for taking the time to do your own research before getting involved in another money-making opportunity.
The Internet is full of ugly scams, so doing your due diligence is the way to avoid them and find the real way to earn a full-time income online!
When it comes to the EPS (Email Processing System), the truth is that it's not as awesome as they claim in the sales pages.
My honest review is going to show you how this system really works so that you can make an informed, wise choice by the end.
Email Processing System review
---
Name: Email Processing System
Website URL: Multiple
Price: $25 + upsells
Overall Ranking: 17/100
---
If you're sick of scams, check out my 1st resource to make money online HERE!
---
What is Email Processing System supposed to be?
---
Someone sent me an email to 25emailprofit.com, so I thought I would check it out to see if this is legitimate or not.
The moment I came across the sales page, I thought it was another scam because of some red flags I had noticed.
But I didn't want to come to a final conclusion without knowing what this is really about so I did my homework.
Email Processing System is said to offer you a way to earn $25 for every email you process.
For example, if you process 30 emails a day, you would earn $750/day. Sounds cool, right?
Well, that's what they say. You supposedly don't need any previous experience or special skills to get started and make money. 
It sounds very easy because all you need to do is to send emails and you can get paid instantly. So is Email Processing System the ultimate program that will help everyone make a living online?
I mean, sending emails is something everyone can do so will this work?
Unfortunately, this system does not work as advertised.
They're marketing it in a way that makes it seem you're getting hired to do an email processing job, but the truth is that this is not a job and it's not even a legitimate business.
So what is it really? Let's see this in the next section.
How Email Processing System really works
---
First of all, Email Processing System is not a job because you have to pay an initial fee of $25.
So paying to start a job does not make any sense. When someone asks you to pay to get a job, it's a scam.
Email Processing System is nothing more than another recruiting scheme that requires you to get other people involved in the same system and get them to buy the memberships you have bought.
By paying $25 to get started, you will receive email swipes, ads and other tools to promote this system.
According to them, this is what you have to do to make money:
Check out your email inbox.

Send out the info the tell you in the training.

Get paid $25. 
But this is very misleading because sending emails does not guarantee that you will get paid. You do not get paid for sending emails. 
Sending emails is part of the system but doesn't guarantee that you will make money. You could send hundreds of emails but if you get no one to join, you will not earn a dime.
The thing is, you only get paid when your referrals buy the same memberships you have bought.
And when it comes to the cost, $25 is only the beginning. Making money with this system costs way more than that.
Check out my FREE Earn Money Online Guide NOW!
What's included inside the Email Processing System?
---
They have 3 membership levels but they don't say much about what you're exactly getting with each of them:
Level 1 ($25). Email swipes, ads and some training.
Level 2 ($50). The same as level 1 plus more training.
Level 3 ($100). The same as level 1 & 2 and more training.
Depending on the level you buy, you can make more or less money.
For example, if you purchase the level 1 but your referral buys the level 2, the $50 commission will not be for you.
That's why your coach a.k.a. your sponsor will try to convince you to purchase the level 3. They will tell you to invest as much as you can so that you get the chance to earn those $100 commissions.
This is very similar to other systems I have reviewed. They require you to buy the levels or packages you want to earn money from.
When it comes to the training provided, it's all about promoting this system itself. 
You might learn some tactics or strategies that you can apply to other endeavors but they are only going to teach you to apply it to make money with this system.
Also, the quality of the training you get depends on your sponsor a.k.a. your recruiter.
If your sponsor is someone who only cares about getting paid, then you will have to figure things out on your own. They will only help you when they can make money, so once they can't get any more money from you, you will not hear from them.
Why are they going to give you ads?
---
Apart from answering emails, they claim you will also have to post ads on social networks like Facebook.
The idea is to post ads on Facebook groups related to making money online and then wait for people to ask for more information. 
Then you will send them an email concerning the Email Processing System, where you ask them to join and pay the $25 initial fee.
So posting ads is something that you will do before sending and answering emails. 
You came across the Email Processing System because someone sent you an email, right? So that's what you will have to do.
If you decide to pay for this system, the person who sent you the email will get paid $25.
In the sales page, they don't say what the ads or emails will be about. They just say that you get paid $25 for processing emails, which is completely misleading because you only get paid if you make the sale.
Also, they don't even mention the reason you will be sending these emails and it doesn't even make sense that you can earn $25 only for sending an email.
I mean, where does the money come from? This is something they don't tell you unless you pay for this system.
Because of this, the income calculator from their sales page (25emailprofit.com) is very misleading. It's very similar to other income calculators I have seen in low-quality products like Take Surveys For Cash and AppCoiner.
What about the $10 website?
---
They give you the option to pay $10 to get a done-for-you website. If you buy this website, the $10 fee will be paid to the owners of the EPS. That's how they get to make money since the money from the memberships passes from one member to another.
It might sound like a good deal because the work is done-for-you but you know what this website is for? Promoting the EPS.
This is not your own website because you don't have control over it, so consider it a tool that will help you promote the Email Processing System.
This website is like a sales page that you will be using to drive leads to this system.
Get my FREE Earn Money Online Guide HERE!
It's risky
---
The fact that they tell you that this system costs $25 might lead you to believe that you don't have to invest much money.
However, they will try to get you to spend money on the higher levels so that you can earn $100 commissions.
Once you have paid to join the system, there's no guarantee that you will make that money back and you can't even get a refund because the money you pay doesn't go to the company. It goes to your sponsor instead.
Not only that, you will also have to invest in paid advertising to build your email list and market Email Processing System to other people.
Yes, you can post ads but it's not the best way to get targeted traffic so you can't expect those ads to give you good conversions.
That's why you will have to pay for traffic to bring leads to your landing page and build your email list. I have seen this system being promoted various times by different people and it turns out that those who are successful with this system are no newbies.
For example, people like Adriana Villegas from No Limits Team are no newbies and know how to do the recruiting thing.
But someone who's getting started needs to do a lot of learning and investing to find out what works and what doesn't.
Paid advertising is a good way to get traffic fast to your offers, but it's also very risky and you could lose a lot of money. That's why I never recommend it to people who are on a low budget or people who're getting started.
Email Processing System scam signs exposed!
---
After having explained why Email Processing System does not work as easily as they told you, I have decided to point out some red flags that you need to be aware of because they're very common in scams.
It's a cash-gifting scheme
---
They claim this system is not an MLM or pyramid scheme, which is true because there are not different levels you can earn money from.
But the fact that it's not a pyramid scheme doesn't mean that it's better than that. The truth is that the way this system works is very similar to a pyramid scheme because it relies on recruiting.
The only way that comes money into the scheme is by getting other people to join, which makes this system unsustainable for the long-term.
Members will tell you that you're paying for a product which is the ads. This is how they try to make this system look legit.
The problem is that the product is not valuable because it only helps you promote EPS. 
I mean, they offer no retail products or something that you can use outside EPS, which means that there are no retail sales.
So why are people joining EPS? To make money with the opportunity, they're not joining for the product. 
The focus of this system is on promoting the system itself, so there will come a time when no one signs up and the whole scheme falls down. 
There have been many systems like this and they don't last for many years. 
So don't be fooled when they claim that this is not a pyramid scheme, it's a cash-gifting scheme which is no better!
"Make a lot of money easily"
---
The fact that they make this system seem easy to earn money with, it's a big red flag.

Their sales page is designed to get you to believe that you can start making money today without putting into much work, which is very common in get-rich-quick scams.
In this case, if you're a beginner, you cannot expect to make money the same day you get started because you first need to go through the training and learn how to market this system, which takes time.
This is something that everyone goes through regardless of the way you try to make money with. People who are successful with this system have been involved with other systems, so they already have experience and marketing skills.
No matter the method you use, always start suspecting when someone tells you that you can start making money quickly if you buy their product/system.
If it were that easy, don't you think that a lot of people would refuse their 9 to 5 jobs and do this instead? A lot of people would have already made a fortune online if programs like EPS worked.
Check out my FREE Earn Money Online Guide HERE!
"As seen on" is fake
---
At the top of the sales page I landed on, there's the "as seen on" thing that is designed to make you believe that this system has appeared in well-known websites/companies like Google, Twitter, Facebook, YouTube…
This is completely fake because this system has not been recognized by those companies. This is something that scammers do to gain credibility and get you to believe that this is legit.
But if you click on the logos, you can see that they take you nowhere. There's no connection between these companies and EPS.
"Limited number of memberships available"
---
Last but not least, they claim there are limited memberships available which is totally fake.
They make this claim to get you afraid of missing out so that you buy into this system as fast as possible. They don't want you to do your research or question what they say, that's why they try to get you to make the payment fast.
It really makes no sense that they're putting a limit to the amount of people who can join this system.
I mean, they send unlimited emails to recruit as many people as possible so there's no way the spots are limited.
Do you think these people would put a limit to the amount of sales and money they can make? No way.
Conclusion on Email Processing System
---
Is Email Processing System a scam? If you're still questioning this, I will let you be the judge.
EPS might not be a scam to some people because it makes it possible to make money online, so there are people who are ok with this.
However, this system is not sustainable for the long-term, they use false advertising to promote it and it can make you lose money.
Also, it has had some complaints and there are people who claim this system is being promoted by scammers like Adriana Villegas.
Because of this, Email Processing System could be considered a scam. 
This kind of systems are no better than MOBE or Digital Altitude, which ended up being pyramid schemes and got shut down by the FTC.
The Internet is full of systems like this that use MLM and affiliate marketing, legitimate business models to scam newbies.
I personally could get involved in this system and promote it to make some money but I'm not going to do it because it's not something I believe in and it's not ethical or legitimate. 
Other systems like EPS are the following:
After everything I have seen and explained, I conclude that I highly do not recommend Email Processing System.
A legitimate, safe way to earn an income from home
---
If your goal is to earn a living online, then I suggest that you forget about the recruiting schemes and done-for-you systems.
Also, keep in mind that this is going to require you to put in the effort and time, just like anything worth achieving in life.
When I was getting started, I remember getting involved with systems that were not meant to last and also taught unethical marketing tactics, so I never felt comfortable with them and quitted.
I soon realized that those systems were not the answer to make a long-term full-time income online and looked for something else. I'm grateful that I found a legitimate business model that has given me a way to earn a consistent monthly income.
It's a business model that takes advantage of the millions of services and products available on the Internet and something cool is that it doesn't limit you when it comes to the amount of products you can promote.
I mean, it enables you to earn money from products from various companies so you will not have to promote the same as everyone who is involved in a system like EPS.
I'm glad that I found the way to make money online without deceiving people and I wish more people would find it.
There's a lot to say when it comes to this business so I created a FREE step-by-step earn money online guide where you can learn how it all works:
My free guide will let you know what I do to make an income online, why this method works, proof that it works…
Also, you will discover how you can start today for free!
Yup, you don't need to spend a dime to see things for yourself so it's risk-free to determine if this is for you.
You will discover the place I learned everything from and how supportive the whole community is!
My guide will show you all the details concerning the ways you can get free help and support from me and other like-minded people =)
Are you ready to leave the dangerous scams behind and start building your own business today?
CHECK OUT MY FREE EARN MONEY ONLINE GUIDE HERE!
I hope this Email Processing System review has been helpful to you and you will make the best possible decision.
Feel free to share it with whoever you believe that will benefit from it!
If there's something else you want to know or you have any questions, don't hesitate to leave a comment below and I'll get back to you ASAP! ? 
Whatever you do next, I wish you nothing but the best =)