Are you wondering "Is AppCoiner.com a scam to stay away from"? 
Or do you hope that App Coiner is legit and will help you earn some cash?
First of all, I need to congratulate you for taking the time to do your own research before buying another money-making product.
There are lots of scams out there so doing your due diligence is the way to avoid scams and find the legit way to make money online!
Honestly, AppCoiner is not as good as they want you to believe so here I am to explain how it really works, what they are hiding from you and more.
App Coiner review
---
Name: App Coiner
Website URL: appcoiner.com
Owner: Unknown
Launched in: 2013
Price: $27 + $9.95 upsell + hidden costs
Overall Rating: 1/5
---
If you're sick of scams, check out my 1st resource to make money online HERE!
---
What is App Coiner about?
---
The moment I came across the App Coiner sales page I thought it was another "too good to be true" opportunity because it looked very familiar to me.
However, I didn't want to judge it based on its appearance so I looked deep into it to see if there's something good.
After watching their sales video, reading their sales page and doing intensive research, I can say that they are very misleading.
App Coiner claims to be a platform that you can use to make money for reviewing apps.
They claim you just need a tablet or smartphone and that's it. You allegedly don't need any previous experience or special skills.
When I first read it, I thought it was a good idea because it helps new apps get found.
AppCoiner works as an intermediary between app developers and app users. They help new apps become popular by getting people to write reviews for them, so they are willing to pay reviewers.
According to them, you only need to log into AppCoiner.com, choose an app, download the app to test it, write a review and… get paid!
Sounds cool?
The way they explain it makes it sound like an opportunity to earn money easily and fast.
How App Coiner allegedly works
---
Like I said, they make it seem very easy to make money with this when the truth is that it is not.
They say that all you have to do is following these steps:
Pick an app from their database 

Download the app on your phone or tablet

Use the app

Write your personal review about the app

Get paid
The more apps you review, the more money you can make, which sounds amazing.
They also claim you can earn between $15 and $25 per each review you write, but it does not work that way.
I know it's easy to think that you only need to download the app, test it and write a little review on AppCoiner to get paid directly.
In other words, they make you think that you can earn money the same day you write the review.
The truth about App Coiner
---
Truth be told, writing reviews on apps does not guarantee that you make money.
That's right, you can write many reviews and still not earn a single cent.
Why? Let me explain.
They require you to build a website in order to write app reviews.
So you will not write reviews directly on AppCoiner.com, you will have to write these reviews on your website.
But that's not all. You will not make money just for writing a review, you will only earn money if someone purchases the app through your link.
What does this mean? You will need people to visit your website in order to make sales.
Without traffic to your website, you will not earn a dime.
That's why writing reviews is not everything you need to do to make money.
To sum up, these are the steps you will have to follow to get paid:
Build an AppcCoiner review site

Pick apps to review

Download the apps

Test the apps

Write app reviews on your website

Get your app affiliate links

Add your affiliate links to the reviews

Drive visitors to your website

Earn a commission when someone buys the app through your affiliate link
They are very misleading when they say that you just need to write reviews without mentioning that you need to make sales.
As you can observe above, they mention the word website but they don't tell you that you will have to build it and get traffic to it without being able to make money.
Another thing they fail to mention is that the quality of the traffic is also important.
For example, if you share one of your app reviews on social media but your followers are not interested in it, you cannot expect them to read your review and buy the app.
You will need to find people who are willing to spend money on your recommended apps, which is not that easy if you are just starting out.
All of this has a name, which is something that they fail to mention as well. It's called affiliate marketing.
Check Out My FREE Step-By-Step Earn Money Online Guide here!
The mysterious owner
---
What about the person or people who have created AppCoiner? There's no section that we can check out to see who's behind all of this.
They don't show any picture of themselves and don't mention their name so there's no way to know who these people are.
Whenever I come across products or websites like this, I like to know who has created them because it helps me determine whether or not they are reliable.
From my experience, I can say that programs whose owners don't show up turn out to be low-quality programs or even scams.
In this case, the fact that the owner/s of AppCoiner don't show up, indicates that this platform is not as good as advertised.
Lack of transparency when it comes to the cost
---
In case you buy AppCoiner, there's an optional upsell when you are purchasing it.
Not only that, you will also have to invest more money on training or even paid traffic.
I mean, AppCoiner does not provide all the knowledge you need to make money this way.
They don't show you how to drive targeted traffic to your website, which means that you will have to spend time or money on learning how to do it yourself.
I personally don't like the fact that they are not straightforward when it comes to how this really works or what's the real cost because it doesn't help people like you make informed decisions.
The only way for you to make a wise decision is by reading honest reviews like this. 
My shocking discovery revealed!
---
Want to know what I discovered?
Another poor quality ClickBank product I reviewed called Paid Social Media Jobs is using the same income calculator as AppCoiner.
Below you can see how similar they are: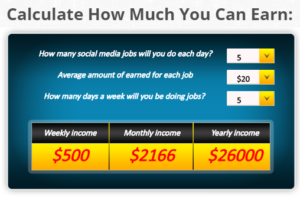 These income calculators are very misleading because they don't give you realistic expectations.
For example, in AppCoiner they ask for the amount of reviews you will write each day and how much you will earn for each review.
In my opinion, those are not good questions to ask because people are not going to get paid for each review they write.
You will only get paid when other people buy apps through your affiliate link, so the number of reviews you write doesn't really matter that much.
That's why the income calculator is very misleading. It gives app users the false belief that they only have to write reviews to earn money.
In my opinion, I believe that the owners of Paid Social Media Jobs are the ones who created AppCoiner.com.
Get My FREE Step-By-Step Earn Money Online Guide here!
Is AppCoiner.com a scam?
---
The answer to this question really depends on how you define a scam.
People who are looking to make easy or fast money will call App Coiner a scam because it doesn't live up to its promises.
They don't tell you the truth about making money online just to make a quick buck.
In my opinion, the ones who get to benefit the most from App Coiner are the owners and their affiliates (people who promote AppCoiner).
They didn't create App Coiner to help people like you make money. If they had your best interest at heart, don't you think they wouldn't be hiding important things you need to know?
So is AppCoiner.com a scam?
In my opinion, it's not a total scam because you can get your money back.
The good thing is that it's a product sold on ClickBank, which means that you can get a refund.
If you have bought it and want your money back, I suggest that you ask ClickBank for your refund.
There are people who have asked the creators of AppCoiner for a refund, but they have ignored them.
That's why I recommend that you go straight to ClickBank to ask for your money back.
Just the fact that AppCoiner has not given its members their money back, says a lot about its owners. I personally would not like to do business with people who lack integrity.
Other similar products or platforms that I reviewed are the following:
Because of everything I have mentioned above, I conclude that I do not recommend AppCoiner.
The way to generate a full-time income online
---
If you really want to make a living online, it's best to build your own business instead of relying on a system that you don't have control over.
Remember that I said AppCoiner is an affiliate marketing business?
I'm very familiar with affiliate marketing because it's the business model that I personally use to make money online.
It's a simple but lucrative business model that enables you to take advantage of millions of products and services that are being sold every day.
So you don't necessarily have to promote apps just to make money using this business model. You can choose any products or services that you like.
Not only that, you will not have to recruit anyone to earn money, something typical of MLMs.
I'm also grateful that I learned the way to get free organic traffic to my recommended products, so I didn't have to spend money on paid traffic. 
This business has many benefits so I created a FREE step-by-step earn money online guide where I explain how it all works:
My free guide will show you the 4-step method I followed, why this method works, proof that it works, the step-by-step training and tools I used…
The best part: you can start today for free!
That's right, you will not have to spend a dime to determine if this is right for you =)
In addition, know that you are not alone in this new adventure because you will be able to receive help and support from me and thousands of affiliate marketers!
Are you ready to leave the low-quality products behind and start building your affiliate business today?
CHECK OUT MY FREE EARN MONEY ONLINE GUIDE HERE!
I hope this App Coiner review has been helpful to you and you will make the best possible decision.
Feel free to share it with whoever you believe that will benefit from it!
If there's something else you want to know or you have any questions, don't hesitate to leave a comment below and I'll get back to you ASAP! ? 
Whatever you do next, I wish you nothing but the best =)