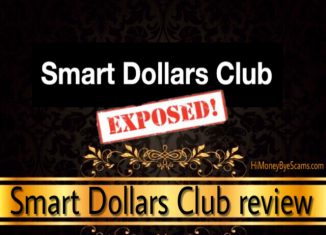 Welcome to my Smart Dollars Club review!
Looking at Smart Dollars Club and wondering if you can make good money online by taking paid surveys?
Or is it just another ugly scam that will waste your precious time and leave you frustrated?
Well, first of all I need to congratulate you for taking the time to do your own research before getting involved in another money-making opportunity.
There are too many scams on the Internet, so doing your due diligence is the way to avoid scams and discover the real way to earn money online!
To be honest with you, Smart Dollars Club is not as good as it claims to be so I'm going to go over how it really works and other untold truths about this program.
Smart Dollars Club review
---
Name: Smart Dollars Club
Website: smartdollarsclub.com
Price: Free to join
Owner: Hidden
Overall Rating: 1/10
---
If you're sick of scams, check out my 1st resource to make money online here!
---
What is Smart Dollars Club about?
---
Smart Dollars Club is a website that claims you give you access to paid surveys, giveaways and rewards.
They claim to be the number 1 online prize rewards program and have supposedly paid out than all their competitors. Sounds great?
According to the information on their site, you just have to complete a qualifying survey in order to earn $100 and get paid immediately.
In other words, after joining Smart Dollars Club, you will allegedly be sent a $100 bonus survey that you can complete to earn $100.
Not only that, they even claim that you can make $300 a day just for completing surveys which is something very unrealistic because taking paid surveys is not a way to earn a substantial income online.
I mean, it's possible to make money with paid surveys but not as much as $150 per survey and definitely not $300 per day.
Because of that, I thought I was in front of another fake surveys platform, like others that I have exposed and reviewed.
But I didn't want to come to any conclusions without seeing what's inside Smart Dollars Club, so I took the time to try it out and I'm going to share my experience with you.
The truth about Smart Dollars Club
---
Smart Dollars Club is supposed to work in a way that can make you money the same day you get started. You basically have to do the following:
Register

Complete your profile

They send you paid surveys

You complete the paid surveys

You get paid
But the truth is that Smart Dollars Club doesn't work this way. It works in another way that doesn't really benefit you.
What if you join Smart Dollars Club?
---
In order to register, I had to complete a form with an email address and then I was supposed to be sent the $100 survey to my inbox.
After that, I received an email that said I only had to tap the "confirm my request" botton to get access to the $100 survey and once completed, I would be able to choose how to get paid.
So I confirmed my request and got taken to iSurveyWorld.com, which actually looked like a legit survey site, but I was skeptical.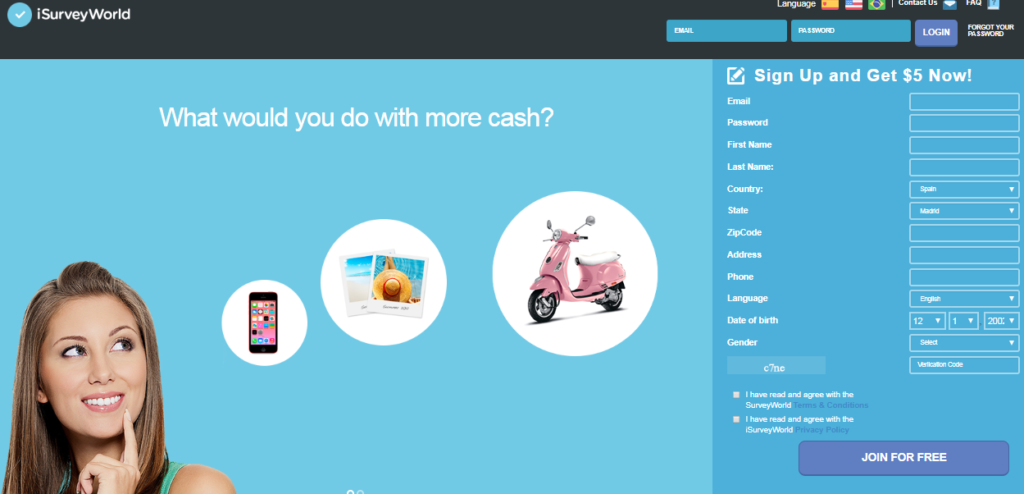 I didn't like the fact that Smart Dollars Club didn't mention iSurveyWorld in the email they had sent me. It was very misleading to tap the "confirm my request" button and get taken to the isurveyworld site without any prior notice.
iSurveyWorld claims you can get $5 after joining, but the truth is that you will not get paid after reaching the minimum payout threshold, which requires you to complete various surveys because isurveyworld doesn't have any awesome survey that you can complete to earn $100.
I checked out my inbox again and saw I had received another email from Smart Dollars Club.
They thanked me for having sent my resume, but the truth is that I didn't send them anything. I only gave them my email address.
Another thing is, they claim to accept less than 1% of all applications, but I don't believe this is true because I don't believe they are reviewing applications. In my opinion, they are sending this email to all their subscribers just to make them feel special. 
I have read and heard similar claims in other scam programs so I'm not surprised that they try to make you feel as if you had hitted the jackpot because saying that you can make over $400 a day just answering simple surveys is a complete lie. 
So I clicked the button "start survey" and got taken to the iSurveyWorld website again.
I searched for information regarding iSurveyWorld and it doesn't seem to be a good survey site because it doesn't even give you surveys to complete.
If you join iSurveyWorld, you will see a list of survey sites that you need to register in order for them to send you surveys. 
However, if you click on those sites from their list you might not be even sent to the paid survey sites. You will be sent to different sites that have nothing to do with paid surveys instead, so it's very confusing and misleading.
Even if they sent you to paid survey sites, you would still have a hard time reaching their minimum payout threshold of $25 because each survey pays from cents to $2.
Because of this, I don't believe iSurveyWorld is worth my time.
Click here to check out my FREE Earn Money Online Guide!
Why does Smart Dollars Club exist?
---
If you are wondering why Smart Dollars Club exist when they don't provide you with any surveys to complete, the truth is that it was created to make money to its owners.
There are two main ways these unethical people get to profit:
They are selling email addresses
The purpose of the owners of Smart Dollars Club is to get as many email addresses as possible to sell them to other con artists and companies.
It's possible to earn a lot of money by selling personal information such as email addresses because there are many people who want to have a big list of subscribers they can sell products/services to.
That's why, if you used your main email address to register to Smart Dollars Club, you can expect to receive lots of spam emails and even emails related to "make money online" products/websites which I don't recommend that you check out because some of them might be scams.
When it comes to online money-making products and websites, I don't use my main email address so I don't mind getting my inbox full of emails related to scams.
They are affiliated with iSurveyWorld
When I got taken to iSurveyWorld, I noticed that they used a referral link, which means that they will get compensated by iSurveyWorld for each person who signs up through their link.
With that said, I don't believe they will make much money with iSurveyWorld because they are not making it easy for people to reach the minimum payout threshold and get paid, just like I said before.
I believe iSurveyWorld is affiliated with other survey sites and they will send you to one site or another depending on your location.
Anyways, I believe they will make more money by selling email addresses than by referring people to paid survey sites because these sites don't pay that much if they are free to join.
I mean, if they were promoting paid survey products like Take Surveys For Cash and Click 4 Surveys, I believe they would get paid even more because those products require people to pay an initial fee.
That's why I think that they are earning more money by selling email addresses.
Either way, what they are doing is not ethical in my opinion. If they sent you to legitimate survey sites or they didn't make falses promises, it would be ok but this is not the case.
Is Smart Dollars Club a scam?
---
In my opinion, Smart Dollars Club is a scam because it doesn't live up to its promises.
First of all, they lie to you when they claim you can earn hundreds of dollars taking paid surveys.
Second of all, they send you to survey sites that will not help you make the kind of money you want.
Everything they do is to achieve their goal of making money themselves. If they did it in a honest way then there would be nothing wrong with this.
But it's not okay to deceive people just to make money. Such a selfish goal they have.
Apart from it, I noticed that the owners don't even show up, something that makes me even more convinced that Smart Dollars Club is not to be trusted.
I mean, if what they say was really true, they would be enough proud of themselves to show their faces or tell us how to get in touch with them.
Because of everything I have mentioned, I definitely don't recommend Smart Dollars Club but you're free to do whatever you want. The final decision is up to you.
As I said, taking paid surveys is just a way to earn some extra cash so I don't really recommend it if you are looking to make a substantial amount of money.
I wrote an article about the reality of taking paid surveys that you can check out here to learn more.
Anyway, if you're fine with making a few dollars and are looking for paid surveys or GPT (Get Paid To) sites, you might want to check out Swagbucks or FusionCash (even though this one is only open for residents of the US). 
Use your time to make a living online
---
If you are really serious about making a job-replacing income online, then it's best that you focus on building your own online business.
I personally have tried various ways of making money online and have concluded that building an online business is the best way to achieve financial independence.
I'm grateful that I got to know about a business model that is newbie-friendly and has given me a way to make a consistent income online month after month.
It's a business model that has been around for many years already and there are many people who are using it to make a full-time income online.
This business will allow you to earn $400 a day and even more, but you need to keep in mind that it's going to take you a lot of learning, commitment and work.
I love many things about this business so this post would be too long if I had to explain it all here lol. That's why I created a FREE step-by-step earn money online guide where you can find how this business works:
In my free guide, you will not only find how this business works, you will also learn why it works, proof that it works, the step-by-step training and easy-to-use tools I used…
And the best part is, I will also show you how and where you can get started for free today! That's right, you will not have to spend a dime to decide if this is right for you.
Your free account will give you access to step-by-step training that will help you get started properly.
Not only that, you will also get free help and support from me and other like-minded folks who are on the same path as you. You are definitely not alone on this! How cool is that, isn't it?
I'm very happy with the messages and feedback I've been getting lately. This is one of the messages that make me smile:
Are you ready to start using your time to build your online asset?
CHECK OUT MY FREE EARN MONEY ONLINE GUIDE HERE!
I hope this Smart Dollars Club review has been helpful to you and you will make the best possible decision. Feel free to share it with whoever you believe that will benefit from it!
If there's something else you want to know or you have any questions, don't hesitate to leave a comment below and I'll get back to you ASAP! ? 
Whatever you do next, I wish you nothing but the best =)